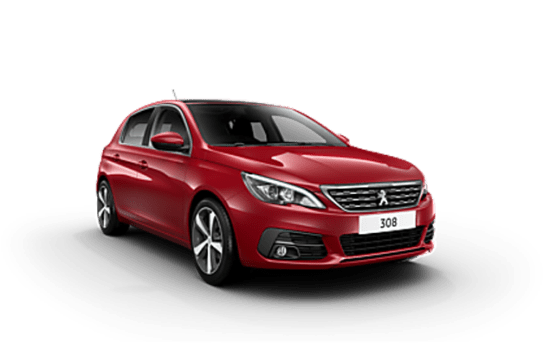 COMPARE
Peugeot 308
VS
Hyundai i20
Peugeot 308
Likes
Super cool interior
Practicality plus
Looks and feels premium
Dislikes
Sparse back seat
Turbo lag an issue
A tad pricey
---
Hyundai i20
Likes
Cracking exhaust
Fun rather than ferocious
A hoot on a track or (we expect) a winding road
Dislikes
Too soon to properly judge it
Manual only will deter shoppers
Lacks the out-and-out punch of bigger hatches
Summary
Peugeot 308
There's clearly something in the (presumably Perrier sparkling) water over at Peugeot HQ. Once a perennial European also-ran, the French brand has been on something of a hot streak of late, producing super-solid offerings right across the board, headlined by the very good 3008 and 5008 SUVs.
It is, of course, still a European company, and so if its SUVs are good, the brand's humble station wagon - a body style that remains ever popular in France - should be blooming fantastic. And a 2018 update has seen Peugeot throw in some extra safety kit, and overhaul the ownership program, at no extra cost.
But there's only one way to really find out, of course, so we snaffled the keys to the 308 Touring in top-spec Allure trim to put it to the test.
| | |
| --- | --- |
| Safety rating | — |
| Engine Type | 2.0L turbo |
| Fuel Type | Diesel |
| Fuel Efficiency | 4.6L/100km |
| Seating | 5 seats |
---
Hyundai i20
After we spent what felt like an eternity with the Hyundai i30 N being an only child in Australia, the lauded hot hatch is finally getting a smaller sibling, with the Korean brand confirming the i20 N will debut in Australia next year, likely in the first six months of 2021. 
On paper, at least, the city-sized hot hatch promises to deliver the performance thrills of the N brand to a whole new demographic, given its utterly family-proof dimensions and what will obviously be a more affordable price point.
But is it truly worthy of the N badge? We put an early prototype version to the test on the track to find out. 
| | |
| --- | --- |
| Safety rating | — |
| Engine Type | 1.6L |
| Fuel Type | Premium Unleaded Petrol |
| Fuel Efficiency | —L/100km |
| Seating | 5 seats |
Verdict
Peugeot 308
7.6/10
Seriously, it's cars like the 308 Touring (and the best from Skoda and others, to be fair) that make you wonder exactly how SUVs took such a stranglehold on the Australian market. It's super easy to drive and park, as practical as a rolling Swiss Army knife, and it looks pretty damn good to boot.
The only real question mark is the price, with near-enough $40k feeling rather a lot for a wagon that misses some of the creature comforts and interior material choices of cars in that price bracket.
Is Peugeot's 308 Touring a desirable SUV alternative? Tell us what you think in the comments below.
---
Hyundai i20
8/10
We'll reserve full judgement until we've lived with a production version of the i20 N, but after our short, track-based taste test? We like it a lot. 
Fun rather than ferocious, it's the kind of hot hatch you can have an absolute blast in without feeling like you're going to kill yourself or your licence, and you can't help but climb out smiling..
Design
Peugeot 308
7/10
It's effortlessly understated, the 308 Touring; both inside and out. The two-tier and textured Peugeot grille looks clean and purposeful, while the rear-end design is clean and simple, too. In fact, the only angle we're not in love with is the side-on view, where it looks somehow swollen and top-heavy in the middle.
Inside, the doors are wrapped in soft-touch materials, And I LOVE the interior. It's unique and super understated - the very definition of minimalism - which kind of hides the fact that some of the materials feel a little hard and cheap in places. The moonroof (a cost option) is terrific, too, spanning the length of the cabin.
---
Hyundai i20
9/10
Again, this more an arbitrary score here, as the only i20 N we've seen to date was dropped in camouflage inside and out. 
That said, you can tell from its silhouette that this a wide, hunkered-down hatch, with bulging arches and 18-inch blacked-out alloys, a domed bonnet, and little roof spoiler jutting out from above the rear windscreen. 
Hyundai tells us the i20 N will also serve up a new air intake on front bumper, unique side sills, a new radiator grille, and a new rear bumper with a diffuser, as well as new rear lights. You can get the i20 N in seven colours, one of which will be the Performance Blue that's become the signature of the brand.
Inside, Hyundai says you'll find a "high-performance driving space" (whatever that means) with a host of N stuff, like a sports steering wheel and shifter, metal pedals, sport seats up front and blue highlights throughout the interior trimmings.
Practicality
Peugeot 308
8/10
At 4585mm long and 2043mm wide, the 308 Touring is seriously practical, and yet small enough that it never feels intimidating to drive or park in the city.
The biggest number, of course, is reserved for that whopping boot. With the rear seats in place, you can expect 625 litres of storage space, but drop the second row and that number swells to a seriously impressive 1740 litres. That really is heaps, and it means you can carry big suitcases with a car full of passengers, or flatpack furniture should you ditch the rear-seat riders.
For passengers, the front-seat space is ample, with a single cupholder and room for bottles in each of the front doors. The entertainment connections are simple, with easy-reach USB and AUX connections and the ability to mirror your smartphone on the big screen in the cabin.
The backseat is a little tighter, though (a reminder that this car is actually based on a small hatchback). The legroom is ample behind my own (I'm 176cm) driving position, but headroom feels cramped, and the door trims protrude into the cabin in a way that will eat into shoulder room if you were to go three across the back.
Weirder still, there is nothing in the way of creature comforts back there. Rear air vents are the most obvious omission, but there's also nowhere to plug a phone in.
You'll find two ISOFIX attachment points, one in each window seat, as well as two cupholders in the pull-down seat divider. Happily, there is room in each rear door for bottles.
---
Hyundai i20
7/10
Not particularly practical, to be fair. While Hyundai is yet to confirm the specification details of the i20 N, it is based on the brand's existing city car, so expect similar dimensions here. 
It does, though, have four doors, which puts it ahead of some of its hot-hatch competition, and means climbing into the backseat isn't as hard as it could be. Once there, though, you won't be spoiled for space.
For reference, the regular i20 serves up twin cupholders up front, and bottle storage in each of the doors.
That car also stretches some 4035mm in length, 1734mm in width and 1474mm in height. That's enough to squeeze 326 litres (VDA) into the boot, or 1042 litres with the 60:40 split rear seat folded flat. 
Price and features
Peugeot 308
8/10
The 308 Touring is available in just the single trim level, the high-spec Allure, and will cost you a not-insignificant $37,990 plus on-road costs. Our's was then fitted with nappa leather trim and 18-inch alloys, as well as a sunroof, boosting the as-tested price to $41,690.
Tech is handled by a 9.3-inch screen with both Apple CarPlay and Android Auto, as well as steering-wheel controls and standard navigation.
---
Hyundai i20
8/10
This is a tough one to answer, without yet knowing the pricing details. But Hyundai has told us that it will be priced on or around the money for the segment, which should see it land around the early $30k mark. 
That's about right, and if you take the Toyota GR Yaris out of the equation (which now starts around the mid-$40k mark), it puts the i20 N right in the city-sized hot hatch hunt. 
In terms of exactly what you get for that money, well, that remains to be seen. But here's what we know so far.
Expect 18-inch alloys wrapped in Pirelli rubber, a digital driver's display and a second, central touchscreen that will deliver both Apple CarPlay and Android Auto, remote unlocking with push-button start, power windows, and...
Well, that's about all we could glean from our very camouflaged car. But you will also get a whole heap of performance kit, which we'll touch on under the Engine and Transmission section.
For everything else, though, you'll just have to watch this space.
Engine & trans
---
Hyundai i20
9/10
I like the engine. A lot. Not the most powerful in the class, sure, but not underpowered in my opinion, either. 
The turbocharged 1.6-litre, four-cylinder engine (borrowed from the i30 sedan) produces 150kW and 275Nm, which pairs with a six-speed manual transmission and funnels power to the front tyres.
That's enough grunt, Hyundai says, to deliver a "class-leading" power to weight ratio of 126kW per tonne.
So how does it stack up? It puts the i20 N about a touch under segment standard, power-wise, with cars like the Polo GTI making 147kW and 320Nm, while the Fiesta ST makes 147 and 290kW. Unsurprisingly, it's also comprehensively shaded by the Toyota GR Yaris, which makes a whopping 200kW and 370Nm.
We have managed to extract some other key details surrounding Hyundai's newest hot hatch, too. We know, for example, that there's torsion-beam rear suspension, a mechanical LSD, Sachs dampers, dual-mode exhaust and, like it's i30 N big brother, the i20 N should get Pirelli rubber wrapped around its 18-inch wheels. It also weights just 1250kg.
More? Well there's rev matching for the manual gearbox, launch control and the brand's N Grin Control System which allows you to dial through Normal, Eco, Sport, N and N Custom drive modes.
The chassis and suspension have been overhauled, too, and there's bigger performance brakes fitted.
Fuel consumption
Peugeot 308
7/10
Claimed fuel use for the Touring is a very good 4.6L/100km on the combined cycle, with emissions a claimed 199g/km. The 308 is equipped with a 53-litre fuel tank.
---
Hyundai i20
7/10
That I can't tell you, at least not yet. We were driving pre-production cars exclusively on a race track, and so taking an computer reading would have been grossly unfair, and Hyundai hasn't dropped an official figure on us yet. 
We do know that the i20, in regular guise, is fitted with a 50-litre tank. 
Driving
Peugeot 308
8/10
The 308 Touring is really very impressive from behind the wheel, and feels genuinely premium on the road. That rattling diesel is loud from outside the car, but not from the cabin, and it feels solid and connected to the road below. There's a reassuring heft to the steering, too, and it leaves you feeling like you're straddling a line between premium and mainstream.
Yes, there is a tonne of diesel delay when you first plant your right foot - so much so that you can actually get the front tyres chirping unexpectedly when it finally gets going - and the Touring is simply not that fast.
But it also, somehow, never feels underpowered. The grunt all lives at the low-end of the rev range, making it well suited to the stop-start sludge of city life.
In short, it's a solid and comfortable performer in the city, and it handles itself just fine on tighter corners (even if it takes an age to close the gap between them) too. The ride is terrific, as is often the way with French cars, the steering inspires confidence and the practicality and perks are just ridiculous.
So, who needs an SUV, then, when you can have one of these low-riders instead?
---
Hyundai i20
9/10
How should the success of a city-sized hatch truly be measured? Raw power and out-and-out pace? I don't think so. There are bigger, more powerful vehicles for that.
Price? Well, at least a little. This segment forms the stepping stone to the performance vehicle world, and so they really can't be too inaccessible, right?
If you ask me, the biggest - and possible only - criteria a car has to hit in this segment is that it's fun. Plain and simple. Does it make you want to take the longer, twister way home, emerging at the other end of a winding road with a face-splitting grin and fighting the urge to turn around and do it again in the other direction? Or does it make you want to stick to the freeway?
Well, it's safe to say that in the i20 N - in prototype form at least - the answer is definitely the former. 
Yes, the light hot hatch segment has been in something a power arms race of late - one now won by the GR Yaris - but the i20 N doesn't really step into that ring. Its 150kW and 275Nm puts it at the lower end of the spectrum in terms of pure outputs. 
But damn if it ain't fun. The numbers on the page only really tell half the hot hatch story. The rest of it is how it feels, or how big a smile it paints on your face, and I can tell you this car painted a plenty big grin on mine.
One of the things I like about the i20 N is that it feels a little Mazda MX-5-like, in that you don't need to be traveling at warp speed to feel like you're having a good time behind the wheel. It means you can unleash it on any twisting road you come across, and have a whale of a time, without risking your entire driver's licence.
There are some cars where you really need to be travelling at pace to feel like you're having a good time in them, but this isn't one of them. It feels fun all the time. 
It feels really connected to the track, too, like you're in control of the vehicle, And I think the mark of a hot hatch is one that makes you feel like a better driver, and this does that. It forgives you mistakes, it urges you to push a little bit faster, a little bit further, and all of which results in a pretty good time behind the wheel. 
Now a caveat, of course. This is a pre-prod car, and this test also took place on a race rack, so how this thing drives on the streets near your place, and what it's like to live with, is anyone's guess, but as a taste test, it certainly seems to continue the N legacy of building cars that are simply a ton of fun.
Safety
---
Hyundai i20
7/10
More mysteries here, I'm afraid. Hyundai is yet to confirm full safety specification for the i20 N, but we would expect it to get most of the brand's advanced safety kit. 
The i30 N, for example, gets the brand's SmartSense safety suite, with forward collision warning with AEB and Lane Keep Assist, as well as the usual suite of airbags and braking and traction aids.