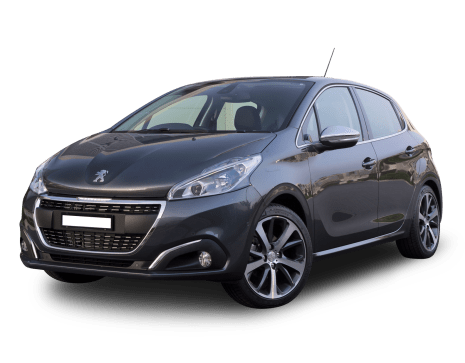 COMPARE
Peugeot 208
VS
Subaru Impreza
Peugeot 208
Likes
Unique styling
Sporty drive
Spacious and comfortable
Dislikes
Pricey
Missing advanced safety
Barely any cabin storage
---
Subaru Impreza
Likes
Value for money
Great to drive
Cabin fit and finish
Dislikes
Not as spacious or practical as hatch version
CVT results holds back acceleration
No rear directional air vents
Summary
Peugeot 208
In a world of cheap, popular and well-specified Japanese and Korean small hatchbacks, it's easy to forget the humble French cars that once helped define the segment.
They're still around, though. You've probably seen a few Renault Clios, you might not have seen the tragically underrated new Citroen C3, and there's at least a chance you've seen one of these – the Peugeot 208.
This iteration of the 208 has been around in one form or another since 2012 and is due to be replaced by a second-generation model in the near future.
So, should you consider the aging 208 in a busy market segment? I spent a week behind the wheel of the second-from-the-top GT-Line to find out.
| | |
| --- | --- |
| Safety rating | |
| Engine Type | 1.2L turbo |
| Fuel Type | Premium Unleaded Petrol |
| Fuel Efficiency | 4.5L/100km |
| Seating | 5 seats |
---
Subaru Impreza
So, you're thinking about a Subaru Impreza? The top-of-the-range one, too, the 2.0i-S? And the sedan version? Straight up, I'm going to tell you it's one of the best choices among its small-car rivals and its uniqueness is also its strength.
But is everything about this Impreza impressive? And is the sedan the right choice for you? Read on to find out.
| | |
| --- | --- |
| Safety rating | |
| Engine Type | 2.0L turbo |
| Fuel Type | Regular Unleaded Petrol |
| Fuel Efficiency | 7.2L/100km |
| Seating | 5 seats |
Verdict
Peugeot 208
7.1/10
The 208 GT-Line is hardly a car purchased on its value offering; it's an emotional purchase. Fans of the brand know it, even Peugeot knows it.
Here's the thing, though, the GT-Line looks the part, is true-to-its-roots in how fun it is to drive, and will surprise most with its spacious dimensions and decent spec level. So, while it might be an emotional buy, it's not necessarily a bad one.
Have you owned a Peugeot in the past? Share your story in the comments below.
---
Subaru Impreza
7.9/10
The Impreza 2.0i-S Sedan is outstanding in the way it drives, the value for money, its fit and finish and safety features. If you're after a small car that's practical, the sedan isn't bad, but the hatch is better for usable space.
Would you chose a small sedan over a hatch? Tell us what you think in the comments below.
Design
Peugeot 208
7/10
It might not be for you, but I had come around to the 208's design by the time I handed the keys back. It's a bit more upright and frumpy than the slick, conservative design of the Volkswagen Polo, or the swish, cutting-edge lines of the Mazda2.
It's undeniably a European city car in its short and upright stance, but blazes its own path, even compared to French competitors. I grew quite fond of its weird, slopey bonnet, unconventional face and tough rear wheel arches. The way the rear light clusters clasp the rear to bring the design together is quite satisfying, as are the aluminium-brush alloys, recessed lights and the single chrome tailpipe.
It could be argued that this is a path well-travelled, with this 208 mirroring the design cues of the 207 that came before it, but I'd argue it holds its own, even in 2019. If you're after something radically different, the styling on its replacement, due next year, is one to look out for.
On the inside, things are… unique.
There are cushy, deep seats for front occupants, with a super vertical dash design, leading up from the deep-set shifter (an older look) to the top-mounted media screen, which is slick, with its chrome bezel and lack of buttons.
The steering wheel is awesome. It's tiny, strongly contoured and covered in nice leather trim. Its small, almost oval shape is super satisfying to wrangle, and enhances the way you interact with the front wheels.
What is extra strange about it is how far separated it is from the dash cluster. The dials are perched way atop the dash in a layout Peugeot refers to as the 'iCockpit'. This is all very cool and aesthetic and French if you're my height (182cm), but if you're particularly short or particularly tall, the wheel begins to obscure vital information.
Other strange things about the cabin mainly involve little bits of plastic of varying quality strewn about the place. While the overall look is very cool, there are some odd bits of chrome trim and hollow black plastics about that probably don't need to be there.
---
Subaru Impreza
8/10
Subaru's Impreza is one of only a few small sedans which don't look they were styled the morning after the big party for the design team following their completion of the hatch version. If anything (and this will ruffle a few feathers in the Subie fan world) the sedan is a more traditional Impreza body-style than the hatch.
It's been years since the hardcore WRX became a standalone model in Australia and no longer the high-performance grade of the Impreza range, and the superb dynamics and aggro look justify the separation. Yep, the Impreza has a pretty sedate appearance in comparison, but that didn't stop the bloke in my street who owns a 2015 WRX from slowing right down to have sticky beak at the 2.0i-S out the front of my house.
Mazda is the master of making affordable cars look and feel high end. The only other rival in my view which can match that standard is Subaru. Clean, refined exterior styling, with an outstanding fit and finish inside. There are prestige cars costing three times the $30K asking price of the Impreza that don't feel this premium and well made.
The 2020 update to the Impreza added the new grille and front bumper, the fog-lights have also been restyled and the alloy wheels have a new design. The cabin was updated with a new door trim and piano black plastic was added around the climate controls.
You can tell a 2.0i-S from the rest of the range by its larger alloys (18-inch), body-coloured mirrors, sunroof, LED fog lights and side skirts. Inside there's leather seats in Ivory or Black and a leather steering wheel.
I'm a fan of the big integrated display, the sports pedals and how every touch point feels padded and cushioned.
You'll have to get used to displays which are busy with hard-to-interpret icons, though. From drive mode graphs to safety system alerts the little, colourful hieroglyphics are cute, but a bit messy and not at all necessary. It's a Subaru thing.
How big is the Impreza sedan? Well it's 4640mm long (165mm longer than the hatch), 1775mm wide, and 1455mm tall (25mm lower than hatch).
Practicality
Peugeot 208
7/10
The 208 hit me with some surprises here. Firstly, don't drink and drive this car. And, by that I mean, don't even begin to think you'll find a good spot for a decently sized coffee. There are two cupholders under the dash; they are about an inch deep, and narrow enough to accommodate maybe a piccolo latte. Place anything else in there and you're asking for a spillage.
There's also an odd little trench there that barely fits a phone, and a top-box arm-rest thing that's tiny and bound to the driver's seat. The glovebox is large and also air-conditioned.
The front seats offer heaps of room, though, for arms, head and especially legs, and there is no shortage of soft surfaces for elbows.
The back seat was also a surprise. I was expecting it to be an afterthought, as it is in many cars this size, but the 208 delivers, with excellent matching seat trim and generous legroom.
Sadly, that's where back-seat amenities end. There are tiny trenches in the door, but no air vents or cupholders. You'll have to make do with just the pockets on the backs of the front seats.
Don't be fooled by the 208's cropped rear, the boot is deep and grants a surprising 311 litres to the shelf, and maxes out a 1152L with the second row folded down. Also surprising  is the inclusion of a full-size steel spare, stashed under the floor.
---
Subaru Impreza
7/10
The most practical Impreza is not the sedan - it's the hatch. You should know this right from the start. I found the hatch had more leg- and headroom in the rear seat, although at 191cm tall I still can sit behind my driving position in the sedan without my knees touching the seat back.
And while the boot in the sedan is 115 litres larger in cargo capacity at 460 litres (VDA) and it fit the two CarsGuide suitcases with ease (see the images), the hatch's tailgate opening is way larger and you can fold the rear seats down to open up 795 litres of space.
You can still fold the rear seats down in the sedan, which is what I did and loaded the Impreza up with a surprising amount of stuff I needed to clear out of the spare room. Take a look at the images – yes, that is an eight-foot Malibu surf board, and a pedestal fan and two heaters and a desk chair and a large plastic tub full of clippings of articles I'd written and for some reason still hold on to. They were all going to the in-laws 300km away which was a good chance to test the fuel economy too, and you can read about further on down.
The sedan's cabin storage is good with a decent-sized centre console bin, large door pockets and four cup holders (two front and two rear), but the hidey hole in the dash is too small to fit my big iPhone sideways.
For charging devices you'll find four USB ports (two in that hidey hole and two in the centre console bin) and two 12-volt outlets. The second row doesn't get USB ports or a 12V outlet. Making back seat passengers feel even more left out is a lack of directional air vents in the second row, too.
Price and features
Peugeot 208
6/10
This Peugeot is never going to be as cheap as a Mazda2 or Suzuki Swift. The current range spans from $21,990 for the base Active to $26,990 for the GT-Line, and that's all before on-road costs.
Safe to say you're looking at a $30k hatch then. For the same money you could be hopping into a decently specified Hyundai i30, Toyota Corolla or Mazda3, but Peugeot bank on the fact that this car appeals to a special kind of customer; the emotional buyer.
Perhaps they had a Peugeot in the past. Perhaps the quirky styling calls out to them. But they aren't interested in value… per se.
So do you at least get a decent standard spec? The GT-Line comes with a 7.0-inch multimedia touchscreen with Apple CarPlay and Android Auto support, built-in sat-nav, 17-inch alloy wheels wrapped in some seriously low-profile Michelin Pilot Sport rubber, panoramic fixed glass roof, dual-zone climate control, self-parking function, front and rear parking sensors with a reversing camera, rain sensing wipers, sports bucket seats, auto folding mirrors and GT-Line specific chrome styling touches.
Not bad. The styling is certainly turned up a notch over the regular 208 range and the spec list makes it one of the better-equipped cars in the segment. However, there are some notable omissions which hurt on a car at this price. For example, there's no option for push-start or LED headlamps.
Safety is okay, but it could use update. More on that in the safety section.
---
Subaru Impreza
8/10
The 2.0i-S is the most expensive Impreza in the range, but the sedan costs $200 less than the hatch with it list price of $31,160 (before on-road costs). You're still getting the same standard equipment apart from the hatch's smoked-finish tail-lights.
The February 2020 update to the Impreza brought with it new equipment for all the grades in the range including the SI-Drive modes (see the driving section further down), a new alloy wheel design and auto door locking.
The 2.0i-S did well out of the update and scored more features such as new LED headlights, auto-power folding mirrors with passenger-side dipping mirror, front-view monitor, side-view monitor, memory settings for the driver's seat and a stitched sun visor.
There were also a few more styling tweaks inside and out but read about those in the design section. For now, let's talk about the rest of the standard features that come on a top o' the range Impreza.
Deep breath, because there's a lot. There are leather seats, an 8.0-inch touchscreen, sat nav, Apple CarPlay and Android Auto, reversing camera, six-speaker sound system, DAB digital radio, CD player, dual-zone climate control, power adjustable and heated front seats, privacy glass, rain-sensing wipers, proximity key, LED running lights and 18-inch alloy wheels. That's just the highlights reel, there are more but it'd be silly to list them all.
How does the Impreza compare with rivals on price? Well, there's the Toyota Corolla sedan in ZR form which lists for $33,635, and you can also compare the Impreza to a Honda Civic sedan in the RS grade for $32,840, and the Mazda3 G20 Touring with the Vision pack for $31,740.  So, as you can see the Subaru is priced well and you're getting great value for money.
Engine & trans
Peugeot 208
8/10
The regular (that's non-GTi) 208s are offered with just one engine now. A 1.2-litre turbo petrol three-cylinder, which produces 81kW/205Nm. While that doesn't sound like an awful lot, it turns out to be plenty for the little 1070kg hatch.
Unlike some notable French manufacturers, Peugeot has seen the light and dumped single-clutch automatics (aka automated manuals) in favour of a six-speed torque converter auto, which does its best to have you not notice it.
It also has a stop-start system, which might save fuel (I couldn't objectively prove that it did) but will definitely annoy you at the lights.
---
Subaru Impreza
8/10
As with all Imprezas, the 2.0i-S has a 2.0-litre four-cylinder boxer petrol engine under the bonnet making 115kW and 196Nm. A boxer engine has cylinders which lay flat and pistons inside them which punch in and out horizontally like a boxer, as opposed to being aligned vertically and moving up and down. The benefits of a boxer engine include a lower centre of mass and a constant purr which Subaru owners imitate to themselves when they're in the shower.
If only you could have the Impreza with a manual gearbox, because the continuously variable transmission (CVT) auto, while smooth, results in fairly uninspiring acceleration and turns the purr of the engine into a drone when you put the boot in.
Like the rest of the Imprezas, the 2.0i-S is all-wheel drive.
Fuel consumption
Peugeot 208
7/10
The claimed/combined fuel number for the 208 GT-Line is a slightly unrealistic-sounding 4.5L/100km. Sure enough, after a week of city/highway combined driving, I produced a number of 7.4L/100km. So, a solid miss. Slightly less-enthusiastic driving should see that number drop, but I still don't see how you could get it down to 4.5L/100km.
The 208 requires a minimum of 95RON mid-range fuel, and has a 50-litre tank.
---
Subaru Impreza
8/10
According to Subaru the Impreza should use 7.2L/100km after a combination of open and urban roads. I used the Impreza as a moving van for the strange collection of items mention above and after 307.5km of roads from inner Sydney to Maitland (city streets, suburban roads and motorways) the Impreza's trip computer reported 6.2L/100km.
I wasn't able to test that figure at the fuel pump, but in my experience of Subarus in the past the average fuel reading on the display is never far off what I measure at the petrol pump. So, I'm confident in saying that the Impreza isn't a thirsty beast.
Driving
Peugeot 208
8/10
The 208 is good fun, and lives up to its heritage of making the most of its lightweight dimensions and small figure to make for an agile city-slicker. The engine outputs might look like just any other hatch in this class, but the turbo comes on nice and strong in an impressively linear fashion.
It makes for reliable and strong acceleration, with the peak 205Nm of torque available at 1500rpm.
A featherweight at 1070kg, you'll find no complaints from me about its performance. It's no GTi, but it will still be warm enough for most.
Despite its upright figure, handling is fantastic, too. The low-profile Michelins feel planted at the front and back, and, unlike the GTi, you never really feel at risk of understeer or wheelspin.
This is all enhanced by the intense helm, with the small steering wheel giving it a thoroughly engaging feel. You can chuck this car into corners and down alleyways with enthusiasm, and it feels like it loves it as much as you do.
The suspension is stiff, especially at the rear, and the low-profile rubber makes it noisy on coarse-chip surfaces, but you'll barely hear a peep out of the little engine. Other notable downsides include the slow-to-react stop-start system (which you can turn off) and the lack of active cruise, which would be nice at this price.
---
Subaru Impreza
8/10
The Impreza 2.0i-S's rivals are front-wheel drive cars. The Impreza is all-wheel drive. I feel like I could just leave that there and not have to write anything else, but I'll go on. See, even people who never think the journey is more important than the destination will like the way the Impreza drives.
They won't have any idea that regardless of the speed, or corner, or the muddy water that's streaming down the hill and across the road, that the Impreza's all-wheel drive system is constantly 'feeling' and anticipating any loss of traction and diverting drive away from a wheel that might slip and to another that will help keep everything under control. To them the Impreza will just feel really stable and easy to drive.
Along with being dynamic the Impreza 2.0i-S is also comfortable. The combination of the softness and with good handling is thanks to nicely turned suspension set up and a good choice of tyre (Yokohama 225/40R18 front and rear), while the planted feeling is helped by the boxer engine creating a lower centre of mass.
The continuously variable transmission is the only part of this excellent team letting things down slightly with acceleration being a little lacklustre. A regular automatic or manual gearbox would make the Impreza superb to drive.
The 2020 update added Subaru's SI-Drive modes. The S mode is for a sporty driving setting which favours better acceleration and responsiveness from the engine, while the I is an intelligent setting that's better for fuel economy.
Safety
Peugeot 208
7/10
On the topic of active cruise, this car is showing its age in the safety department. Available active safety is limited to a camera-based city-speed auto emergency braking system (AEB). The lack of a radar, even optionally, means no active cruise or freeway-speed AEB. There's also no option for blind-spot monitoring (BSM), lane-departure warning (LDW) or lane-keep assist (LKAS).
Sure, we're talking about a car which largely dates back to 2012, but you can get cars a full size up with all those features for close to the same money from Korea and Japan.
On the more impressive side, you get an above-average set of six airbags, seatbelt pre-tensioners and rear ISOFIX child-seat mounting points, as well as the expected set of electronic braking and stability aids. A reversing camera is also now standard.
The 208 previously held a maximum five-star ANCAP safety rating from 2012, but that rating is limited to four-cylinder variants, which have since been phased out. Three-cylinder cars remain un-rated.
---
Subaru Impreza
8/10
The Impreza scored the maximum five-star ANCAP rating when it was tested in 2016 and back then not many small cars had the same level of advanced safety equipment. The world has changed, and the rivals are now far better equipped than they were, but the 2.0i-S's standard safety features are still impressive.
The 2.0i-S comes with AEB (forward and reverse), blind spot warning, lane departure warning, lane change and lane keeping assistance, rear cross-traffic alert and adaptive cruise control. There's also lane sway alert, lead vehicle start and brake light recognition. The 2020 update saw side-view and front-view monitors joining the regular reversing camera. There are rear parking sensors but not front ones – personally, I'd rather a 'beep' than a camera picture, especially when it's dark.
For child seats you'll find three top tether anchor points and two ISOFIX mounts across the rear row.
Under the boot floor is a space saver spare wheel.
Ownership
Peugeot 208
7/10
Peugeot offers a five-year/unlimited-kilometre warranty on its entire range of passenger cars, which is up-to-date and in-line with most segment competitors.
The 208 requires servicing at yearly or 15,000km intervals (whichever occurs first) and has a fixed price to the length of the warranty.
Servicing is not cheap, with yearly visits costing between $397 and $621, although there's nothing on the optional extras list, that price is all-inclusive.
Total cost over the five-year period is $2406 for an (expensive) average of $481.20 a year.
---
Subaru Impreza
8/10
The Subaru Impreza 2.0i-S is covered by a five-year/unlimited kilometre warranty. There's also a five-year/62,500km capped price servicing program. Servicing is recommended at 12 month/12,500km intervals with the first capped at $350.25, the second at $588.31, the third at $354.83, the fourth at $784.77, and the fifth at $354.86 for a total of $2433.02 over the five years.