2002 Mitsubishi Mirage
Pricing and Specs
Click here to see 2021 pricing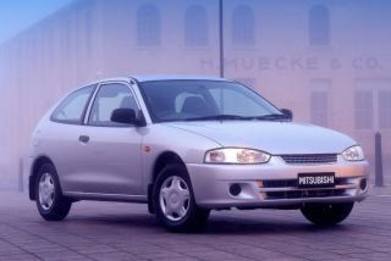 The Mitsubishi Mirage 2002 is priced from $3,500 for Hatchback Mirage (base).
The Mitsubishi Mirage 2002 is available in Regular Unleaded Petrol.
Interested in a Mitsubishi Mirage?
Request A Brochure
Locate A Dealer
Book A Test Drive

Insurance Quote

Get Unsecured Car Loan
Price Guide
$3,990
Based on 5 cars listed for sale in the last 6 months
Explore prices for the
2002 Mitsubishi Mirage
Hatchback
Mitsubishi Mirage Models
SPECS
PRICE
(base)

1.5L

ULP

Regular Unleaded Petrol

4 SP AUTO

4 speed automatic

$2,400 – 4,070

(base)

1.5L

ULP

Regular Unleaded Petrol

5 SP MAN

5 speed manual

$2,100 – 3,630
* Manufacturer's Suggested Retail Price
Mitsubishi Mirage 2002 FAQs
Check out real-world situations relating to the Mitsubishi Mirage here, particularly what our experts have to say about them.
What is causing the squealing noise when I accelerate in my 2014 Mitsubishi Mirage?

The drive belts on the engines might be new, but what about the pulleys they run in? A pulley with a worn bearing can start to squeal when under load, such as when you start to accelerate and the belt has to speed up. Also, any coolant or oil on the belt can make it screech, too. When the belts had just been replaced, they were nice and clean, but after a few kilometres have passed and contaminants have been able to build up, you might be back to square one again with a screaming rubber belt.

Check the belts for coolant or oil (or anything else) on them as well as the pulleys and tensioners to make sure a small leak in the engine is not being spread all over the place by the belt. Check the belts for correct tension, too, as this can vary over time and is a classic cause of noisy operation. It does seem odd that both cars have started to make the noise in unison, but stranger things have happened.

Show more

What new cars with high ground clearance do you recommend?

If ground clearance is a real issue for you, why don't you try a compact SUV?

Show more

Mitsubishi Mirage 2014: Can my LS be fitted so it can tow?

Mitsubishi doesn't provide a towing rating for the Mirage, so it's not recommended that you tow with it. If you do choose the tow with it you should check with your insurance company, as you might be in breach of the conditions of your policy.

Show more
See All Mitsubishi Mirage FAQs
Disclaimer: You acknowledge and agree that all answers are provided as a general guide only and should not be relied upon as bespoke advice. Carsguide is not liable for the accuracy of any information provided in the answers.
Interested in a Mitsubishi Mirage?
Request A Brochure
Locate A Dealer
Book A Test Drive

Insurance Quote

Get Unsecured Car Loan