2017 Mercedes-Benz GLS-Class
Pricing and Specs
Click here to see 2020 pricing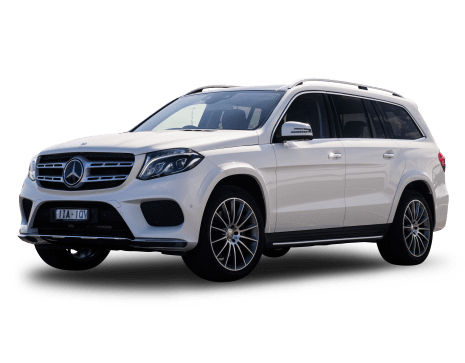 The Mercedes-Benz GLS-Class 2017 prices range from $74,990 for the basic trim level SUV GLS-Class GLS350 D 4Matic to $152,990 for the top of the range SUV GLS-Class GLS63 4Matic.
The Mercedes-Benz GLS-Class 2017 is available in Diesel and Premium Unleaded Petrol. Engine sizes and transmissions vary from the SUV 3.0L 9 SP Automatic G-Tronic to the SUV 5.5L 7 SP Automatic G-Tronic.
A new generation of the Mercedes-Benz GLS-Class SUV was released this year.
Price Guide
$92,914
Based on 32 cars listed for sale in the last 6 months
Explore prices for the
2017 Mercedes-Benz GLS-Class
SUV
Mercedes-Benz GLS-Class Models
SPECS
PRICE
GLS350 D 4Matic

3.0L

Diesel

Diesel

9 SP AUTO

9 speed automatic

$82,700 – 104,610

GLS350 D 4Matic Sport

3.0L

Diesel

Diesel

9 SP AUTO

9 speed automatic

$96,100 – 121,550

GLS500 4Matic

4.7L

PULP

Premium Unleaded Petrol

9 SP AUTO

9 speed automatic

$115,100 – 145,530

GLS63 4Matic

5.5L

PULP

Premium Unleaded Petrol

7 SP AUTO

7 speed automatic

$154,300 – 195,140
* Manufacturer's Suggested Retail Price
Mercedes-Benz GLS-CLASS 2017 FAQs
Check out real-world situations relating to the Mercedes-Benz here, particularly what our experts have to say about them.
Why does my 2008 Mercedes-Benz Vito cut out when moving or idling?

Again, a problem like this is very difficult to diagnose via remote control. You haven't given me much to go on here, but my first suggestion would be to have the car scanned at a workshop and see what error codes materialise. From there, you can take a much more targeted approach to working out which of the hundreds of possible components is causing the problem. Don't forget the basics, either, such as contaminated or old fuel in the tank. Modern fuel doesn't like sitting around in a tank and can `go off' over time.

Show more
Mercedes-Benz B-Class 2016: Can I use conventional tyres?

Physically, there's no problem with switching from run-flat to non run-flat tyres. You might even (almost certainly) find the car rides better than it did on run-flats and the Benz B-Class always had a fairly brittle ride, so any improvement is worthwhile.

Yes, you'll have to arrange some sort of contingency should a flat tyre occur, but you can source a puncture repair kit pretty easily. There are even puncture-repair-in-a-can products (and have been for years) although they're not always 100 per cent successful. If you're keen, you could always find a space-saver spare from another model at a wrecking yard. Provided it's the right diameter and the stud pattern matches, you're good to go. Don't forget to include the tools required to change a flat, though.

The other thing to do is to replace all four tyres at the same time. Driving around on a mix of run-flats and non run-flats is a bad idea and could give the car some evil handling traits, especially in the wet.

Show more
2019 Mercedes-AMG C43: Lacking power when accelerating

Colleagues of mine have noted that the C43 isn't at its happiest when taking off from a standing start sometimes, particularly if the stop-start function is engaged. That said, the harshest description of the problem was the odd clunk when launching the car, but even with that system switched off, the AMG sometimes seems to have problems deciding which gear to select, leading to a lack of smoothness. Perhaps it's not helped by the fact that the car is all-wheel-drive, and grips the road extremely well when perhaps a little `give' in the driveline mightn't be a bad thing. Maybe it's the traction-control stepping in too early and interrupting the flow of power to the wheels.

That said, your problem sounds a lot more severe than that. The C43 uses a conventional torque converter automatic transmission, so it doesn't suffer some of the jerkiness that other cars using dual-clutch technology can. It's puzzling though, that the computer isn't throwing up any fault codes, so maybe your car is simply doing what some C43s do to a greater or lesser extent. If it's as bad as you say, it's not good enough and you should pursue the problem with Mercedes-Benz and have the problem corrected under warranty.

Show more
See All Mercedes-Benz FAQs
Disclaimer: You acknowledge and agree that all answers are provided as a general guide only and should not be relied upon as bespoke advice. Carsguide is not liable for the accuracy of any information provided in the answers.