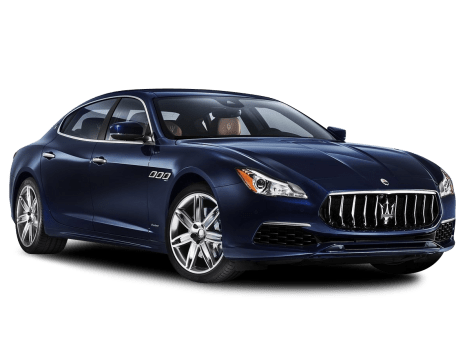 COMPARE
Maserati Quattroporte
VS
Alpina B5
Maserati Quattroporte
Likes
Terrific powertrain
Huge luxurious cabin
Great looks and badge
Dislikes
Iffy entertainment software
Weird sensations through electric steering
Some dodgy plastic chrome bits
---
Alpina B5
Likes
Fast
Comfortable
Luxurious
Dislikes
Cleaning the wheels
Room and storage space could be better
Not the most engaging car to drive
Summary
Maserati Quattroporte
Maserati's Quattroporte is part of a dying breed. A decade or so ago, the European manufacturers took a huge amount of pride in their range-topping big luxury sedans, cars you can either drive or be driven in, bristling with the latest technology.
In 2015, all we hear about are the range-topping SUVs from those makers, with cars like the S-Class and 7 Series fading slowly into irrelevance.
While by no means low-tech, the Maserati Quattroporte takes the high style route, focussing on a luxurious interior with that handmade feel.
| | |
| --- | --- |
| Safety rating | — |
| Engine Type | 3.0L turbo |
| Fuel Type | Premium Unleaded Petrol |
| Fuel Efficiency | 9.6L/100km |
| Seating | 5 seats |
---
Alpina B5
The BMW Alpina B5 Bi-Turbo is not actually a BMW. Not according to the German Federal Motor Transport Authority, at least.
Nope, the modifications applied by tuning house Alpina to the 5 Series are deemed so significant that if you open the bonnet and look inside the engine bay, you'll see that the BMW VIN has been struck through twice and an Alpina vehicle number stamped underneath it. 
The B5 is not the first model to be recognised in this way, either; the German government has recognised Alpina as a seperate car manufacturer since 1983.
The B5 has other 'B' siblings, too. There's the B3 S Bi-Turbo, which is based on the BMW 3 Series, the B4 S Bi-Turbo (the BMW 4 Series) and the B7 Bi-Turbo (I don't need to tell you what this is based on, right?) which I've reviewed, too.
So just what has Alpina done to this unsuspecting BMW 5 Series? Is it really worth the extra money? How does the B5 compare to an M5? Could it actually be superior? And did they really take the speed limiter off to let it warp-speed to beyond 300km/h?
| | |
| --- | --- |
| Safety rating | |
| Engine Type | 4.4L turbo |
| Fuel Type | Premium Unleaded Petrol |
| Fuel Efficiency | 10.9L/100km |
| Seating | 5 seats |
Verdict
Maserati Quattroporte
7.6/10
Beauty is way more than skin-deep in the Quattroporte and while the 330 doesn't have the punch of the S, it's hardly that much slower. Maserati reasons you will want to spend the $25,000 saved on options, concentrating on the Italian craftsmanship rather than the outright performance available in the V8 or the efficiency of the less aurally attractive diesel.
As with any car of this type, you've got to want one in the first place, but for a big, beautiful sedan, there's nothing as good looking this side of an Aston Rapide. The Quattroporte 330 does nothing to dim the allure of Modena's big mover and, if you're that way inclined, nobody on the outside will ever know.
For Quattroporte money would you stick with the Italian or be tempted by one of its German rivals? Let us know in the comments below.
---
Alpina B5
7.9/10
The Alpina B5 is a special car – more special than most people will ever give you credit for if you own one. Those that do know what an Alpina is will let you know; people will cross dangerously busy streets to talk to you about your car. Insanely fast, almost incomprehensibly comfortable and effortlessly powerful to drive.
Does the Alpina B5 make a BMW even better? Or do you think the M5? Tell us what you think in the comments below.
Design
Maserati Quattroporte
8/10
Long, flowing lines mark out the Maserati as something quite different to its German, British and Japanese competition. This Quattroporte has increased in every dimension but the lines cover its size beautifully.
Big wheels, long wheelbase, low ride but it still looks like a sedan rather than pretending to be a coupe.
The elegance of the lines is complemented by a distinct lack of bling – there's little in the way of chrome work or shouty details. There's plenty satin finishes available and the beautiful paint, while available in pretty much any colour you like, is best kept to a restrained, deep hue. Or silver.
The cabin will doubtless age well. Classic shapes house a fairly conventional but hugely comfortable cabin. The front seats have heaps of adjustment and are large but supportive. Naturally, the leather is soft and supple.
The central screen isn't the dominant feature, like a 50-inch LCD screen in a small living room while buttons are kept to a minimum.
The rear seat is sensationally comfortable, with hectares of available space and a seat comfortable for either lounging or working.
---
Alpina B5
8/10
Interesting is the right word for it, because while it might be questionable that Alpina's changes to the exterior are aesthetic pleasing, they are definitely intriguing to those who aren't familiar with the brand.
First, there are those 20-spoke wheels. Alpinas have worn this style of wheel forever and they've become the most famous outward sign that this is not just another BMW. So don't under any circumstances take them off and replace them with anything else. You'd be run out of town by the Alpina mafia.
Yes, they're more painful to clean than a cheese grater (trust me, I know. And if you look closely at these images you can see the dirty bits I've missed), but if you really don't like them then perhaps it's a sign this car isn't for you.
Then there's the boot-lid spoiler. It's square and 1980s'-looking, it also appears a bit like it's been bought online and installed by a teenager, but again, this is another Alpina tradition and it suits the car's character perfectly.
All right, those pinstripes; they're known as the Deco-Set and are a hat-tip to the Alpina racecars of the 1970s and '80s. Again, don't take these off, your Alpina will drop through the centre of the Earth in value. These are also part-and-parcel of owning one of these cars. I'm not a massive fan of them.
But I'm all about that front spoiler, with the floating Alpina lettering that you can option in silver, high-gloss black or gold.
Inside, there are fewer Alpina additions, but they're nonetheless unmissable. There's the Alpina-badged steering wheel, and a new virtual instrument cluster, embossed headrests and  illuminated door sills.
There's also the little numbered plaque on the centre console which proves its authenticity, ours was number 49. Out of how many? I don't know. But I do know Alpina produces only about 1700 cars globally a year. Rolls Royce does about 4000. So, you can rest assured your B5 is exclusive.
At almost 5m long, 1.9m wide and 1.5m tall, the B5 is a large saloon, but having recently reviewed the Alpina B7 it feels small in comparison. How does it drive? We're getting there.
Practicality
---
Alpina B5
7/10
Practicality is not really a BMW strong point no matter which model you pick. See, BMW mostly makes the car equivalent of uber-stylish and skin-tight active wear which looks good and performs brilliantly, but sometimes you just want pockets and a bit of room for your… um… bits and pieces.
So while there are two cup holders up front and two in the back, the bottle holders in the doors aren't huge, the centre console bin is on the small side, there's a hidy-hole in front of the shifter, the glove box is just a box for little more than gloves and there's no other great cabin storage options.
Legroom in the rear is good but not great, too - I'm 191cm tall and have about 30mm between my knees and the seat back in my driving position. Middle-seat passengers will also have to straddle the drive shaft hump in the floor. Headroom is restricted in the back, too (you could blame the sunroof) with my hair just skimming the headlining (I do have big hair).
Under that power tailgate, the B5's boot capacity is 530 litres which is 15L more than its big sister, the B7. There are two plastic storage areas either side of the luggage space for wet things. While there is one USB outlet in the front there aren't any in the rear.
Price and features
Maserati Quattroporte
7/10
The current Quattroporte has been with us now for a couple of years in diesel and petrol turbocharged V6s and turbo V8 forms.
The 330BHP uses the same, Ferrari-built V6 but detuned to 'just' 330 bhp. The price has been detuned too, dropping $25,000 from the V6 S's entry price to kick off at $210,000.
Maserati 330bhp benefits from an overall specification improvement across the range, landing in your garage with a ten-speaker stereo with USB and Bluetooth, power everything, dual-zone climate control, keyless entry and start, front and rear parking sensors with reversing camera, cruise control, sat-nav, auto headlights and wipers, double glazed windows and an interior covered in leather and wood.
Later in the year, your Quattroporte will be available with a new silk trim from Zegna
Only very occasionally does it become clear that Maserati is part of the Fiat Group and that moment comes when you use the 7.0-inch central screen in the dash.
The software is based on the group's UConnect and it isn't great. It's not bad, but it feels its age (however, it's much better than the system on the Gran Turismo), needing a lot more work or a quick surrender to Apple's CarPlay or Android Auto.
Once you work your way through the weird menus, it's fine to use and is miles ahead of the not-much-cheaper Lexus LS unit which is almost unusable.
Sound from the ten speaker stereo is crystal clear and the phone performance is also very good.
---
Alpina B5
8/10
The BMW Alpina B5 lists for $210,000, making it only $10K more the BMW M5 which comes with almost identical features apart from the Alpina engineering to the engine and chassis.
Arriving standard is leather upholstery, four-zone climate control, nav, the Alpina embossed-headrests, a 10.25-inch display, digital radio, Alpina door sills, sunroof, proximity key, power front seats, 12-speaker Harman Kardon stereo, head-up display, Alpina virtual instrument cluster, heated front and rear seats, and the 20-inch Alpina wheels.
The test car I drove had been optioned with a limited-slip differential ($5923), steering-wheel heating ($449); soft-close function for doors ($1150); sunblinds ($1059); TV function ($2065) ambient air package ($575), and front-seat ventilation ($1454).
Engine & trans
Maserati Quattroporte
8/10
Like the S, the 330bhp is powered by Maserati's twin turbo 3.0 litre V6, made with more than a dash of Ferrari involvement. As the name suggests, it produces 243kW and a chunky 500Nm. With just under two tonnes to shift, the ubiquitous eight-speed ZF automatic transmission whisks the Quattroporte 100km/h in 5.6 seconds, only half a second down on the 301kW V6 S.
Maserati claims 9.1L/100km on the combined cycle (with the help of stop-start), which seems reasonable given our figure of 10.8L/100km, which we got a with a mix of city and highway running as well as a very enthusiastic blast through some secret back roads.
---
Alpina B5
9/10
The Alpina B5 uses the same 4.4-litre V8 engine found in the BMW M5 (and also the B7). But, and it's a big but, the M5 makes 441kW and 750Nm, while the B5 outdoes it with 447kW and 800Nm. Admittedly, the B5's torque arrives at the 3000rpm mark, while the M5's is all there from 1800rpm.
How does the B5 beat it? Alpina installed its specially developed twin turbochargers and intercoolers, a high-performance cooling system, a reconfigured air intake set up and a different exhaust system.
The B5, though, is a tenth of a second slower to 100km/h compared to the M5 with a time of 3.5 seconds, but it will blast on to a top speed of 330km/h while the M5 is limited to 250km/h in regular form and 305km/h with the optional M Driver's package.
Both uses the same ZF eight-speed automatic transmission with identical gear ratios, and both are all-wheel drive.
Fuel consumption
---
Alpina B5
7/10
The Alpina B5 needs petrol. By that, I mean it needs quite a lot of it if you want to enjoy it properly. What type of mileage does it get? Officially, it should use 11.1L/100km after a combination of urban and open roads, where as the M5 is set to 10.5L/100km.
That makes sense, the B5 produces more power and torque, and it's 85kg heavier than the M5 at 2015kg.
Our test car's trip computer was reporting 13.2L/100km after flying low over country roads and slow city piloting. The more time spent in the urban warfare that is the daily peak hour commute, the more that figure crept and hovered around the 15L/100km mark.
Driving
Maserati Quattroporte
8/10
Just a few hundred metres behind the wheel is all it will take to convince you the Maserati belongs in the same class as the competition. It's incredibly quiet – courtesy of the acoustic double glazing – and all occupants benefit from supreme comfort.
While the 330 is 58kW down on the full fat V6, you won't really miss them. There's a fat torque curve, with all 500Nm available from 1750 to 5000rpm, meaning easy progress for the 5.2 metre sedan.
The Quattroporte has two sport buttons to choose from – one looks after the drivetrain and exhaust valving while the second stiffens up the Skyhook suspension.
With the first sport button pressed, you get a more lively throttle, sharper shifts and a glorious noise from the exhausts, although they are a long way from your ears.
It's still a fast car, with strong acceleration from standstill and in the gears, the power as linear as you like with no real turbo lag and a most un-turbo noise to go with the performance.
The only dynamic problem is the electric steering – it seems to get confused between your inputs and feedback from the road, the tyres feeling like they're 'nibbling' an uneven surface, tweaking the wheel in your hands. 
The assistance is a little spotty, too, unexpectedly changing weight. It's just a bit weird. In normal driving, you'll never notice it.
---
Alpina B5
8/10
Ok, stay with me here. For this next bit you'll need a fresh egg, a lounge chair, and it might be a good idea to have some plastic bags and carpet cleaner on hand.
First, in front of the lounge chair flatten out the plastic bag and place the egg on it. Next, sit down on the chair and very carefully rest the ball of your foot on the egg with as little pressure as humanly possible.
This is exactly how little force you need to apply to the go-pedal of the B5 to accelerate from a standstill to 60km/h in about five seconds.
If anything sums up the driving experience of the B5, it's that sense of effortlessness.
Stomp on that accelerator, and you'll be shot to 100km/h in 3.5 seconds, without a hint of broken traction thanks to the all-wheel-drive system.
The ride should have been terrible on 20-inch wheels shod in low-profile rubber (Pirelli P Zero 255/35 front, and 295/30 rear), but the Alpina-tuned air suspension is close to miraculous in the way it cushioned and censored the potholes out of Sydney's worst roads. Yes, it can be a touch floaty, particularly in the Comfort Plus setting, but this is benchmark-setting stuff for a comfortable ride.
Don't expect this beast to roar. Unlike the M5, the B5 gets its work done without deafening everybody around it. Sure, the B5's V8 sounds amazing when you push it, but it's not brash, not loud and not lairy. Buy an M5 or Mercedes-AMG E63s if you want to be heard half a block before you get home, but you won't get that with the B5 and its exhaust system.
The B5 also handles well, but I have to say the engagement factor is low. I piloted it effortlessly through the twists and turns of my country test circuit and roads which normally have me grinning like a maniac behind the wheel had me feeling a bit disconnected in the B5. That air suspension, the numb steering and pedal actions make it difficult to 'feel' the road.
It's highways where the B5 is a king, but even at 110km/h there's the sense that this car is still fast asleep and won't get out of bed for anything less than 150km/h - making it perfect for Germany's autobahns, but maybe not for here in Australia.
Safety
Maserati Quattroporte
7/10
Six airbags, ABS, stability and traction controls, brake assist, blind spot monitoring and rear cross traffic alert.
There is no ANCAP or EuroNCAP safety rating for the Quattroporte.
---
Alpina B5
9/10
The Alpina B5 is based on the BMW 5 Series which had a five-star ANCAP rating awarded to it in 2017.
Along with the comprehensive suite of airbags, traction and stability control, there's an impressive array of advanced safety equipment. Coming standard is AEB (front and rear), evasive steering, front and rear cross-traffic warning, blind-spot alert and lane-keep assist. The Alpina B5 also comes with BMW's emergency call function.
For child seats you'll find two ISOFIX mounts and three top tether points across the rear row.
If you're unfortunate enough to get a flat tyre, there's a puncture repair kit in the boot which works provided the hole isn't giant, as I've experience in the past with these systems.