LDV T60 Problems
No car is perfect, but we've gathered everything relating to the LDV T60 reliability here to help you decide if it's a smart buy.
Why is my LDV T60 Luxe stuck in 4L?
Answered by CarsGuide
18 Sep 2020
For reasons known only to marketing departments, the LDV, like most modern four-wheel-drive vehicles, uses a rotary knob to shift between two and four-wheel-drive and high and low-range. While old-school off-roaders of decades ago used a simple, mechanical lever to make these shifts, the modern rotary knob system relies on electronics and solenoids to effect the same shifts. When these solenoids go wrong or there's an interruption to or glitch in the power supply, you can easily experience the symptoms you've noted.
The LDV is by no means the only brand to suffer vague or phantom shifting with this system and a body-computer re-set may be required. The fault has nothing to do with you leaving it in 4H while it was parked for a few days. It's also very unlikely to be an actual mechanical problem with the transmission. So make it the dealer's problem; it's a new vehicle, so the vehicle will be covered by warranty and it won't cost you anything to have put right.
Why won't my 2018 LDV T60 start?
Answered by CarsGuide
11 Sep 2020
It seems like the fix here would be an obvious one, but there's a number of potential causes for a fault like this. Let's start with the actual starter button. It could have failed internally. Or the starter motor itself might have either failed or simply had a critical wire fall off its terminal. Perhaps the immobiliser system is not arming the ignition as it should.
And here's one from left field: Is the transmission in Park? If it is and the engine still won't turn over, try putting the selector into Neutral. Both Park and Neutral should allow the engine to start, but most people only ever try it in Park. You could also have a poor earth or iffy battery terminal which is allowing enough current to pass to illuminate the dashboard lights, but not enough to actually crank the engine over.
LDV T60: Problems with engine temperature
Answered by CarsGuide
29 Nov 2019
How sure are you that the caravan weights 2000 kg when fully loaded? What gear do you use when climbing hills? Make sure you are not heavier than you think, and use a lower gear on hills rather than let the engine lug in an overdrive ratio.
LDV T60 2019: Brakes not working properly
Answered by CarsGuide
21 Jun 2019
Have the dealer let you drive a demo vehicle and see if that is the same as yours. If it isn't than have him investigate why yours is different; if it's not it could be that it's the way the LDV brakes are. You could take it to a brake specialist and have them give you an opinion on it, and maybe suggest a fix.
LDV T60: Alarm sounding at 80km/h
Answered by CarsGuide
22 Mar 2019
It sounds like a speed warning alarm, which should be able to be reset. Check your owner's manual that should tell you how to do it.
LDV T60 2017: What weight can I tow?
Answered by CarsGuide
22 Feb 2019
The tray supplied by LDV is 2550 mm long by 1842 mm wide; if you want a bigger tray you'd best talk to an LDV dealer or a body builder. It will tow up to 3000 kg.
Where is the LDV T60 made?
Answered by CarsGuide
14 Sep 2018
The LDV T60 is made in Wixu, China, by Maxus which is a wholly owned subsidiary of Chinese automotive company SAIC Motor.
How does the LDV T60 perform offroad?
Answered by CarsGuide
14 Sep 2018
While under-powered on-road the LDV T60 is regarded as being fairly adept at off-road driving. The top-spec T60 Luxe comes with in-cabin-switchable drive modes, including 2-high, 4-high, and 4-low-range, and also features hill descent control.
Who makes the LDV T60?
Answered by CarsGuide
14 Sep 2018
The LDV T60 is made by Maxus, a subsidiary of Chinese manufacturer SAIC Motor
Search from Over 8,000 questions
Over 8,000 questions answered by CarsGuide
Complete Guide to LDV
T60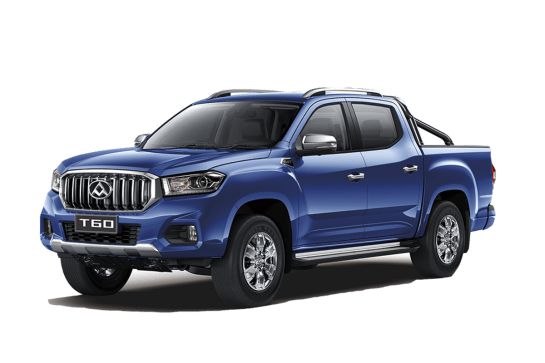 Reviews, price, specs and more