Land Rover Discovery
Pricing and Specs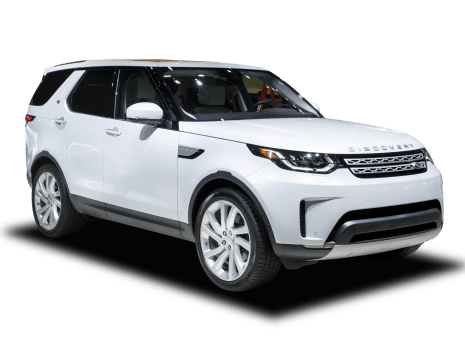 2020
From $72,856
Based on Manufacturer's Suggested Retail Price (MSRP)
1991 to 2019
$2,400 - 124,630
| Year | Price From | Price To |
| --- | --- | --- |
| 2020 | $72,856 | $126,034 |
| 2019 | $56,100 | $124,630 |
| 2018 | $49,000 | $116,490 |
| 2017 | $44,800 | $116,050 |
| 2016 | $41,900 | $109,670 |
| 2015 | $37,300 | $74,140 |
| 2005 | $5,200 | $13,420 |
| 2004 | $4,500 | $12,100 |
| 2003 | $4,400 | $11,770 |
| 2002 | $3,800 | $11,770 |
| 2001 | $4,100 | $10,010 |
| 2000 | $4,500 | $10,010 |
| 1999 | $3,500 | $10,010 |
| 1998 | $3,500 | $7,920 |
| 1997 | $2,800 | $8,250 |
| 1996 | $2,800 | $8,030 |
| 1995 | $2,800 | $8,030 |
| 1994 | $2,800 | $7,260 |
| 1993 | $2,400 | $6,050 |
| 1992 | $2,400 | $6,600 |
| 1991 | $2,400 | $6,600 |
* Manufacturer's Suggested Retail Price
Land Rover Discovery FAQs
Check out real-world situations relating to the Land Rover Discovery here, particularly what our experts have to say about them.
Is the Land Rover Discovery known for problems?

There are no 'lemon' laws in Australia, but there are laws to protect consumers in the case of faulty products. Contact the ACCC for info on those laws. You don't say, so I will assume the problems with the air con and the infotainment system have been rectified, and the oil leak is under investigation. On that basis I don't believe you have cause to think you have a 'lemon'. Fix the oil leak and carry on.

Show more
Best used 7-seat SUV under $30k

Your budget limits you to older models, such as 2008/2009, which will have done 120,000 to 180,000 km. I am loath to recommend buying one of these cars with such a mileage on them; you would be heading the period of pain when you are quite likely to face increasing and expensive repairs. If you were to choose to buy one I would go for the Discovery. I would also urge you to have the car you choose checked over by a specialist mechanic who knows the brand intimately. Instead of the European models you are considering I would suggest you also look at something like the Toyota Kluger, which would likely to be more reliable and less expensive going forward, and your budget would stretch to a later model.

Show more
Best vehicle for towing a horse float?

You need to know the all-up weight of the trailer with the three horses all your gear aboard. The horses alone weight 1500 kg, and the float is going to be 1500 to 2000 kg, so you need a vehicle capable of towing 3500 kg. There are a number on the market rated to tow that load, vehicles like the Holden Colorado, Mazda BT-50, Ford Ranger, Land Rover Discovery etc. You also need to be mindful of the Gross Combination Mass of the vehicle when you're going to tow at or near its maximum rating to ensure you don't exceed it.

Show more
See All Land Rover Discovery FAQs
Disclaimer: You acknowledge and agree that all answers are provided as a general guide only and should not be relied upon as bespoke advice. Carsguide is not liable for the accuracy of any information provided in the answers.