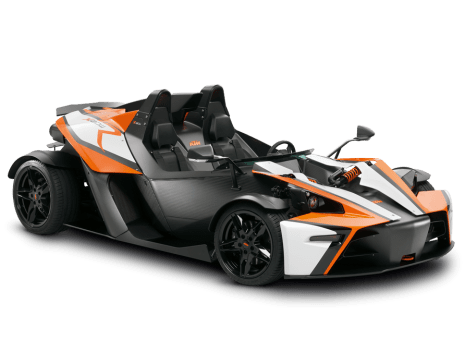 COMPARE
KTM X-Bow
VS
BMW 4 series
KTM X-Bow
Likes
Fast and utterly furious
Unique in Australia
A track-attack special you can drive to the track
Dislikes
Even a light sprinkling of rain will leave you in despair
Safety kit non-existent
An expensive toy
---
BMW 4 series
Likes
Lowered fuel economy.
Plenty of equipment included as standard.
Good amount of luggage space for a coupe.
Dislikes
Rear seating reduced to a formality.
Steering feels dull, no matter the setting.
Firm sport shocks and large wheels make for discomfort on country roads.
Summary
KTM X-Bow
I know what you're thinking: "How is this thing legal?" And to be honest, somewhere between a rock flung from the tyre of a passing car colliding with my forehead like it had been fired from a pistol, and the pouring rain lashing my exposed face like a damp cat-o'-nine-tails, I'd begun wondering the same thing.
The answer is barely. The product of a years-long fight to overcome our import rules, this madhouse KTM X-Bow R is now finally free to roam Australian roads and racetracks - though, with sales capped at 25 per year to comply with the Specialist Enthusiast Vehicle Scheme.
The price? A slightly eye-watering $169,990. That's quite a lot, and places the X-Bow R miles above its closest lightweight, carbon fibre-tubbed competitor, the Alfa Romeo 4C ($89,000).
But then, the KTM X-Bow R is unlike anything else on the road today. Part super bike, part open-wheeler and all mobile madness, the 'Crossbow' is fast, furious and completely insane.
Expect no doors, no windscreen, no roof. On-board entertainment is limited to the turbo whistling behind your head, the car's standard safety list is as barren as the interior and the climate control is dependent on the temperature of the wind that's smashing into your exposed face.
And we couldn't wait to take it for a spin.
| | |
| --- | --- |
| Safety rating | — |
| Engine Type | — |
| Fuel Type | — |
| Fuel Efficiency | 8.3L/100km |
| Seating | 2 seats |
---
BMW 4 series
Tim Robson road tests and reviews the BMW 4 Series with specs, fuel consumption and verdict at its Australian launch.
Following on from the mid-life tweaks to BMW's mainstay 3 Series in December 2015, the spin-off 4 Series line has now been updated along the same powertrain and equipment lines.
Based on the same mechanicals as the 3 Series, the three-year-old 4 Series was ostensibly formed to give BMW's nomenclature some sense of logic by designating its two-door machines as 'evens' (2 Series, 4 Series and 6 Series) and its four-door cars as 'odds'.
Three variants currently make up the 4 Series range, including a two-door Coupe, a two-door Convertible and – oddly, given the naming regime – a four-door Gran Coupe that also sports a hatch-like tailgate.
| | |
| --- | --- |
| Safety rating | — |
| Engine Type | 2.0L turbo |
| Fuel Type | Premium Unleaded Petrol |
| Fuel Efficiency | 6.4L/100km |
| Seating | 4 seats |
Verdict
KTM X-Bow
6.8/10
Okay, so rain is not your friend. Neither is brutal sunshine, strong winds or any speed bump anywhere. There are probably a handful of times you'll want to drive it, and when you do you will definitely get hit in the face with rocks and bugs, and spend most of your time wondering just how the hell this thing is legal.
And yet, we are hopelessly, head-over-heels in love with it. It's an absolute weapon on a track, a joy on anything even resembling a twisting road and it is one of the few genuinely unique cars on the road today. And the fact it exists at all is a cause for absolute celebration.
Does the KTM X-Bow R's purity of purpose appeal to you, or is its performance focus just too narrow? Tell us what you think in the comments below.
---
BMW 4 series
7/10
The 4 Series line offers three distinct points of difference from the more traditional 3 Series, each with their own attraction. The sharpening of the sticker prices and the additional spec helps their cause as well, with the 430i Coupe probably our pick of the range. The 440i is the firecracker of the group, while the 420d is also worth a look, thanks to its value and prodigious torque output.
What's your take on BMW's division of its 3 and 4 Series range? Tell us what you think in the comments below.
Design
KTM X-Bow
8/10
The X-Bow R is built for purpose in the most wonderful of ways. From the visible suspension components to the rocket-style exhausts, to the stripped-bare interior, it's fairly obvious that form came a distant second to function in the X-Bow's design process.
And, for us at least, that's a tremendous thing. It looks raw and visceral, and a bit like Harvey Dent post-fire - you can see all the normally hidden components doing their thing. It's mesmerising.
---
BMW 4 series
7/10
No external changes to the 4 Series' bodywork have been affected  for  this midlife refresh, but there have been plenty of tweaks to the standard equipment offerings right across the board.
Practicality
KTM X-Bow
5/10
Short answer? It's not. People are unlikely to test drive an X-Bow R and start looking for cupholders and storage space, but if they did, it wouldn't take long.
Aside from the twin seats, a four-point racing harness, a high-mounted gearshift, a pull-lever handbrake, and detachable steering wheel, the cabin is as bare as Old Mother Hubbard's cupboard.
Luggage space is limited to what you can carry in your pockets (though wearing cargo pants will help) and even getting in and out of the thing takes some fleet-footed antics. With no doors you need to literally jump in. And the side sills are only rated to 120kg, so heavier types will need to avoid stepping on them at all, and instead attempt a kind of running leap into the cockpit.
---
BMW 4 series
7/10
Two-doors are never the most practical devices, but the 4 Series Coupe and Convertible duo make a decent fist of it for front-seat passengers. There are bottle holders in both doors and a pair of cupholders in the centre console, along with a large lockable glovebox.
The centre bin is, however, quite shallow, and houses the car's single USB port inside it. There is covered storage under the dash for smaller items, and a small rubber-lined tray that the current crop of phones has outgrown.
The rear seating in the Coupe is reduced to almost a formality, especially if the front seat passengers are tall and the front seats are set back, while the sloping roofline reduces head space quite considerably. A centre armrest contains a pair of cupholders, and there are small side pockets.
Rainy conditions precluded us from trying the Convertible's metal folding roof, but the rear seat space restrictions also apply here. Its 370 litres of boot space is roomy enough for a drop-top, while a clever lifting function raises the folding roof structure up by about 300mm to allow luggage to be stowed under the panels when the roof is down. Capacity drops, though, to just 230 litres.
The Gran Coupe, on the other hand, is the most practical car in the entire 3 and 4 Series line-up outside of the 3 Series Touring wagon. With a large, flat load area, and a hatch-like tailgate, the Gran Coupe can swallow 480 litres of gear with the seats up and an impressive 1300 litres with the seats lowered.
Face-level rear vents, more head and backseat legroom – not to mention the fact you don't have to squeeze into the rear past the front seat – makes the Gran Coupe a most useful device, and it's little wonder it's the most popular variant of the three.
Price and features
KTM X-Bow
7/10
Keen readers of this site will recognise this as the area where we outline the many and varied features that come along with a normal new car purchase, but that's just not going to work this time. In fact, it'll be considerably easier to talk about what's missing, so let's start with the obvious: doors, windows, roof, windscreen. All conspicuously absent from this weird and utterly wonderful X-Bow.
Inside, you'll find two thinly (and we mean thin - we've seen thicker contact lenses) padded seats fixed into the tub. You'll also find push-button start, a digital screen reminiscent of those found on motorbikes (KTM is an Austrian-based motorcycle company, after all) and a pedal box that slides backward and forwards to offset the height of the pilot. Oh, and that steering wheel can pop off to make getting in and out easier.
Climate control? Nope. Stereo? Nope. Proximity unlocking? Well, kind of. With no doors, you'll always find it unlocked when you enter its proximity. Does that count?
But what it does have is a turbocharged two-litre engine. And in a car that weighs a sprightly 790kg, that means it's quick, pulling like a rabid sled dog in every gear, rear tyres chirping with every change.
---
BMW 4 series
7/10
Entry into the 4 Series world now stands at $68,900 plus on-roads for the petrol 420i Coupe and Gran Coupe, and tops out at almost $118,000 for the 440i Convertible.
Both the 420i and 420d have been boosted by the addition of adaptive M dampers, a heads-up display, powered folding rear-view mirrors, lane-change warning, driving assistant and BMW's surround view camera with top and side views.
BMW claims the extra kit is worth just over $8000. Leather seats, sat nav, BMW's ConnectedDrive Emergency call system, bi-Xenon headlights and reversing camera are also featured. An eight-speed automatic transmission is offered as stock, but a six-speed manual can be optioned at no cost.
The diesel version costs an additional $2200 over the petrol powerplant.
Stepping into the 430i, the M Sport Package is offered as standard, with the Luxury line, which includes a leather-trimmed dash, a no-cost option.
Additional standard equipment over the outgoing 428i includes 19-inch M rims, heads-up display, lane change warning, driving assistant and surround view camera. The 430i also gains electric lumbar support for driver and front passenger seats and a nine-speaker stereo system over the base 420i.
Finally, the range-topping 440i scores a heads-up display, lane change warning, driving assistant, surround view camera, adaptive LED headlights, leather dash, front seat heating, high beam assist, active cruise control with stop and go function and parking assistant over the outgoing 435i.
Over the 430i, the 440i also gets variable sport steering, a Harman/Kardon surround sound system with 16 speakers, a leather instrument panel (with M Sport Package), ConnectedDrive internet and concierge service, and air collar neck-warming ducts for the 440i Convertible.
Engine & trans
KTM X-Bow
8/10
The X-Bow R's power comes from an Audi-sourced, turbocharged 2.0-litre engine, paired with a VW Group six-speed manual transmission (and one of the stubbiest gearsticks in existence). That mid-mounted marvel produces 220kW at 6300rpm and 400Nm at 3300rpm, and ships it off to the rear tyres with the assistance of a Drexler mechanical limited-slip differential.
Thanks to its lithe and lightweight body, that's enough to propel the X-Bow R from 0-100km/h in a blistering 3.9 seconds, and on to a top speed of 230km/h.
---
BMW 4 series
7/10
There are two new petrol engines, two new badges and prices cuts of up to $10,000 right across the board for the line-up, along with additional standard equipment that improves the value equation even further.
The line kicks off with the 420, which can be had in either diesel or petrol guise. The 420i gains BMW's new B48 2.0-litre four-cylinder turbo petrol engine, which gains 5kW over the old motor to produce 135kW and 270Nm.
It also benefits from slightly improved fuel economy, with a drop of 0.3 litres per 100km for the Coupe and 0.5 for the Gran Coupe to 5.8L/100km, and a fall of 0.2L for the Convertible to 6.2L/100km.
The 420d retains its 140kW, 400Nm 2.0-litre four-cylinder turbo diesel engine, which returns 4.3L/100km in the fixed roof cars and 4.7L/100km for the Convertible.
The 430i – formerly known as the 428i – also receives the new 2.0-litre petrol engine, albeit in a 185kW/350Nm tune. Its fuel economy drops a healthy 0.6L for the Coupe and Gran Coupe and 0.4L for the Convertible, posting figures of 5.8 and 6.3L/100km respectively.
The top-spec 435i has been transformed into the 440i with the addition of BMW's new Twinpower 3.0-litre straight six petrol motor. Its output jumps 15kW to 240kW and by 50Nm to 450Nm, and its consumption falls by more than half a litre to 6.8 litres per 100km for the closed-roof pair and 7.2L/100km for the Convertible.
All cars come standard with a 'traditional' ZF eight-speed torque converter automatic transmission with steering wheel paddles as standard fitment, while a six-speed manual gearbox is a no-cost option across the line.
Fuel consumption
KTM X-Bow
7/10
KTM lists the X-Bow R's claimed/combined fuel figure at 8.3 litres per hundred kilometres (though we were managing mid-12s after an, ahem, very spirited test), with emissions pegged at 189 grams per kilometre.
The X-Bow R is also fitted with a 40-litre fuel tank, accessed via a side-mounted inlet. Instead of a fuel gauge, expect a digital reading showing how many litres you have left.
---
BMW 4 series
8/10
Our brief test loop on a rainy, blustery Melbourne winter's day in all three model types (but no diesel) netted varying fuel consumption readings across the line; we recorded 8.4L/100km in a 420i sedan against a claimed figure of 5.8, 9.8L/100km for the 430i Gran Coupe against a claimed figure of 5.8L/100km, and 8.4L/100km against the 440i Gran Coupe's 6.8L/100km.
Driving
KTM X-Bow
9/10
It couldn't be more Fast and Furious if it had Vin Diesel growling under its (non-existent) bonnet. We have technically driven faster cars, but we have never driven anything that feels quite so fast as this utterly insane X-Bow R.
Climb in, strap into the four-point harness and select first via the surprisingly easy-to-manage gearbox and clutch set up, and, at slow speeds, wrestle with the dead weight of the completely unassisted steering, and it's immediately clear that this is a driving experience like nothing else currently road-legal in Australia. Even at walking pace, the X-Bow R feels poised for an assault on the future, and it attracts attention on the road like nothing else we've ever driven.
Its road-scraping ride height and diminutive dimensions make tackling traffic an intimidating prospect, with regular hatchbacks suddenly taking on truck-like proportions and actual trucks now looking like passing planets. There's a constant concern that you're sitting well below the traditional blind spot, and that you could be crushed at any moment.
Combine all that with the bad weather that cursed our final day of testing, and the X-Bow R is all sorts of watery hell. It is truly homicidal in the wet, too, with the back end breaking grip at the slightest provocation. And the turbocharged 2.0-litre offers plenty of that.
But on a sunny day, and on the right road, it's pure driving bliss. The acceleration is brutal, the grip endless and the Audi sourced gearbox an absolute treat. And it pulls in every gear, tackling 35km/h corners in third and absolutely blasting out the other side.
Cornering is scalpel sharp, and the steering - so heavy at slow speeds - is light and efficient at pace, requiring only the most minuscule of movements to bite into a bend.
It is anything but perfect in the city, and even a light sprinkling of rain will have you seeking shelter (and a refund), but on the right road, on the right day, there are few if any cars that offer the kind of razor-sharp thrills and intoxicating excitement of KTM's monstrous X-Bow R.
---
BMW 4 series
6/10
BMW introduced a raft of tweaks to the 3 Series platform late last year, which have translated over to the 4 Series. The key addition across the line is BMW's two-stage adaptive dampers that feature a Sport and a Comfort circuit, fitted as part of the M Sport pack that comes standard on the 430 and 440, and is a $2600 option on the 420.
Larger 19-inch rims are fitted to the 430i and 440i cars, while the 420 gets 18s out of the box. It's possible to fit 18s on the more expensive cars, as part of the no-cost Luxury option pack that supplants the standard M Sport pack.
While our test was brief and held in less than ideal road conditions, the large-wheeled 4 Series really didn't enamour themselves to this author. There's a distinct lack of communication from the tyres and chassis through the steering wheel and your backside, while the combination of firm Sport shocks and large 19-inch wheels with narrow-section tyres made for an uncomfortable ride over country roads.
Sampling a 420i with the Luxury 18-inch rims, however, improved things immensely, with much better feedback and comfort that didn't come at the expense of handling.
One of BMW's strong points should be its steering, given all the 3 and 4 Series cars are still rear-wheel-drive… but it's not, unfortunately. The electrically assisted set up is far from perfectly calibrated, feeling too dull and digital underhand, no matter what the setting.
The pick of the bunch performance wise is – logically – the six-cylinder 440i. The turbo powerplant is potent from right down the rev range, with a muted yet still pleasing engine note permeating the cabin. The self-shifting mode on the eight-speed auto does a good job of keeping up as well.
The updated 2.0-litre four is a sprightly performer, too.
Safety
KTM X-Bow
5/10
Next to none. There is no ABS, traction or stability control. No airbags, powered steering or ISOFIX attachment points, either. If you break traction (which, in the wet, is more than a little bit likely) it'll be up to you to ensure you straighten up again. Helpfully, there's a ton of grip from the Michelin Super Sport tyres.
As part of the compliance program, Simply Sports Cars (the company responsible for introducing the X-Bow R) actually crash tested two cars in Europe, and raised the ride height by 10 millimetres. Oh, and there's now a seatbelt warning sign, too.
---
BMW 4 series
8/10
Safety features for all cars in the 4 Series range include six airbags, lane departure warning, pre-collision safety pack, parking sensors, active cruise control with collision warning, AEB and pedestrian warning, along with reversing camera and surround-view cameras across the line.
Ownership
KTM X-Bow
5/10
The X-Bow R is covered by a two-year, unlimited-kilometre warranty, and while service prices aren't capped, Simply Sports Cars estimates an average serve cost at about $350.
---
BMW 4 series
6/10
BMW offers a Service Inclusive program at the time of purchase, which for $1340 covers everything – including items like spark plugs, brake fluids and other fluids - for five years or 80,000 km scheduled. The cars are also covered by a three-year free roadside servicing program, in addition to BMW's two year, unlimited kilometre warranty.