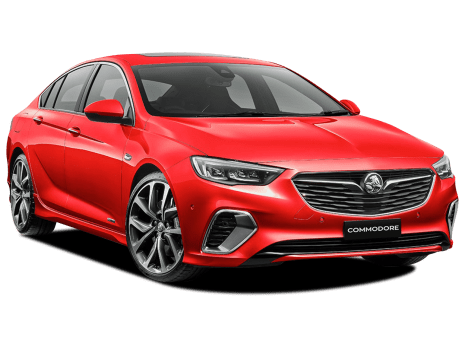 COMPARE
Holden Commodore
VS
Volvo V40
Holden Commodore
Likes
Comfortable but dynamic chassis
Strong and smooth 2.0 turbo
Liftback's boot practicality over a sedan
Dislikes
Relatively unassuming looks
V6 not as refined as the 2.0 turbo
VXR doesn't match the romance of old V8 SS
---
Volvo V40
Likes
Great looks
Responsive, torquey engine
Simple to use interior controls
Dislikes
Small boot
Limited rear legroom
No Apple CarPlay
Summary
Holden Commodore
For many Australians, calling the new ZB a Commodore is tantamount to being forced to call your Mum's new boyfriend 'Dad.' 
It's not built here, available in rear-wheel drive, there's no sign of a V8 or a sedan body, so why should we accept it as a worthy heir to the badge worn by Holden's proudest model since 1978? 
One big reason is that it was always going to be the next Commodore, even before Holden decided to stop building cars in Australia. Yes, it was even set to be built here. 
Once the VE/VF Commodore's Zeta platform was axed during General Motors' post-GFC rationalisation, the next best thing was to align with the Opel/Vauxhall Insignia designed primarily for Europe. 
Holden was actually involved with the new Insignia's development from the beginning, which has led to some key details for the Commodore version and Australia, and a whole lot of input from our world-renowned Aussie engineering team. 
So it's a whole lot more Commodore than you may realise. Whether it lives up to its reputation is another matter. 
| | |
| --- | --- |
| Safety rating | |
| Engine Type | 2.0L turbo |
| Fuel Type | Diesel |
| Fuel Efficiency | 5.6L/100km |
| Seating | 5 seats |
---
Volvo V40
I miss my old phone. Sure, my new phone has a bigger screen and it's smarter and faster, but my previous phone was smaller and easier to use, and now when I go to do a screen shot I accidentally hit the volume button every time. 
What I really want in a phone is a new version of the old one – and I have a feeling people may feel the same way about the 2018 Volvo V40. 
Some time next year the completely new generation V40 is expected to arrive and there will be some things I'll miss about the old one. So, this really is your last chance to buy a new 'old' Volvo V40.
In a last-hurrah review, I road tested the V40 in the Inscription grade with the T4 petrol engine. What's so 'missable' about it? Read on to find out.
| | |
| --- | --- |
| Safety rating | — |
| Engine Type | 2.0L turbo |
| Fuel Type | Premium Unleaded Petrol |
| Fuel Efficiency | 5.6L/100km |
| Seating | 5 seats |
Verdict
Holden Commodore
7.9/10
So will the new Commodore become Australia's favourite car? I strongly doubt it, but it's not the car's fault, and it wouldn't be any different if it was a rear-wheel drive, V8, Australian-built sedan. Australian buying habits have just moved on, and diversified into a range of SUVs, small hatches and dual-cab utes. 
Taken as an all-new entry in Holden's revitalised line-up though, the new Commodore ticks all the important boxes required of a mid-size to large passenger car these days. It may not be anywhere near as exciting as a 6.2-litre Redline sedan, ute or wagon, but it's objectively a far better car overall, and you should definitely give it a drive before dismissing it. 
The pick of the bunch in my eyes is the $39,490 RS Sportwagon with the 2.0-litre petrol engine. Yep, the best new Commodore is now a four-cylinder station wagon.   
Be sure to check out what James Cleary thought of the new Commodore in prototype guise here:
---
Volvo V40
7.5/10
I'm going to miss this V40 like I do my old phone, and for many people this hatch really could really be close to perfect: excellent safety equipment, enjoyable to drive, cool prestige styling and some lo-fi buttons and dials that are far easier to use than swiping a screen. This is your last chance to own an old, new V40.
Would you wait for the new V40 to arrive or would you prefer the current version? Tell us what you think in the comments below.
Design
Holden Commodore
8/10
Aside from the move to a front-drive basis, the other key difference between the new Commodore and those of the past is its shift from a classic three-box sedan shape to a sleek, five-door Liftback. Even the Sportwagon has an elegant arc to its roofline, which is arguably their most appealing design element. There are no Ute or Caprice bodystyles, and there never will be. 
The European-designed look is less macho than the bulging wheelarches of the VE and VF, but more in line with its European rivals like the Ford Mondeo, Volkswagen Passat and Skoda Superb. 
The best way to identify specific models is by their wheels, with the trim levels split between a more elegant body trim on the entry, Calais, Calais-V and Tourer variants, and sportier body kits with side skirts and a rear spoiler on the RS, RS-V and VXR flagship.
The interior look is also best described as elegant, with fresh shapes that flow cohesively into the door trims and centre console. There's a general air of quality about it, but it's let down by some cheap-feeling controls and switches, particularly the climate control knobs. 
The ZB's overall size is bigger than you might think, with most dimensions fitting neatly between the VE/VF and the VT-VZ generation that preceded it. 
You might be surprised to learn it's no lightweight either, with the heaviest Calais-V Tourer actually outweighing the portliest VF by 31kg. 
Interior dimensions are comparable with its predecessor, with the most significant differences being a narrower back seat thanks to its 36mm thinner body and 13mm less rear headroom in the Liftback (but 3mm more in the wagon).  
Before the decision was made to source the new car from Germany, Holden was planning a longer wheelbase for Australia. One specific requirement that did reach fruition is the availability of a V6 engine, which isn't fitted to European versions.
Under the skin it rides on GM's E2XX platform, which is a significant evolution of the chassis that underpinned the previous Insignia and the now-defunct Holden Malibu. 
Aside from having a say in every step of its design process, Holden engineers covered more than 200,000 kilometres of testing on Australian roads and at the Lang Lang proving ground.
This has been to fine tune the drivetrain calibrations, the steering, suspension, and even details like the sat nav and radio reception to suit our tastes and unique demands. 
Specific suspension tunes have been developed for four cylinder models, the V6 Calais, V6 RS-V and the Tourer, with unique setups between Liftback and Sportwagon bodies. 
The only version not to score an Australian suspension tune is the VXR, which was treated to a performance-focused setup at the Nürburgring in Germany. 
---
Volvo V40
8/10
The V40 has been around forever (well, since 2012) but somehow it still looks great – it's the Nicole Kidman/Rob Lowe of cars.
The thing is Volvo's new-generation vehicles now have a different look, which will be worn by the next V40, and that seriously dates the current car.
Sure, in 2016 this V40 was updated and given 'Thor's Hammer' LED running lights like the new-gen cars, but it's clear the V40 has the old look.
The question is: are you the type of person who would be annoyed if this time next year somebody in the latest 'new-look' V40 pulled up beside you at the lights. If yes, then stop reading now… we'll just wait a moment for you to leave.
Okay, it's just us now. We don't need those shallow people anyway, right? They don't know what they're missing out on – like an interior with lots of buttons. I'm serious the centre console actually has a numerical key pad for making phone calls. There are also lots of dials for the climate control and seat warmers and for the auto parking system.
All of these buttons will be replaced by a sexy, large touchscreen in the new V40, which will make the screen in the current one look like the slot in Ned Kelly's helmet. Wait, don't leave. See, I've road tested the new X60 and I missed just flinging a dial to make the cabin's temperature cooler, instead I had to go into the screen's menu, find the climate functions, and then slide my finger down a little digital ladder until I found 21 degrees. It's a frustrating design and potentially distracting in that it takes your eyes off the road longer than twisting a dial does.
I'll stop the rant. So, yes, the interior of the new V40 will look so sleek and minimalist, decluttered of its buttons and sporting a large vertical screen, but there are functional advantages to keeping it simple.
That said the current V40's cabin is still special and elegant. The Inscription grade brings milled aluminium trim to the centre console and that leather steering wheel. Volvo owners would be aware of that solid, well-built feeling with a high-quality fit and finish.
What are the V40's dimensions? Compared to the Audi A3 Sportback the V40 is 59mm longer at 4369mm end-to-end, 72mm wider at 1857mm across, and 5mm shorter in height at 1420mm.
Practicality
Holden Commodore
8/10
Another traditional Commodore trait to have taken a step backwards is its ability to carry three adults across the back seat. Admittedly only really an issue for taxi use, the ZB will certainly still swallow three, and likely three child seats, but less comfortably and more like the similarly sized Camry.
The Liftback's reduced headroom didn't matter for this 172cm tester, but if you were marginal in a VF you'd probably want to avoid spiking your hair.  
The cabin ticks all the other important boxes for a modern family car, including twin cupholders front and rear, bottleholders in each door and two ISOFIX child seat mounts in the rear. 
All get a good cluster of USB and 12V charge points, while the RS-V models upwards get a big bonus with wireless phone charging. 
The Liftback's boot space is only slightly down on before at 490 litres, but the huge opening created by the five-door design is so much more useful in the real world. It also brings a split-fold back seat for the first time in a non-wagon Commodore. 
The Sportwagon has lost around 100 litres in capacity though, but is still a very useful 560 litres to seat height or 793 litres to the roof. 
Holden's local team has also developed a range of optional accessories for the Commodore, which includes a bonnet protector, weather shield, towbar, boot liner, floor mats, headlight protectors, sill guards, locking wheel nuts, roof racks and a cargo net, but there's no sign of a cargo barrier, nudge bar or bullbar at this stage.
---
Volvo V40
6/10
Umm, next question. Okay, the V40 is not very practical. Those small rear doors don't open wide, making entry and exit potentially difficult for older or less limber folks.
Legroom in the back is limited – although at 191cm I can just sit behind my driving position and headroom is getting tight, too – but still there's just enough room for me.
The V40's cargo capacity is 335 litres and that's smaller than the A3 Sportback's boot space (380 litres) and the BMW 1 Series's luggage capacity (360 litres). The aperture of the boot itself is also small.
There's even a practicality issue with the driver's doorway – that windscreen is so slanted that the A-pillars either side of it are hard to dodge for taller people when trying to get in, but especially when climbing out.
Price and features
Holden Commodore
8/10
Aligning with the Insignia's European platform has bumped the Commodore right up to speed with the current status quo of features expected in such a family car. 
Available Commodore firsts include standard auto emergency braking (AEB) on all models, adaptive cruise control, 360-degree / surround-view cameras, massage and ventilated seats, heated rear seats, wireless phone charging, LED headlights and a power tailgate on the wagons. Like most new cars, there's no more CD player or DVD player with the radio and other multimedia options. 
The broad model range is split into LT, RS, RS-V, Calais, Calais-V, VXR trim levels, while the off-road flavoured Tourer is split into Calais and Calais-V versions. 
All bar the Tourer and VXR are available with either Liftback or Sportwagon ($2200 extra) bodystyles, while the 2.0-litre turbo engine is standard in the LT, RS and Calais. The V6 with all-wheel drive is available in the RS, RS-V, Calais-V, VXR and both Tourer trims, while the diesel engine is limited to the LT and Calais. 
The base LT Liftback drops the Commodore entry point by $1800 with a list price of $33,690. The diesel engine is available in either bodystyle for an extra $3000. 
Standard features include the aforementioned AEB, lane keep assist, lane departure warning, Apple CarPlay and Android Auto in addition to Bluetooth connectivity with a 7.0-inch multimedia screen, reversing camera, auto parking, a leather steering wheel, an eight-way power driver's seat, proximity keys, auto headlights and wipers, air conditioning and 17-inch alloy rims.
The RS kicks off at $37,290, or $40,790 in V6 AWD guise, and brings sports front seats, steering wheel and body kit, blind-spot monitoring, rear cross-traffic alert and bigger 18-inch alloys, while the Sportwagon version gets a power tailgate. 
The V6 AWD RS-V commands $46,990, and adds leather seats, heated front seats, paddle shifters a larger 8.0-inch multimedia screen with built-in GPS navigation system and DAB+ digital radio, a colour head-up display, wireless phone charger, interior ambient lighting, upgraded Hi Per strut suspension and a sportier rear bumper. 
The $40,990 Calais is also available with the diesel engine for an extra $3000, or as the V6 AWD Tourer wagon for $45,990. 
The Calais sits closer to the LT on features, but adds leather trim, front seat heaters, 8-inch multimedia screen with built-in GPS navigation system and DAB+ digital radio, wireless phone charging, blind-spot monitoring, rear cross-traffic alert and 18-inch alloys. 
The Calais Tourer scores a ride height lift (overall height up 42mm) and off-road styled unpainted wheel-arch moulds and bumper caps. 
The $51,990 Calais-V adds a Bose premium sound system, ventilated front seats, a massage function and powered side bolsters for the driver's seat, heated rear seats, a sports steering wheel with paddle shifters, 360 degree cameras, colour head-up display, adaptive LED headlights and 20-inch alloys. The Liftback version gets an electronic sunroof, while the Tourer version gets a panoramic glass roof. 
The top-spec VXR is closest to the RS-V in terms of features, but for $55,990 it adds VXR-specific sports seats with power adjustable bolsters and ventilation up front, heated rear seats, Bose premium audio, adaptive suspension, adaptive cruise control, Brembo brakes, VXR floor mats and sill plates, active LED headlights, 360-degree camera, electric sunroof, and 20-inch alloy wheels. 
From launch, Holden is offering drive-away pricing across several models, with on-road costs included. The LT petrol Liftback is available for $35,990, while the RS Liftaback is being offered for $38,990 with the 2.0-litre turbo and $42,490 with the V6. The Calais Tourer is also being offered for $47,990 drive away.
MORE: Check out our ZB Holden Commodore price guide and price list here.
The available colours are spread across two whites, two reds, silver, grey, black and blue, with some only available on certain models. All bar the non-metallic white and red will cost you an extra $550, but there's no sign of the green, purple, orange, or yellow we've seen over the past decade. 
---
Volvo V40
8/10
The Volvo V40 in the mid-range Inscription grade with the T4 engine lists for $43,990. When I road tested it for the first time five years ago (in 2013) it was $45,990, and it's a better car now than it was then, with more standard features.
The list includes a 7.0-inch touchscreen with reversing camera, sat nav, eight-speaker sound system with CD/DVD player, digital radio, and internet connectivity – but no Apple CarPlay or Android Auto. 
Also standard are front and rear parking sensors, an auto parking system, plus power adjustable driver and front passenger seats. There's also leather upholstery, leather-trimmed steering wheel, dual-zone climate control, 17-inch 'Sarpas' alloy wheels and proximity key entry.
The safety equipment list is impressive, too – you can read all about what's looking after you in the safety section below.
If you wanted a model comparison, then also look at the BMW 1 Series 18i M-Sport for $43,890 or the Audi A3 Sportback 2.0TFSI for $46,400 or Mercedes-Benz A200 for $44,300.
Also, don't forget that because the current V40 is due to be replaced, dealers will be keen to move their stock to make way for the new one and that means you should be able to get yourself a bargain.
Engine & trans
Holden Commodore
7/10
No, there's no more V8, manual transmission or rear wheel drive, but the ZB's options are more in sync with its newer rivals. 
For the first time since the VH, or 1984, the base engine is a four-cylinder petrol unit, but uses modern tech like direct injection and a turbo to boost power statistics to more than triple that of the infamous Starfire engine. Also seen in the Equinox, the new turbo motor's 191kW is also notably 6kW more than the 5.0-litre V8 in the VL Group A SS (Walkinshaw), and 1kW more than the 3.6-litre V6 was making in top-spec VZ Commodores – so pretty good horsepower for its engine size.
MORE: If any Commodore engine problems or automatic transmission problems crop up, you'll likely find them here.
The real story is its healthy 350Nm of torque, which is also more than what the same VZs were making, but on tap from a useful 3000-4000rpm.
The latest version of the 3.6-litre Alloytec V6 that's seen duty in VZ, VE and VF models makes a reappearance as the new performance leader, but mounted sideways and turning all four wheels this time. In ZB trim, it produces 235kW and 381Nm, the latter from 5200rpm.
MORE: Find all ZB Commodore specifications here.
For the first time, you can also choose a diesel option with LT and Calais trims, which is a version of the engine used in the previous Opel Insignia. You'll also find it under the bonnet of the Jeep Cherokee and Compass, and its applications spread as wide as the Alfa Romeo 159 that ended production in 2011. In Commodore guise, the turbo 2.0-litre engine specs are 125kW and 400Nm (available from 1750-2500rpm), and therefore taking out the torque trophy for the ZB range. 
Both petrol engines are paired with a nine-speed torque converter automatic transmission, while the diesel has an eight-speed gearbox. Both four-cylinder engines are front-wheel drive, while all V6 variants are all-wheel drive. 
MORE: What's the difference between 4X4, 4WD and AWD
The all-wheel drive system is actually quite clever, using what's called a Twinster twin-clutch rear differential for finite torque vectoring, or sending the just the right amount of power to each wheel. The system varies torque distribution between 100 per cent front and a 50/50 split. 
If you think the Commodore has gone soft, its towing capacity ratings also suggest otherwise, with a 2100kg maximum braked rating for V6 models matching the best offered previously. The four cylinder models are rated at 1800kg, which is 200kg better than what the previous 3.0-litre V6 and LPG models carried.
---
Volvo V40
8/10
The V40 line-up has three petrol engines to pick from and the T4 sits right in the middle between the most powerful T5 and the least grunty T3. A 2.0-litre four-cylinder turbo-petrol engine the T4 makes 140kW/300Nm and delivers it through a smooth six-speed automatic.
That engine is up there with my favourite things about the V40 Inscription. The power figure isn't huge but 300Nm of torque provides decent shove. A 0-100km/h time of 6.9 seconds isn't at all slow.
Fuel consumption
Holden Commodore
8/10
As you'd hope, the ZB sets a new Commodore benchmark for fuel consumption, with the diesel models managing a best official combined figure of 5.6L/100km. The petrol four-cylinder models also pip the VF's best combined fuel economy figure of 8.3L/100km with 7.4 and 7.6L/100km for the LT, RS and Calais Liftbacks respectively. The Sportwagon versions wear 7.7 and 7.9L/100km figures, while V6 versions span 8.9-9.3L/100km combined ratings. 
It's worth noting that the petrol four-cylinder engine needs premium 95RON unleaded to do its best, while the V6 is happy to run on regular 91RON unleaded. All versions have a 61.7-litre fuel tank. 
---
Volvo V40
7/10
Volvo says the V40 should use 5.6L/100km of premium unleaded fuel over a combination of open and urban roads.
If you're only going to stick to urban areas you'll see higher usage – our trip computer was reporting an average of 14.9L/100km on a regular peak hour commute, but motorways drop the figure to about 8.0L/100km.
Driving
Holden Commodore
8/10
The Commodore we know and most of us love is just as famous for its quality driving experience as its local production and motorsport successes. So, the ZB has some big shoes to fill in this area. 
At the ZB's media launch, we drove everything aside from the base LT or any diesel variant, over several hundred kilometres of pretty much every road condition. 
I'll cut to the chase. There's a genuine quality to the way they handle Australian road conditions. We drove them back to back with a UK-spec model at Lang Lang, and while you'd expect the local car to excel at its own test facility, the rear and front suspension work in harmony to handle mid-corner bumps with far greater stability than the alternative. The electric power steering weighting was also lighter, but it didn't seem to lose any precision. 
You probably wouldn't notice it driving to the shops every day or cruising on the highway, but this on-limit controllability could easily be the difference between life and death in an emergency. 
The turbo four is a surprisingly capable and refined package, and would honestly be my pick if I were in the market. It's smoother and more tractable than the V6, so feels like it would deliver speed more readily than the bigger engine unless you were going flat out. 
Holden isn't quoting official 0-100km/h acceleration figures, but we hear the petrol four is good for a 7.0 second-ish time, and the V6 will manage just over 6.0sec. So there's really not much in it outright. 
Therefore it's a shame you can't get the Tourer with the petrol four, but because the combination is available in Europe, Holden could shift the line-up if there's enough demand. 
The nine-speed auto does a pretty good job with either engine, and its electronic brain does a slick job of seamlessly adjusting its shift behaviour to your driving style. 
Holden isn't quoting ground clearance figures, but all have enough to handle dirt roads, and while the 17-inch wheel equipped models match the VF II's 11.4m turning circle, be aware that the 18-inch wheel variants blow out to 11.7m, the 19s are 12.7m, and Holden doesn't quote a figure for the 20-inch equipped Calais-V Liftback and VXR.   
The only other surprise among the group we drove is the Calais-V Liftback, which is likely to be a bit too sharp in its ride for some luxury buyers on its big 20-inch alloy wheels. The Calais or one of the Tourers would be your best bet for comfort.  
The VXR performance flagship is a completely different personality to the SS models of the past. It's nowhere near as fast, but is more of a grownup package that's easier to get the best out of. 
Its more demure than the brash final VF IIs, and the V6 does make a pretty sweet note, even if half of it is coming from the speakers.
Nothing was ever going to replicate the romance and pride of the last SS, but all is not lost for fans of fast Holdens.
---
Volvo V40
7/10
That grunty 2.0-litre engine teamed with that smooth six-speed transmission goes a long way to making the V40 Inscription T4 an enjoyable car to drive.
Good handling and a fairly comfortable ride complete a prestige and easy-to-drive package that's only really let down by heavy steering and slightly noisy suspension. That heavily sloped windscreen does present some visibility issues, but it's not a deal breaker.
Safety
Holden Commodore
9/10
All versions of the new Commodore come with a maximum five star ANCAP safety rating, which has been measured against 2017 standards. The VF's five star rating was based on 2013 standards.
As mentioned above, all versions get standard AEB and ISOFIX child seat mounts, plus features like lane keep assist and departure warning, auto parking, a reversing camera with front and rear sensors and six airbags covering both rows of seats. 
All versions also get a novel following distance indicator to help you gauge a safe distance from the car in front. This could serve as excellent driver training, and worth having a go with on a test drive.
RS variants upwards get blind-spot monitoring and rear cross-traffic alert, while only the Calais-V and VXR get 360-degree /surround-view camera setups.
---
Volvo V40
9/10
First tested in 2012, the V40 the achieved one of the highest-ever scores awarded by EuroNCAP and saw ANCAP give it the maximum five-star rating in Australia. Back then the V40 came standard with advanced safety equipment only making it onto cars these days such as AEB, it also had the world's first pedestrian airbag, which inflates to protect people from hitting the A-pillars and windscreen.
The 2017 update added blind-spot warning as standard on the Inscription grade. A $1300 option package brings Lane Departure Warning, Lane Keeping Aid, Active High Beam Control, Forward Collision Warning and Road Sign Information. A $3000 package brings adaptive cruise control, collision warning with full auto braking, plus pedestrian and cyclist detection.
ABS, EBD, traction and stability control are of course there to step in should you need it, too. You'll find three top tether and two ISOFIX points in the second row for child seats. A space-saver spare is under the boot floor.
Ownership
Holden Commodore
7/10
Holden is currently offering a seven-year, unlimited kilometre warranty with roadside assistance to help boost sales, but be on the lookout for the return of this deal if you miss out this time. Normally, the Commodore carries the standard three year/100,000km warranty. 
Service intervals are now 12month/12,000km, which have shifted from the previous 9month/15,000km terms.
Service costs are capped for the first seven trips to the workshop, with petrol models costing $259, $299, $259, $359, $359, $359 and $259, or a total of $2153 over seven years or 84,000km. The diesel is actually slightly better value at $259, $359, $259, $399, $359 and $399, or $2134 over the same period.
---