Used Porsche Boxster review: 1997-2007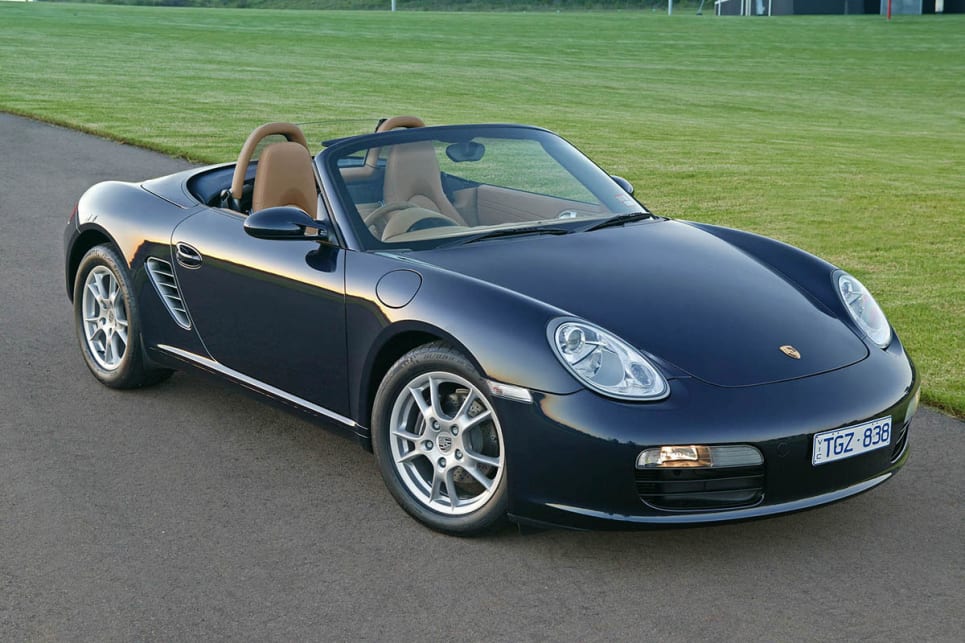 In a logical world the Porsche Boxster would have superseded the Porsche 911 about 10 years ago. That's because it has a more sensible mechanical layout, with the engine sitting within the wheelbase rather than behind the back wheels as is the case in the 911. The Boxster's mid-engined layout gives excellent chassis balance, highest cornering speeds and great driver control.
Thankfully, the world isn't always logical and the unconventional 911 retains top spot in the hearts of Porsche purists around the globe.
Boxster is smaller and cheaper than the 911 and secondhand examples can now be picked up for comfortably under $50,000. It was launched in Australia in January 1997 and sold pretty well from day one so there are now quite a few on offer as used cars.

1997 Porsche Boxster.
A Porsche Boxster that's always been serviced and repaired by an official dealer is a relatively common sight and is the one to aim for. You are likely be asked to pay more, but it's generally a sound investment.
Interestingly, the Boxster shares quite a few of its front-end components with the Porsche 911 so there's a family resemblance in the styling department. At the rear, though, it's quite a different machine visually. 
The Boxster is sold only as a convertible, a coupe version, called the Porsche Cayman went on sale in Australia in February 2006. Cayman is still a rarity on the used-car scene so we won't cover it in this week's feature.
The Boxster is a brilliant machine to push along hard and fast. Their naturally-aspirated engines are wonderfully responsive, the gearbox is a delight to use, road grip is very high and the feel through the steering wheel and the seat of the pants are both spot on. It takes a lot of provocation to get the tail out of line, and if it does start to slide the Boxster remains controllable up to a point.
As with all full-on sports cars with a mid-mounted engine, if the tail gets out too far you'll need quick reflexes to correct it. An advanced driving course is recommended if you really want to get the best from the Boxster.

2002 Porsche Boxster.
This sports model is strictly a two-seater with a roof that's one of the simplest in the business, with the roof doubling as its own cover when it's powered down.
Boxster's seats are supportive and comfortable and shoulder room is plentiful, with the two occupants well insulated from buffeting with the roof down. A bonus is that it's surprisingly practical for a sportscar, with luggage compartments front and rear. 
The Boxster received minor upgrades in October 1999, August 2001 and August 2002, then a major upgrading in February 2005. The latter, tagged the 987 series, replaced the previous 986 models.
The Boxster was initially criticised for being down on power, mainly due to its smallish 2.5-litre, flat-six engine. That problem was solved in 1999 when a bigger 2.7-litre unit was installed. Even better news was the shoehorning of an optional 3.2-litre engine into the model called the Boxster S. 
A Boxster S can power its way from rest to 100 km/h in under six seconds and run all the way to 260 km/h. A small spoiler pushes out from above the rear bumper at speeds above 120 km/h to increase stability.
These engines, even the smallest one, really come alive above 4000 rpm, their tone initially hardening, then rising to a wonderfully metallic howl as it goes through 5000 rpm. Get the top down whenever you can and hold on to the lower gears just for the sheer pleasure of listening to it.
Powerful ventilated brake discs are installed. If you think going from a standstill to 100km/h in only 5.9 seconds feels sensational, just wait until you experience 100 to zero in only 2.7 seconds.

2004 Porsche Boxster.
The Boxster uses either a five-speed manual or, in the Boxster S, a six-speed manual gearbox. A five-speed Tiptronic automatic transmission is offered and permits sequential manual shifting via F1-style thumb-switches on the steering wheel.
Porsche is long established in Australia. The dealer network isn't huge, but it's well organised and we seldom hear complaints about parts or service availability. Prices aren't cheap, but neither are they outrageous for what you get.
Insurance ratings are generally moderate for what is, after all, a prestige sports machine.
What to look for
The Boxster's body is well engineered and solidly built and unless poorly repaired after a crash will last well.
If you do suspect accident repairs it's wise to have it professionally inspected. Rust is a no-no and almost certainly means the car has been badly repaired.
Check the interior for signs of mistreatment. Look under the floor mats for signs of dampness caused by this convertible being caught out in the rain.
The engine should start easily, idle smoothly virtually from the moment it kicks over and have throttle response that's all-but instantaneous.
Heavy operation of the clutch is likely to mean it's due for an overhaul. Not a complex job, but there are no cheap repairs on a Porsche.
The gearbox should be light and easy to use, with no noises during fast gearchanges.
Be sure the brakes pull the car up cleanly without one wheel locking ahead of the others. If ABS is installed feel for a pulse through the brake pedal under hard braking.
How much
Expect to pay from $31,000 to $40,000 for a 1997 Porsche Boxster 2.5-litre; $40,000 to $55,000 for a 1999 S 3.2-litre; $55,000 to $75,000 for a 2004 2.7-litre; $70,000 to $95,000 for a 2006 2.7-litre; and $85,000 to $118,000 for a 2007 S 3.4-litre.
Car buying tip
Pure bred sportscars often lead a cushier life than standard ones, not being driven as often, and generally being maintained by the book. It doesn't always happen, though...
Pricing
| Year | Price From | Price To |
| --- | --- | --- |
| 2007 | $14,900 | $26,950 |
| 2006 | $13,500 | $25,960 |
| 2005 | $13,200 | $30,250 |
| 2004 | $13,200 | $30,250 |
| 2003 | $13,200 | $24,640 |
| 2002 | $13,200 | $24,750 |
| 2001 | $13,000 | $24,750 |
| 2000 | $13,000 | $23,870 |
| 1999 | $12,500 | $23,870 |
| 1998 | $12,500 | $20,570 |
| 1997 | $11,800 | $20,570 |
Pricing guides
$16,185
Based on third party pricing data
Other cars to consider