Mitsubishi ASX 2010 review: first drive
YOUNG urban couples and matured-aged empty nesters have a new model to choose from in the booming sub-compact SUV segment.  Mitsubishi has entered the market with the ASX, a funky crossover between a small hatch and a compact SUV.
Mitsubishi Motor Australia Chris Maxted says it is the sub-compact SUV segment (Nissan Dualis, VW Tiguan and Hyundai ix35) that is the driving force behind a 33 per cent hike in compact SUV sales so far this year. 
"This sub-compact SUV blurs the lines between light passenger cars and SUVs," he says.  "This is an emerging market that's not yet established and mature."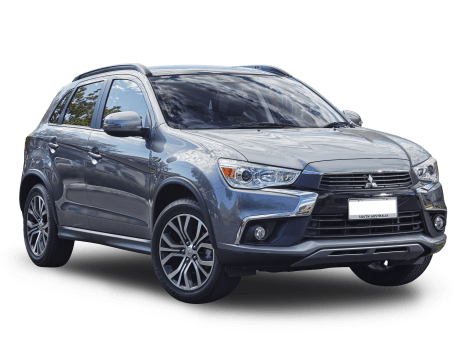 Explore the 2010 Mitsubishi ASX range
He says ASX stands for Active Smart Crossover, not Australian Stock Exchange, and that the choice of name came down to RVR, which is used in Japan, or ASX which is used in the rest of the world.
"We liked both names but went for ASX," he says.  Call it what you like, it is a sexy little urbanite that doesn't mind getting its fingernails dirty occasionally and has attractive features with competitive price tags.
Engines and gearboxes
It arrives with a choice of MMA's first passenger car diesel engine, a 1.8-litre turbodiesel with fuel economy less than six litres per 100km, or the proven two-litre petrol from the Lancer.
The petrol engine consumers 7.7 litres of fuel per 100km in manual and 7.9L/100km in CVT, while the manual diesel gets 5.8L/10km, which compares with the Colt's 5.6.  Maxted says the diesel engine is Euro 5 compliant with emissions of 145g/km.
"We won't be at that level in Australia until maybe 2013 yet this already meets those standards," he says.  The all-alloy diesel engine has the same 110kW of peak power as the petrol engine, but has more than 100Nm of extra torque.
Maxted says a diesel auto - not CVT - is being engineered and will arrive in about 18 months. 
Styling and fit-out
Styling is very similar to the Concept cX which debuted at the 2007 Frankfurt Motor Show. The ASX has the Mitsubishi face with that big "wow" mouth and Volvo-like arrow-shaped bonnet and a much more shapely rear end than on the Outlander.
Maxted says they used a lot of noise suppression material in the construction to make the cabin quieter.  Inside, the vehicle is more car-like than SUV with plenty of soft touch plastics on the dashboard, armrests and doorsills.
"It gives a passenger-car feel," says Maxted.  "This market is coming out of passenger cars and used to that sort of feel."
Thankfully, all models have telescopic steering, making it the only car in the Mitsubishi range with that facility.  The rear seats have a 60/40 split and fold down flat, while the cargo area has tie-down hooks and a space saver spare under the flat carpeted floor.
Maxted says a full-size spare is available at about $200 but it lifts the cargo floor level.  "Our research shows these customers want space, but the option is there for a full-size spare; same as what we do with Lancer," he says.
Pricing
While the ASX is not as cheap as the Nissan Dualis entry model ($24,990) it is cheaper than Hyundai ix35 ($26,990), but comes in three models, while the Nissan, Hyundai and VW have two models each.
There are seven colours options, mainly from the Lancer palette, but with Titanium and the hero colour Kingfisher Blue.  MMA is limited in supply to about 350 a month because of demand from Europe.
However, Maxted says they expect to sell about 500 a month next year when they get better supply.
Driving
It certainly looks young and funky. Inside, it's almost sexy with that dimpled rubbery soft-touch trim. The name almost spells SEX.
Driving dynamics don't quite live up to that sexy image, but they aren't far off.  It is a lively handler that doesn't have the usual pitch and roll associated with top-heavy SUVs.
There is only light understeer in two-wheel drive and even less in four-wheel-drive mode.  Spring rates are progressive with a plush initial stroke that absorbs sharp country road jolts.
It doesn't bounce around and carry on after a big hit, but can be unsettled over a serious of complex road irregularities.  In AWD mode, it punts along quite nicely down a shady dirt lane, but the stability and traction controls are too heavy handed. You will have to switch them off, especially for hill ascents or you will be scrambling for momentum.
The petrol engine is a proven unit from the Lancer, but it needs to be stirred with a manual gearbox. The CVT is too slow to kick down a step when needed.  First and second gears are a bit short in the diesel and the box is a bit graunchy.
The diesel engine is a lusty beast with strong torque from 2500rpm, but it's raucous and clattery at idle and under acceleration. Not as bad as some Mitsubishi diesels and it does smooth out and quieten down on the highway.
Steering is a little numb in the centre, but gains feel as you wind in turn. There is light torque steer in the 2WD, and even lighter in the 4WD or Aspire. For an urban vehicle, the turning circle is too wide.
The car has a solid feel with no squeaks, rattles or bangs, even on crusty forest trails. However, cabin noise is louder than expected with plenty of buffeting on the windscreen, tyre howl and that clattery diesel engine.
One final niggle is the reverse gear which is a bit of a reach for people with short arms and awkward to engage as you have to pull up a shaft sleeve.  It's ok for double-jointed gorillas, but difficult for young women who will form a large percentage of target buyers.
Pricing Guides
$10,990
Based on 36 cars listed for sale in the last 6 months
Range and Specs
| Vehicle | Specs | Price* | |
| --- | --- | --- | --- |
| (2WD) | 2.0L, ULP, 5 SP MAN | $9,990 – 10,977 | 2010 Mitsubishi ASX 2010 (2WD) Pricing and Specs |
| (4WD) | 1.8L, Diesel, 6 SP MAN | $10,990 – 13,488 | 2010 Mitsubishi ASX 2010 (4WD) Pricing and Specs |
| Aspire (4WD) | 1.8L, Diesel, 6 SP MAN | $9,990 – 12,990 | 2010 Mitsubishi ASX 2010 Aspire (4WD) Pricing and Specs |
Pricing Guide
$5,990
Lowest price, based on 53 car listings in the last 6 months
View cars for sale
Similar Cars
Mitsubishi Outlander

Nissan Qashqai

Mazda CX-3

Mazda CX-5