Kia Optima 2011 review: snapshot

You've got to hand it to Kia because it has done an outstanding job with the new Optima.
The car looks simply stunning. It was only a few years ago that we used to draw straws to see who'd have to drive the latest Kia. Apart from being cheap and reasonably well made, there wasn't much to say about them.
My how times change . . . With this latest offering, Kia has managed to pull off the trick of building a car that looks more expensive than it is - a car that you'd like to own and drive.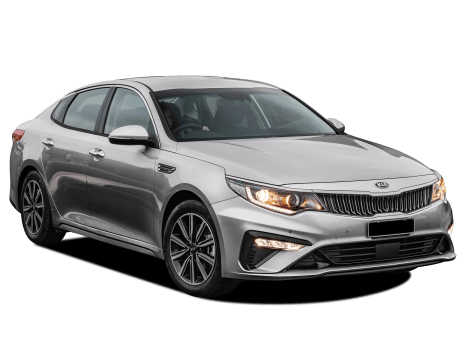 Explore the 2011 Kia Optima range
With its sleek European lines, full length sunroof, flashy 18 inch wheels and LEDs up front, the new Optima is a real head turner. Priced from $36,990 plus on-roads for the top of the line Platinum model with everything that opens and shuts - it's an extremely attractive proposition.
But, as much as we love the Optima's looks, we have to admit to being a trifle disappointed. It took a while to pinpoint the source of these misgivings, but we finally narrowed it down to the four cylinder petrol engine.
Basically, it lacks the refinement of a six that the car deserves. Although the 2.4-litre direct injection four produces class leading power and torque, with 148kW and 250Nm of torque from 4250 revs - it's too harsh and this spoils the otherwise classy feel.
Paired with a six-speed auto, the Theta II GDI engine generates too much noise and vibration, especially under load. The six-speed auto feels too busy at times too as it searches for the optimal gear. Low profile 45 series Kumho tyres also generate quite a bit of road noise, especially on coarse bitumen.
We clocked up more than 600km this week behind the wheel the new Optima. With 148kW on tap the big four produces plenty of oomph, rivalling Honda's Accord Euro for honours - but with more torque. The car rides and handles extremely well, with plenty of grip and quick, responsive steering - maybe too sensitive.
There's also minimal kick back through the wheel when the front wheels encounter a bump mid-corner. Having said that, the ride is not as good as Kia's own Sportage. It's ironic given the amount of time and money Kia spent tuning the ride for Australian conditions.
Don't get me wrong, because none of these criticisms are deal breakers - they just detract from the overall effect. At this stage Kia is offering just the one model with the one engine/transmission combination, the latter complete with gear change paddles.
Fuel consumption for the petrol engine is officially rated at 7.9 litres/100km. But we achieved 8.8 over a distance of 638km, with about 80km to go according to the computer. The Optima looks just as good inside, with a well laid out easy to use instrumentation with orange backlighting giving it a European feel.
You get leather upholstery and climate airconditioning, with a driver's seat that can be heated or cooled. The 7-speaker Infinity sound system is also a cracker. Standard equipment includes Bluetooth, iPod connection, six airbags, LCD reversing camera, automatic lights - about the only things missing are automatic wipers and satellite navigation.
With a full complement of safety equipment, the Optima achieves a full five-star safety rating. We were reluctant to hand back the car because the more we drove the Optima the more we liked it.
We'd love to see it with one of Kia's excellent diesel engines - now that really would be something.
Pricing guides
$11,939
Based on 19 cars listed for sale in the last 6 months
Pricing Guide
$8,990
Lowest price, based on 20 car listings in the last 6 months
View cars for sale
Similar Cars
Honda Civic

Mazda 6

Mazda 3

Hyundai Sonata