Citroen DS5 DSport 2015 review
Paul Gover road tests and reviews the Citroen DS5 with specs, fuel consumption and verdict at its Australian launch.
If looking good was all it took for sales success then the DS5 would be a sure-fire winner.
The former Citroen flagship, now the first car to come to Australia from DS in France since it became a wannabe stand-alone brand, is a looker from any direction.
It's classy and different, defies convention with a five-door body that's not a sedan, hatch or wagon, and is beautifully finished. It makes you feel special and it stands out in traffic.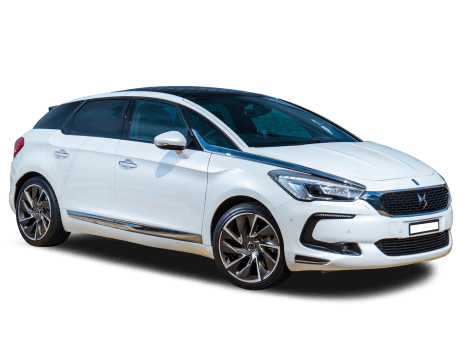 Explore the 2015 Citroen DS5 range
But it's missing the one thing that's always been so impressive about Citroens — the magic-carpet ride that means a trip is not a chore.
The body makes promises the rest of the package can't deliver
It is also $5000 more than before. And it only comes with a diesel engine.
Are you getting the picture? The body makes promises the rest of the package can't deliver, and that's sad.
Australian importer Sime Darby is doing what it can to improve matters, even putting together a unique local six-year package — warranty, service and roadside assist — that's way ahead of the official back-up from France.
The importer adds a claimed $6000-odd in extra equipment to the starter car. For a $3000 premium, there is a 60th anniversary model — marking the original DS of 1955 — with $7700 of extra value including special leather and Denon audio.
The starting sticker is $56,990 and DS boss John Startari believes the package can tempt buyers away from cars as diverse as the BMW 3 Series and Mazda CX-5.
"We can't be everything for everyone. We have to be a bit different and, hopefully, special," Startari says.
"We've specified the car with the equipment that people have been ordering. It has significantly more standard specification."
The updated turbodiesel (133kW/400Nm), claiming 4.5L/100km and compliance with Euro6 emissions standards, turns the front wheels via a six-speed automatic.
Among revisions, DS claims the suspension provides "greater comfort and composure" while the cabin improvements include a seven-inch display screen for the enhanced multimedia setup.
Anniversary models have 19-inch alloy wheels and are fitted with a giant, flexible sunroof.
The "quirky" tag has dogged Citroen for decades
The annual sales target is only about 100. The DS5 — I keep thinking it still needs Citroen in the name — will be battling to reach that, given CarsGuide's rattling ride through the countryside around Melbourne.
Startari says target buyers are 97 per cent male, aged 57, professionals (architects and teachers among them) and looking for "something unique".
The "quirky" tag has dogged Citroen for decades and he knows DS needs more than just the facelifted 5 to get some traction in Australia.
"In the short term we've got to be realistic about our expectations. I believe this car will maintain the current DS volume.
"But for DS to succeed it needs the new models. That's why the immediate goal is to launch six all-new DS models (within five years)."
On the road
The DS 5 looks good, inside and out. There are giant chromed nostrils up to the windscreen, good looking alloy wheels and a cabin that drips with class thanks to leather and clever design.
The seats feel firm at first, even with the 'watch band' plaited look in the Anniversary car, but are great over a distance. The cabin is flexible and comfy for four adults, although I'd question the DS claim that its good for five full-sized people.
The crossover cabin — because it's not a hatch and definitely not a sedan — gives an intimate feel inside and there are some compromises on outward vision, especially in the front quarter and directly behind. It's a unique view but I like it.
Some people will like the firm ride and the sporty-ish feel. It's all right around town, unless you strike a pothole — which will reverberate right through the body.
On open roads the car is a disaster. On an initial drive in and around Paris earlier this year, I was hugely disappointed by DS5's ride. I hoped there would be changes before the car came to Australia but, sadly, it's just as I remember it.
That means it is far too hard, with no cushiness or compromise, meaning travel is a chore. It's the complete opposite of the historical DS approach to suspension design and tuning, which was focused on enjoyment.
I jump from a regular DS5 on 18-inch alloys, which has already given me a nasty belt through a deep culvert at 90km/h, to the Anniversary car on 19s. I just give up.
There is no point continuing, because the local DS people have no control — just like the suspension.
But there are good things including the six-year support package and a body that's very flexible for family use. And you are almost guaranteed not to meet another DS5 every day. The diesel engine also has strong overtaking power, cruises easily and promises good economy.
Verdict
I would like to like the DS5 but it is flawed. If DS is going to achieve anything in Australia it needs to learn from mistakes and do better than the DS5.
 
What's new
Price - A familiar pattern with a higher base price that's offset by claimed $1000 in extra value.
Equipment - A bigger multimedia screen, more standard equipment including improved audio.
Performance - Power and torque are both up, new six-speed auto and Euro6 emissions compliance.
Driving - Sports-tuned suspension runs counter to long-standing DS philosophy and is far too harsh for Australia.
Design - The basic crossover body is unchanged but Citroen badges are gone, there are bold chrome highlights and the interior shows lots of class.
Pricing Guides
$29,865
Based on third party pricing data
Range and Specs
| Vehicle | Specs | Price* | |
| --- | --- | --- | --- |
| Dsport | 2.0L, Diesel, 6 SP AUTO | $28,380 – 34,210 | 2015 Citroen DS5 2015 Dsport Pricing and Specs |
| Dsport 60th Anniversary | 2.0L, Diesel, 6 SP AUTO | $29,810 – 35,970 | 2015 Citroen DS5 2015 Dsport 60th Anniversary Pricing and Specs |
| Dsport | 1.6L, PULP, 6 SP AUTO | $23,760 – 29,370 | 2015 Citroen DS5 2015 Dsport Pricing and Specs |
| Dsport HDi | 2.0L, Diesel, 6 SP AUTO | $23,870 – 29,480 | 2015 Citroen DS5 2015 Dsport HDi Pricing and Specs |