Citroen DS3 DSport 2015 review
Derek Ogden road tests and reviews the Citroen DS3 with specs, fuel consumption and verdict.
What we like
Attractive looks with plenty of customisation options
Slick transmission
What we don't
Some delay between pedal pressure and vehicle reaction
Steering wheel has no multifunction controls
What we like
Attractive looks with plenty of customisation options
Slick transmission
What we don't
Some delay between pedal pressure and vehicle reaction
Steering wheel has no multifunction controls
In automotive terms 'sculpted' is an overworked word often used to give a car arty design cred. However, sometimes there is a line of truth to the application.
Take the new Citroen DS3, for example, whose lines bring to mind the curves and concave lines of a Henry Moore reclining figure, or the smooth marble surface of a Barbara Hepworth monolith, all classics of abstract 20th century sculpture.
The Citroen DS3 DSport compact hatch and cabriolet exteriors exhibit bits of each artists' unique signatures – clever curves, flowing lines, tactile surfaces – in a way that, together with the latest technology, is aimed at keeping them at the forefront of their class.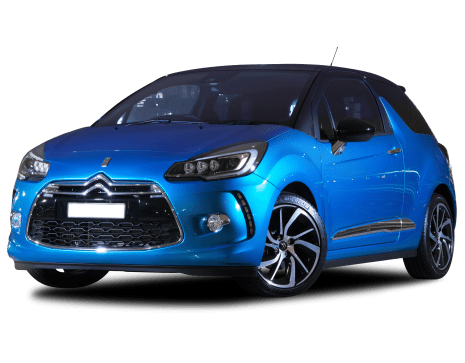 Explore the 2015 Citroen DS3 range
For more than 90 years, the French automobile maker has been innovating and producing industry firsts. Citroen uses the World Rally Championship as a testing ground and since 2001 has claimed numerous manufacturers' titles and drivers' championships with the DS3.
From that tradition comes the latest Citroen DS3 DSport, at $33,990 plus on-roads, a compact hatch like no other, as we recently found out.
Design
Citroen designers were tasked with making the already aerodynamically efficient (0.31Cd) and attractive DS3 DSport even more desirable by giving owners the ability to add personal touches to their hatchback.
Customisation includes roof, body, exterior mirror housings and wheels – in all 29 individual colour combinations, which when combined with new roof decals allows for up to 200 options.
The new roof decal kits – plane, squares, co-design, perle (polka dot), graphic art, zebra and tribal - each available in a wide range of colours, help ensure no two cars are the same.
More subtly, a new optional roof colour, Vert Emeraude (emerald green) has been added to the MY15 DS3 DSport, while 17-inch Aphrodite black alloy wheels underscore the car's high-art styling.
Cutting edge elements are not restricted to appearance alone, with the car featuring headlights combining LED and Xenon technology with sequential turn indicators, a world first.
Capping off the whole combination is a floating roof, a la Mini, and shark fin antenna, giving the DS3 Sport a unique squat, ready-to-pounce animalistic profile.
Inside is no different, with equipment reflecting a wide range of trends and lifestyles through customised gear knobs and other accessories in assorted colours, fabrics, materials and themes.
Citroen says it has imbued the interior with French-style luxury, which includes the top of the dashboard finished in an organic soft grain in contrast to the smooth lacquered dash strip.
Up to five occupants are settled in leather upholstered seats in three colours with contrasting stitching, while some components are highlighted with chrome trim, including the DS badge.
The dash is set high to increase leg room up front, while thin-back front seats reciprocate the freedom in the rear. A 60:40 folding rear seat boosts the already class-leading boot space of 285 litres.
Features
Reversing camera and parking sensors have been added to the MY15 DS3 DSport, with vision, including guidelines, coming via the 7-inch eMyWay satnav screen situated in the centre console.
Heated and power-folding door mirrors and electro-chromatic rear-view mirror are backed up by automatic headlamps and wipers.
Engines / Transmissions
The DS3 DSport calls on a member of an award winning engine family for its increased power (6kW) and fuel efficiency (down 0.4L/100km). The turbocharged 1.6-litre four-cylinder petrol motor produces 121kW and 240Nm, enabling the sprint to 100km/h to be achieved in a sporting 7.5 seconds.
Technological upgrades and weight savings, including stop/start technology, have the engine sipping just 5.6L/100km on the combined urban/highway cycle, while putting out 129 grams of carbon dioxide per kilometre, which all adds up to a Euro6 emission grading.
Carried over from the previous model is the six-speed manual transmission. It's worth noting an 88kW DS3 DStyle four-speed automatic model has been held off until a new auto becomes available.
Safety
The Citroen DS3 DSport may be a star performer when let loose, but it is also an effective minder in tight traffic thanks to innovative AEB technology, which operates at speeds below 31km/h.
Consisting of a laser sensor situated behind the rear-view mirror mount, the unit detects a vehicle in front and if it slows or stops too quickly, the system automatically applies the DSport's brakes.
Operating on two levels – crash avoidance, between 0 and 27km/h; and crash mitigation, between 28 and 30km/h - AEB switches off at 31km/h and above.
A comprehensive cast of active safety systems electronic stability program, anti-skid brakes, electronic brake force distribution and emergency brake assist - adds to the car's on-road good behaviour, while six airbags automatic door unlocking come into action in a crash.
Driving
Being a three-door means there is the usual awkward duck-and-twist manoeuvre into the back seats, but once there best use has been made of the limited exterior dimensions.
The driver and front seat passenger are treated to a wealth of legroom, thanks in part to a high-set dashboard.
The DS3 DsSport was a delight to drive
While the turbocharged engine has the car rated at 7.5 seconds for the zero-to-100km/h dash, there was a hint of delay between pedal pressure and vehicle reaction.
On the fly, with slick shifts between all six gear ratios, the DS3 DsSport was a delight to drive. We are told Citroen engineers had paid particular attention to feedback to the driver from the finely tuned suspension, through the uniquely calibrated steering system to the steering wheel.
However, I was taken aback by the leather trimmed sports steering wheel, which is surprisingly sparing in connectivity with the car, being devoid of any system controls – air-con, audio etc.
The test car used a frugal 4.1L/100km on the motorway but up to three times that amount in crowded city streets.
While feeling particularly safe travelling over a range of road surfaces, some broken and verging on the dangerous, it is good to know that Citroen DS3 DSport owners enjoy a consistently 'good ride' with the car's impressive six-year, unlimited kilometre warranty, six years roadside assist, plus six years capped price service plan.
Verdict
Citroen has really hit it off with the DS3 DSport: this is some car to see, and be seen in. It's also pleasing to drive in a mix of road conditions, and when set free, there's no holding back.
Pricing Guides
$15,290
Based on third party pricing data
Range and Specs
| Vehicle | Specs | Price* | |
| --- | --- | --- | --- |
| Dsport | 1.6L, PULP, 6 SP MAN | $12,980 – 17,380 | 2015 Citroen DS3 2015 Dsport Pricing and Specs |
| Dstyle | 1.6L, PULP, 4 SP AUTO | $12,320 – 16,390 | 2015 Citroen DS3 2015 Dstyle Pricing and Specs |
| Dsport | 1.6L, PULP, 6 SP MAN | $9,680 – 13,200 | 2015 Citroen DS3 2015 Dsport Pricing and Specs |
| Dstyle | 1.6L, PULP, 4 SP AUTO | $10,670 – 14,630 | 2015 Citroen DS3 2015 Dstyle Pricing and Specs |