Audi S3 Sportback DSG 2014 review
Luxury German brand Audi has recorded booming sales of its high-performance range, showing once again that Australian drivers like their cars to have plenty of life in them.
What we like
Powerful
Dynamic
Plenty of grip
What we don't
Thirsty when pushed
Golf R cheaper
What we like
Powerful
Dynamic
Plenty of grip
What we don't
Thirsty when pushed
Golf R cheaper
Luxury German brand Audi has recorded booming sales of its high-performance range, showing once again that Australian drivers like their cars to have plenty of life in them.  After a day in the all-new third-generation Audi S3 Sportback at the car's Australian launch it seems likely the sales trend will continue in 2014.
PRICE / VALUE
The bottom line for the new Audi S3 Sportback, before dealer and government charges, is under $60,000. The previous Audi S3 had a price tag of $72,000 and was not as well equipped as the latest offering.
Audi S3 will compete with the Mercedes A45 AMG and BMW M135i. The Mercedes comes in at $74,900 and BMW has a $64,900 tag. Partly due to the increased value, Audi hopes to sell around twice as many S3s as previously. "This is the first time we have had so much equipment in a vehicle in this class," said Audi Australia managing director, Andrew Doyle.
DESIGN / STYLE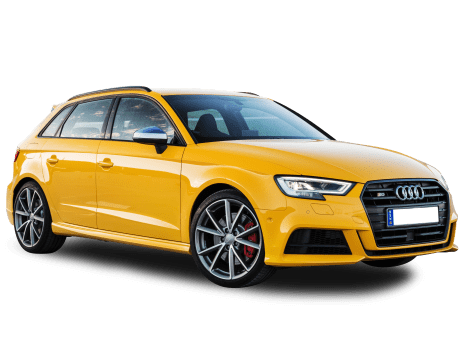 Explore the 2014 Audi S3 range
Audi has ditched the S3 three-door hatch entirely, as it did with the A3 three-door when the all-new model was launched earlier this year, for the same reason: low buyer demand. Audi sees this as part of the A3 and S3 having buyer appeal to young professional family types who need a practical five-door vehicle.
For all its heritage, the Audi S3 does not look the part of an almost-supercar. It is conservative and understated as one comes to expect from parent company, Volkswagen. The Audi S3 is a first cousin to the Volkswagen Golf R.
Audi S3 does however make up for the scarcity of body-building muscle with some well-placed bling. It sits 20 mm lower than the standard car, the mudguards are a little wider and it wears 18-inch alloy wheels. Down back four oval tail pipes will be all that many pretenders see of the S3.
The Audi new S3 is 70 kg lighter than its predecessor thanks to extensive use of alloy in body parts, engine and suspension, this certainly adds to its performance.
INTERIOR
This is perhaps where the S3 will surprise. This does not look or feel like a cabin attached to a sub-$60,000 price tag in a European luxury brand. The overwhelmingly black cabin is dominated by classy soft plastics and leather with large distinctive gauges catching the eye along with the flat-bottom steering wheel and the comfy Nappa leather sports seats.
ENGINES / TRANSMISSIONS
The new Audi S3 is powered by an all-new 2.0 TFSI engine that develops 206kW of power and 380Nm of torque. The power and torque are up 33 kW and 50 Nm on the old engine. And, let's not forget the old engine was a multiple "engine of the year" winner.
There are two gearbox options: a six speed S-tronic dual-clutch and for those who like doing their own work, a six-speed manual. Both are linked to Audi's AWD quattro system.
The automatic springs to 100 km/h in just 5.0 seconds while the manual gets there in 5.4 seconds. Audi expects the dual-clutch auto to dominate sales at around 96 per cent to just four per cent for the manual.
SAFETY
Audi has long been big on safety and the S3 is five-star crash tested and rated. It has seven airbags, stability control and traction control and its quattro AWD system can be traced back to the rally-bred Audi Sport quattro of the 1980s.
DRIVING
What you want in a performance car is the "wow" factor, something the new Audi S3 Sportback has in bucket loads. That starts the minute you get in the cabin. It feels right. You adjust your driving position and press the start button.
The engine note causes a slight cabin invasion. You know this is an S or RS Audi. It has purpose and meaning but does not blow your senses. We negotiate the road out of Hobart that leads 290 km to Queenstown and Strahan on Tasmania's wild west coast, but this is one drive where it's all about the journey, not the destination.
Once clear of the 'burbs we throttle up and the S-Tronic - Audi talk for dual clutch transmission - weaves its magic. On up-shifts the quicker-than-the-eye-can-blink gear changes end with a rally-car exhaust pop. Did we just do that? Then you use the paddles to downshift into 60 km/h zone as you enter a town, and the exhaust pop becomes more pronounced as you rein in the revs. Outside town you hit the right pedal and in 5 seconds you hit the limit and back off after popping through the cogs.
Then the real fun starts. Hills and bends and the rain starts to fall then it hails. We press on and the Continental ContiSport Contact tyres start to earn their keep. The roads are slippery yet the S3 clings on through the corners. You start to appreciate the engineering that has gone into it.
The suspension that is dealing superbly with harsh conditions is also providing a comfortable ride. It is firm but not harsh, even as we find bumps and pot holes that might upset the car's balance. The engine response is wherever and whenever you want it. No hesitation, no delay.
We play around with the paddle shifters and all the time the engine is willing to give whatever it takes. This is one hell of a car. We then swapped into a six-speed manual variant. Smooth gear changes are a given and the suspension feels familiar, but the up and downshift popping is not to be heard. Pity.   
VERDICT
Another winner for Audi.
Pricing guides
$34,800
Based on 45 cars listed for sale in the last 6 months
Range and Specs
| Vehicle | Specs | Price* | |
| --- | --- | --- | --- |
| 2.0 TFSI Quattro | 2.0L, PULP, 6 SP AUTO | $28,999 – 41,990 | 2014 Audi S3 2014 2.0 TFSI Quattro Pricing and Specs |
| Sportback 2.0 TFSI Quattro | 2.0L, PULP, 6 SP AUTO | $27,999 – 43,888 | 2014 Audi S3 2014 Sportback 2.0 TFSI Quattro Pricing and Specs |
| 2.0 TFSI Quattro | 2.0L, PULP, 6 SP AUTO | $28,999 – 41,990 | 2014 Audi S3 2014 2.0 TFSI Quattro Pricing and Specs |
Pricing Guide
$27,999
Lowest price, based on 22 car listings in the last 6 months
View cars for sale
Similar Cars
Audi RS3

Audi A4

Audi A5

BMW 3 Series