Audi A8 4.2 TDI 2014 review

Sitting at the pinnacle of car image are three big name German manufactures: Audi, BMW and Mercedes.
What we don't
Stiff competiton from rivals
Thirsty when pushed
Options pricey
What we don't
Stiff competiton from rivals
Thirsty when pushed
Options pricey
Sitting at the pinnacle of car image are three big name German manufactures: Audi, BMW and Mercedes. All-new models from these iconic makers are relatively rare and when they do arrive they attract attention from all who are interested in cars. Audi is the latest to make a move in this high-class field with its latest A8.
PRICE
The latest Audi A8 goes on sale in Europe in about two weeks and will reach us down under sometime in the early months of 2014. Prices and full specifications are yet to be finalised. Audi Australia advises it will be priced in much the same range as the about to be superseded models. Expect the price list begin around $190,000 for the 3.0 TDI and top out about a quarter of a million dollars for the 4.2 TDI with long-wheelbase.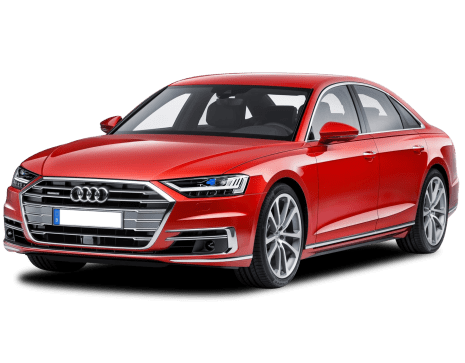 Explore the 2014 Audi A8 range
TECHNOLOGY
The 2014 Audi A8 advances the somewhat mundane system of headlights to a totally new level of safety and sophistication. Using Matrix LED technology headlights can be left on high-beam all the time. Then 25 small, LEDs (light-emitting diodes) on each side are automatically switched on and off, or dimmed individually.
The headlight system 'sees' then reacts to other vehicles and blanks out sections of light with great precision while continuing to fully illuminate the rest of the road. You can see duller areas where the system is making life easier for other drivers, while at the same time fully lighting up everything else by using high beam. Amazingly, the headlight system tunes into the GPS via the car's satellite navigation to pinpoint its position so that it can turn the lights into corners the moment the bend arrives.
STYLING
Revisions to the front of the new Audi A8 include a flatter design of the headlights, a bonnet with more pronounced sections to give it a powerful look and revisions to the front bumper. At the rear the changes are minimal, with LEDs being the biggest difference. When the blinkers come on their light travels outwards to really draw the attention of other drivers.
The sharp edges of the body corners, introduced in 2009 with the fourth generation Audi A8, remain unchanged. Which is no bad thing as they continue to remind us of the shape of the A8's upper-crust cousin – the Bentley Continental GT. Inside, the style of the cabin continues as before, with detailed changes to the soft and hard materials. Audi has long been recognised as a master at cabin design and the gen-four car continues that tradition.
Overall there are close to a billion possible combinations in the latest Audi A8, fabrics, leathers, stitching, paint colours, wheels. Talk to your local dealer about the offerings from the enormous 'Audi exclusive' range.
ENGINES / TRANSMISSIONS
The biggest changes in the revised Audi A8 are out of sight under the new-design bonnet. All engines have been completely reworked to increase power and torque, shorten acceleration times and, most importantly of all, cut emissions. The biggest seller is likely to be the 3.0-litre V6 turbo-diesel that now produces 190 kilowatts of power. This TDI powerplant has an officially measured fuel consumption of just 5.9 litres per hundred kilometres, coincidentally the zero to 100 km/h time is 5.9 seconds.
There's also a 3.0-litre supercharged V6 petrol with 228 kW, and a V8 turbo-diesel displacing 4.2 litres and coming out with 283 kW and an amazing 850 Newton metres of torque. Topping out the powertrain list is a stunning W12 (virtually a V12, but with cylinders that are slightly offset in each bank to minimise length) that now displaces 6.3 litres. Its power curve tops out at 368 kilowatts, or 500 horsepower. This engine is used in the long-wheelbase model to provide express transport for those being cosseted in a pair of individual rear seats.
Each engine is connected to all four wheels by Audi's sophisticated quattro system. There is a choice of eight forward ratios in the automatic transmission. Manual overrides are there for the taking but with the sort of torque spread offered it's unlikely you will ever really need to do so.
DRIVING
The most noticeable sensation when we first got behind the wheel of the new Audi A8 was near silence. That's due in the first place to an excellent basic design of the body, as well as special glass in the windows. The biggest feature is an excellent noise cancelling system that uses the Audi's stereo system. As with noise cancelling headphones, the system listens for unwanted sounds and does all it can by putting out cancelling sounds on the opposite wavelengths.
Power and torque are there for the taking and even the 'small' 3.0-litre diesel will have enough power for most drivers. The big W12 is all but imperceptible in the way it provides power – that is until you give wide-open throttle to overtake in a ridiculously safe distance. Cruising at 175 km/h for extended periods was serene and easy. We took our test cars over 200 km/h several times, feeling secure in the knowledge of excellent aerodynamics, big brakes and – most important of all – intelligent driving by others on the road around us.
Having praised the space in the rear of the long-wheelbase models we should point out that legroom in the standard variants is on the tight side unless those in the front are wiling to give up a bit of their seat travel. Quality of finish is close to perfect and the interior of the big Audi is a testament to the craftsmanship and patience of those who cut, stitch and finesse the end product with lavish attention to detail. A fascinating option in the long-wheelbase A8 L model is the small refrigerator between the backrests of the seats. Just the place for a bottle or four of the best champagne.
VERDICT
Outstanding mechanical and electronic technology crammed into a lightweight aluminium body makes the new Audi A8 something very special in the automotive world.
2014 Audi A8
Price: around $190,000
Engines: 3.0-litre V6 turbo-diesel 190kW, 3.0-litre supercharged V6 petrol 228kW, 4.2-litres V8 turbo-diesel 283kW and W12 368kW
Transmission: 8-speed auto, FWD
Thirst: 5.9L/100km
0 to 100 km/h: 5.9 seconds
Pricing guides
$86,140
Based on third party pricing data
Range and Specs
| Vehicle | Specs | Price* | |
| --- | --- | --- | --- |
| 3.0 TDI Quattro | 3.0L, Diesel, 8 SP AUTO | $59,900 – 75,790 | 2014 Audi A8 2014 3.0 TDI Quattro Pricing and Specs |
| 4.2 TDI Quattro | 4.2L, Diesel, 8 SP AUTO | $50,400 – 63,690 | 2014 Audi A8 2014 4.2 TDI Quattro Pricing and Specs |
| L 3.0 TDI Quattro | 3.0L, Diesel, 8 SP AUTO | $55,700 – 70,400 | 2014 Audi A8 2014 L 3.0 TDI Quattro Pricing and Specs |
| L 4.2 TDI Quattro | 4.1L, Diesel, 8 SP AUTO | $79,300 – 100,320 | 2014 Audi A8 2014 L 4.2 TDI Quattro Pricing and Specs |
Disclaimer: The pricing information shown in the editorial content (Review Prices) is to be used as a guide only and is based on information provided to Carsguide Autotrader Media Solutions Pty Ltd (Carsguide) both by third party sources and the car manufacturer at the time of publication. The Review Prices were correct at the time of publication.  Carsguide does not warrant or represent that the information is accurate, reliable, complete, current or suitable for any particular purpose. You should not use or rely upon this information without conducting an independent assessment and valuation of the vehicle.