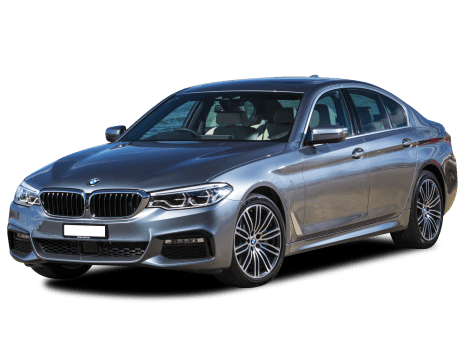 COMPARE
BMW 5 Series
VS
Tesla Model S
BMW 5 Series
Likes
Engaging dynamics
Top-notch interiors
Clever technology across the range
Dislikes
Price hikes on almost every model
Six-cylinder engine reserved for most expensive models
Apple CarPlay a cost option
---
Tesla Model S
Likes
Rocketship speed
Clean interior design
Ever-improving proposition
Dislikes
Sadly, it's not a sports car
It's a lot of money
Lack of convenient charging
Summary
BMW 5 Series
Andrew Chesterton road tests and reviews the new BMW 5 Series 520d, 530i, 530d and 540i sedans with specs, fuel consumption and verdict at its Australian launch in Victoria.
When we're all living under the cruel rule of our robot overlords, the few remaining human historians will track the genesis of our downfall to the technology explosion that occurred in 2017's new-car market. 
Never before have car companies focused so hard on producing cars that can't just be driven, but that can drive themselves, negotiating corners, unexpected obstacles and changing traffic conditions without ever needing to consult the human actually sitting behind the steering wheel.
And BMW's all-new 5 Series sedan takes yet another a step forward, eliminating the need for said human to even be sitting in the car. Owners can instead move their 5 Series in and out of tight parking spaces simply by pressing a button on their key.
The Active Key function is admittedly a $1,600 cost option, but it proves the techno-focus applied to the seventh-generation of BMW's executive express, which will land in Australian dealerships this month. Every car is also fitted with what the German brand calls its personal co-pilot; a series of nifty cameras and radars that allow the car to be driven completely autonomously for spells of 30 seconds.
But the question is, has all this new technology come at the cost of regular, old-school driver enjoyment?
| | |
| --- | --- |
| Safety rating | |
| Engine Type | 2.0L turbo |
| Fuel Type | Premium Unleaded Petrol |
| Fuel Efficiency | 6.4L/100km |
| Seating | 5 seats |
---
Tesla Model S
If you have even a passing interest in the Tesla Model S, you'll have seen the endless internet videos where someone has lined up a Ferrari, Lamborghini, or another fast exotic car you could name, to race against it.
There's a long build-up, usually involving men who can't operate a baseball cap, a drag strip and idiotic words in the headline like "destroys" or "rips", or whatever. There's usually a bunch of honking bros with bad haircuts watching on, already planning their next viral video where they set a perfectly good mobile phone on fire.
It's facile and idiotic and doesn't give you any real clue as to the depth of whatever supercar it has "humiliated" or, just as importantly, the depth of the Model S and its spectacular engineering.
So, I won't be spending the next thousand words building up to the conclusion that the Model S P100D with Ludicrous Mode is up there with the world's fastest production cars from 0-100km/h, because I'll tell you now that it is, and it does it in a claimed 2.7 seconds.
Now that's out of the way, there's quite a bit more to the Model S than a "broken" Nissan GT-R owner weeping into their bento box.
| | |
| --- | --- |
| Safety rating | |
| Engine Type | — |
| Fuel Type | Electric |
| Fuel Efficiency | —L/100km |
| Seating | 5 seats |
Verdict
BMW 5 Series
7.9/10
Sleek and attractive in the city,  engaging on a country back road and with plenty of clever technology, the 5 Series sedan ticks all the right boxes as an executive express. If you can stomach the price hike, the six-cylinder 540i is our pick of the bunch.
Would a new 5 Series tempt you away from an E-Class or A6? Tell us what you think in the comments below.
---
Tesla Model S
8.3/10
I spoke to a friend who bought a Model S before one had even hit the ground here in Australia. He chuckled when I told him how much this car cost but then said something I'd already suspected. "My mates who own a P100D would never drop that kind of money on a normal car. Buying a Tesla is like buying shares in the company, you're buying into the future."
And that's kind of the point. A $300,000 Audi RS7 (fully-loaded, obviously) is a bit slower in a straight line, looks just as good, is extremely well-built and emits noises that make people like me go as weak at the knees (just as the Model S' acceleration does). And would probably win a 10 lap race with the Tesla around Mount Panorama.
The Tesla is the future of cars. It may still be decades before the internal combustion engine is gone, but Tesla buyers are getting the jump, and today the Model S is the best car in which to make that leap.
Does the Tesla have the spark you need or do old-fashioned hydrocarbons still light your fire?
Design
BMW 5 Series
8/10
Hardly a revolution, the 5 Series has instead undergone a few nips and tucks. But if it ain't broke and all that. It might not be the most head-turning offering, but the 5 Series sedan remains sleek, powerful and understated, and it is undeniably handsome on the road.
Its 8mm wider, 28mm longer and 2mm taller than the car it replaces, but it's also around 95kg lighter, thanks to its aluminium doors and boot and a clever magnesium frame for the instrument panel that saved another two kilograms. There's some other clever design elements, too. The kidney grille has active air flaps that open when extra cooling is required, closing when it isn't, reducing drag and helping accleration.
Inside, the 5 Series offers a beautifully crafted yet joyously understated cabin, with quality materials joining modern technology in a seamless way.
---
Tesla Model S
7/10
The Model S is definitely the looker of the three Tesla models on sale (the Model 3 might be some way from release, but you can reserve one and it's... weird-looking). With a slinky, Jaguar XF/Audi A7 roofline and low-slung stance, it looks the business. Like the X, the detailing of the car's surfacing and panel gaps aren't where other $200,000+ cars are, but it has improved a lot over the last couple of years.
The styling is quite sparse, really. Teslas look like computer renders in real life, especially in white, with little in the way of jewellery or detailed design elements. And that's probably the idea. It's a cleaner design than when first launched, with a simpler, flatter snout that brings out the headlights better.
The cabin has improved even more than the exterior. It's still the same minimalist design, but it fits together much more tightly than it used to. The 17.0-inch portrait screen is still there in its central but skewed-to-the-driver position and is now up to version 8. It's an impressive interface, covering off the vast majority of functions in the car, and is mostly easy to use. The responsiveness is key to its usability. If it was underpowered, you'd quickly start demanding real buttons.
Practicality
BMW 5 Series
8/10
This is a full-size sedan, and every seat feels spacious and airy. The sloping, slightly coupe-style roofline does cut into headroom in the back, but human-sized people will have little trouble, even sitting behind a tall driver.
Each trim offers two cupholders in the front, with another two housed in a pull-down divider that seperates the rear seat. And there's two ISOFIX attachment points, one in each window seat in the back. 
The 5 Series' boot opens to rival a surprisingly sizeable storage space, offering 530 litres with the 40:20:40 rear seats in place.
---
Tesla Model S
8/10
The Model S is a rare car in this class in that it has an almost completely flat floor, meaning rear seat passengers don't have to negotiate a transmission tunnel. The two motors run physically independently of each other so there's no crankshaft to get in the way.
The floor is thicker than a normal car, it's like a big skateboard underneath. That means your knees are up higher, which might cause numb bum on a long trip. The rear seats are comfortable enough, but middle seat occupants might feel like the outboard passengers are falling into them.
The view out isn't too bad given the rising window line, and if you've got the big two piece sunroof (without cover, irritatingly... ), it's quite airy out back. And hot (with the sunroof), but you do get rear air-con vents.
The boot is an eminently sensible 744 litres with the seats up and 1795 with the seats down, although the floor doesn't fold flat. While it's a big boot, it's relatively shallow so your suitcases go in on their sides. Up in the front boot (or froot) there's another 150 litres, so you can pack a lot in to the Model S. And with all that torque, when you do load it up, the extra kilos barely make a dent on the performance.
Price and features
BMW 5 Series
7/10
BMW's venerable 5 Series is now 45 years old, and this all-new model arrives in four distinct flavours, with a fifth - an incoming M5 performance sedan - still some way off.
For now, though, the range kicks off with the 520d, before stepping up what BMW hopes to be the big seller of the range, the 530i (replacing the outgoing 528i). Next up is biggest diesel, the 530d (replacing the the 535d), before the current range tops out with the petrol-powered 540i (replacing the old 535i).
Be warned though, there's been some pretty serious price increases right across the line up, ranging from $9,145 to a whopping $19,245. In fact, only the 530d has seen its price come down, now $3,755 cheaper than the outgoing 535d. BMW justifies the hikes by pointing to an increase in standard inclusions across the range.
The 520d kicks off from $93,900, and arrives predictably well equipped for your money. Expect 18-inch alloys, leather trim, dual-zone climate control and a 12-speaker stereo. You'll also get a technology overhaul, with a bigger and upgraded Head Up display (it can now read street signs and beam that info onto the screen), a 10.25-inch touchscreen and a wireless (insert link to chi charger story) charging pad.
Step up to the 530i ($108,900) or 530d ($119,900) and you'll add 19-inch alloys, adaptive dampers with dynamic mode (that reads both driver input and navigation data and tweak suspension, gear and steering settings automatically) a 16-speaker Harman Kardon stereo and a crystal-clear 12.3 high-resolution digital display in the driver's binnacle. You'll also find heated front seats, a powered boot and sports seats in the front.
Finally, spring for the 540i ($136,900) and you'll get 20-inch alloys, a sunroof and electric blinds for the rear windows. You'll also find better Nappa leather on the seats, which now also offer a cooling function. Under the skin, you'll get an active anti-roll bar at each axle designed to keep the car from rolling side-to-side on the twisty stuff.
One quirk, however, is the fact that BMW's very cool wireless Apple CarPlay is a cost option on every trim level, and one that will set you back $479.
---
Tesla Model S
8/10
Tesla is basically a technology company - well, a battery company - that makes cars, so the features and options reflect that. It's a gadget-laden five-door hatch powered exclusively by electricity and seemingly full of things that will drain the batteries quickly.
If you view the car's price purely through its standard features list and the cost of options, you're missing the point. If it had a 3.0-litre turbo six, there's no way you'd pay this kind of money for the Model S. But it doesn't have that, it has a bleeding edge battery pack and propulsion system.
The Model S can be had for as little as $118,652 for the 60 offering 400km range, rear-wheel drive, and 5.8s 0-100km/h (but move quickly, Tesla has just axed this model), or as much as this P100D which starts at $250,582.
Standard are a seven-speaker stereo, leather-like trim, 19-inch alloys, reversing camera, 17.0-inch touchscreen, keyless entry and start, forward collision warning, digital dashboard, electric front seats, sat nav, auto LED headlights, auto wipers, internet connectivity via included SIM card, power mirrors and windows and air suspension.
Our P100D came with 21-inch grey 'Turbine' wheels ($6800), panoramic roof ($2300) multi-coat pearl paint (white, $2300) and carbon-fibre interior trim bits for $1500, as well as a carbon lip spoiler for another $1500.
We also had the 11-speaker audio upgrade (with neodymium magnets, don't you know) for $3800 and the 'Subzero Weather Package' (seat heaters, heated steering wheel, wiper blade defrosters and washer nozzle heaters) and on-board high-power charger (speeds up charging with the 'Tesla Wall Connector', $2300).
There was also 'Enhanced Autopilot' ($7600) and 'Full Self-Driving Capability' ($4600). The former is meant for highway running, and comes with four cameras (up from one) and 12 ultrasonic sensors around the car, as well as upgraded processing power to run it all.
The full self-driving is meant for around town. The idea is you punch in a destination, or speak to the computer or passive-aggressively stay silent, which triggers the car to check your calendar and take you to the address in the appointment. Part of the extra cost of that is yet more cameras (up to eight), more sensors, and more number-crunching power.
We would love to tell you how all that worked, but being Tesla 'Hardware 2', it's not ready yet. While these features are being fleet-tested by 1000 cars in the US, your car will run it all in "shadow mode" for data and behaviour validation. One day you'll go to your car and a software update will be ready to download and install the functionality.
Unusually, you can retrofit both of these features for about $1500 more (each) than if you order them up-front. That's very cool and Tesla is probably the only car company in the world that will let you do it.
The 17.0-inch screen's software is regularly updated, like a mobile phone's. Also like a mobile is the sometimes less successful update, in this case the slightly bewildering and difficult-to-use music interface that is very keen for you to make a selection with voice commands, but not ones that go through your phone.
A 'Premium Upgrades' package adds the overkill of a 'Bioweapon Defense (sic) Mode' that knocks out 99.97 per cent of exhaust particulates and other contaminants, using two activated carbon air filters for other nasties like NO2 and hydrocarbon exhaust fumes.
LED turning lights and fog lights, real leather on the armrests, steering wheel and lower dashboard (if you also have leather seating), nappa leather and Alcantara on the dashboard, soft LED interior lighting, power tailgate and backlit door handles for $5300. Thankfully, the silly self-opening front doors in the Model X's pack aren't in this little lot.
Grand total? $297,792. On the road in, say, NSW... $313,013. Youch.
Engine & trans
BMW 5 Series
8/10
The hunt for efficiency sees all but the most expensive 5 Series models equipped with four-cylinder engines, including the entry-level 520d, which is fitted with a 2.0-litre diesel unit that will produce 140kW at 4,000rpm and 400Nm from 1,750rpm. That's enough to push the cheapest 5 Series to 100km/h in a not particularly inspiring 7.5 seconds, topping out at 235km/h.
The cheapest petrol, the 530i, arrives with a turbocharged 2.0-litre engine good for 185kW at 5,200rpm and 350Nm from 1,450rpm. That will see you clip 100km/h in 6.2 seconds and push on to a limited top speed of 250km/h.
The 530d introduces the first six-cylinder engine, a 3.0-litre unit that will produce 195kW at 4,000rpm and an impressive 620Nm from 2,000rpm. That's enough to knock off the sprint in in 5.7 seconds and offers a top speed limited to 250km/h.
Finally, the top-spec petrol, the 540i, will produce 250kW at 5,500rpm and 450Nm from 1,380rpm from its 3.0-litre turbocharged straight-six engine. Those are healthy numbers, and enough to welcome 100km/h in a sprightly 5.1 seconds before topping out a limited 250km/h.
Every model is paired with an eight-speed torque converter automatic transmission.
---
Tesla Model S
10/10
The P100D ships with two electric motors fed by a huge battery pack which triples as the bulk of the chassis and a super-strong crash structure. It's also shared with the Model X SUV.
Combined power output is 568kW with more of it out the back rather than up front. Torque is quoted at 1000Nm, but it's likely more than that. Claimed 0-100km/h time is a mildly unbelievable 2.7 seconds, with a further two-tenths to be shaved off when you press and hold Ludicrous Mode and accept a warning that you'll wear the car out faster if you use it.
With 'Ludicrous Mode' comes not just software but a higher capacity fuse that allows more power to be drawn from the batteries for longer to provide the searing acceleration.
Fuel consumption
BMW 5 Series
8/10
BMW quotes a combined 4.3 litres per hundred kilometres from the 520d, which will also spit out 114g per kilometre of C02. The 530d lifts that number to 4.7 litres per hundred kilometres (which seems a small price to pay for all that extra torque), with C02 pegged at 124g per kilometre. Both diesels get a slightly smaller tank, at 66 litres.
The 530i will sip a claimed/combined 5.8 litres per hundred kilometres, with C02 emissions a claimed 132g per kilometre, while the big 540i requires 6.7 litres per hundred kilometres, with C02 pegged at 154g per kilometre. Both petrol models get a 68-litre tank and require 95RON fuel.
---
Tesla Model S
10/10
Zippo. Obviously with the new rules for Tesla Superchargers, it's not as cheap to own and run a Tesla as it was before (from January 2017, all new orders don't get free juice after the first 400kWh), but if you charge it at home (and can get away with it), it'll probably be cheaper than using Tesla's chargers. If you look, there's a company offering $1 per day charging for electric cars.
If I'd charged the car to 100 percent rather than the 80 percent recommended by Tesla for most charges (past that mark, the charge rate drops and the software has to slow to a trickle, doling out the electrons to the different cells), I would have managed just over 400km on the charge.
Driving
BMW 5 Series
8/10
BMW's pre-drive briefing was so technology focused we half expected the black turtle neck and dad jean-wearing ghost of Steve Jobs to emerge from behind a curtain clutching an iPad. Only a minuscule portion was dedicated to the cars' drivetrains, with BMW instead hammering home autonomy functions, technology upgrades and the fact that its car was a preview to "the future".
But once we'd slipped behind the wheel of the all-new 5 Series, it all started to make more sense. Having briefly sampled three models (the 530i, 530d and 540i), we can safely report there's nothing particularly revolutionary about their on-road behaviour. That's not necessarily a bad thing - they do everything you could ask of a car in this bracket. They're mostly smooth and always quiet, the new chassis has done nothing to dampen engagement when you start to ask a little more of it, and it's generally a luxurious experience. But then so was the old car.
But what's new is the technology poured into the 5 Series. Every car gets what BMW is calling its personal co-pilot, for example, which is a set of tricky systems (there's six cameras, five radar sensors and 12 ultrasonic sensors scattered around the car) that work with the active cruise control and allow the car to be driven completely autonomous for 30-second intervals. Now, it's not quite as advanced as some of its competitor's systems - it can't change lanes for example - but if you're out on a country road or on a highway, it will stay within its lane, turn around corners and keep up with the traffic, even if they stop in front of you.
While the cheapest diesel model has historically been the best seller, BMW is hoping the new 530i will prove the most popular this time around. And while you couldn't describe it as fast, the power from its four-cylinder engine is ample for all that will likely be asked of it, and it feels sorted and composed on  more challenging roads. It's a smooth and comfortable ride, too, even with the optional 20-inch alloys fitted, though that's undoubtedly thanks to the adaptive dampers and ever-changing dynamic ride function, both of which are fitted as standard. In fact, we're yet to drive a car without those options fitted, so we're forced to reserve judgement on the as-standard ride quality of the cheaper models.
Be warned though, none in the 5 Series range offer the disconnected and perfectly smooth conveyance you might find in some true luxury offerings, and you'll still know when you're diving into deep pockmarks in the road. But the trade off is a an engaging ride and steering set up that always feels planted, with enough feedback to ensure you feel connected to what's happening beneath the tyres. And that's a trade we're more than willing to make.
Step up to the 540i and things take a much sportier turn. The turbocharged six-cylinder feels right at home in a car this size, with acceleration effortless and freeway overtaking manoeuvres an absolute breeze. And while we didn't find roads quite brutal enough to really test the active anti-roll bars housed at each axle, there's a wonderful and stable flatness to the way the biggest petrol handles corners.
It's not cheap, but thanks to the bigger engine and sorted dynamics, the 540i feels most like a 5 Series probably should.
---
Tesla Model S
7/10
The first time I drove a Model S, I enjoyed the acceleration and the silence of the electric motor (this was back in the Dark Ages when even the P90 only had one motor). And that has remained, with the air suspension providing a firm but comfortable ride despite the P100D's 21-inch rims and very low profile tyres. Electric motoring in any electric car is addictive.
Much progress has been made (yes, I'm getting to the acceleration, stay with me) in the way it drives. The earlier cars felt too computer gamey, with little feel through the wheel or the seat of your pants. The steering is better, especially in Sport mode, but not a lot gets through the air suspension, so it takes a while to build confidence in the chassis.
On the freeway (look, you can read ahead if you must) it's amazingly quiet, with just a bit of a rustling around the mirrors. Well, of course it's quiet, it's electric. For chassis and NVH (noise, vibration and harshness) squashers, not having the marvellous engine noise means much harder work to dull the other noises you just don't hear when there's an internal combustion engine.
And there's the acceleration. As the driver, you obviously know it's quick. Mash the throttle and the response is instant, the horizon closing in on you like you're attached by a very stretched and immensely strong bungee strap that's just been released. The way cars disappear in your rear vision mirror is hilarious.
It's more fun as a passenger, though. The Model X elicited whooping and laughing, but the P100D's extra 0.6s-worth of acceleration over the P90D, delivered with a truckload more G-force, equals silence. One woman said she was glad I'd caught her before dinner rather than after, before bursting forth with a range of expletives. One passenger became quite emotional, almost crying. And not just because they were stuck in a car with me.
Safety
BMW 5 Series
9/10
Expect plenty of clever safety gear, with every 5 Series sedan arriving with six airbags (dual front and full-length side airbags, along with head protection bags for front passengers). You'll also find a surround-view reversing camera and parking sensors.
But the high-tech stuff arrives courtesy of active cruise control, cross-traffic alert, lane keep assist and cross-road alerts.
---
Tesla Model S
8/10
The Model S comes with six airbags, ABS, stability and traction controls, three ISOFIX points, rollover sensors, emergency power disconnect. Additionally, when the software arrives, you'll have full AEB (ours was limited), self-driving and an ultra-clever active cruise that'll change lanes and overtake if the car you're following falls below your set speed.
The Model S scored five ANCAP stars, the maximum available, in April 2015 via the sharing arrangement with EuroNCAP.
Ownership
BMW 5 Series
7/10
The BMW 5 Series is covered by a three year, unlimited-kilometre warranty, and requires condition-based servicing (rather than a pre-defined service interval).
You can also prepay your maintenance costs for five years/80,000kms, with prices ranging from $1,640 for the basic package, and climbing to $4,600 for the all-inclusive option.
---
Tesla Model S
8/10
Tesla offers a four-year/80,000km warranty with a parallel eight year/unlimited kilometre warranty for the battery and drive units. Roadside assist applies for the four year warranty period.
Tesla offers two maintenance plans, three and four years in length. The three year plan costs $2100 and the four year $3175. Paying for the services individually over the same period will cost $2300 and $3425 respectively. That includes a wheel alignment (if needed), but it isn't particularly cheap when compared with 'normal' luxury cars.
Your first 400kW/h of recharging is free using Tesla's supercharger network, so that would be four full charges from empty (which you wouldn't do, obviously), or about 1600km worth. After that, it's 35c per kWh or $35 for a full charge.