How to use a snatch strap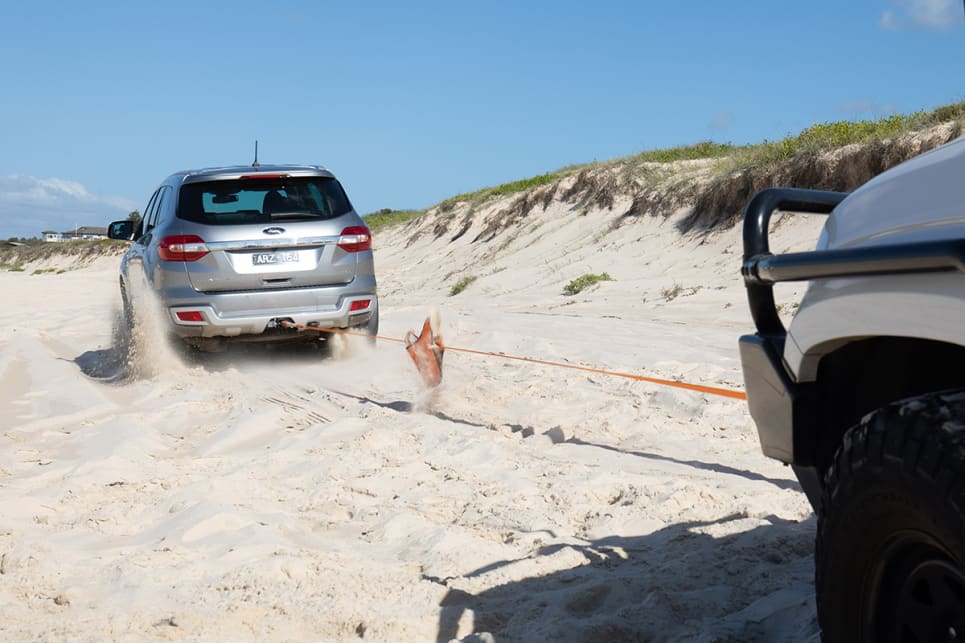 Your mate's bogged on the beach and everything you've tried to get him out – digging, dropping tyre pressures, using vehicle-recovery tracks – has not succeeded. So, now you're going to do a snatch-strap recovery of his vehicle – safely, sensibly and with no damage to people or vehicles.
DO A 4WD COURSE
Before you even get anywhere near driving on a beach you should do a 4WD driver course with a nationally recognised four-wheel-driving instructor. Get one of these courses under your belt and that will go a long way to making sure you're able to drive your vehicle safely and confidently in off-road situations; it'll also teach you the necessary skills so you're able to execute a vehicle-recovery with minimum fuss.
WHEN BOGGED, ASSESS THE SITUATION
How badly bogged is the vehicle? Are all four wheels spinning uselessly? Is the underbody snagged on a half-buried tree stump, branch or rock?

Make sure it has a cleared path out – preferably in a straight line forward.
Clear away all obstacles from under and around the stuck vehicle, make sure it has a cleared path out – preferably in a straight line forward or to the rear of the stuck vehicle depending on which is the easiest recovery route* – and formulate a plan of action. (*In our accompanying photo sequence, we're recovering from the front.)
ONLY USE A RATED SNATCH STRAP AND SHACKLES
Before we go any further it's pertinent at this point to give a snapshot explanation of what a snatch strap vehicle-recovery is; don't worry, we give you a comprehensive step-by-step guide further down this page.

Put a strap damper over the snatch strap to take the power out of the strap if something snaps during the recovery.
A snatch strap is basically a length of elasticated nylon webbing bound together to form a rope which, when used properly in a vehicle-recovery, is attached to rated recovery points via rated bow shackles on a rescue vehicle and a stricken vehicle. When the rescue vehicle pulls away, the strap stretches taut, absorbs the kinetic energy involved and uses that energy to 'snatch' the stuck vehicle out of strife.
The Office of Fair Trading states that "the recommended minimum breaking strength of the strap is twice the gross vehicle mass (GVM) of the lighter of the two vehicles". Before you use it, make sure the strap is not damaged; never use your snatch strap for towing or lifting.
In the accompanying photos, we're using a strap and bow shackles from an ARB RK9 Recovery Kit. A strap should be rated 8000kg, as a minimum, but they can be rated up to 15,000kg. Shackles should be rated, as a minimum, for a 3.5-tonne working load; the working load limit figure should be clearly visible on the shackle itself.
ONLY USE A RATED RECOVERY POINT
Do not use any vehicle's tow ball as a recovery points – some people have done that in the past with absolutely disastrous results. Why? Because the tow ball may snap off under the extreme forces at work and then it becomes a projectile, potentially lethal.

Use a rated recovery point on your vehicle, or you can use your tow-hitch receiver as we've done.
Do not use your vehicle's shipping tie-down points as recovery points – these were designed to secure it in position on a vehicle-transport vessel or truck and they are simply not strong enough to cope with the stresses involved in a vehicle-recovery.
Use a rated recovery point on your vehicle; you can use your tow-hitch receiver as we've done in the photos.
THE RECOVERY – STEP BY STEP
Attach your snatch strap to the vehicle in strife first. Unscrew the pin from your rated bow shackle (part of the recovery kit you brought along with you), feed the shackle through one eyelet of the strap until the eyelet rests on the inside of the shackle's bow. At the other end of the shackle, put the pin back in so it goes through the pin holes and the recovery point, then screw it in securely.

Only use rated shackles in a vehicle recovery.
Lay the snatch strap in a loose 'S' shape on the sand in front of the stuck vehicle, then back the rescue vehicle up so there are a few metres of slack in the strap. Attach the other end of the snatch strap to the rescue vehicle. Use the same process as we did to attach the other end of the strap to the stranded vehicle, however, as mentioned, we used the Everest's tow-hitch receiver, so we did not use a bow shackle; check out the photos for a better idea of the set-up. Make sure the strap has no kinks or twists in it as those will impede its efficacy come recovery time. Put your recovery kit's strap damper – it's like a small weighted vest – over the middle of the strap as that will help to take the power out of it if something does snap during the recovery. If you don't have a damper, use a heavy blanket or something similar.
Move everyone not directly involved in the recovery away from the recovery site; they should be at a distance of at least one and a half times the length of the unstretched strap away.

Clear communications between the drivers of the rescue vehicle and the stuck vehicle are essential.
Make sure the drivers of both vehicles have clear communications, via UHF or handhelds during the recovery. If possible, also have someone – standing at a safe distance away but able to be seen by both drivers – oversee the recovery and use agreed-upon hand signals to communicate with the drivers.
The driver of the stuck vehicle should now be set to go, in low-range first gear, engine running. Seatbelt on, clear route straight ahead in mind.
The driver of the rescue vehicle should be also ready to go, in low-range second gear, engine running. Seatbelt on, clear route straight ahead in mind.
After both drivers confirm "Ready" over the radio – and perhaps even give a visual thumbs-up to make sure everyone knows the recovery is about to commence – the rescue vehicle driver will say an agreed countdown over the radio (such as "3,2,1 – go!") and at "Go" that driver will accelerate; delivering firm and controlled momentum, not using foot-to-the-floor throttle. The snatch strap will stretch taut and then rebound, snatching the stricken vehicle out of its bogging.

Keep driving until the stuck vehicle is well clear of the boggy patch.
The driver of the stranded vehicle need only try to match the rescue vehicle's momentum in a straight line as he or she feels the strap pull their vehicle forward.
Once both vehicles are clear of the soft sand, pull up and disconnect the shackles and strap. Make sure none of the gear is dirty or damaged and put it all away properly in your recovery kit: clear sand off the strap and roll it up so it has no twists in it.
IF A SNATCH STRAP RECOVERY DOES NOT WORK THE FIRST TIME
Try again, but do a few things before you have another crack.
Clear away built-up sand from the first attempt and any other obstructions that may have now presented themselves; and drop the stuck vehicle's tyre pressures even lower in an attempt to give it even more traction.
CLEAN UP AFTER YOURSELF
As you should do after any beach drive, make sure you thoroughly wash your vehicle. That way, you'll keep all surfaces and mechanicals clear of sand, grit and salt spray which can damage bodywork, wiring and other components.

Once clear, disconnect the shackles and strap. Make sure none of the gear is dirty or damaged.
Also, wash, clean and dry your recovery gear if it is wet or dirty.
THE GEAR YOU NEED
If you haven't already realised, part of being prepared for any off-roading adventure is having the skills and having the gear.
There is a mind-boggling variety of vehicle-recovery gear available – ranging in quality and price – for all manner of trips – from cruisy weekend bush sojourns to three-month-long remote-area expeditions – but if you stick to the basics for starters and make sure you have good-quality equipment onboard then you're at least heading in the right direction.
Get:
A tyre-pressure gauge
A tyre deflator
Vehicle-recovery tracks
An air compressor
A long-handled shovel
Rated bow shackles (aka D shackles)
Snatch strap
Got any snatch-strap recovery tips for us? Or maybe you've had a few failed attempts at it? Tell us what you think in the comments below.