Top 5 tips to tow like a pro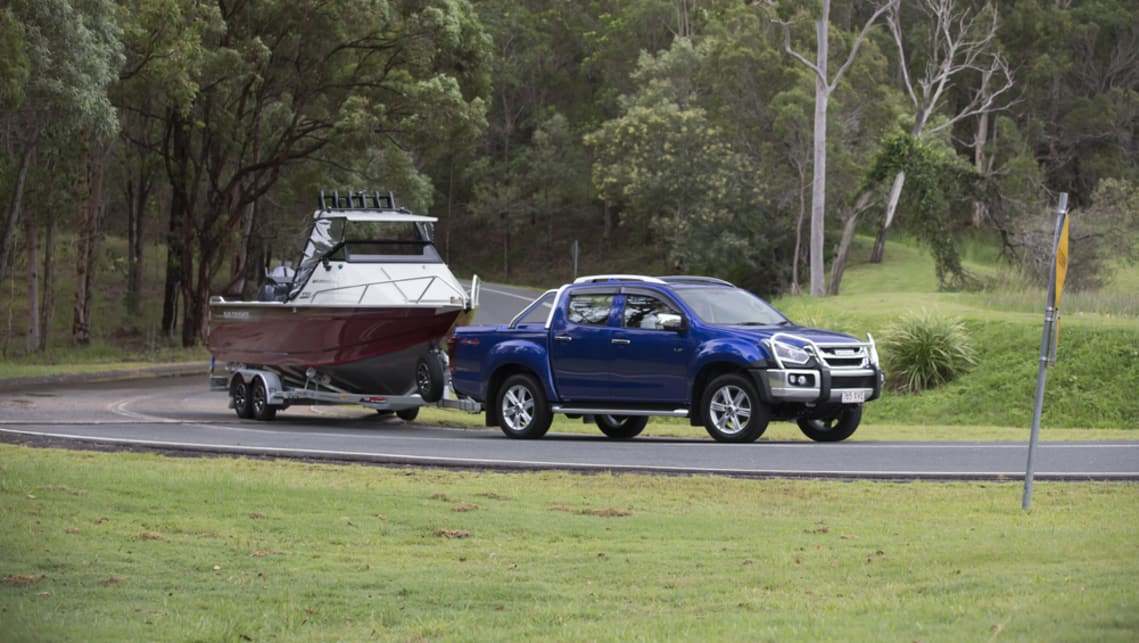 With the advent of dual-cab utes and cheap rental vans, the art of towing is in danger of dying out. And it can be intimidating in an ever-busier road environment.
Learning the basics, though, isn't hard… and think of all the favours you'll curry with family and friends thanks to your new-found towing prowess!
Towing requires a special set of skills that are best absorbed – initially at least – in a formal setting (during accredited training), before being practised and repeatedly honed with consistent use in the real world.
And, like all skills, your towing prowess will improve the more times you hook something up behind your car.
Here are our top five tips so you can tow like a pro.

Sure, you may not be driving a road-train or hauling a load anywhere near this big, but the same principles still apply to safe towing.
1. Know your weights
GVM (Gross Vehicle Mass; the maximum your vehicle can legally weigh, fully laden), GCM (Gross Combined Mass; the maximum your vehicle and trailer combination can legally weigh), GTM (Gross Trailer Mass; the maximum manufacturer-recommended axle load that your trailer is designed to carry), tow bar download (between 10-15 percent of the GTM) and more… there are many towing terms to come to, er, terms with it but the better you understand claimed and recommended capacity figures and how they all actually apply to towing, then the better equipped you'll be to tow safely and sensibly.
And remember: once you start putting people and gear (say, for instance, mountain bikes) into the same vehicle, it will affect your GCM, amongst other things. The more weight you have on board the vehicle, the less weight you'll be legally able to tow.
Mark Oastler's feature on the subject is an excellent preface to your next towing job.

Completing an accredited towing course with a reputable instructor in a safe, stress-free environment will go a long way to building your towing confidence.
2. Get schooled
Yep, Crafty has preached this to you Adventurers before, but it's definitely worth saying again: do an accredited towing skills course. Just book it now.
Towing is difficult. It affects the performance of any towing vehicle, and it requires from the driver a high level of patience, skill and precision.
A course will help you learn how to manoeuvre your tow vehicle, how to monitor the vehicle and trailer while in motion, and how to control the whole shooting match if something untoward happens at high speeds (like trailer sway) or low speeds (like a slow jacknife).
Trust us; towing won't be anywhere near as daunting if you've learned all of the proper driving techniques at the hands of an experienced teaching professional. Your confidence will increase with your new-found skills, and you'll be a better and safer tower for it.

Check tyre pressures on your trailer before, during and after any towing trip. (Image credit: Tim Robson)
3. Check tyre pressures
You keep an eye on your vehicle's tyre pressures to optimise ride and handling, make your vehicle safer to drive, and to reduce everyday wear and tear, and fuel consumption, don't you? So why wouldn't you check the tyre pressures on your trailer?
As well as monitoring them for general wear and tear on the tread and sidewalls – particularly cuts, chips and tears – it also pays to make sure that correct tyre pressures are always maintained.
Check them before, during and after any trip, and check pressures when the tyres are cold so you get an accurate reading. And always use a reputable tyre-pressure gauge; for example, something from ARB or Ironman 4x4. A two-dollar job from the corner garage won't cut it.

When towing, pay close attention to the behaviour of your tow vehicle and your trailer.
4. Keep an eye on it
When you're behind the wheel, you will be paying a LOT more attention to what's going on. As part of that, you need to monitor how your tow vehicle is working for you. Is the engine under stress? You may need to change gear. Is the steering a bit light? Your load might not be well placed on the trailer.
As well, you'll need a feel for how the trailer is behaving. Does it feel like it's 'porpoising' (bobbing up and down on the towball)? You may need to drop a few km/h off your speed. Does it feel like it's tugging at the rear of the car? Again, that might be load-related.
It's a great idea to have a 15-minute rest stop every two hours, too. While you're stopped, have a good walk around the trailer to make sure everything is fine.
Check the tow bar, the coupling, trailer plug, wheels and tyres, chains – everything. If it's a caravan, make sure that the doors and windows/hatches are still securely fastened in position. If it's a car or bike, make sure it's still well lashed down, and that the excess strapping is tucked away.
A full check really won't take long, and it'll mean you can be back on the road with peace of mind that your vehicle and trailer are right to go.

A caravan adds length and mass to your towing equation, so learning how to reverse that combination will initially be difficult but will soon become easier.
5. Back it up
This is another aspect of towing that makes some people anxious, but with dedicated practice, reversing a trailer, boat, caravan or even a car trailer won't seem like such a big deal.
As mentioned earlier, do a course, and then practise, practise, practise. Do that in an open space when you're first getting the hang of it so the chances of hitting something – or someone – is minimal.
Before reversing for real, have a good walk around of the area in which you're about to back up. When reversing, slow and smooth wins the race, so thoroughly scan the area, edge backwards and use small steering inputs.
Remember: turn your steering wheel right-hand down to go left and left-hand down to go right – and take your time. It's always handy to have someone standing in plain sight of the driver so they can give clear directions and alert the driver to any sudden hazards or obstacles.
If you're heading off-line, stop, edge forward a little bit to straighten up, and then try reversing again.
Have any towing tips you'd like to share? Tell us about them in the comments below.