2006 Suzuki Liana
Pricing and Specs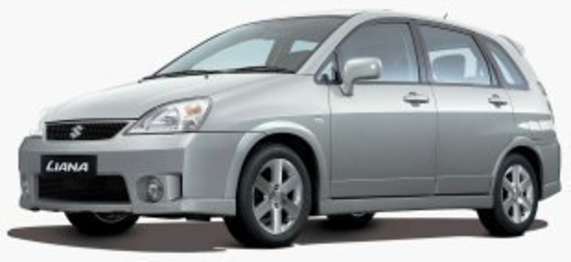 The Suzuki Liana 2006 is priced from $2,990 for Hatchback Liana (base).
The Suzuki Liana 2006 comes in Hatchback and Sedan.
The Suzuki Liana 2006 is available in Regular Unleaded Petrol. Engine sizes and transmissions vary from the Hatchback 1.8L 4 SP Automatic to the Hatchback 1.8L 5 SP Manual.
Price Guide
$4,199
Based on 7 cars listed for sale in the last 6 months
Explore prices for the
2006 Suzuki Liana
Hatchback
Suzuki Liana Models
SPECS
PRICE
(base)

1.8L

ULP

Regular Unleaded Petrol

4 SP AUTO

4 speed automatic

$2,500 – 4,290

(base)

1.8L

ULP

Regular Unleaded Petrol

5 SP MAN

5 speed manual

$2,400 – 4,070
Sedan
Suzuki Liana Models
SPECS
PRICE
(base)

1.8L

ULP

Regular Unleaded Petrol

4 SP AUTO

4 speed automatic

$2,500 – 4,290

(base)

1.8L

ULP

Regular Unleaded Petrol

5 SP MAN

5 speed manual

$2,400 – 4,070
* Manufacturer's Suggested Retail Price
Suzuki Liana 2006 FAQs
Check out real-world situations relating to the Suzuki here, particularly what our experts have to say about them.
Is it possible to 'plug and play' ECUs in a 2011 Suzuki Alto?

The description `plug and play' is used to describe a replacement ECU which is designed to simply plug into the car and immediately offer full functionality without requiring additional coding or set-up. That's why they include things such as ignition keys and sensors; it's to avoid having to code your existing components to the new ECU. You simply replace the lot and – hopefully – turn the key and enjoy.

So, yes, it's possible, but you need to make sure you're getting every component necessary for the swap and that the unit is correct for your car in every detail. The are detail differences between the ECU for a car with an automatic transmission and the same car with a manual, for instance. And always buy from a known source so you can get tech support if it doesn't all go exactly to plan. Buying from an online clearing house is unlikely to provide the same level of after-sales service.

Show more

Does the 2017 Suzuki Grand Vitara 2.4 have a timing belt or a timing chain?

The Suzuki J24B engine in your vehicle has a timing chain and not a timing belt. The chain should be good for the life of the engine provided the engine is serviced correctly.

Show more

What is the best small car for under $30000?

You don't need to spend $30,000 to get a great small car to run around town in. A Suzuki Swift GL Navigator from $17,690 plus on-road costs ($1000 more for the auto) makes for an excellent choice, with a surprisingly roomy interior, a refined, frugal and lively engine, great handling and superb reliability. Great value for money, in other words.

Moving on from there, to the next size up and in our order of preference, are the Mazda 3, Ford Focus Active, Volkswagen Golf, Toyota Corolla Hatch, Honda Civic (turbo only) and Subaru Impreza. All are quality small cars that should fit the bill perfectly.

There's also merit in considering a small SUV, chiefly because their higher roofline and loftier seating positions make them easier to get in and out as well as see out of. Our value pick is the Kia Seltos S with Safety Pack. The Mazda CX-30 and Toyota C-HR are also high-quality and refined choices, though they're right at the cusp of your budget so you may have to search for a discounted demo model. Going small SUV does  mean extra outlay, but they do generally offer better resale value, as their popularity seems endless.

As you can see, there's lots of choice, so take your time, drive the ones you like the look of, and see which feels best. Out of scores of alternatives, these 10 are our top recommendations at under $30K.

Show more
See All Suzuki FAQs
Disclaimer: You acknowledge and agree that all answers are provided as a general guide only and should not be relied upon as bespoke advice. Carsguide is not liable for the accuracy of any information provided in the answers.