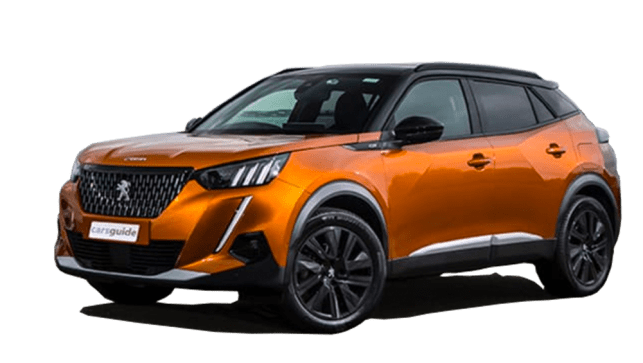 COMPARE
Peugeot 2008
VS
Subaru Forester
Peugeot 2008
Likes
Charming design
Eye-catching cabin treatment
Decent little driver
Dislikes
Safety spec wanting on base grade for the money
High prices
Lacks traction in the wet
---
Subaru Forester
Likes
Interesting looks
Excellent safety
Good space and practicality
Dislikes
Not interesting to drive
Doesn't live up to 'Sport' name
Bit pricey to own
Summary
Peugeot 2008
The all-new 2021 Peugeot 2008 is designed to stand out in the crowded small SUV space, and it's fair to say that this stylish French small SUV does exactly that.
It stands out not only because of its eye-catching design, but also due to its frankly wishful pricing strategy, which pushes the Peugeot 2008 from being seen as a rival to the VW T-Cross, MG ZST and Honda HR-V more towards the realm inhabited by the Mazda CX-30, Audi Q2 and VW T-Roc.
You might also be thinking about this as an alternative to the recently released Ford Puma or Nissan Juke. And you wouldn't be out of place thinking it might rival the Hyundai Kona and Kia Seltos, too. 
The thing is, the base model pricing is equivalent to what most of its rivals have in mid-range spec variants. And the top spec is over the odds, too, despite both offering pretty comprehensive equipment lists.
So is the 2021 Peugeot 2008 worth the money? And what's it like on the whole? Let's get to it.
| | |
| --- | --- |
| Safety rating | |
| Engine Type | 1.2L turbo |
| Fuel Type | Premium Unleaded Petrol |
| Fuel Efficiency | 6.1L/100km |
| Seating | 5 seats |
---
Subaru Forester
This is not the Subaru Forester Sport model they get in Japan, and it's therefore not the one most Aussies have been desperate to see launched here.
Nope, the giveaway is the 2.5i part of the name for this 2021 Subaru Forester 2.5i Sport model, which has just been added to the brand's range to add a bit more of an eye-catching variant to the line-up.
In Japan, the Sport gets a new turbocharged petrol engine, but this one instead soldiers on with the same powerplant as the rest of the Forester range, but there have been plenty of changes and additions besides.
Is it any good? Should you buy a Forester Sport over one of its many rivals, like the Toyota RAV4, Honda CR-V or Mazda CX-5? Let's try and answer those questions in this review.
| | |
| --- | --- |
| Safety rating | |
| Engine Type | 2.5L turbo |
| Fuel Type | Regular Unleaded Petrol |
| Fuel Efficiency | 7.4L/100km |
| Seating | 5 seats |
Verdict
Peugeot 2008
7.5/10
If you are the sort of buyer who will pay over the odds for a car that looks great, then you might be a Peugeot 2008 customer. It's a pretty impressive small SUV, but it's pricing pushes it outside of the realms of reasonable consideration, especially given the raft of impressive rivals with which it competes.
Although Peugeot Australia expects more customers to go for the top-spec GT Sport, and we reckon it's better equipped based on the standard safety spec, it's hard to look past the Allure, though even it is too expensive for what you're getting.
---
Subaru Forester
7.8/10
The Subaru Forester Sport is an interesting new addition to the range, despite not really moving it forward in any other way apart from its eye-catching looks. It is a competitive counterpoint to the likes of the CX-5 and CR-V, but still doesn't quite reach the same levels of refinement and driving enjoyment of the RAV4.
There is no doubt the Forester Sport will add a level of appeal that Subaru has been needing in its family SUV range since launch, but we really think the thing that would get more customers excited would be a new turbocharged top-spec model, which would certainly be more deserving of the Sport name.
Design
Peugeot 2008
9/10
The design is what could get you through the door and ready to lay down your money more than anything else about the Peugeot 2008. It is a very attractively styled model - far less van-like than its predecessor, and more modern, masculine and aggressive in its stance than before, too.
In fact, this new model is 141mm longer (now 4300mm) on a 67mm longer wheelbase (now 2605mm), but it's also wider by 30mm (now 1770mm) and a bit lower to the ground too (1550mm tall).
It's the way the designers have made this chunky new model look that has really hunkered it down, though. From the claw-like LED light slashes that run from the edges of the headlights down through the front bumper, to the upright grille (which varies depending on the variant) and angular metalwork pressing through the doors of the car.
If you want to know what Peugeot had in mind when it pencilled the new-gen 2008, you need to look back to the Quartz concept from 2014. Then you need to squint, make sure you don't look too closely, and voila!
The rear is a sight to behold too, with a clean and broad look to it that is emphasised by the tail-light cluster and central garnish. Gotta love those claw mark tail-lights and the LED DRLs on the top-spec version, too. 
You'll decide if you like it or not, but there is no denying that its styling helps it stand out in the class. And because the new model is built on Peugeot's CMP platform, it can be fitted with an electric motor or plug-in hybrid drivetrain as well as the petrol one used here. More on that below.
But what is also interesting is the fact the Peugeot team reckons the Allure model that opens the range is more targeted at the outdoorsy types (and has equipped it as such), while the GT Sport is for the more enthusiast-oriented buyer. We reckon they could have gone a bit harder on the themes, here, particularly for the Allure. And maybe not with Allure as its model name. Remember the original Peugeot 2008, which had a variant named Outdoor?
The eye-catching design flows into the cabin area - see the interior pictures below to get what I'm talking about - but there really is no other small SUV like this in terms of cabin design and presentation.
The brand's polarising i-Cockpit - with its high-mount digital dashboard cluster and its tiny little steering wheel that you're supposed to look over, not through - is either going to be fine by you, or completely unacceptable. I fall into the former, meaning I plonk the steering wheel down low in my lap, and set my seat so I'm looking over the tiller to the screen, and find it's both interesting and likeable to live with.
There are plenty of other considerations for the practicality of the cabin, which we'll cover off next.
---
Subaru Forester
8/10
If you've ever trawled the Subaru Japan website like me (high five, car nerds!), you might be thinking: "This Subaru Forester Sport model looks a lot like that Forester X-Break in Japan!". And you'd be right.
It is, essentially, the same car. Just with a considerably nicer looking set of wheels than the Japanese model. They aren't my favourite rims, but then again, I think the Forester's rims on the whole are pretty yuck.
Wheels aside, the flashes of orange around the car will no doubt catch your eye. There are plenty of them: the lower body protection has orange trim from the front bumper to the side skirts/sills and the rear bumper, too; plus there are orange bits as part of the roof rails, too.
The exterior also cops a bit of a blackout treatment, with new dark graphics front and rear, including a black garnish between the tail-lights. And of course, the rims are black, too.
Inside the style a bit more adventurous, with a smattering of orange trim highlights on the vent surrounds, the transmission tunnel, the stitching that runs on the dashboard, doors and seats, and even the eye-catching and intriguing mesh-look water-repellent trim on the seats that goes up to the doors, too. I guess Subaru assumes Forester Sport buyers will be spending a lot of time in the rain?
I really love the orange trim finishes - they really lift the ambience of the cabin and make it feel a bit more exciting than a regular Forester. In fact, it's like the Forester looked a bit further down the Subaru line-up to the XV and said, "Hey, how come you're getting all the attention?".
There are some inherently awesome SUV features that the Forester's interior design brings to the fore - we'll get to that in the next section.
Practicality
Peugeot 2008
8/10
It's a small SUV, but it's surprisingly spacious inside. There are plenty of models in this segment that manage this trick, and the Peugeot 2008 does it with a bit more flair than some.
The aforementioned i-Cockpit cabin design is attention grabbing, and so is the 3D cluster design on the driver's display. It is mostly easy to get used to the controls, but despite Peugeot claiming the digital system can show the driver safety warnings faster than conventional dials and lights, there is some lag and delay when you adjust the screen display or trigger through the drive modes. 
The steering wheel is a charming size and shape, the seats are comfortable and easy to adjust - but there are still some ergonomic annoyances.
For example, the cruise control system - which is a stalk hidden behind the steering wheel - can take a while to figure out. So can the steering wheel controls, and the driver info screen menu buttons (one is on the end of the wiper stalk, one on the steering wheel!). And the climate controls: there are switches and buttons for some parts, but the fan control - which is essential to access quickly on really hot or really cold days - is through the media screen, not a physical button or knob.
At least the media screen has a volume knob this time around, and the presentation of that bank of buttons below the screen looks to have been plucked straight from Lamborghini's notebook. 
The screen itself is okay - it is a little laggy to jump between screens or menus, and the 7.0-inch unit in the base model car is a bit small by modern standards. The 10.0-inch is a better fit for the technical focus of the cabin.
The material quality is mostly pretty good, with a neat soft-touch carbon-look trim on the dashboard, pleasing seat trim in both specs, and soft door elbow pads on all four doors (alarming becoming a less common thing in European SUVs).
It is French so the central cup holders are smaller than you might want, and the door pockets don't have bottle-shaped receptacles, though they will fit a decent sized fizzy or water. The glovebox is tiny, and so is the centre armrest storage pod, but there's a good size section in front of the shifter, and a drop down shelf which, in the top-grade model, incorporates wireless smartphone charging.
Rear seat convenience is somewhat wanting, with a pair of mesh map pockets but no centre cup holder or armrest, even in the high grade. The rear door pockets are modest, too, and the back door trims are a harder wearing material than that used up front. 
The rear seat is a 70/30 split fold setup, with dual ISOFIX and top tether points. The occupant space is quite good for the size of the car - at 182cm or 6'0" I could easily fit behind my own driving position without wanting for more knee-room, headroom or toe room. Three adults across will be a squish, and those with big feet will need to watch themselves on the door-sills, which are quite high and can make ingress and egress clumsier than it should be.
The boot space is a claimed 434 litres (VDA) to the top of the seats with the two-stage boot floor in its highest position, according to Peugeot. That increases to 1015L with the rear seats folded down. There's a space-saver spare wheel under the boot floor, too.
---
Subaru Forester
9/10
The Forester could be the most practical vehicle in its class. Against the likes of the Toyota RAV4, Mitsubishi Outlander, Mazda CX-5 and VW Tiguan, it stacks up pretty well for cabin practicality, space utilisation and accommodation.
It's a nice, bright and airy place to be, with a big glasshouse that makes it feel a bit more outdoorsy than its rivals. The benefits of that are two-fold - it's easy to see out of, whether you're the driver or if you're a kid in the back.
Looking up front first, the Forester's cabin presentation is much more eye-catching in this grade. The other models in the range are, well, a bit bland. The Sport, though, is a bit more - dare I say it - sporty. And I personally hate models called Sport, but that's a story for another day.
The orange stitching everywhere and the orange metallic look finishes on the dash and the centre console - it combines for a more special feeling cabin than any of the other Foresters available.
I really appreciate the media screen Subaru offers - it's easy to use and is bright and colourful, and also the flush finish design - not a floating tablet style screen - does make it just a little easier to use. However there is a secondary screen above it, which shows you a bunch of information about the car that you theoretically will never actually need to know.
That top pod also has a driver monitoring camera system which is looking at you all the time and will warn you if you take your eyes off the road for too long. Intriguingly, it flashes a warning onto another screen - the one on the instruments, which also makes you look away from the road...
It really is a button and screen overload. If you like minimalism, you're not going to like the number of things in front of you as the driver of a Forester. But they all have a purpose (sort of), and for me, it's better than everything being run through touch screens!
The front seats are quite comfortable, with electric adjustment for the driver and passenger. Both are electric adjusted and heated as well, which is nice, and the material used is genuinely really comfortable - it's like a good quality couch.
Even though those are nice elements, I couldn't find myself a perfect driving position – I feel like I sat just a little too high and I couldn't get the steering wheel in quite the right position for my preferences.
Storage is mostly okay up front: the cupholders between the seats are a little bit deep so small takeaway coffees might be hard to get out, and there are bottle holders in the doors, a small cubby in front of the gear selector for a wallet and/or phone, and that's also where you'll find 2USB ports. No wireless phone charging, though.
The overall space for a family of four is perfectly usable. There is no seven seater version of the Forester, nor any seven-set SUV in the brand's range at all in Australia, so it's strictly a smaller family affair, or a good option for grandparents on duty.
There's very good second row seat space, with a high seating position and hip point allowing for adults to easily slot in there (I'm 182cm/6'0" and I can fit behind my driving position with heaps of leg, toe and headroom to spare), but it's also a handy height for child loading, with dual ISOFIX and three top-tether points. Weirdly, though, Subaru has kept with the ceiling-mounted centre seatbelt, and the seat is flat and a bit uncomfortable for adults in terms of cushioning and support. Great for child seats, though.
There are plenty of smart features in the second row, including twin map pockets on the seat backs, one of which is sectioned and divided for smaller items. Plus there are those two USB ports for charging devices (again, perfect for a family of four), and there are rear directional air vents. There is a fold-down armrest with cupholders, plus bottle holders in the doors.
Weirdly there are LED lighting pods for the boot and the tailgate, and up in the front of the cabin there is LED lighting, too - but in the centre, the middle lighting pod is halogen. Weird.
The boot area offers 498 litres of cargo capacity (VDA) with the seats up, but hit the electric release levers (handy!) at the sides of the boot and you liberate a total 1740L of space - enough for a pair of mountain bikes or a few weeks' worth of camping gear for a couple.
Plus there are shopping bag hooks on the outer sides of the boot area and one on the tailgate,, plus four tie down points if you need to attach things and stop it from rolling around. There's a cargo blind, and a 12 V outlet in the boot, too.
Price and features
Peugeot 2008
7/10
The Peugeot 2008 is one of the most expensive small SUVs in the mainstream part of the market, and it comes across quite overpriced at a quick glance at the price list.
The entry-level Allure model is a $34,990 proposition - that's the MSRP/RRP, before on-road costs. The top-spec GT Sport version is $43,990 (list price/MSRP).
Let's go through the standard specifications and equipment list for each model to see if they can justify the cost.
In the Allure, the standard gear comprises 17-inch alloy wheels with Bridgestone Dueler tyres (215/60), LED headlights with LED daytime running lights, cloth trim seats with "leather effects", a leather-wrapped steering wheel, the brand's new 3D i-cockpit digital dashboard, a 7.0-inch touchscreen media system with Apple CarPlay and Android Auto, DAB digital radio, a six-speaker stereo, four USB ports (3x USB 2.0, 1x USB C), climate control air-conditioning, push-button start (but not keyless entry), an auto-dimming rearview mirror, auto headlights, auto wipers, a "180-degree" reversing camera and rear parking sensors.
Allure models have hill descent control, where the top-grade models don't, and they also have a different drive mode system with mud, sand, snow and normal driving settings that operate through the brand's GripControl traction control management system.
The Allure has regular cruise control with speed sign recognition and a system that allows you to adjust to the signposted speed limit at the touch of a button, but it doesn't have fully adaptive cruise like the top-spec, which adds a number of safety items, too. More on the safety spec in the safety section below. 
You can resolve some of those safety tech shortcomings by spending 23 per cent more on the more powerful GT Sport variant, but let's consider the comfort and convenience inclusions first.
The GT Sport runs 18-inch black alloy wheels with Michelin Primacy 3 rubber (215/55), has the 'lion claw' signature LED daytime running lights and adaptive LED headlights with auto high beam lights, keyless entry, a two-tone black roof and black mirror caps, and gets distinct drive modes - Eco, Normal and Sport - and also has paddle shifters.
The interior of the GT Sport has Nappa leather-appointed seats, electric driver's seat adjustment, heated front seats, driver's massage seat, 3D sat nav, wireless phone charging, a 10.0-inch media screen, ambient lighting, wireless smartphone charging, black headlining, a perforated leather steering wheel, aluminium pedals, stainless steel sill scuff plates, and a few other differentiators. The GT Sport can be had with an optional electric sunroof, at $1990.
For a little context: Toyota Yaris Cross - starts at $26,990; Skoda Kamiq - starts at $26,990; VW T-Cross - starts at $27,990; Nissan Juke - starts at $27,990; Mazda CX-30 - starts at $28,990; Ford Puma - starts at $29,990; Toyota C-HR - starts at $30,915. 
And then if you're shopping for the GT Sport, there are rivals like: Audi Q2 35 TFSI - $41,950; Mini Countryman Cooper - $42,200; the VW T-Roc 140TSI Sport - $40,490; and even the Kia Seltos GT Line is a relative bargain at $41,400.
Yes the Peugeot 2008 is overpriced. But the weird thing is, Peugeot Australia has admitted that it knows the car is expensive, but reckons that the looks alone could make people spend extra on the 2008 over some of its rivals. 
Curious about Peugeot 2008 colours? The Allure has the choice of Bianca White (no charge), Onyx Black, Artense Grey or Platinium Grey ($690), and Elixir Red or Vertigo Blue ($1050). Choose the GT Sport, and the free option is Orange Fusion as well as most of the other colours, but there's also a Pearl White choice ($1050) instead of the white offered on the Allure. And remember, the GT Sport models get the black roof finish, too.
---
Subaru Forester
8/10
The new Subaru Forester 2.5i Sport model is a $41,990 proposition - that's the MSRP/RRP, or the price before on-road costs (you might find driveaway deals if you search Autotrader, though).
It slots in between the 2.5i Premium ($39,490) and the 2.5i-S ($42,990), but it stands out compared to both of those versions with a revamped design and a number of inclusions over the models below it, but most of them are visual differentiators which we'll detail in the next section.
Let's consider the standard equipment offered here: black 18-inch alloy wheels with a full size spare, an electric sunroof, water repellent cloth interior trim, electric front seat adjustment (driver's side with memory settings), heated front seats, electric tailgate, electric folding rear seats, smart key hands-free entry and push button start, auto headlights and auto wipers.
There's also a 8.0-inch touchscreen media system with Apple CarPlay and Android Auto smartphone mirroring tech, DAB+ digital radio, CD player, six speakers, Bluetooth phone and audio streaming, 4xUSB ports (2x front, 2x rear), a 4.2-inch digital driver info display with digital speedo, and a leather-lined steering wheel and shifter.
The safety story is a very strong one - see the section below for all the details.
Things missing from the 2.5i Sport that you might want for include an auto-dimming rear-view mirror, a proper surround-view camera, and leather seat trim.
Colours available for this spec comprise: Crystal Black silica, Crystal White pearl (as seen here), Dark Blue pearl (exclusive to Sport), Ice Silver metallic, Magnetite Grey metallic and Sepia Bronze metallic. The green and red options are not available on Sport, but no matter the colour you opt for, it won't cost you any extra.
Obviously though, you might want to choose carefully, as there are some orange highlights inside and out that might not match up with your preferred colour choice. Let's get to that next.
Engine & trans
Peugeot 2008
7/10
The engines offered in the two grades of 2008 are the same in capacity, but offer a split in terms of specs and horsepower.
The Allure runs the 1.2-litre three-cylinder turbo-petrol Puretech 130 engine, which has 96kW of power (or 130hp - at 5500rpm) and 230Nm of torque (at 1750rpm). It is offered as standard with a six-speed Aisin automatic transmission and front-wheel drive, and the claimed 0-100km/h for this model is 9.9 seconds.
Does the GT Sport's 1.2-litre turbo three-cylinder petrol justify its nameplate? Well, the Puretech 155 tune makes 114kW (at 5500rpm) and 240Nm (at 1750rpm), has an eight-speed auto from Aisin, FWD and a 0-100km/h claim of 8.9sec. 
Those are strong engine power and torque figures for the class, outgrunting most of their direct rivals. Both models have engine start-stop tech for fuel saving - more on fuel use in the next part.
---
Fuel consumption
Peugeot 2008
7/10
The claimed combined cycle fuel consumption for the Allure model is 6.5 litres per 100 kilometres, with emissions of 148g/km CO2.
The combined cycle claim for the GT Sport version is a little lower, at 6.1L/100km and CO2 emissions of 138g/km. 
On the surface it may seem strange that both of those figures are considerably higher than the claim of the existing 1.2L auto model - which was less powerful but used a claimed 4.8L/100km. But that's down to the change in testing procedures over the time between models.
For what it's worth, we saw a dashboard-indicated 6.7L/100km on the Allure we drove mainly on highways and in easy urban driving, while the GT Sport was showing 8.8L/100km across that and a bit more spirited driving on wet, twisty roads.
Curious about the plug-in hybrid (PHEV) or electric (EV) versions of the 2008? They may well come to Australia, but we won't know until probably 2021.
Fuel tank capacity is just 44 litres.
---
Subaru Forester
7/10
The official combined cycle fuel consumption figure for the Forester 2.5i Sport is identical to the rest of the range: 7.4 litres per 100 kilometres, with emissions claimed at 168g/km CO2.
On test, we saw an at the pump fuel economy of 9.5L/100km across a mix of urban, highway, country and open road driving (plus a very short unsealed off-highway stint).
Fuel tank capacity is 63 litres. It can run on the more affordable 91RON regular unleaded.
Driving
Peugeot 2008
7/10
I had rather high expectations for the new-generation Peugeot 2008, having been a huge fan of its predecessor. Does the new one live up to it? Well, yes and no.  
Admittedly the conditions we drove it in weren't what Peugeot would have been hoping for - a late October day with a high of 13 degrees and sideways rain for most of the drive program - but they actually showed up a few shortcomings that dry weather driving presumably wouldn't reflect.  
For instance, there was a serious struggle for traction at the front axle, to the point that 'axle tramp' - where the front tyres scrabble so hard to grip the surface that the front end feels as though it's bouncing up and down on the spot - was a constant consideration when taking off from a standstill. If you've not experienced this, maybe you own an all-wheel or rear-wheel drive car, you could think there's something wrong with the car. It is pretty disconcerting.
Once things are moving there's better progress on offer, though it must be said that the GT Sport struggled for traction and was constantly squirming at the front axle, with the flashing traction control light a regular feature on the digital dashboard. This was the case in corners, too, where you want to feel assured progress and your tyres gripping the road surface to pull you back up to speed. 
The GT Sport's drive experience was otherwise pretty darn good. The suspension is a little tighter than the Allure, and that was noticeable over both lumpy road surfaces and the open road, where it transmitted more of the smaller lumps and bumps but also managed to feel less floaty and soft.
So it'll depend which you prefer as to what model hits your targets. The Allure's softer suspension is more urban friendly, though it's 17-inch wheels and higher profile tyres - as well as the GripControl traction management system with mud, sand and snow modes - means it's actually supposed to feel better in the open country.
Either of these two is going to offer some delight when it comes to the steering, which is both very quick to turn but also entertaining in its action because of the size of the wheel. The nose darts when it comes to direction changes, while parking is a cinch thanks to its tiny (10.4m) turning circle and quick lock-to-lock electro-hydraulic steering rack. 
The engine in the Allure offers enough punch to suit the vast majority of buyers, so if you don't want the glitter that comes in the top grade, you'll likely find it completely fine for your needs. But if you do want to explore the engine's potential, the GT Sport's transmission - with two extra ratios and paddle-shifters for manual control - allows you that. Both, though, have the advantage of not being fidgety at take-off pace, as both are standard torque-converter auto gearboxes, not dual-clutch transmissions like so many of its jerkier competitors. 
Neither is what I'd call "fast", but both are quick enough to get moving despite some noticeable turbo lag in the Allure, which is less of a concern in the GT Sport thanks to its high-flow turbo and improved breathing. It gathers pace well, and because it's so light (1287kg in GT Sport trim) it feels agile and sprightly. 
The driver's pick is the GT Sport, just. But in all honesty, both could be better at getting their power to the ground.
---
Subaru Forester
7/10
The Subaru Forester is a smooth and decent family SUV, one that doesn't necessarily do anything exceptionally well, but nor is it terrible at anything when it comes to on-road driving.
In fact, my biggest complaint is the noise intrusion - there's quite a bit of tyre roar through even normal road surfaces, and coarse chip roads are louder again. There's also wind noise up around the windscreen and mirrors, and the engine is noisy under acceleration because of the CVT automatic transmission, and it doesn't sound overly delightful, either.
That said, the 2.5-litre engine's response is pretty good, offering decent and linear power delivery. It's not fast, not overly fun, and the CVT auto does rob it some of the excitement you might want. However, it jumps away from a standstill pretty nicely, and if you can hit the sweet spot when you're accelerating you might be surprised by its brisk response.
There are paddle shifters to take matters into your own hands - though even if you use the SI drive mode selector (Sport or Intelligent drive modes), it's less thrusty than turbocharged competitors (Ford Escape) or even hybrid-powered rivals (Toyota RAV4).
The ride comfort is quite good, there's a nice supple attitude to the suspension and the way it controls itself over bumps, but it is quite soft and that means that there is some noticeable body roll in corners.
Thankfully the seats are really quite nice and offer good support, and while the steering is decently weighted and accurate enough it's hardly the last word in excitement for thrills. I'm also not much of a fan of the lane keeping system and how it affects the steering, as it interrupts the smoothness of your steering a little too much. There's a button you can hit to turn it off, but you have to do it every time.
And that driver-monitoring camera system really does make you realise how much you're not looking at the road ahead. I'm a constant glancer, looking at whatever is driving past or whatever I see parked in people's driveways, and the system really made me realise that.
Because it's a Forester with all-wheel drive, I took it for a brief light off road review expedition, where it lived up to the brand's adventure-focused persona.
The most impressive element was a combination of nice high ground clearance (220mm), plus the way that soft suspension rolled over rocks and bumps allows decent travel to the suspension, and good control to the driver's hands, too.
The drive mode selection system allows you to choose "snow/dirt" or "deep snow/mud", meaning soggy camping trips or drives to the snow should be pretty well catered for. Like most soft-roading vehicles and crossovers, though, the tyres will be your biggest letdown but also your easiest upgrade. 
The hill descent control system worked really well, and while I wasn't pushing any boundaries of what to expect a SUV like this to do, it was pretty well sorted of the whole.
Safety
Peugeot 2008
8/10
The Peugeot 2008 achieved a 2019 five-star Euro NCAP crash test rating for the equivalent spec models we're receiving in Australia. It's unclear if the score will be mirrored by ANCAP or not, though it likely won't be re-tested under 2020 criteria.
The Allure model has auto emergency braking (AEB) which is operational from 10km/h to 180km/h, and it incorporates daytime pedestrian detection (from 0-60km/h) and cyclist detection (operational from 0-80km/h).
There's also active lane departure warning that can steer the car back into its lane if it breaches the road line markings (from 65km/h to 180km/h), speed sign recognition, cruise control with speed sign adaptation, driver attention alert (fatigue monitoring), hill descent control, and a 180-degree reversing camera system (semi surround view). 
Step up to the GT Sport and you get day and night AEB with pedestrian and cyclist detection, as well as blind spot monitoring and a system called Lane Positioning Assist that can steer the car when the GT Sport model's standard adaptive cruise control system (with stop-and-go capability in traffic) is active. There's also auto high-beam lighting and semi-autonomous parking. 
Missing from all 2008 models is rear cross-traffic alert and rear AEB, not to mention a proper 360-degree surround view camera. The camera system used here is not great.
---
Subaru Forester
9/10
The Subaru Forester range scored the maximum five-star ANCAP crash test safety rating in 2019. The criteria has gotten tougher since then, but no mid-size SUV has been put against it to date.
That said, the Forester has an extensive safety technology specification list, starting with auto emergency braking (AEB) that works both in city and inter-urban settings up to 80km/h, and it features pedestrian and cyclist detection, too.
There's also lane departure warning with an active lane keeping assistance system that works from 60km/h to 145km/h, and there's adaptive cruise control that works through the brand's stereo camera EyeSight system. Blind spot monitoring and rear cross-traffic alert are standard, as is a rear AEB system to stop you bumping into cars or walls at low speeds, rear parking sensors, a reversing camera that is complemented by a front and front kerbside camera (not quite surround view, but close).
The Forester has seven airbags (driver's knee, dual front, front side, full-length curtain), and there are dual ISOFIX outboard child-seat anchors and three top-tether points.
Ownership
Peugeot 2008
7/10
Peugeot Australia offers a now industry-standard five-year/unlimited kilometre warranty plan, which is pretty decent backing for what is a rather small operation.
The company also backs its cars with a five-year roadside assistance plan to back the warranty, not to mention a five-year capped price service plan, which it calls Service Price Promise. 
The maintenance intervals are set every 12 months/15,000km, and the costs for the first five years are not yet confirmed. They should be later in 2020, but Peugeot Australia says the pricing will be "comparable" to the existing version, which ran the following service pricing: 12 months/15,000km - $374; 24 months/30,000km - $469; 36 months/45,000km - $628; 48 months/60,000km - $473; 60 months/75,000km - $379. That averages out at $464.60 per service.
Concerned about Peugeot reliability? Quality? Ownership? Recalls? Be sure to check our Peugeot problems page for more information.
---
Subaru Forester
7/10
Subaru Australia backs its cars with a five-year/unlimited kilometre warranty, which is on par with its main rivals but behind the likes of Mitsubishi (10 years if you service with them) and Kia (seven years).
The brand offers just 12 months of roadside assistance when you buy a new car, where some others offer seven years or more.
The company also has unusual service intervals of 12 months/12,500km, with a capped price servicing plan that spans five years/62,500km. The average cost per service over that period is high, at $476.50 per annum - and it'll be even higher if you do a lot of kilometres.
There are also three-year and five-year service plans available. If you sign up for those, you get three years roadside assist plus a loan car when you get your car serviced. The costs for those are $1281.81 (three years/37,500km), or $2382.52 (five years/62,500km).