3 August 2017
Honda's first production car was a mid-engined ute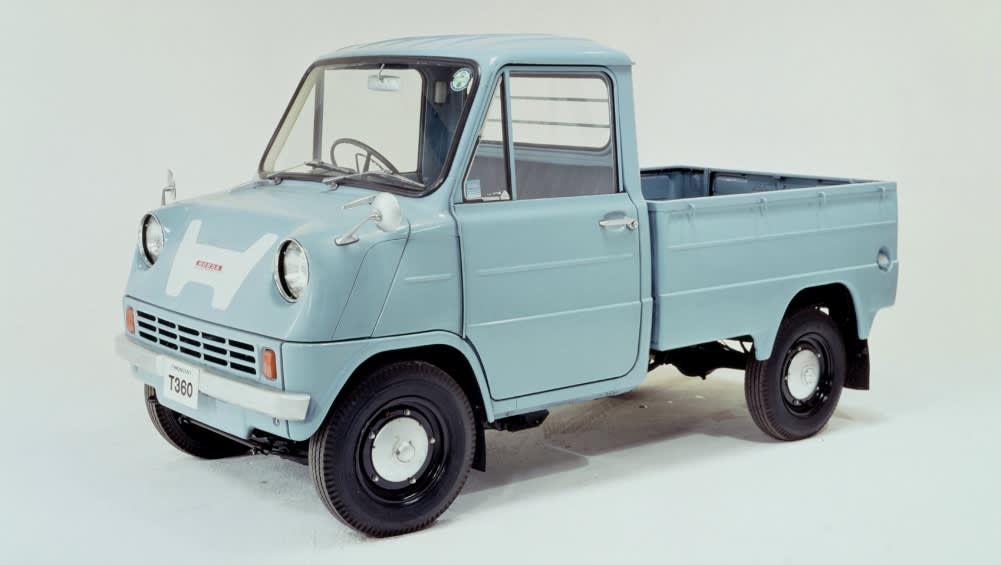 Honda's first car was meant to be a sports car. How then, did it end up building a ute first?
You see, Soichiro Honda started out small, making piston rings for Toyota in the 1930s. After the war, the fledging Honda re-purposed surplus generators to make motorcycles. By the '60s, Honda was an established motorcyle manufacturer.
Ambition didn't stop there though. Mr. Honda was adamant that the swarm of kei cars being pumped out - like the Subaru 360 - were boring, and that he should go against the grain and build a sports car.

The Honda S360 sports car, it would eventually make it to production...
The timing of this decision would prove unfortunate though.
God-like Japanese authority, the Ministry of International Trade and Industry, decided in 1961 that the business of automobile manufacturing in Japan should be more focused on providing affordable transport for the masses. Part of this bureaucratic agenda was to limit the number of auto manufacturers in Japan.
Put simply, if you didn't have a production model for the road by a certain date, you were out.

The T360 was tied to the industry demands of the '60s.
This forced Honda to make an odd decision.
The S360 prototype that would become the S600 wasn't ready yet, and wouldn't meet export sales figures anyway. But a pickup truck based on the same chassis designed to increase Honda's sales footprint was.

Honda T360s roll off the line. It was a far bigger seller than the S series.
It was the T360 and it went on sale in 1963. Power came from an (advanced, at the time) mid-mounted 360cc DOHC 4-cylinder engine. It was rated at 22kW giving the little truck a mind-bending top-speed of 100km/h. The engine would redline at a huge 9000rpm, an essential Honda trait.

Advanced... at the time...
It could also be had with a rather cool looking rear-track setup for the snowier regions of Japan. These didn't sell in huge volumes and are extremely rare today.

You gotta admit, that's pretty cool.
Of course, the S360 did eventually make it to production status as the larger-displacement S600. Today, there are even rumors that Honda S cars are set to return...
How about the T-series utes? They live to this day as the Honda Acty truck, for the Japanese Domestic market. It hasn't really come far... with only a marginally bigger engine and some simple modern features. If you're really determined to have a piece of Honda history or just want to be constantly haggled to help your mates move, I'm sure you could grey import one.

The 2010 Honda Acty truck. the T360's descendant.
What part of Honda history would you most like to own? Tell us in the comments.