4 January 2019
Five car trends that need to stop in 2019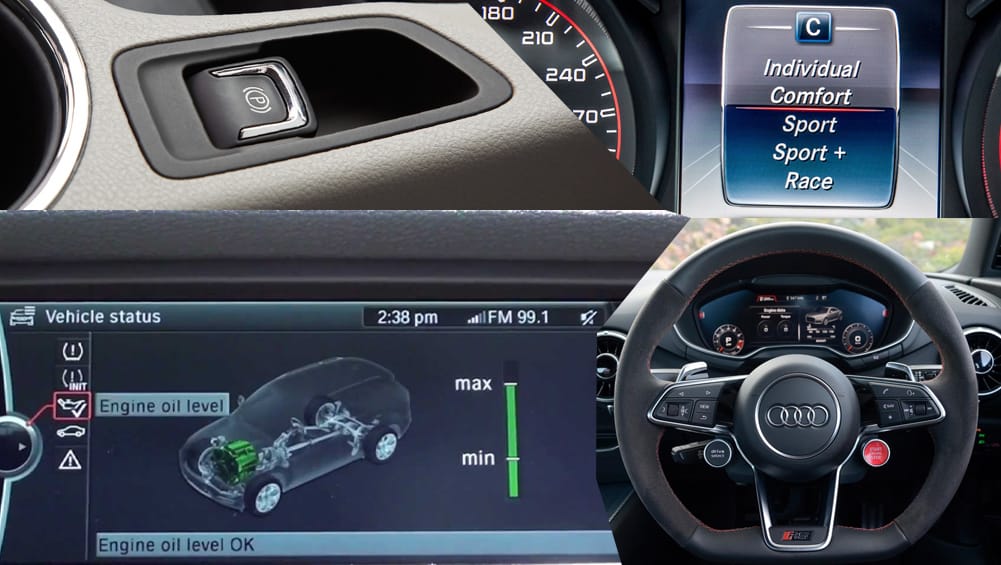 Another year comes around, and here are the things we hope will be history in the coming months.
If you want to see which cars were OverSteer's best and worst picks of 2018, click here.
Cars are changing, faster than ever before. We're seeing newer models live half as long and be replaced twice as quickly. Manufacturers are cramming their cars full of tech and design, and while most are scurrying towards developments for a seamless EV transition, some are still struggling with the basics.
Whether by accident or design, these things exist and they need to stop. Here are the most annoying car trends that need to die in 2019.
Flat-bottomed steering wheels

Flat-bottomed steering wheels are from F1. Assume Halo heads are next...
The Oversteer office is split on this one.
Tom and Mitch fancy flat-bottomed steering wheels, saying they "look good." Compelling argument. But the other half, not so much. We loathe them. Hate them. Audi's aggressive optional wheels in particular.
When driving a sports car at more than seven-tenths, the last thing I want is to actively compensate for a steering wheel that isn't even a wheel. A great scoop out of a major driving control serves no purpose. If I open the taps post-apex, I want as much of my busy hand's surface area on the wheel. Not as little…
I've heard that it helps give your legs extra room, but there happens to be a system called height and reach adjustment so I'm not entirely convinced.
Digital 'dipsticks'

As someone who enjoys changing the oil and filter in my car, this is utter heresy.
We have to hand it to BMW - at least it recognised its foolishness and pulled a fat 180 with the refreshed N63 V8 in the M850i coupe.
Was checking a car's oil level ever a hassle? No. So why do we now have electronic oil-level gauges? No idea! But with it comes certain questions, such as how long do the sensors last? How heavy are they? How much do they cost to replace? What's the practical benefit?
Possible answers: not much, not much, a lot, none.
Manual electric parking brakes

An attention to detail-type innovation that lacks any attention to detail.
It's so simple. But overlooked by everyone.
We get the point of electric handbrakes in everyday cars. They're cool, compact, and bound to give dealerships a week's revenue when they break. But why not sync it to the transmission? It's so obvious. Put it in park and on goes the handbrake. Put it in drive and off goes the handbrake. But no, instead we must pull a toggle every time we want to use it. And that's if we remember.
Why was this system better than a lever again?
Excessive drive modes

Options, and options for the options, with automatic options for the options.
Back in the day, engineers often had a set amount of time to agree on a single set-up. More often than not it was a pretty good one. A single harmonious set-up that reflected the feel of the the car.
Nowadays, engineers have to make more. Three, usually. Five, if it's sporty. And six, if the car's upmarket. Likely done in the same amount of time as before. And now the same engineers have to sync up the steering weight, transmission shift points, throttle sensitivity, and active damper rates (if applicable).
Some manufacturers do it better than others, but the straining ability to multitask and tune-up often shows when 'Comfort' feels like the shocks just blew out, 'Eco' is stuck in limp-home mode, and 'Sport+' completely ruins your spine.
Can't we just go back to the '90s?
"One face for the whole brand"
Nothing says boring dystopia more than killing individualistic expression.
We understand why some manufacturers do this – it helps with brand recognition, marketing, and makes non-car people say "I know what that is" – but it also ruins what is, and whatever could be.
Cars can take inspiration from anything. They can be an F-12 Raptor (Aventador), a fountain pen (Rolls-Royce Phantom), an iPod (Volkswagen XL1), a cane toad (EB Falcon), or even a mobile tanning salon (Evoque convertible).
The possibilities are endless! So why make your latest sports car replicate the look like a family SUV?
Do you agree? What would you add to the list? Let loose in the comments below.