2 November 2017
Bathurst's National Motor Racing Museum is the ultimate shrine to Aussie motorsport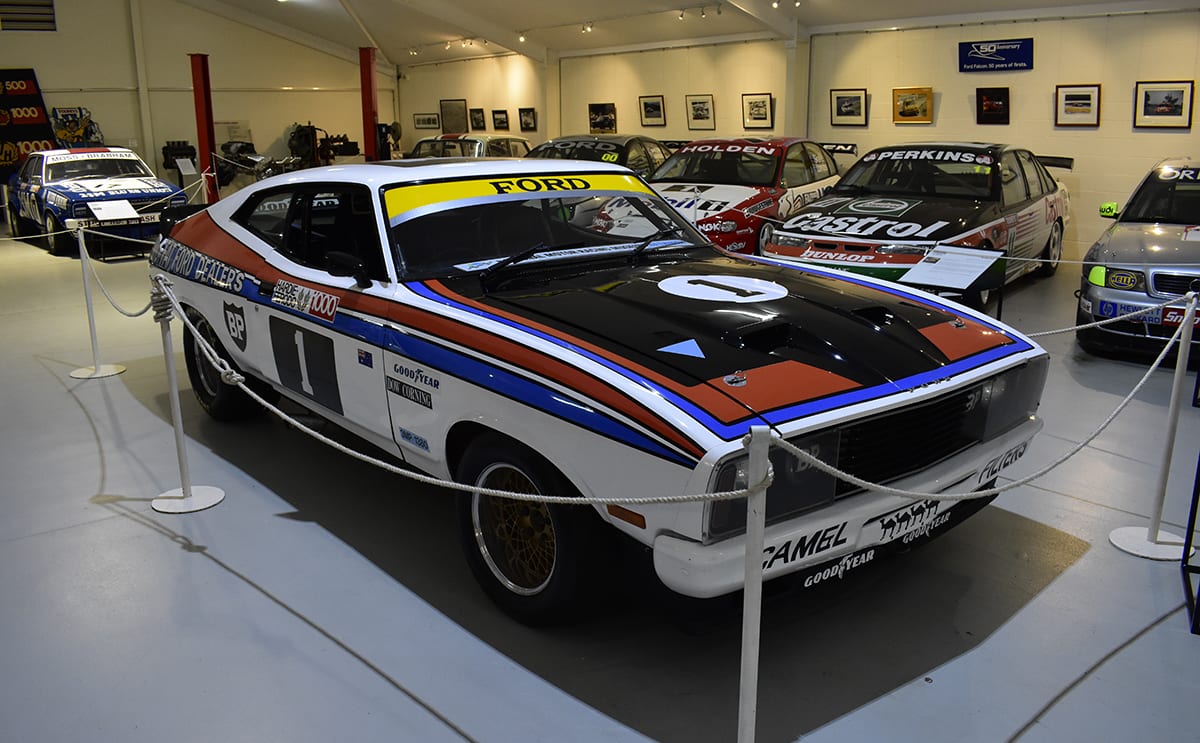 Moffat's XC hardtop? Brocky's VK 'big banger'? Perkins' last-to-first winning Commodore? Yes, this place has them all under one roof.
The National Motor Racing Museum is a car enthusiast's wet dream. There is no other collection in the country that comes close to showing off our rich racing history.

Sigh. Get your ute out of the way. (image credit: Mitchell Tulk)
Conveniently located next to the Mount Panorama circuit in Bathurst, it's a must-visit before or after racking up a few laps on The Mountain.
As soon as you walk through the door, you're greeted by a Holden VU/VY Commodore V8 ute racer, once driven by the 'Assassin', Kim Jane and it's surrounded by a bunch of historic racing metal you've probably never heard of, like a '65 Wolseley rally car.

Not the type of car you would think an Assassin would drive. (image credit: Mitchell Tulk)
This museum has racers from all sorts of categories, there are even open-wheelers that span back to 1937.
The big names from the first display are easily Rauno Aaltonen and Bob Holden's Morris Cooper S that won the Gallaher 500 in 1966, a replica of the George Fury's Nissan Bluebird Turbo that set the fastest Group C qualifying lap time around the original Bathurst circuit and the '63 Bathurst-winning Ford Cortina of Bob Jane and Harry Firth.
It's not just a place for cars as there is a whole section dedicated to racing motorcycles as well.
The third and last section of the museum is by far the best, with a large selection of significant touring cars that raced at Mount Panorama.
Ford fans will be pleased to see a replica of the XR GT that was the first Falcon to win at Bathurst, along with Jason Bright and Steven Richard's '98 winning EL Falcon, Craig Lowndes' 'green eyed monster' AU and most notably, Allan Moffat's XC coupe that lead home the 1-2 finish in 1977.
On the other side of the fence, Holden is represented by Larry Perkins and Russell Ingall's last-to-first VR Commodore, Bob Morris and John Fitzpatrick's '76 winning Torana L34 and Allan Grice's VH Commodore that scored pole in 1982.
However, it isn't exclusively Ford and Holdens, you'll also find Brad Jones' Audi Super Tourer and a replica of the John Goss 1985 Jaguar XJ-S.
For the Brock fans, there's his 1979 Repco Round Australian Trial-winning HDT Commodore, one of his '84 Group C VKs, his '91 VN and a Peugeot 405 Mi16 production racer to remind people that he didn't exclusively race Holdens. 
The cars on display are consisently being rotated so we'll be going back for sure. 
Have you been to the museum? What was your favourite car? Let us know in the comments.