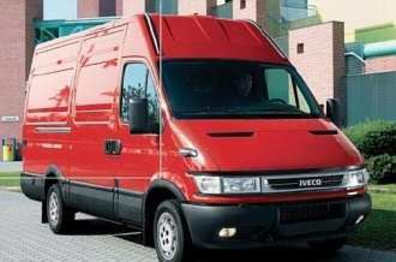 Iveco Daily 2008
The 2008 Iveco Daily carries a braked towing capacity of up to 3500 Kg, but check to ensure this applies to the configuration you're considering.
The Iveco Daily is also known as the Iveco EcoDaily, the Only first generation: Fiat Daily (until 1983), the OM Grinta, the Alfa Romeo AR8, the Zastava Rival and the Irisbus EcoDaily in markets outside Australia.
What's on this page
Iveco Daily 2008 Q&As
Check out real-world situations relating to the Iveco Daily 2008 here, particularly what our experts have to say about them.
Iveco Daily 50C18 dealer issues

We have contacted Iveco on your behalf and requested their response to your claims. While not trying to second-guess the company's comments I believe some of your concerns are unfounded. The gearbox, for instance, is an automated manual shift unit, which is a regular manual gearbox fitted with an automatic shift device, so it has the same gearbox and clutch as the straight manual gearbox, and there are no towing issues with that. The noisy diff has been replaced, so you can't be critical of Iveco for that, the wiper arm is easy to replace, the electric windows should be simple, which really leaves the main issue as the logic of the gear selection. Most automated shift gearboxes hesitate as they shift gears, it happens when the clutch is disengaged, the gear changed and the clutch re-engaged, which can feel awkward and definitely not as smooth as a regular auto trans. That's why VW developed the DSG gearbox, which employs two clutches for smoother, faster shifts.
See All Iveco Daily 2008 Q&As
Iveco Daily 2008 Towing capacity
The Iveco Daily's towing capacity ranges from 2000kg to 3500kg. Some models also offer heavy-duty or towing option packs which can increase towing capacity, as well as options which can hamper towing capacity. Towing capacities can vary wildly on a large number of factors. These include engine, transmission, model, and options chosen. Always check with the manufacturer or in your vehicles handbook before attempting to tow anything.
Iveco Daily Model
Body Type
Specs
Braked Capacity
35S14 SWB/Low
Commercial
2.3L,Diesel,6 SP MAN
2000kg
35S14 SWB/Low
Commercial
2.3L,Diesel,6 SP AUTO
2000kg
35S14 MWB/Mid
Commercial
2.3L,Diesel,6 SP MAN
2000kg
50C18 MWB/Med
Commercial
3.0L,Diesel,6 SP MAN
3500kg
See All Iveco Daily 2008 Towing Capacity
Iveco Daily 2008 Dimensions
Dimensions for the 2008 Iveco Daily are dependent on which body type is chosen. The maximum width and height is 1996mm x 2930mm and can vary on the basis of model.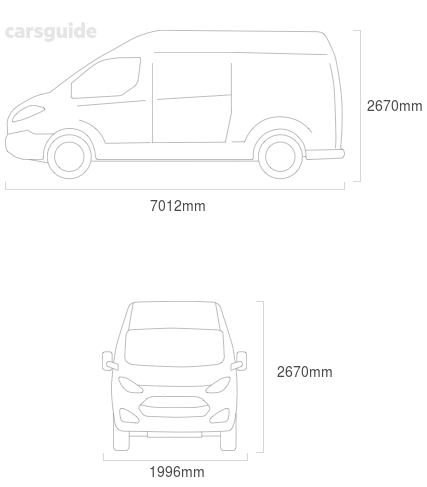 Iveco Daily Model
Body Type
Height x Width x Length
Ground Clearance
35S14 SWB/Low
Commercial
2270x1996x5477 mm
175 mm
35S14 MWB/Mid
Commercial
2640x1996x5977 mm
175 mm
50C18 MWB/Med
Commercial
2745x1996x5997 mm
195 mm
35S14 LWB/Mid
Commercial
2670x1996x7012 mm
175 mm
See All Iveco Daily 2008 Dimensions
Iveco Daily 2008 Fuel consumption
Fuel consumption for the 2008 Iveco Daily is dependent on the type of engine, transmission, or model chosen. The Iveco Daily is available with the following fuel type: Diesel.
See All Iveco Daily 2008 Pricing and Specs
Iveco Daily 2008 Wheel size
Wheel size for the 2008 Iveco Daily will vary depending on model chosen, although keep in mind that many manufacturers offer alternate wheel sizes as options on many models.The wheel size available will alter the range of tyres available to be fitted. Standard wheel sizes on the Iveco Daily vary from 15x6 inches to 16x6 inches.
Iveco Daily Model
Body Type
Front Tyre Size
Front Rim
Rear Tyre Size
Rear Rim
35S14 SWB/Low
Commercial
225x70 R15
15x6 inches
225x70 R15
15x6 inches
35S14 MWB/Mid
Commercial
225x70 R15
15x6 inches
225x70 R15
15x6 inches
50C18 MWB/Med
Commercial
195x75 R16
16x5 inches
195x75 R16
16x5 inches
35S14 LWB/Mid
Commercial
225x70 R15
15x6 inches
225x70 R15
15x6 inches
See All Iveco Daily 2008 Wheel Sizes