Hyundai Santa Fe Gearbox & Transmission Problems
Hyundai Santa Fe 2013: Broken transmission
Answered by CarsGuide
2 Nov 2018
The 12-month warranty is designed to give you confidence in the car, but if you've completely lost faith in it then it could be best to sell it and move on.
Hyundai Santa Fe 2017: Problems with diesel transmission
Answered by CarsGuide
10 Aug 2018
The diesel is rated to tow up to 2.5-tonne so it should handle your camper with ease. There are a few reports of transmission/transfer case failures, as your mechanic has told you, but it's not widespread, and with a warranty that lasts for five years with unlimited kilometres you should be well covered if something does go wrong.
My Hyundai Santa Fe lurches in Drive
Answered by CarsGuide
20 Jul 2018
They have to drain the pan and drain the transmission to fix the faulty solenoid, so they'll have to refill it with new fluid and use a new gasket. If the solenoid wasn't faulty there would be no need to drain the pan or replace the gasket, so I think you have a good claim to be covered for the whole cost of the repair, including the new oil and gasket.
You should approach the dealer in the first instance, and then Hyundai directly if that fails to produce a satisfactory resolution.
2013 Hyundai Santa Fe diff failure
Answered by CarsGuide
11 May 2018
Diff failures are not common, but not unknown either. I would try to get Hyundai to help out with the cost, their obligations to support their vehicles don't end when the warranty expires.
Best manual mid-size SUV?
Answered by CarsGuide
3 Feb 2017
All of the models you list would do the job you want well, so it comes down to personal choice. Add in the Kia Sorento and you have the field pretty much covered. The Sorento generally gets the most ticks from CarsGuide reviewers.
Hyundai Santa Fe 2013: Transmission problems
Answered by CarsGuide
5 Aug 2016
Our trade contacts don't report any significant issues on the Santa Fe auto at this time; they've only done low kays to this point. Hopefully Hyundai replaced the transmission under warranty, so you're not out of pocket. Maybe if other Santa Fe owners have had this problem they might contact us and tell us about their experience.
Hyundai Santa Fe 2010: Master cylinder and clutch warranty claim?
Answered by CarsGuide
1 Feb 2013
You need to have them inspect the master cylinder and the clutch to determine what the problem is. If it is a leaking master cylinder, and as a result the clutch has been contaminated by the leaking fluid then you have a legitimate claim, but you won't know until the clutch can be checked.
Hyundai Santa Fe 2001: Flywheel not compatible with clutch
Answered by CarsGuide
9 Mar 2007
ABSOLUTELY yes. Take it up with Hyundai directly. It seems you have been given the run-around by the dealer and the company needs to know. The clutch would probably need to be replaced when the flywheel was changed as they are most likely to be different, but Hyundai should cop the cost. It sounds like a design problem. And it could be a cause of your belt failures and your ignition problems.
Hyundai Santa Fe 2002: Whine in the diff?
Answered by CarsGuide
2 Jun 2005
MOST vehicles have a diff whine, it's the nature of the type of gears used in diffs, but you rarely hear it. Most car makers manage to isolate the noise so it doesn't travel through the car. They use all sorts of techniques to ensure it doesn't become a problem. The problem with the Santa Fe could lie in the diff itself, it could also lie in the suspension or body which can act as amplifiers. I would take up Hyundai's offer and have them fix the problem.
Search from Over 8,000 questions
Over 8,000 questions answered by CarsGuide
Complete Guide to Hyundai
Santa Fe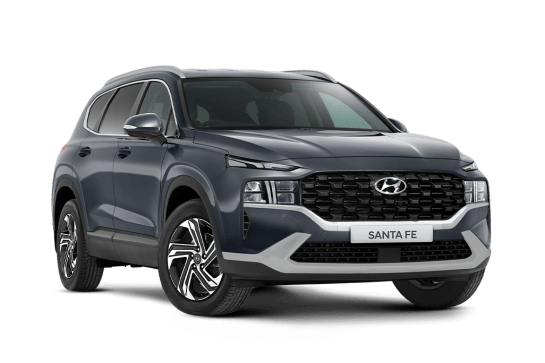 Reviews, price, specs and more