Holden Commodore SS-V Redline vs Audi S3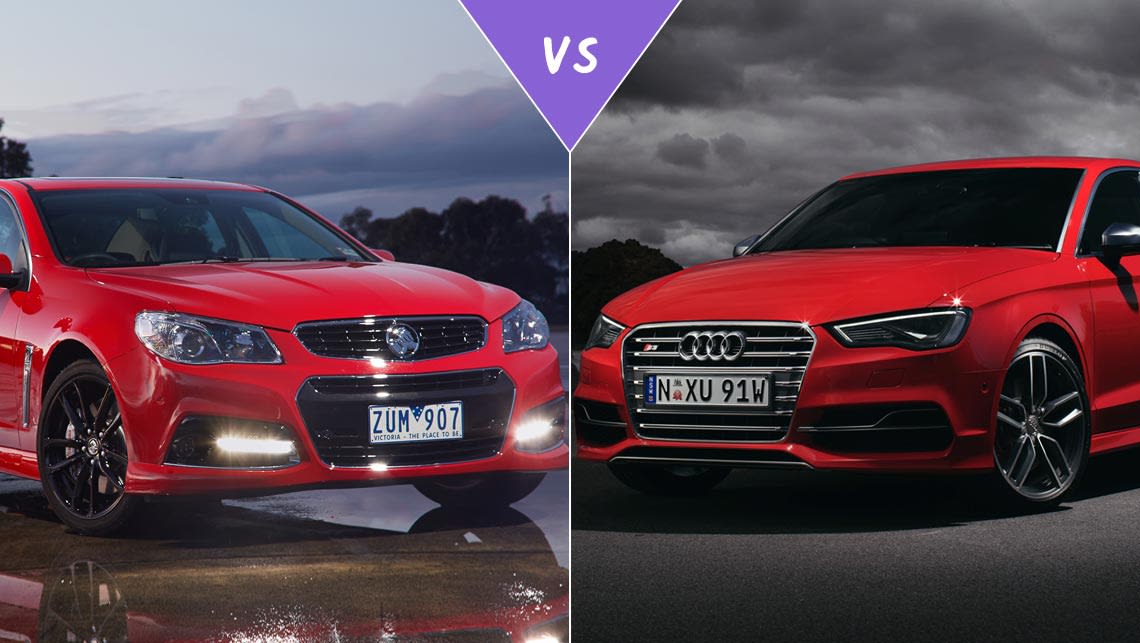 The Commodore is bowing out and a new breed of sports sedan enters. Can the Audi S3 reward owners the way the V8 Holden does?
Holden Commodore Redline
from $54,690
Holden's best car yet. Very well made, sumptuous, eye-wateringly fast and with an exhaust sound like a distant earthquake. It's the top-shelf Commodore and equipment levels are sensational - full house safety, DVD player in the rear, satnav, sunroof and perforated leather upholstery. It also gets Holden's MyLink app-based connectivity. Three-year capped price servicing is $740 and three-year resale is an unjustified 38 per cent.
The price premium over the Holden is about $7500 but the smaller Audi compensates with a strong 56 per cent resale value. Servicing costs, of about $750 a year, easily eclipse the budget-priced Holden. Features also don't approach the Redline, though the S3 gets satnav, leather-trimmed and heated front seats, 10-speaker audio and impressive safety kit.
The SSV Redline cherrypicks all the neat Commodore gear and with its bold body kit, it looks every bit the aggressor that its performance delivers. The dash is a bit busy but everything works very well, especially the touchscreen and the electric park brake. At 5m long it's clearly a big car but seats five in comfort. The boot is a large 496Lbut, annoyingly, rear seats don't fold.
The S3 looks just like an A3 sedan. Trainspotters will pick the lower stance, bigger wheels, some badges and grille ornaments. It's not as big inside, seating four adults, but bootspace, a reasonable 425L, expands thanks to folding rear seats. Cabin treatment appears more Spartan than the Holden but attention to detail is perfect and all the right gear is standard. There's just less of it than the rival.
That big, fat 6.0-litre V8 (260kW/517Nm) spins a six-speed auto on its way to the rear wheels. Holden quotes 11.8L/ 100km. The Redline's extra cost includes sports suspension with sophisticated upgrades, improved steering, bigger brakes and 19-inch wheels. It doesn't share much here with the other Commodores.
The highlight is the 2.0-litre turbo (206kW/380Nm) that's good for a blistering 5.0 secs for 0-100km/h yet averages 6.9L/100km of 95 RON. Power goes to all wheels through a six-speed dual-clutch auto and the S3 gets sports-tuned steering, suspension and brakes. The platform is Volkswagen's acclaimed MQB, which is super stiff for premium handling.
Five-star crash rating, six airbags, front and rear park sensors with camera, auto headlights and wipers, blind-spot and lane departure warnings, park assist, forward collision alert, LED daytime running lights and a full-size spare wheel are standard. Brilliant.
Audi always aims high for safety and the S3 is no exception. There's a five-star crash rating, seven airbags, bi-xenon headlights and LED daytime running lights, automatic wipers and headlights, front and rear park sensors, reversing camera and tyre pressure monitor. But no spare wheel.
Despite that engine, it's rarely car and even the exhaust noise is sufficiently mooted not to annoy the neighbours or give country travellers a headache. It's very, very quick and so well balanced it always feels glued to the road. It's also comfortable with excellent seats and a near-perfect driving position. The way it gobbles the kilometres is amazing. Really put it to work and it gets quite thirsty.
Unpretentious styling cloaks a wolf in sheep's clothing. The engine is ultra-responsive and is strong almost from idle. Despite some transmission and turbocharger lag, it is slightly quicker than the Holden. All-wheel-drive endows first-rate handling but, despite the 210kg difference, the Holden feels more nimble. Ride comfort is controlled but a tad firm and noise levels are very low. $62,200
Both are premium driving cars but the Audi highlights the global trend to engine downsizing while maximising performance. The Redline is the best Commodore ever and for me, a more evocative ownership experience.