Great Wall V200 vs Ssangyong Actyon Tradie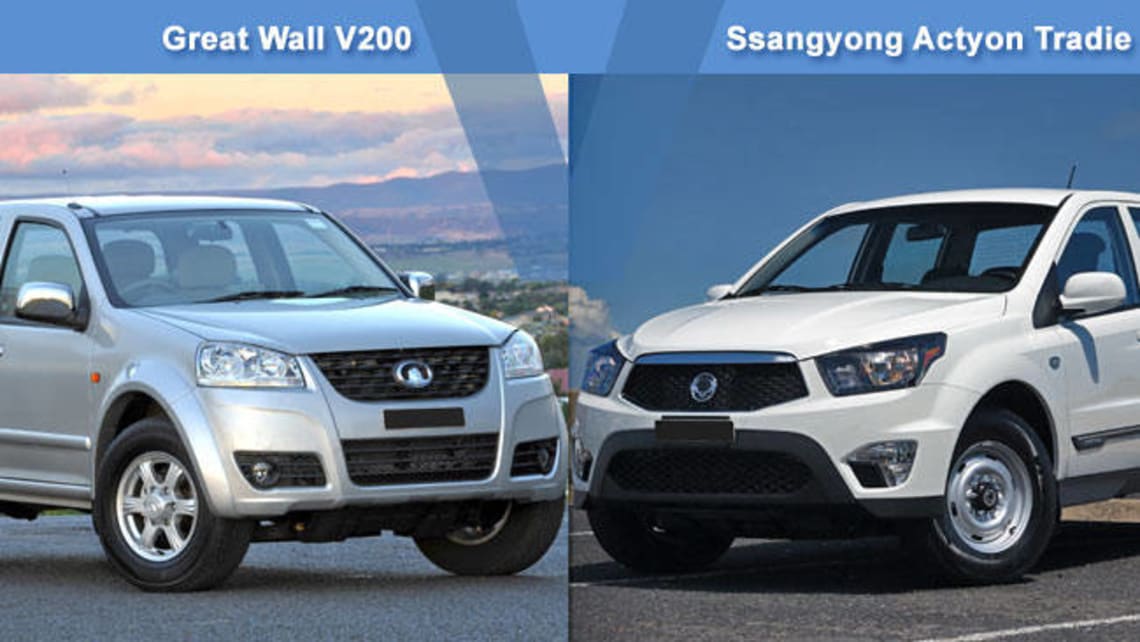 Great Wall V200 and Ssangyong Actyon Tradie go head-to-head in this comparative review.
Great Wall V200
from $24,990
China's Great Wall V200 is the cheapest crew cab ute on the market, starting at $22,990 drive-away for a 2.4 petrol. But we're comparing the 2.0 diesel, which starts at $24,990 drive-away in 2WD ($27,990 for 4WD). The RRP is attractive but resale values are very weak.
Ssangyong Actyon Tradie
from $26,990
The Ssangyong range has come in for a price cut now that it has a new distributor (it's part of the same organization that imports Great Wall Motors), and the Actyon Tradie starts at $26,990 drive-away. As with the Great Wall ute, the RRP is attractive but resale values are very weak.
The first Great Wall ute looked like a poor interpretation of Audi's vertical grille. This updated model is a more sincere form of flattery, seemingly inspired by Volkswagen. The cabin is narrow and cramped compared to the latest utes. Build quality and fit-and-finish are below average.
This Ssangyong has been around in some shape or form for close to 10 years but it got a much needed facelift about two years ago. The cabin is roomy because it is based on a family SUV wagon. It might not look fancy but the quality, fit and finish of the materials are excellent.
Great Wall V200
Hidden Costs
Here's where the Great Wall ute pays dividends. It has a 1050kg payload, although we're not sure how well it will hold up to this kind of cargo-carrying every day.
Ssangyong Actyon Tradie
Hidden Costs
Here's the bad news. I'm not sure why it's called a "Tradie" because it can barely carry more than a toothbrush. The payload is an industry-low 370kg for the auto and 392kg for the manual. You can carry more in the show-pony HSV Maloo ute. At least the Ssangyong has a higher towing capacity (2300kg versus the Great Wall's 2000kg).
It might look the business but the Great Wall ute gets a "poor" two-star rating (16.5 out of 37 points) by independent authority ANCAP. Two airbags and anti-lock brakes are standard in a class where six airbags, a five-star rating and stability control are the norm.
As with the Great Wall ute, the Ssangyong ute only gets two airbags and anti-lock brakes as standard. But it has a higher ANCAP crash score of 24 points out of 37, which equates to a "marginal" rating of three stars.
The 2.0-litre turbo diesel engine (105kW/310Nm) is relatively crude and underpowered. The suspension is too firm (even by working ute standards) and it feels like a generation-old ute to drive. Work utes are not designed to win Bathurst but Great Wall has ample room for improvement here. First-year apprentices should handle this tool with caution, especially in the wet.
The 2.0-litre turbo diesel engine (114kW/360Nm) has more power and torque than the Great Wall, is significantly smoother, more refined and more efficient (7.3L/100km). It is a genuine highlight of the car. It steers and handles well enough, too, presumably due to its family SUV origins.
The Great Wall ute shows great promise, but there's still work to be done to make this a working class hero. The Ssangyong Actyon Tradie is definitely the pick among this pair -- providing you don't need to carry anything too heavy. But it needs more airbags, a higher crash safety score and rear parking sensors should be standard.