BMW X3 30d vs Audi Q5 3.0TDI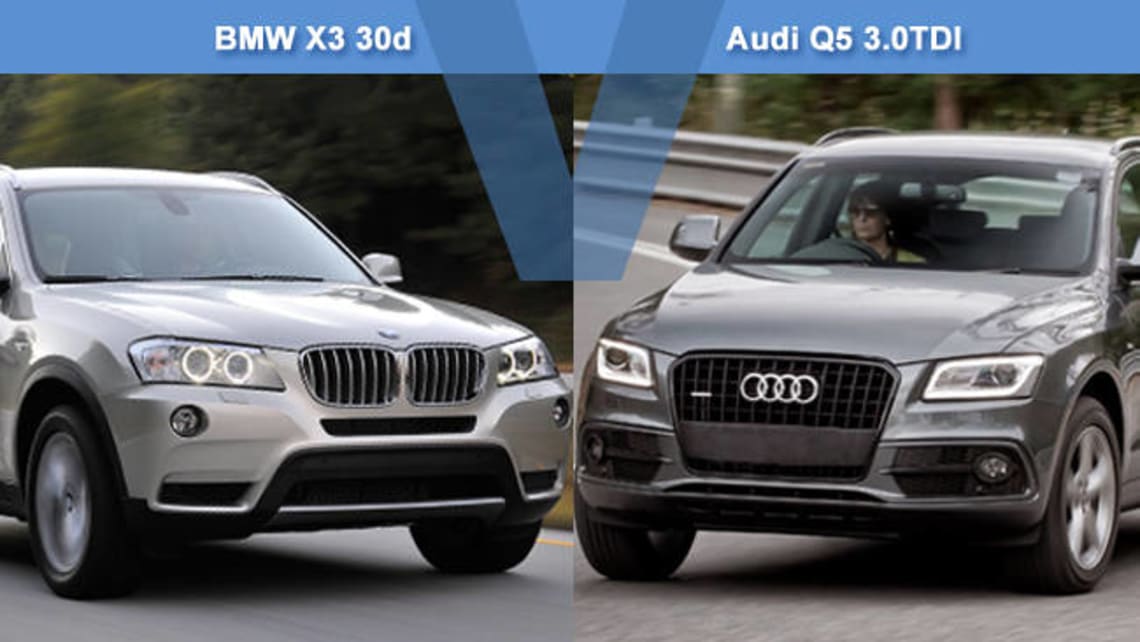 BMW X3 30d and Audi Q5 3.0TDI go head-to-head in this comparative review.
As the top-liner, the 30d cops a hefty price tag. The 2.0-litre version (the variants are almost identical) is $63,100 and may better suit city-only buyers who don't tow. Equipment lists match, though the X3 has run-flat tyres (no spare), fewer audio speakers and is $1500 more.
The most expensive Q5 gets the best kit. Almost everything is standard but options list is exhaustive -- and expensive. Audi includes bi-xenon headlights, electric park brake, more audio speakers and extra airbags. Buyers may find better value in the 2.0 diesel at $62,200.
The six-cylinder turbo diesel (190kW/560Nm) gives 0-100km/h in 6.2 seconds, 0.3s quicker than the Audi. Eight-speed conventional auto returns 6.0L/100km but the tank is 67L. Stop-start with regenerative braking, driver-select program, electric tailgate and sat nav.
Heavily upgraded last year, the 3.0-litre V6 turbo diesel (180kW/580Nm) is quicker and more frugal. Audi claims 6.4 L/100km and the 75L tank gives it greater range. Stop-start, three-mode driver select settings and seven-cog dual-clutch box with paddle shifters are state-of-the-art.
The X3 and its rival are similar in structure though the BMW's styling is sharper. Cabin room is similar but materials differ -- BMW has darker fabrics and dash treatments. X3's switchgear looks and feels more brittle than Audi though there's no news of customer complaints.
Length and wheelbase are within millimetres but the Audi feels more spacious. The Q5 has a shorter bonnet and more abrupt grille but that apart, profiles are similar. The Audi also appears to use higher quality cabin fittings. Electric tailgate (also on the BMW) is a boon.
Again, the BMW spars perfectly against the Q5 with a five-star crash rating. The X3 scores and performs well, but note its lack of bi-xenon lights and spare wheel.
Five stars thanks to the latest chassis and brake electronics, rear camera, front and rear park sensors, bi-xenon headlights and auto wipers and lights. A collapsed emergency spare wheel with compressor doesn't make sense.
The more dynamic drive of the two. The automatic makes the BMW feel more sparkling, especially on take-offs. The X3 has better steering and is more positive through the bends but the ride is slightly harsher and coarse roads produce tyre noise.
It's quiet, quick, frugal (my 8.9L/100km reflects the wagon's fun aspect), very comfortable and roomy for five adults. Ride comfort, almost as supple as a sedan, is better than the X3.
So close yet there's a subtle difference. The Audi feels more content as a leisurely driven city wagon. The BMW has a sportier edge -- some buyers may go for badge snobbery.