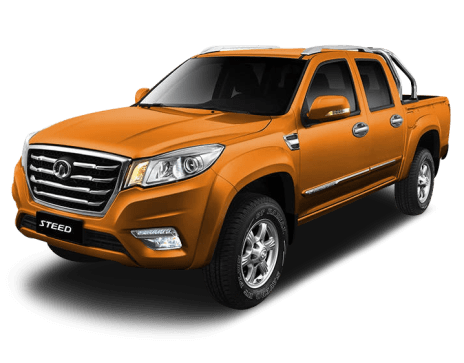 COMPARE
Great Wall Steed
VS
Mahindra Pik-Up
Great Wall Steed
Likes
Low price
One-tonne payload
Standard equipment list
Dislikes
Overall refinement
Large turning circle
Steering weight/gearing
---
Mahindra Pik-Up
Likes
Attainable entry price
Looks pretty rugged
Five-year warranty
Dislikes
Cheap and cramped in the cabin
Questionable dynamics all-round
Cheaper models underdone with safety kit
Summary
Great Wall Steed
Great Wall has been China's best-selling ute brand for nearly two decades, so it's not surprising to see the company spreading its global footprint into Australia's hotly contested dual-cab 4x4 ute market. 
What its diesel-powered Steed may lack in performance and overall refinement compared to mainstream rivals, it balances with a huge saving in purchase price. And therein lies the choice of going Chinese - price vs quality.
| | |
| --- | --- |
| Safety rating | — |
| Engine Type | 2.0L turbo |
| Fuel Type | Diesel |
| Fuel Efficiency | 9L/100km |
| Seating | 5 seats |
---
Mahindra Pik-Up
For years now, our mainstream car companies (think Japanese, Korean, German) have been keeping a close eye on the Chinese manufacturers, convinced - as we all are - that a time is coming when they will be mixing it with the best in the business in terms of build quality, capability and price. 
But you hear almost nothing about India, do you? Yet all the while, Mahindra has been quietly plying its trade in Australia, flying under the radar for about the past decade with its PikUp ute.
It's yet to set the sales world on fire, sure, but Mahindra reckons this 2018 nip-and-tuck will give its rugged ute its best chance yet of competing with the big boys of the Aussie market.
So, are they right?
| | |
| --- | --- |
| Safety rating | |
| Engine Type | 2.2L turbo |
| Fuel Type | Diesel |
| Fuel Efficiency | 8.4L/100km |
| Seating | 5 seats |
Verdict
Great Wall Steed
6.5/10
On face value the Great Wall Steed 4x4 looks like a bargain, with its eye-poppingly low price, one-tonne payload rating and long list of standard features, particularly when compared to entry-level dual cabs offered by the segment leaders. However, those competitors more than make up for that lack of bling with superior all-round safety, performance, comfort, refinement and resale value. So for buyers more concerned about purchase price and creature comforts than any of its shortcomings – and there are quite a few - the Steed 4x4's value for money equation is about right. In other words, it needs to be this cheap to get buyers in.
Is the Great Wall Steed a bargain or is the low price just what it's really worth?
---
Mahindra Pik-Up
6.3/10
Let's be honest, it's not the best in its segment on the road. For mine, the seemingly willfully confusing steering and lack of any real creature comforts or advanced safety tech would rule it out as a daily driver. But the price is mighty tempting, and if I spent more time off-road than on it, a four-wheel drive model would begin to make a lot more sense. 
Does a low cost-of-entry get you over the line for a Mahindra PikUp? Tell us what you think in the comments below.
Design
Great Wall Steed
6/10
The Steed is deceptively large. Compared to the Ford Ranger dual cab 4x4, it's 235mm longer, 50mm narrower, 40mm lower and its ladder-frame chassis rides on a 3200mm wheelbase, which is only 20mm shorter. Like the Ranger, it has double-wishbone front suspension and a leaf-spring live rear axle, but runs rear disc brakes where the Ford has drums. 
Off-road credentials include 171mm of ground clearance, an approach angle of 25 degrees, departure angle of 21 degrees and ramp-over angle of 18 degrees, all figures which are far from class-leading. Plus there's a large 14.5-metre turning circle (compared to Ranger at 12.7m and Hilux at 11.8m).
It has a relatively slim body profile when viewed from the side, which translates to a relatively short floor-to-roof height, reminiscent of utes past. This means shallower foot wells and higher knee/upper thigh angles that concentrate more weight on the base of the spine, reducing comfort on longer journeys. 
The rear outer seating positions are tight, particularly for tall adults, with limited head and leg room. For those sitting in the centre rear position, headroom is even less. And because the front doors are considerably longer than the rears (like the Amarok), the B pillar's more rearward location impedes the 'pathway' to the rear seat, particularly for those with larger shoes.
Overall panel fit is acceptable, but some areas of trim, like the crooked stitched seam across the dash-pad directly in front of the driver, affect perceptions of quality. 
---
Mahindra Pik-Up
6/10
It couldn't be more blocky if it had been constructed using Lego. As a result, it doesn't really matter which body style you opt for, Mahindra's PikUp looks big, tough and ready to get down and dirty.
While plenty of utes are now shooting for a car-like shape, the PikUp definitely aims for more truck-like in its body styling, looking tall and square from just about any angle. Think 70 Series LandCruiser over an SR5 HiLux.
Inside, agricultural is the flavour of the day. Up-front riders sit on seats riveted to exposed metal framework and are faced with a sheer wall of rock-hard plastic, interrupted only by the jumbo-sized air-conditioning controls and - in the S10 models - a touchscreen that looks tiny in the sea of plastic jumbo-ness. 
Practicality
Great Wall Steed
6/10
The Steed's 1900kg kerb weight is relatively light for its size and with a 2920kg GVM it's a genuine 'one tonner' with a maximum payload of 1020kg. It's also rated to tow only 2000kg of braked trailer, but with a GCM of 4920kg it can carry its maximum payload while doing it, which is a practical compromise.
The fully lined cargo bed is 1545mm long, 1460mm wide and 480mm deep. Like most dual-cab utes there's not enough width between the wheel arches to carry a standard Aussie pallet, but it has four sturdy and well-positioned anchorage points for securing loads.
Cabin-storage options include a bottle holder and upper/lower storage pockets in each front door, a single glovebox, centre console with open storage cubby at the front, two cup holders in the centre and a box with padded lid at the rear that doubles as an armrest. To the right of the driver's head there's also a roof-mounted sunglasses holder with a spring-loaded lid, but it's too shallow to be able to close the lid with a pair of Oakleys inside.
Back-seat passengers get overlooked when it comes to storage, as there are only slim pockets on the rear of each front seat and no bottle holders or storage pockets in the doors. And there's no fold-down centre armrest either, which would be a useful place to offer at least two cup holders when the rear seat only has two occupants.
---
Mahindra Pik-Up
6/10
Let's start with the numbers: expect a 2.5-tonne braked towing capacity across the range, and there's around one-tonne of load lugging capacity no matter whether you opt for the cab-chassis or the well-side tub.
Inside, the two front seats sit on exposed metal framework and leave you perched fairly high in the cabin. An armrest on the inside of each seat saves you leaning on the hard plastic of the doors, and a single, squared-off cupholder lives between the front seats.
There's another phone-sized storage cubby in front of the manual gear shift, and there's a single 12-volt power source and a USB connection. There's no room for bottles in the front doors, though there is a narrow glovebox and a sunglasses holder fitted to a roof lined in what looks like 1970s felt.
Weirdly, the central column that divides the front seat is massive and it leaves driver and passenger feeling cramped in the cabin. And the sparse back seat (in dual-cab cars) is home to two ISOFIX attachment points, one in each window position.
Price and features
Great Wall Steed
8/10
Available only as a dual-cab ute with five-speed or six-speed manual transmissions and a choice of petrol 4x2, diesel 4x2 and diesel 4x4 drivetrains. It's also only available in one well-equipped model grade, so every Steed buyer gets a burger with the lot. Albeit a Chinese burger.
Our test vehicle was the diesel 4x4 six-speed manual, which, at only $30,990, presents a compelling value-for-money comparison for those wanting a brand new ute who don't have big dollars to spend. For example, the cheapest Ford Ranger dual cab 4x4 is the XL with 2.2 litre diesel and six-speed manual at $45,090, and the cheapest Toyota Hilux equivalent is the hose-me-out Workmate 2.4 diesel with six-speed manual at $43,990. 
The Steed's single model specification also includes numerous features and creature comforts you won't find on rival entry-level utes costing 30 per cent more. There are lots of chrome body highlights, including roof racks, stainless-steel sports bar and door scuff plates, side steps, cargo bed liner, 16-inch alloy wheels with 235/70R16 tyres and a full-size spare, leather-appointed trim including steering wheel and gear-knob, heated front seats with six-way adjustable powered driver's seat, electric-folding door mirrors with demisters and indicators, tyre-pressure monitoring and six-speaker sound system with touchscreen, steering-wheel controls and multiple connectivity including Bluetooth, to name a few. A tow bar, tonneau cover and sat-nav with reversing camera are optional.
---
Mahindra Pik-Up
7/10
Mahindra's PikUp arrives in two trim levels - the cheaper S6, available in two- or four-wheel drive and in cab chassis or 'well-side tub' (or pick-up) body style - and the better-equipped S10, which is exclusively four-wheel drive with the well-side tub body.
Pricing is at the forefront here, with Mahindra well aware it's attempting to lure customers out of far more established brands, so predictably the range starts at a sharp $21,990 for the single-cab S6 cab-chassis in manual.
You can have the same car with four-wheel drive for $26,990, or step up to a dual-cab version for $29,490. Finally, a dual-cab S6 with four-wheel drive and a well-side tub is $29,990.
The better-equipped S10 can be had in one flavour only; a dual-cab with four-wheel drive and a well-side tub for $31,990. All of those are the drive-away prices, too, which makes the PikUp very cheap indeed.
The S6 serves up steel wheels, air-conditioning, an old-school letterbox stereo and fabric seats and projector headlights. The S10 model then builds on that basic spec, with 16-inch alloy wheels, cruise control, navigation, central locking, climate control and rain-sensing wipers.
Engine & trans
Great Wall Steed
6/10
The GW4D20B is a Euro 5-compliant 2.0-litre turbocharged common-rail four-cylinder diesel that delivers 110kW at 4000rpm and a relatively small 310Nm serving of torque between 1800-2800rpm.
There's only a six-speed manual available, so an automatic option would broaden the Steed's showroom appeal enormously. The 4x4 drivetrain uses a Borg Warner part-time dual-range transfer case with electronic dashboard control, and there's no locking rear differential.
---
Fuel consumption
Great Wall Steed
8/10
Great Wall claims a combined figure of 9.0L/100km and at the end of our test the instrument read-out was showing 9.5. That was close to our own figures, based on 'real world' trip-meter and fuel-bowser readings, which came in at 10.34, or about average for this segment.  
Based on those numbers, its 70-litre fuel tank should deliver a driving range of around 680km.
---
Mahindra Pik-Up
7/10
Mahindra claims 8.6L/100km on the combined cycle for the single-cab PikUp, and 8.8L/100km on the dual-cab cars. Every model is fitted with an 80-litre fuel tank.
Driving
Great Wall Steed
6/10
There's a pleasant whiff of leather when you open the door, but the driving position is compromised by the high floor height and relatively shallow foot-well. For taller drivers this positions the knees  close to the steering wheel, even in its highest position, which can hamper turning, and comfort, at times. Ergonomically wonderful it is not.
The left footrest is well positioned but the vertical section of console right next to it has an uncomfortable sharp-radius edge where the upper shin and knee rest against it. And on the right-hand side, the window control panel at the front of the door-pull also has quite a hard edge where the right leg rests against it. Softer, larger radius edges on both sides would greatly increase driver comfort.
The power steering is too lightly weighted and remains vaguely linear in feel regardless of road speed. The gearing is also too low and requires excessive wheel-twirling relative to steering response, which is required often given its large turning circle and the number of multi-point turns needed as a result.
The 2.0-litre turbo-diesel's lack of low-down torque is really noticeable below 1500rpm, as it falls off a cliff with what feels like zero turbo boost. The gearshift feel is also a bit notchy and the gear-stick itself has an annoying vibration in fifth and sixth gears.
The ride quality when empty is acceptable if a bit harsh in the rear over bumps, which is not uncommon with leaf-spring live rear axles designed to carry more than a tonne. We loaded 830kg into the cargo bed, which, with a 100kg driver equalled a payload of 930kg, or about 90kg short of its 1020kg maximum rating. 
The rear springs compressed 51mm and the nose rose 17mm under this load, leaving adequate springing capacity. The ride quality also improved noticeably, with minimal decline in steering control and braking response. By keeping the revs up (and therefore turbo boost) it coped reasonably well with stop-start traffic. 
The Steed definitely felt more at home at highway speeds, however. In top gear with the cruise control engaged, it rumbled comfortably within the engine's peak torque band, showing just 2000rpm at 100km/h and 2100rpm at 110km/h. Engine, wind and tyre noise were unexpectedly low, allowing conversations to take place at normal levels. 
The tyre-pressure monitor displayed in the driver's information scroll works well (mandatory in the USA and EU) and adds considerable peace of mind, but the info menu should also include a digital speed read-out. A permanent display of the cruise control's speed setting would be handy, too.
Given its small torque figure and the fact it had close to a tonne on its back, the Steed coped pretty well with our set climb (albeit with the right foot flat to the floor) powering up the 13 per cent 2.0-kilometre gradient at 60km/h in third gear at 2400rpm.
---
Mahindra Pik-Up
6/10
It's every bit as agricultural as the XUV500 SUV, sure, but that somehow suits the character of the PikUp a little more than it does the seven-seater.
And so, after an admittedly short run in the dual-cab PikUp, we found ourselves rather pleasantly surprised in places. The diesel engine feels smoother and less ragged than our previous reviewers have noted, while a ratio change for the manual gearbox has made rowing through the gears a far more intuitive process.
The steering, though, remains utterly confusing. Light enough at turn-in, before all the weight turns up roughly midway though a corner. It's painfully slow, too, with a turning circle that leaves your arms tired and makes even wider roads a three-point job.
Keep it on straight and slow-speed roads, and the PikUp performs just fine, but challenge it with twistier stuff and you'll soon uncover some significant dynamic drawbacks (a steering wheel that tugs at your hands, tyres that squeal with minimal provocation, and vague and confusing steering that makes holding anything resembling a line near impossible).
Safety
Great Wall Steed
6/10
There is no ANCAP rating for this Great Wall so far but the 4x2 variant tested in 2016 achieved only two stars out of five, which is terrible. Still, this one is equipped with dual front airbags, front-side and full-length side-curtain airbags, a three-point seatbelt for the centre rear passenger (but no head rest), ISOFIX child seat anchorage points on the two outer rear seating positions and a top tether for the centre seat position. 
Active-safety features include Bosch electronic stability control with traction control, brake assist and hill start assist, but no AEB. There are also rear parking sensors, but rear view camera is optional (and should be standard).
---
Mahindra Pik-Up
5/10
It's a pretty basic package, I'm afraid. Driver and passenger airbags, ABS brakes and traction control are joined by hill-descent control and, should you spring for the S10, you get a parking camera, too.
Little wonder, then, it was awarded a sub-par three stars (out of five) when ANCAP tested in 2012.
Ownership
Great Wall Steed
6/10
Three-year/100,000km warranty and three-year roadside assistance. Service intervals and recommended (not capped price) servicing costs start at six months/5,000km ($395) then 12 months/15,000km ($563), 24 months/30,000km ($731) and 36 months/45,000km ($765).
---
Mahindra Pik-Up
7/10
The PikUp is covered by a five-year/100,000km warranty (though two of the five cover the drivetrain only), with service intervals just increased to 12 months/15,000km. While the XUV500 is covered by capped-price servicing, the PikUp is not.