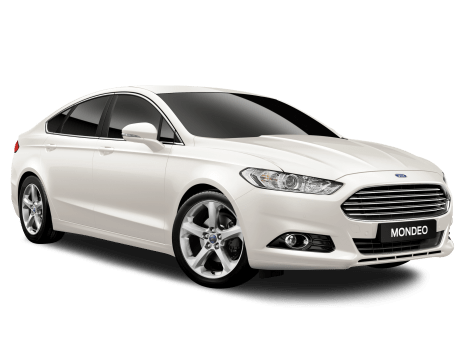 COMPARE
Ford Mondeo
VS
Alfa Romeo Giulietta
Ford Mondeo
Likes
Well equipped
Practical and refined
EcoBoost engine hammers
Dislikes
Hit and miss styling
Inconsistent ride
SUV-like seating position
---
Alfa Romeo Giulietta
Likes
Stunning looks
Great engine
Big boot
Dislikes
Poor cabin storage
Turbo lag
No reversing camera
Summary
Ford Mondeo
Yes, this is a Ford Mondeo review in Anno Domini 2018.
This assumes, of course, that Ford even still sells the Mondeo, and despite the fact that it's the third best-selling car in the segment, Ford oddly doesn't seem keen to talk about it.
Why? Perhaps Ford doesn't want anybody to get overly attached to a sedan-y hatch that has a cloudy future in an ever-shrinking mid-size market. After all, there's still a rather vocal sect of the population feeling burned by the end of the Falcon dynasty.
You'd also be right to assume those numbers are padded out a fair bit by corporate leases. Salesmen in England were long referred to as Mondoe Men for a reason. I'll tell you this much, though, I'd be pretty stoked if I got one of these Mondeos as a lease.
As an FG Falcon owner, for most intents and purposes it would even be a half-way decent replacement for my large sedan. Stick with me as I explain why.
| | |
| --- | --- |
| Safety rating | |
| Engine Type | 2.0L turbo |
| Fuel Type | Diesel |
| Fuel Efficiency | 5.1L/100km |
| Seating | 5 seats |
---
Alfa Romeo Giulietta
Richard Berry road tests and reviews the new Alfa Romeo Giulietta Veloce hatch with specs, fuel consumption and verdict.
Nobody just buys an Alfa Romeo, in the same way that nobody goes out and just buys a top hat. Yes it's functional and yes you'll looking amazing in it whether you're male or female, and people will pay you compliments - possibly question your judgement, too, but it's not the obvious choice and buying one is a conscious decision. See, you don't even know if I'm talking about the top hat or the Alfa any more.
At backyard barbecues and dinner parties throughout Australia you'll overhear people saying: "My heart says yes but my head says no." They're not discussing robbing the convenience store on the corner after dessert, but they're more likely to be talking about buying an Alfa Romeo. See Alfas are famous for their stunning beauty, their racing pedigree and their performance, but in the past they've been infamous for their reliability issues. You knew that, right?
The top-of-the-range Giulietta Veloce with the dual-clutch auto is the best reference to the brand's performance pedigree. This version has only just arrived on the market, and follows a major styling and technology update to the Giulietta in 2015.
Like most test cars, we lived with it for a week. Is it too small to be a family car? What's wrong with the glovebox? Is it as racy as it looks? What's with all the water? And is it just me or are my hands too small to drive this car? We'll even be able to point you in the right direction for a guide to Giulietta's reliability.
| | |
| --- | --- |
| Safety rating | |
| Engine Type | 1.7L turbo |
| Fuel Type | Premium Unleaded Petrol |
| Fuel Efficiency | 6.8L/100km |
| Seating | 5 seats |
Verdict
Ford Mondeo
7.5/10
The Mondeo creeps to the forefront as one of the best Fords with the smallest marketing budget.
Well equipped, reasonably fun to drive and semi-luxurious to be in for long periods, it's hard to remember why it's so forgettable.
Its certainly worth your consideration over its rivals, but then perhaps you don't want to fall in love with another Ford potentially headed for the chopping block in the near future.
Did you know Ford still sells the Mondeo, and would you ever consider it? Tell us what you think in the comments below.
---
Alfa Romeo Giulietta
6.3/10
So much right and some things not quite right – the Giulietta has the Alfa Romeo mix of highs and lows which the brand is famous for. There's no mistaking that this is a unique and sexy looking car, with the practicality of a five-door hatch plus impressive handling and performance.  More heart than head decision here though it seems, but romantic Alfa enthusiasts should adore it.
Have you got a 'classic' Alfa Romeo experience, good or bad? Tell us in the comments below.
Design
Ford Mondeo
7/10
There's no doubt that the Mondeo is a chunky monkey. Just get a look at those proportions, it looks like a dense rectangle's worth of car, and that's before you line it up next to something else for perspective.
In this case I sat it next to my Falcon. Once the largest sedan on offer by Ford in Australia, in some ways it looks dwarfed. The Mondeo is taller and just as wide, but not quite as long. A quick comparison of spec sheets proves it's not much lighter either, despite the Falcon sporting a cast-iron engine that's literally twice the size.
The front three-quarter especially makes the Mondeo look tough. The big catfish-esque grille combined with the slimline headlight clusters and bonnet ripples make it look aggressive - like a rolling advertisement for the Mustang.
Head round to the rear three-quarter, however and things get a little… off. The raised dimensions and high rear light features make it look too tall. The 'liftback' roofline does no wonders for the car's proportions either.
It's a shame that after so many decades of Mondeo there is still apparently no way to make that rear-end appealing.
Inside there are also plenty of quirks. While there are some parts that really work, there are also some that don't.
The plush leather seats unique to the Titanium grade are lovely, but they're positioned so high up you'd be forgiven for thinking you were at the helm of an SUV. The sunroof is also so far back it's basically useless for front passengers, yet it eats their headroom (also, it's just a glass roof that doesn't open).
Then there's the switchgear, of which there is an overwhelming amount. You're presented with a sensory assault of buttons and displays, half of which could seemingly be easily offloaded onto the multimedia system. It's an approach that dates an otherwise modern-looking cabin.
Eerily similar to the Falcon, the fan speed and temperature controls aren't dials (a user experience nightmare) but the volume control is… go figure.
Those gripes aside there's plenty to like about the Mondoe cabin. There are soft-touch surfaces everywhere, helping the car live up to its luxury spec and price point, while all the switchgear and interactive parts are solid and tough, just like the Mondeo's big brother, the Ranger.
While the digital dash is way too busy, it presents the relevant information well, and is a good interactive design once you get used to it.
The back seat is a very nice place to be, making full use of that big glass roof, and the rear seats are just as plush as the front ones. If you spend lots of time ferrying friends or family around, it's a strong point for the Mondeo.
---
Alfa Romeo Giulietta
8/10
Alfa Romeo couldn't design a boring car even if it was handed a picture of a Toyota Camry and told to copy it or else. The Giulietta is no exception.
There's the deep 'V' grille shared with the new Giulia sedan and 4C sports cars that make up the current Alfa model line-up. There's the bug-eye headlights with pretty inset LEDs and the chiselled bonnet, a side profile which looks like that of a mini Porsche Cayenne and a cute-but-tough bottom with its elegant taillights and twin exhausts.
The latest update brought a honeycomb mesh grille and a slightly different design to the headlight and LED foglight surrounds. The tail pipes were also given a styling tweak, so too were the alloy wheels.
The cabin saw new materials and finishes added. The Veloce had the Alfa Romeo logo stitched into the integrated headrests, shiny sports pedals, and lashings of faux carbon fibre trim on the doors and dash.
You can tell a Veloce from the outside by the red Brembo brake calipers behind the front wheels, 18-inch alloys, its chunkier exhaust tips poking out of the diffuser, red pin-striping to the front and rear bumpers, and the black window surrounds.
Okay, how big or small is it? Here's some dimensions for you. The Guilietta is 4351mm long, 1798mm wide, 1465mm tall and the Veloce with its sports suspension is 9mm lower than the others with 102mm of ground clearance.
Compared to say a Mazda3 hatch the Giulietta is 109mm shorter end-to-end and only 3mm wider. But if you're considering an Giulietta why are you looking at the Mazda3 anyway? That would be sensible - Like comparing Cancer Council hats to top hats.
Practicality
Ford Mondeo
8/10
Do you like stowage spaces? Good, because the Mondeo has heaps of 'em. No longer content with just making one huge plastic fascia across the dash, there's a surprisingly large extra stowage space sitting below the air-conditioning controls. That joins a massive centre console box, with two USB ports and an extra tray layer for tidbits, as well as one of my favourite features, two truly massive cupholders. These show Ford's American influence as much as the aforementioned chunky switchgear.
The cupholders spent our weekend easily swallowing two phones, two wallets and two sets of keys with no problem at all. They'll fit your XL Coke no problems.
As I mentioned before, front passenger headroom is impacted by the glass roof, and there's a slightly claustrophobic feeling brought about by the huge swooping A-pillars, which also create a bit of a vision impairment for the driver. The SUV-like seating position can potentially be awkward, room-wise, for people with chunkier knees, or those that prefer sitting in a low, sporty position.
Up the back there's plenty of legroom and space for heads and arms and legs. I fit easily behind my own driving position, and there's the luxury of a fully leather-bound fold-down armrest with two big cupholders for rear passengers.
The keyless entry is also truly keyless, in that all four doors can lock or unlock the whole car at a touch. Another nice feature for when you're ferrying people around.
Boot space is also colossal, thanks to the liftback design. Ford states the size as 557 litres but as this seems to be a non-VDA-standard measurement it's hard to compare to competitors with numbers. Rest assured it will swallow a set of suitcases with ease, and the space is a practical rectangle with little intrusion from wheel arches.
---
Alfa Romeo Giulietta
5/10
Beautiful things tend to favour form over function. The Giuletta tries to do both and succeeds…but also fails in places.
Successes first: despite its coupe looks it's actually a five-door hatch with 'hidden' handles for the rear doors placed up at window level near the C-pillar. So good is the two-door disguise that our photographer climbed into the back seat through the front door.
Rear legroom is a bit tight back there and at 191cm I can sit behind my driving position but I'd hate for me to be sitting behind me because my knees are digging hard into the seat back.
Headroom isn't much chop either and I literally can't sit in the back seat and hold my head high – a combination of that sloping roofline and the optional double sunroof reduces the head space.
A major practicality fail is the lack of storage throughout the cabin.
My wife's phone kept mysteriously appearing in the footwell every time we left it in the glove box, like there was a tear in the time-space fabric, but then we realised it was slipping through a gap.
There's no centre armrest storage bin in the front – actually there's no centre armrest. There is a pop-up hidey-hole on the dash but with only enough room for a pair of sunglasses.
The two cup holders in the front are small. It's safe to say that unless you have somebody with hands at the ready, ordering drive-thru is possibly out of the question.
Or if you have long arms and can reach the fold down armrest in the back there are two decent sized cup holders along with a small storage space. There are no bottle holders any of the doors, but there is fortunately room for a phone and wallet because there isn't space for them anywhere else.
But wait, the Giulietta is saved from a total storage fail by a large-for-the-class 350-litre boot. That's 70 litres bigger than a Toyota Corolla's and only 14 litres less than the Mazda3.  We could fit the pram, the shopping and the rest of the gear which goes with a military operation such as a trip to the park with a toddler in there.
Price and features
Ford Mondeo
8/10
Today's Mondeo has evolved to adapt to modern expectations for a mid-size sedan. It's a far cry from the budget Mondeo of the '90s and even approaches territory that once would have been restricted to cars like the Mercedes-Benz S-Class. No, really.
Our top-spec Titanium, for example, is packed with heated and leather seats front and rear, a power tailgate, auto-leveling 'dynamic' LED headlights (the ones that move where you're pointing the steering wheel.), a fixed panoramic sunroof, power tailgate (handy) and even an auto-dimming wing mirror on the passenger side. The Titanium also gets a different digital instrument cluster and a heated windscreen.
These join the regular suite of Mondeo features such as Ford's Sync3 multimedia system on the 8.0-inch screen (thankfully, with Apple CarPlay and Android Auto), rain-sensing wipers, Digital radio (DAB+) and adaptive cruise control (part of a rather excellent safety package).
It's an impressive features list, which means nothing if the price isn't right. Our Titanium EcoBoost comes in at $44,790 before on-roads, pitting it against the Holden Commodore RS-V sedan ($46,990), Mazda6 GT sedan ($43,990) and Toyota Camry ($43,990).
You may also want to consider the Hyundai Sonata Premium ($45,490) and, dare I say it, the $45,990 rear-wheel-drive Kia Stinger 200S…
None of those rivals have the heated windscreen or fully digital dashboard, though, and only the Mazda6 GT has heated seats front & rear. The Commodore RS-V is the only car here than can match the 8.0-inch screen size, but it does come with the addition of wireless phone charging and a colour head-up display. Food for (value) thought.
---
Alfa Romeo Giulietta
5/10
The 2016 update saw the Giulietta variants renamed. There's the entry grade $29,990 Super Manual which has a six-speed manual gearbox, then buyers can step up to the Super TCT with a six-speed dual clutch automatic transmission for $34,900 and then there's our test car – the Veloce for $41,990. There's 10 paint colours at your disposal from the colour of our car (Alfa Red) to Perla Moonlight. Only Alfa White comes at no extra cost, the rest are a $500 option.
The Veloce collects the same features as the Super TCT such as a 6.5-inch touch screen, with sat nav, front and rear parking sensors, three drive modes and then adds bi-xenon headlights, 18-inch alloys, leather and Alcantara seats, a flat-bottomed steering wheel, the big exhaust tips and the sports diffuser, tinted rear glass and then less cosmetic features such as sports suspension and launch control.
There's no reversing camera which is disappointing, considering they come standard on some cars half the price.
At this price you'd shop the Veloce against a BMW 120i hatch for $41,900, a Volkswagen Golf GTI for $43,490 or possibly a high-end Mazda3 SP 25 Astina for $37,040.
Engine & trans
Ford Mondeo
8/10
Ford offers two 2.0-litre turbocharged engines with the Mondeo, either a petrol EcoBoost engine or its diesel Duratorq equivalent.
The EcoBoost in our car is a bit of a gem. It produces an average sounding 177kW/345Nm when compared to the 220-plus-kW V6 engines in the equivalent Camry SL and Commodore RS-V, and it's even somehow out-played in the torque division by the Mazda6 GT, with its 170kW/420Nm.
As I'll explain in the driving section, however, it doesn't make the Mondeo feel any less powerful.
EcoBoost Mondeos can only be had with a six-speed traditional torque-converter automatic. Thankfully it doesn't carry 'PowerShift' branding either…
---
Alfa Romeo Giulietta
7/10
The Giulietta Veloce has a 1.75-litre four-cylinder turbo-petrol engine which produce 177kW of power and 340Nm of torque. It's a great engine that lets loose a wonderful scream when pushed hard and the little grunts it makes when it changes gear when driving around normally sound like a giant enjoying his food.
The transmission is a dual-clutch auto which Alfa calls a TCT or twin-clutch transmission. I'm not a fan of them regardless of the brand of car they're in but the Alfa version is better than most of the others in its smoothness at lower speeds and decisiveness.
What about the Giulietta's reliability over time? This version of the car is less than two months old so we can only comment on what it offers as a brand-new vehicle, but you'll find good context in our used review of the earlier 2011-2014 Giulietta.
Fuel consumption
Ford Mondeo
6/10
Due to the entertainment factor given by the EcoBoost engine I wasn't particularly light on the throttle.
Ford claims you'll use 8.5L/100km on the combined cycle, which is 1.9L/100km more than the Mazda6 but on par with the V6 Camry and Commodore. In reality I experienced about 12L/100km, which is a fair bit more than the claimed figure, but not unusual for a keen-to-go engine. More on that in the driving segment.
For a bit of perspective, I can extract similar, if not better, fuel figures from my 4.0-litre FG Falcon.
---
Driving
Ford Mondeo
7/10
The Mondeo is thankfully quite a bit more fun than it looks. As I've been leading up to, the EcoBoost engine absolutely hammers with little encouragement. It's a hoot. The downside to this is that the fuel figure suffers.
Channelling 345Nm from as little as 2300rpm through just the front wheels also has the side-effect of tearing the steering wheel out of your hands under heavier bouts of acceleration. It does wonders to suspend the initial impression from the SUV-like seating position that this Mondoe must be a heavy car.
It definitely isn't a sports car, though, more of a semi-luxe sedan, which is a good thing, because when you're not driving as hard it's a pleasure to be at the helm of.
The steering is direct and light, making it easy to point at any speed, and in terms of noise the Mondeo is impressively quiet. There's barely a peep out of the engine. Road noise is great around town but increases a lot at freeway speeds and on rough surfaces, likely due to the larger alloys and lower-profile rubber.
The suspension makes for a mostly luxurious ride as well, but frequent undulations cause it to become unsettled side-to-side. Heavier bumps and potholes also resonate through the cabin.
It's almost annoying how close to excellent the refinement is.
The six-speed auto transmission is fantastic for a daily driver because you'll never know its there. I failed to catch it off guard once during my week with it.
There's a Sport mode and paddle-shifters you can use to make it stay in gear a little longer, but with the amount of power seemingly available at a moment's notice I never felt like I needed it.
---
Alfa Romeo Giulietta
6/10
There's so much potential here for a great driving experience such as the accurate and direct steering and great suspension which provides a comfortable ride and great handling, only for all to be let down by turbo lag which kills the responsiveness in the car.
Of the three steering modes: Dynamic, Natural and All Weather, the Dynamic setting was kept on almost always with the other two just feeling too lethargic.
The Giulietta is front-wheel drive and there's a lot of torque being sent to those wheels, but unlike a stack of Alfas in the past there's next to no torque steer. That said, our hill start test on a wet night saw those front wheels scrambling for traction as it accelerated up the slope. Cornering grip from the tyres is excellent, however.
There's some Alfa Romeo ergonomic issues in the cabin we've gotten used to over the years, but just because you're accustomed to something doesn't mean it's okay. For example, the cramped driver's footwell with the brake and accelerator pedals so close that it's easy to hit both at the same time.
The indicator and wiper stalks are also so far from the steering wheel rim that they're almost out of reach – I don't think I have small hands, nobody's ever pointed them out or laughed at them.
And speaking of wipers, the Giulietta is obsessed with keeping itself clean. Pull the wiper stalk towards you to clean the windows and such is the intensity of the spray from both the window washer and the headlight washers it's like you're captaining a fishing trawler that's hit a massive wave at sea. Put the car into reverse and the rear wiper starts squirting and washing.
For Christmas I want Alfa to upgrade their media unit or bin it – the UConnect system disconnected my phone without prompting and isn't intuitive to use.
Safety
Ford Mondeo
9/10
Once you get to Titanium level, the Mondeo's safety offering is truly expansive.
On the list is Auto Emergency Braking (AEB) with pre-collision warning, Lane Keep Assist (LKAS) with Lane Departure Warning (LDW), Blind Spot Monitoring (BSM), Driver Impairment monitoring and trailer-sway control.
There are also a standard set of airbags with a few sneaky extras like inflatable rear seat belts on the outer two rear seats,which join ISOFIX points in the same position. Since April 2016, every Mondeo has a five-star ANCAP safety rating.
These join the very welcome surround parking sensors, rear-view camera and auto-park, which make not nudging things in the Titanium a cinch.
And a boon for long-distance drivers is the fact that all Mondeo hatchbacks have a full-size steel spare.
---
Ownership
Ford Mondeo
7/10
Ford has recently updated its warranty to five years/unlimited kilometres, which is a nice standard, although it is now matched by Holden and Mazda. Toyota lags behind with a three-year offering. The Kia Stinger starts to look very impressive here with its seven-year warranty.
At the time of writing, Ford's own service calculator tells us the Mondeo will cost a minimum of $370 per year or 15,000km (whichever comes first) service interval. Every fourth year that jumps to $615.
---
Alfa Romeo Giulietta
6/10
The Giulietta is covered by Alfa Romeo's three year/150,000km warranty. Servicing is recommended at 12month/15,000km intervals with a major service every two years. Alfa Romeo doesn't have capped price servicing but there is Mopar Vehicle Protection which customers can purchase with the vehicle for $1995.