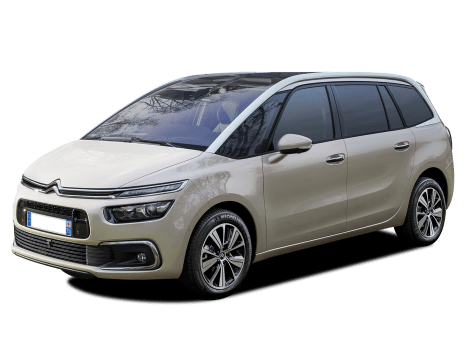 COMPARE
Citroen Grand C4 Picasso
VS
Kia Carnival
Citroen Grand C4 Picasso
Likes
Great packaging for a compact vehicle
Surprising versatility
Beautiful ride comfort
Dislikes
Not as roomy inside as some competitors
No AEB: that's only for the diesel
Curtain airbags don't stretch to third row
---
Kia Carnival
Likes
Subtle but effective updates
Handsome looks
Surprisingly refined
Dislikes
Diesel can be vocal
Lots of glass heats up interior
Lane departure warning annoys
Summary
Citroen Grand C4 Picasso
You know Picasso? He died a long time ago. And now the Picasso badge - which has adorned Citroen's people-mover models internationally since way back in 1999 - is set to die, too. 
As a result, the Citroen Grand C4 Picasso is set to be relabelled the Citroen Grand C4 Spacetourer, following a new van naming convention set in Europe. It's a shame, because Picasso is undoubtedly one of the better known nameplates that Citroen has… and let's be honest, Citroen needs all the help it can get in Australia. 
But before we see the name change, the company has made an addition to the current Grand C4 Picasso range: a new price-leader, the Citroen Grand C4 Picasso petrol, is now on sale - and it cuts the price of the seven-seat people mover by a huge $6000 compared to the diesel.
That amount of money will buy you a heck of a lot of petrol, so does the new base model version in the Citroen Grand C4 Picasso 2018 range make more sense than its expensive diesel sibling?
| | |
| --- | --- |
| Safety rating | |
| Engine Type | — |
| Fuel Type | Premium Unleaded Petrol |
| Fuel Efficiency | 6.4L/100km |
| Seating | 7 seats |
---
Kia Carnival
When it comes to buying a people mover, the category leader is Kia's Carnival, with Honda's Odyssey a distant second, and daylight coming in third and fourth.
The third generation – known as the PE - was released in 2015, and has subsequently proven a hit, particularly with buyers looking for space and a bit of luxury as well.
Kia has added the running changes recently made to the identical US market Sedona, and has included a few touches to make it specific for Australian audiences.
| | |
| --- | --- |
| Safety rating | |
| Engine Type | 3.3L |
| Fuel Type | Regular Unleaded Petrol |
| Fuel Efficiency | 11.6L/100km |
| Seating | 8 seats |
Verdict
Citroen Grand C4 Picasso
8/10
The lack of third-row airbags and AEB could be enough for you to rule this version of the Citroen Grand C4 Picasso out of contention as a family vehicle. We'd understand that.
But there are plenty of other reasons that it could be a contender on your people-mover shopping list. It's a largely thoughtful car in a small and beautiful package… no matter what badge is stuck on the back of it.
Would you consider the new petrol-powered Citroen Grand C4 Picasso as your people-mover of choice? Let us know in the comments section below.
---
Kia Carnival
8/10
Kia's Carnival has the people mover market all sewn up, but perhaps it should be looking at claiming some scalps within the larger SUV segment as well. It has a more comfortable, quieter ride than many of its rivals at similar price points, as well as a great deal more flexibility when it comes to people and cargo.
The Kia Carnival definitely should be added to the shopping lists of people who are looking for a vehicle that can suit many lifestyles and is flexible enough to deal with towing, cargo carrying, and the occasional full load of excited soccer kids.
It is perhaps a bit expensive for some family units, although the base model S now offers extra value, thanks to the additional safety inclusions.
The pick of the range for us is the SLi. It offers most of the inclusions of the top-spec Platinum - though it does miss out on items like rear cross-traffic alert - and the 18-inch rims are the perfect balance of looks and ride comfort. The diesel is the pick if you cover any sort of distance regularly, while the thirstier petrol will be cheaper to maintain for urban duties.
Do you see the Carnival as a viable alternative to the SUV? Let us know in the comments below.
Design
Citroen Grand C4 Picasso
9/10
If you were to suggest there isn't anything interesting about the design of the Citroen Grand C4 Picasso, it would pretty much intone that you're vision impaired. This is - without question - one of the most intriguing and interesting looking vehicles on the market today.
With its front-end design mirroring the other models in the French maker's range - sleek LED daytime running lights sitting either side of a chrome grille with central chevron, the main headlights below and some chrome trimming on the lower bumper - this is easily distinguishable as a Citroen. There's no confusing it with a Kia, Honda, or anything else, in fact.
The large windscreen and panoramic sunroof help give it that two-tone look, and the beautiful silver C-shaped rim that surrounds the glasshouse is one of the best styling touches in the automotive business.
Our car rides on the standard 17-inch wheels wrapped in grippy Michelin tyres, but there are optional 18s if you want something that fills the wheelarches a little more. 
At the rear there are some nicely styled tail-lights, and its hips are broad, giving it a nice amount of presence on the road when you're sitting behind it in traffic. 
I think Spacetourer works better as a name: Picasso was known for artworks that were challenging to make sense of. This vehicle presents no such conundrum.
The interior is also one of the most stunning in the business: I love the two-tone dashboard, the stacked twin screen layout, the minimalism of the controls and the massive windscreen with innovative adjustable headlining - yes, you can move the front part of the headlining back and forth, and the sun-visors move with it.
Our car had the optional 'Leather Lounge' pack, which adds dual-tone hide trim, seat massage functions for both front seats, plus heating for both front seats, and the front passenger seat has an electrically operated leg/footrest. This interior trim is nice, but it comes at a price… ahem, a big price: $5000. 
As you might expect, that's hard to justify if you're trying to save money on your seven-seat people-mover. But ignore that: let's take a deeper dive into the cabin.
---
Kia Carnival
8/10
Not much to see here in terms of exterior upgrades for the new Carnival, with changes limited to a refresh of the front bumper and grille, along with tidied up tail-lights and some tweaking to the rear visage.
New alloy rims also feature across the range, while small touches like button activation for the sliding doors (where fitted) has also been included.
The Carnival's basic tenant of a handsome, muscular, well proportioned van remains fundamentally unchanged. It's an absolute contrast to previous generations.
On the interior, changes are limited to slight upgrades in trim for the seats and dash, but you'd be hard pressed to see the difference between the two cars. The single biggest change up front has been the welcome deletion of the foot activated park brake, which has been replaced by an electronic switch between the two front seats.
This necessitated a redesign of the centre console, which has allowed Kia to add a larger bin between driver and passenger.
Overall the Kia is roomy airy and spacious, and reflects the company's new school design philosophies with elegantly simple graphics and subdued use of colours.
Practicality
Citroen Grand C4 Picasso
9/10
It's kind of amazing just how much Citroen has managed to fit into the Grand C4 Picasso. It measures 4602mm long - which is just 22mm (an inch) longer than a Mazda3 sedan! As for the other dimensions, the width is 1826mm, and the height is 1644mm.
How many seats does the Citroen Picasso have? The answer is seven, whether you choose the petrol or the diesel - but notably, the petrol model has a space-saver spare wheel under its boot, where the diesel misses out because it has an AdBlue system. 
Yep, by some marvel of packaging magic, the brand's engineers managed to pack seven seats, a reasonable boot (165 litres with all seats up, 693L with the back row folded, 2181 with the five rear seats folded), plus a spare tyre and a lot of style into a very compact package.
That's not to say this is a seven-seater to suit all the needs of buyers who want seven seats. The back row is tight for anyone nearing 183cm (six-feet) tall, and there is no third-row airbag coverage. According to the French brand, the occupants of those rearmost seats are inwards enough of the sides of the car that they theoretically shouldn't need airbag cover. Depending on your safety stance, that may rule it out for you - or perhaps make you change your mind as to whether you use the back row regularly or not. 
Even so, there's a huge amount of practicality to the cabin. You can fold the third-row seats and stow them away under the boot floor, or if you need to use them there are vents as well as a fan speed controller and a set of rear reading lights. The boot also has a light that doubles as a flashlight, and there's a 12-volt outlet. There is one shallow cupholder and two small storage boxes on top of the wheel-arches.
In the second row the seats are also individually operable, with all three sliding and/or folding as required. The outboard seats also have a clever seat base flip-up function, allowing them to move all the way forward for easier third-row access. 
The space in the second row is easily good enough for three adults to slot across, though the roof-mounted middle seatbelt is a bit annoying. There are air-vents with fan controls mounted in the B-pillars, and the front seat-backs have clever flip-down tables with lighting, and there are mesh map pockets below. There is another 12-volt outlet, a pair of slim door pockets (not big enough for bottles), but no cupholders.
The front cabin is better sorted for storage of odds and ends - there is a pair of (small, shallow) cupholders between the seats, an enormous central console box that's easily copious enough for phones, wallets, keys and the like, plus another storage area near where you plug in your USB/auxiliary device. The way the owners manual/logbook slots under the steering wheel is neat, and the glove box is fine, too, plus there are reasonably good sized door pockets, but again they lack sculpted bottle holsters.
One little issue I had was with the steering adjustment toggle - it's quite springy… so much so that it sprung back and hurt my finger every time I adjusted it. That mightn't be an issue if you're the sole driver, but it's worth noting.
As striking as the lovely leather trim is, the dashboard design is what I love most about this car. There's a huge 12.0-inch high-definition top screen that shows you an enormous digital speed readout, plus you can have it show you the mapping and sat nav, or the car's vital measures, or see where your car is positioned by way of the standard-fit 360-degree camera.
The lower 7.0-inch touchscreen is where the action happens: it's your point of control for the media system, including Apple CarPlay and Android Auto smartphone mirroring, the dual-zone climate controls, car settings, and phone. There are supplementary volume and track controls, plus the steering wheel has things sorted pretty well in terms of ergonomics, too.
Okay, to clarify: I love this set up to a degree. I don't like that the air conditioning controls (apart from de-mist for front and rear windscreens) are all within the lower screen, which means - on a really hot day, for instance - you have to fumble through menus and tap the screen repeatedly, rather than just turn a dial or two. Every sweaty second counts when it's 40-degrees-plus outside.
---
Kia Carnival
8/10
Flexibility is the key to the Carnival. It offers seating for eight, although technically speaking at least a couple of those eight occupants need to be quite small. The third row has seating for three as well as an ISOFIX point, but the centre position is very narrow, and would only really suit a kid.
The second row is designed around two seats that act almost as captain's chairs without the rotation, with a large, wide jump seat between the two. There are two ISOFIX points there as well, while cupholders reside in the pull-down centre arm rest, and bottle holders feature in both the rear sliding doors. Those doors, of course, offer a great deal of flexibility in terms if ingress and egress.
The higher you go up the food chain in the Carnival range – namely the SLi and Platinum models – you'll get electric sliding side doors, which now have an opening button on the exterior handle, as well as a switch on the B-pillar.
All grades of Carnival score roof vents for all three rows, as well as connectivity access for the second row, plus items like better audio speakers from renowned company JBL and higher grades of interior materials.
Fundamentally, though, there's not a lot of functional difference between the base S and the top spec Platinum. The third row can be folded into the floor to create a flat loading area, and even with the third row of seats in place there is a generous cargo space – 960 litres, in fact -  thanks to a deep recess in the boot floor.
That space rapidly multiplies as seats fall flat, with an impressive 2200L with the third row stashed, and a cargo van-like 4022L when the second row is folded. A Toyota HiAce has 6000!
A space saver spare is the only option, though, which isn't ideal for such a large car.
Up front, it's a simple, clean and elegant layout for driver and passenger, although the very deep dashboard takes some getting used to. The front of the dash is made of a shiny, hard plastic, so it would be advisable not to treat that with a cleaning product that could create reflections.
The sloped windscreen is huge, and there are portholes at the base of the A-pillar to aid with forward and side vision. There's plenty of visibility all around the cabin, with the Carnival's relatively low waistline giving even third row passengers a decent view.
Centre console controls do vary between the three grades, with the base model S being the simplest and easiest to manage. The touchscreen system has been updated in the S and now offers Apple CarPlay and Android Auto as standard.
Two cupholders sit line astern between driver and passenger, and there's an oddments bin under the dash that offers 12-volt power and USB charging points. Additional charge points are located in the deep bin between the two seats.
The driver and passenger's doors have long pockets divided for bottles and objects, but the sides aren't particularly high so you can't put taller items in there with ease. In all, the Carnival has 10 spots for drink bottles, so if your kids are like mine, the car will be the place to look for a spare one.
There's also an unusual split glove box arrangement in the Carnival, and the lower part is lockable.
Second and third row seats are actually adjustable for backrest inclination, while the second row can also be slid forward and back on a rail system. This promotes real flexibility with passenger and cargo carrying arrangements. For example, you can stow the left row of seats down for longer items and still have room to carry people on the right-hand side.
In fact, if you're considering a larger SUV as your potential family vehicle, it would be wise to stop and have a look at something like the Carnival which offers truly impressive flexibility for all sizes of family.
Price and features
Citroen Grand C4 Picasso
8/10
With a sub-$40k price tag, the Citroen Grand C4 Picasso suddenly enters a realm of relevance that it didn't before.
The official list price is $38,490 plus on-road costs, and if you haggle hard, you might be able to get one on the road for about forty grand. 
As mentioned, it's a seven-seater, and it comes rolling on standard 17-inch alloys. 
Some of the other features include auto headlights, auto wipers, LED daytime running lights, puddle lights, smart key and push-button start, and an electric tailgate.
You don't see it in the interior images here, but if you buy the most affordable Grand C4 Picasso model you get cloth seat trim, but still a leather steering wheel. And of course there's the 7.0-inch media screen with built-in sat nav that displays on the 12.0-inch high-definition screen up top.
There's Bluetooth phone and audio streaming as well as auxiliary and USB points - but in this day and age, just one USB isn't terrific. I guess the first trip to the servo could include the purchase of a couple of those 12-volt USB adaptors.
As for people-mover competitors at this price point? There are a few, such as the LDV G10 (from $29,990 drive-away), the Volkswagen Caddy Comfortline Maxi (from $39,090), the Kia Rondo Si (from $31,490) and the Honda Odyssey VTi (from $37,990). The best people-mover we reckon you can buy - the Kia Carnival - is relatively exxy, starting at $41,490, and it's more physically imposing, too.
Or you could be like the vast majority of buyers and forego the French charm and Avantgarde styling of the Citroen for a mid-sized SUV with seven seats. Examples priced near the entry-grade Grand C4 Picasso include the Mitsubishi Outlander, Nissan X-Trail, LDV D90, Holden Captiva or even the Hyundai Santa Fe or Kia Sorento.
---
Kia Carnival
7/10
Prices on the eight-strong range have risen by $1000 for the base model S diesel and petrol cars, by $1500 on the two Platinum variants, and by $2500 on the mid-level Si and SLi grades in both fuel types.
The range now kicks off at $42,490, plus on-road costs, for the 3.3-litre six-cylinder petrol S, and tops out at $62,790 for the 2.2-litre four-cylinder turbocharged diesel Platinum.
The S ($42,490 in petrol, and $44,990 in diesel) offers AEB, lane departure warning, reversing camera with sensors and adaptive cruise control as standard, along with automatic lights, 17-inch steel rims, a 7.0-inch multimedia screen and 3.5-inch OLED screen between the dash dials, a digital speedo as well as cloth trim and manual air-con.
The $47,990/$50,490 Si adds items like multi-zone climate control, 17-inch alloys, nicer seat fabrics, tinted front side glass, LED combo rear lamps, leather wrapped steering wheel and gearshifter and an 8.0-inch screen with sat nav.
The $52,490/$54,990 SLi scores 18-inch alloys, front parking sensors, part-leather interior with sunshades and an eight-way powered driver's seat, while the top shelf Platinum - at $60,290 in petrol and $62,790 in diesel - scores additional safety aids like rear cross-traffic alert and high-speed capable blind spot monitoring. It also gets a higher level of interior trim, tinted glass and 19-inch rims out of the box.
The natural competitor to the Carnival is Honda's Odyssey, while the Volkswagen T6 Multivan is also on the shopping list, and the Carnival outpoints both for standard inclusions at its price points, despite the price rises.
Engine & trans
Citroen Grand C4 Picasso
7/10
Under the bonnet is a 1.6-litre petrol four-cylinder turbo unit producing 121kW of power (at 6000rpm) and 240Nm of torque (at a low 1400rpm). If you think about what other seven-seat people-movers have, that's only okay - for instance, the cheaper LDV G10 people mover has 165kW/330Nm.
The Citroen may have a smaller engine capacity and outputs, but it's also quite light - it weighs 1505kg (kerb weight) because it's so small. The LDV, by contrast, weighs 2057kg. In short, it punches at, but not really beyond, its weight.
The Grand C4 Picasso is front-wheel drive, and uses a six-speed automatic transmission with a manual mode and paddle-shifters… yes, that seems unnecessary. The shifter is up on the steering column, which is an ingenious use of space, but the fact it has a dedicated manual mode means you may often choose M rather than D, particularly if you're in a hurry.
If you plan to do a lot of towing, this isn't the car for you. The claimed towing capacity is 600 kilograms for a trailer without brakes, or just 800kg for a braked trailer. The diesel is a better bet if that matters to you, with a 750kg un-braked/1300kg braked rating… though that's still below average compared to some similarly priced petrol seven-seat SUVs like the Mitsubishi Outlander (750kg/1600kg), LDV D90 (750kg/2000kg) or Nissan X-Trail (750kg/1500kg).
---
Kia Carnival
8/10
The Carnival comes in two flavours, both on Kia's 'N' front-wheel drive platform. The petrol engine is a 3.3-litre direct injection V6 that makes 206kW/336Nm, while its turbo-diesel engine makes 147kW/440Nm, both backed by the aforementioned eight-speed auto.
The auto can be overridden with a manual selector on the gear shifter, but no paddles are offered anywhere in the range. Honestly, though, it really doesn't need overriding, unless you're trying to hoof it up a steep incline; it works perfectly well in whatever terrain you're covering.
There is an 'Eco' mode switch in the Carnival, but again we really never touched it. It's a car that just works; turn the key or press the button, fire it up, and away you go.
The small capacity diesel can be gruff at low revs, but it smooths out admirably as road speed rises.
Fuel consumption
Citroen Grand C4 Picasso
8/10
The claimed fuel use for the Grand C4 Picasso petrol model is just 6.4 litres per 100 kilometres, which is rather impressive. It requires 95RON premium unleaded, meaning the cost at the pump can be markedly higher than regular 91RON. 
In the real world, a lot of turbocharged cars tend to be thirstier than the claim suggests, but we saw a relatively decent 8.6L/100km during our time in the Grand C4 Picasso. 
By comparison, the diesel is said to use a miserly 4.5L (17-inch wheels) or 4.6L (18s). 
Let's do some maths: the average cost per 1000km, based on claimed fuel usage, works out to $65 for the diesel and $102 for the petrol, and you'll get about 40 per cent more distance per tank out of the diesel, and typically diesel is cheaper. But even so, the extra $6000 outlay on the initial purchase of the diesel will still take plenty of mileage before you break even.
---
Kia Carnival
8/10
From (ambit) claims of 7.6L/100km on the combined cycle for the diesel (a decrease of 0.1L from the pre-facelift car) and 10.8L/100km for the V6 petrol (a drop of an impressive 0.8L), we posted a lower-than-spec, dash-indicated average of 7.5L/100km average over 120km in the S spec diesel, and a higher 11.2L/100km in the petrol Platinum over a similar distance.
The petrol car weighs a maximum of 2146kg and the diesel is 2195kg at its heaviest.
Both engine types use an 80-litre tank, and the V6 is happy to sip on regular unleaded.
Driving
Citroen Grand C4 Picasso
9/10
I've mentioned the word 'charm' already in this review, and the adjective to describe what I think about the drive experience is 'charming'.
I love it.
It has that French suspension set-up that just doesn't get bothered by sharp bumps because it has been tuned to deal with cobblestone alleyways. It rides beautifully at high and low speeds, loping over speed humps with ease, cosseting those in the cabin from the surface below.
It's also tremendously quiet, with hardly any road noise intrusion in the cabin compared to the vast majority of cars out there. The coarse-chip surfaces of the M4 in Western Sydney usually offer up an ear-bashing, but not here.
The steering is like that of a hatchback, with a tight (10.8m) turning circle enabling you to pivot on yourself more readily than you might think. The steering is also quite enjoyable if you like to drive, but don't push too hard - understeer is an imminent threat, though the grip on offer is quite good.
The 1.6-litre engine is perky enough, and responds well both in stop-start traffic and on the highway - but there is no doubt about it, the 2.0-litre turbo diesel model's 370Nm of torque makes for motoring with a lot less effort and strain. Not that the engine in the petrol model feels like it can't get the job done - it just feels like it could do with a little more pulling power… Again, not enough to rule it out of contention, because it's nicely refined. 
The six-speed automatic is geared towards efficiency, which means that you might find it in third gear before a hill and somewhat hesitant to drop back a gear to gather more pace. I didn't find this too annoying, but it did help me finally understand why the manual shift and paddles are fitted.  
On the whole, there is a lot to like about this: it's a family-focused car with family-focused dynamics on all fronts. 
---
Kia Carnival
8/10
The Kia Carnival impresses as general, road-going car, despite its people mover origins. It's super quiet in the cabin no matter what powertrain you choose, and that impressive refinement persists even on rougher, broken roads in country areas.
Wind noise at the national speed limit is impressively low as well, with just the merest hint of a rustle around the larger exterior mirrors.
The Australian-spec Carnival features hydraulic steering, which was a result of incompatibility with Kia's electric steering system in the conversion from left- to right-hand drive.
In many ways, this actually suits the character of the Carnival, giving it a long-range ability that other people movers can't quite match. It's very steady at the helm and is a cinch to drive on long runs with very little wheel work needed to keep it on the straight and narrow.
Kia Australia has also further refined and revised the suspension tune, namely by adding stiffer front springs to further firm up that steering feel, and it's also specified a new set of shocks all round to give the car high-quality ride and handling.
The shocks themselves are surprisingly sophisticated in their tune, and work particularly well at mid to higher speeds. They can be found wanting at lower speeds on very bumpy roads, though, especially teamed with higher spec Carnivals which use larger diameter rims and lower profile tyres.
This can create a choppy ride when conditions are less than perfect, but Kia reckons it's designed to work with multiple bodies and stuff on-board, and that chattery feeling will dissipate when more load is added to the car.
Speaking of cargo, the Carnival can actually take up to 1000kg of payload – which, of course, includes people - which is quite a considerable figure for this category of vehicle. It can also tow up to 2000kg of trailer with an impressively high downball weight limit of 200kg.
Neither the 3.3-litre V6 petrol or the 2.2-litre turbo-diesel engines have been changed in this update, but Kia has upgraded the auto transmission from a six-speed to an eight-speed unit. While the six-speed was very good, the eight-speed is better again, and it's allowed Kia to lower its claimed combined fuel economy numbers for both versions.
Both Kia and its parent company Hyundai are forging enviable reputations for excellent transmissions, and it continues in the Carnival.
Safety
Citroen Grand C4 Picasso
6/10
The Citroen Grand C4 Picasso was crash tested back in 2014, and managed the maximum five-star ANCAP rating. But the criteria has changed in recent years, and there are some omissions on the petrol model when compared to the diesel.
The diesel, for instance, has adaptive cruise control and auto emergency braking (AEB), but buyers of the petrol miss out on those items, and they're not optionally available, either. And all Grand C4 Picasso buyers miss out on third-row curtain airbag coverage, with the curtain 'bags only stretching to the second row (there are six airbags total - dual front, front side and two-row curtains).
All that said, the car is still quite well stocked with other assistance tech: it has a forward collision warning system that works above 30km/h, a 360-degree camera system (with reversing camera and front corner cameras, too), speed limit recognition, auto high-beam lights, semi-automated park assist, blind-spot monitoring with steering assist, lane-keeping assist with steering function and driver fatigue monitoring. 
And for what it's worth, the vision from the driver's seats, combined with camera system and the clarity of the top screen, is great. 
---
Kia Carnival
8/10
AEB at city and inter-urban speeds is now standard across the range for the Carnival, and lane departure warning is standard as well. Adaptive cruise control uses the same radar as the AEB system, and is also included across the range. It's a simple yet well-calibrated system that works well, with well-calibrated gaps between cars and a good control of speed reduction.
The lane departure system is a bit too vocal, and can be switched off if it gets annoying. Kudos, too, to a sat nav system that offers speed sign recognition and voices warnings for camera points.
The Carnival is currently rated at a maximum of five ANCAP stars, after the company revised the car twice to ensure it achieved that figure.
Ownership
Citroen Grand C4 Picasso
8/10
Citroen has just updated its ownership promise to consumers, with passenger vehicles attracting a five-year/unlimited kilometre warranty plan, which is backed by a five-year/unlimited kilometre roadside assist package. 
Previously, the plan was three years/100,000km - and that's even what some of the paperwork on the company's site still suggests. We assure you, though, the five-year deal is legit.
Servicing is due every 12 months or 20,000km, whichever occurs first, under the Citroen Confidence Service Price Promise plan. The costs for the first three services are $414 (first service), $775 (second service) and $414 (third). That cost cover spans nine years/180,000km.
---