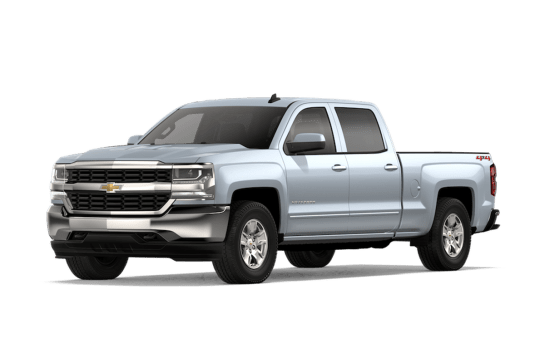 COMPARE
Chevrolet SILVERADO
VS
Ram 1500
Chevrolet SILVERADO
Likes
Hearty 6.2-litre V8 petrol engine
A true masterclass in practicality
Near-flawless remanufacturing
Dislikes
Standard exhaust sounds too soft
Size is a factor in most car parks
Questions over price/ownership
---
Ram 1500
Likes
Strong V8
Huge cabin
Class-leading towing
Dislikes
Expensive
No advanced safety
Looks old
Summary
Chevrolet SILVERADO
Australians love their utes. You only need to take a quick look at the sales charts to reassure yourself of that fact.
And while you could argue the traditional 'ute' is no more locally, having been superseded by the pick-up, there's no doubting buyers have moved on from monocoque to ladder-frame chassis with ease.
Indeed, the Toyota HiLux and Ford Ranger are at the top of the ute pile at the moment, but a new storm is brewing: the full-size pick-up, or truck if you're that way inclined.
These beasts offer Australians the opportunity to be bigger and badder than their fellow motorists, all thanks to local right-hand-drive conversions, with the Ram 1500 enjoying the most sales success so far.
It's no surprise, then, that with its evolving business model, Holden Special Vehicles (HSV) has moved to remanufacture the rivalling Chevrolet Silverado 1500 in new-generation form. Let's see how it stacks up in its LTZ Premium Edition guise available from launch.
| | |
| --- | --- |
| Safety rating | — |
| Engine Type | 6.2L turbo |
| Fuel Type | Regular Unleaded Petrol |
| Fuel Efficiency | —L/100km |
| Seating | 5 seats |
---
Ram 1500
You might have heard of the Dodge Ram 1500, one of those all-American pick-up trucks - but that ute doesn't exist anymore. Nope, it's now known as the Ram 1500. Ram is the brand now, and the truck is called a 1500 - and Dodge? Well, it's a brand for muscle cars. 
The 1500 is the 'small one' in the Ram line-up, with the bigger Ram 2500 and Ram 3500 models - which are more like trucks that have been put in the oven and shrunk a little - slotting in above the Ram 1500. 
The company behind the importation of this generation of Ram 1500, Ateco Automotive, is boldly claiming this new model "eats utes for breakfast". But with a price tag nudging a hundred grand, the appetite for such a vehicle might be pretty limited.
Now, I pointed out 'this generation', because there's a newer, more attractive, more advanced and frankly more appealing Ram 1500 truck now on sale in the US, but it's currently restricted to the North American market. 
But Fiat Chrysler Automobiles, the parent company of Ram, is still building the old version we get, and will do so for at least three more years. Probably longer. And until they stop, Ram's Australian operations will continue to bring them in, remanufacture them in right-hand drive through American Special Vehicles, and sell them for big bucks. 
| | |
| --- | --- |
| Safety rating | — |
| Engine Type | 5.7L |
| Fuel Type | Regular Unleaded Petrol |
| Fuel Efficiency | 12.2L/100km |
| Seating | 5 seats |
Verdict
Chevrolet SILVERADO
/10
Unsurprisingly, the Silverado 1500 is now the best overall full-size pick-up on the Australian market, but time will tell if it eventually ascends to the same sales heights as the Ram 1500, which will remain a full generation older until its new model inevitably arrives.
In the meantime, the Silverado 1500 rules the roost, especially for those buyers that are lusting for a comprehensively specified full-size pick-up (we're looking at you, LTZ Premium Edition).
Yep, the Silverado 1500 is just that good on debut, which of course wouldn't be possible without HSV's near-flawless remanufacturing process. But if only we knew how much the LTZ Premium Edition costs to buy and service...
Why are Australian buyers flocking to full-size pick-ups in droves? Tell us what you think in the comments below.
Note: CarsGuide attended this event as a guest of the manufacturer, with travel and meals provided.
---
Ram 1500
7.1/10
There is a lot to like about the Ram 1500, especially in Laramie spec. Yes, it is expensive, and yes, it is under-equipped for the price. But it offers exceptional space and comfort, plus class-leading towing ability. And if those things matter to you, the other bits might be less of a concern. 
Personally, I'd wait for the new-generation version of the Ram 1500, which should be on sale in Australia before 2020 - not just because it looks nicer, but because it promises to fill in some of the gaps the current version can't.
Would you buy a petrol V8 pick-up over a turbo diesel? Tell us what you think in the comments section below.
Design
Chevrolet SILVERADO
Let's get straight to the point: the Silverado 1500 cuts an imposing figure on the road.
There's a reason why models like the Silverado 1500 are called 'tough trucks'. Case in point: the upright front end, which is tall and dripping in polarising chrome.
The sense of power it evokes is hammered home by its bulging bonnet, which hints at the hard-hitting engine enclosed inside (if the sheer size of the grille isn't indication enough).
Move around to the side and the Silverado 1500 is less remarkable thanks to its familiar silhouette. That said, the pronounced wheelarches add to its strength, while its 20-inch alloy wheels and 275/60 all-terrain tyres signal its intent.
The visual spice returns at the rear end with a sculpted tailgate, another chrome bumper and a pair of trapezoidal exhaust tailpipes, while the tail-lights feature the same signature as the headlights.
Inside, the upright theme is continued by the tiered dashboard and button-heavy centre stack, with an 8.0-inch touchscreen MyLink multimedia system the crowning achievement of the latter.
The instrument cluster carefully treads the line between traditional and digital with a tachometer, a speedometer and four smaller dials, which sit atop a 4.2-inch multi-function display of the high-resolution variety.
Bright grey and dark wood trim help to break up what is otherwise a very dark cabin to sit in, with Jet Black leather-appointed upholstery used liberally throughout. Yep, even the dashboard and door shoulders get in on the action. Hard plastics are used elsewhere.
---
Ram 1500
6/10
It's definitely imposing. That'll happen when the exterior size of your ute is considerably bigger than the rest of the dual-cab segment.
That's because this model is essentially a step up in size from the likes of the Ford Ranger and Toyota HiLux. It would more naturally compete with the Ford F-150 and Toyota Tundra, but Ateco is pitching this is a beefcake competitor for cashed-up ute buyers.
The 1500 Express is designed to appeal to buyers who want a sporty ute, one that'll look at home towing a speedboat. That's what I see these models doing, anyway. There's no big body kit, and there's no front spoiler or side skirts, but you do get handy side steps to haul yourself up into the high-flying cabin. 
The Express model has the 'Quad Cab' body with a 6'4" (1939mm) tub, and all Ram 1500 models have a tub width of 1687mm (with 1295mm between the wheel arches, making it big enough for Aussie pallets to be loaded in). The tub depth is 511mm for the Express and 509mm for the Laramie.
The tub width is 1270mm if you option RamBoxes, a pair of insulated, lockable boxes over the wheel arches that offer secure storage. And models with those optional boxes get a soft tonneau cover for the rear, known as a 'Tri-fold tonneau' - it's actually almost like a hardtop cover, and requires more effort to remove than a regular vinyl one. 
The Quad Cab body is considerably smaller in terms of backseat space, but the room given up there is made up for with the longer tray. Both it and the Laramie are the same overall length (5816mm), width (2018mm) and height (1924mm).
The 1500 Laramie has more stylish exterior finishes, with chrome details on the grille, mirrors, door handles and wheels, and it also features chrome bumpers and full-length side steps. If I had to stereotype the sort of scene one of these models would be spotted in, it'd be an equestrian event with a tri-axle float hooked up.
The Laramie has the Crew Cab body, allowing more rear-seat space because of its bigger interior dimensions (not to mention a leather interior), but with a shortened tub spanning 5'7" (1712mm) in length. 
My biggest issue with the design of the Ram 1500 is that this is the 'old' one. A brand-new Ram 1500 has been launched in the US, and it looks considerably more contemporary. It's actually pretty attractive, where this - well, it looks like a truck that commenced production way back in 2009...
Practicality
Chevrolet SILVERADO
The Silverado 1500 is next-level practical. After all, when you measure 5885mm long, 2063mm wide and 1915mm tall, you've got a lot of real estate to play with.
This size is most apparent in the second row, which offers oodles of legroom and headroom behind our 184cm driving position. Limousine-worthy? Absolutely! And the power-operated sunroof never had a chance of impeding the latter.
It would be remiss of us not to mention this is a vehicle that can genuinely accommodate three adults abreast on longer journey, such is the beauty of being extra wide and lacking an intrusive centre tunnel.
The tub is also carnivorous, with its floor 1776mm long and 1286mm wide between the wheelarches, making it large enough to transport an Australian-size pallet with ease.
This utility is aided by a spray-on liner, 12 tie-down points, integrated steps and a power-operated tailgate, which has a camera sensor that ensures accidental collisions with static objects are avoided.
Maximum payload capacity is 712kg, meaning the Silverado 1500 falls short of one-tonner status, but it more than makes up for it with a maximum braked towing capacity of 4500kg.
In terms of in-cabin storage options, the Silverado 1500 has plenty. There's two gloveboxes, after all! And that's before you discover the hidden storage areas in the rear seat backrests. The rear bench even folds upwards to create more space for bulkier items.
The central storage bin also deserves a shout-out. It is absolutely massive, so much so that you could seriously lose something valuable in it if that's your thing.
This size narrative is even expressed by the wireless charging mat, which is the largest we've seen yet. Chevrolet clearly had its eye on the next generation of smartphone, with this same approach applied to the central storage bin lid's cut-out, which accommodates big devices.
And tell your mates to bring as many drinks as they want, as the Silverado 1500 can take a lot. There's three cupholders located between the driver and front passenger, another two at rear of the centre console and an extra pair in the fold-down central armrest.
Intending to carry more than seven drinks? Have at the humongous door bins, which can take at least two more each. Yep, you won't die of thirst here.
Connectivity-wise, there's one USB-A port and one USB-C port in the centre stack alongside a 12V power outlet, the latter of which is substituted for an auxiliary input in the central storage bin. The centre stack's trio is replicated at the rear of the centre console.
---
Ram 1500
9/10
As mentioned above, the Crew Cab body of the Laramie models makes a big difference in terms of rear-seat space - it's like stepping from a Commodore to a Caprice. 
In fact, the cabin of the Ram 1500 is well and truly the most comfortable of any dual-cab ute I've driven, but of course that comes down to the extra size of this truck when compared to a smaller dual cab. 
Back-seat room is tremendous in the Laramie. During my drive, I had a pair of burly lads in with me on a three-up drive loop, and there was no complaint from either my 182cm front passenger or the big lad in the back (who was about 185cm). Let's also just note that the cabin width was well appreciated, and we could have even fit three abreast in the rear row.
The legroom is exceptional, and so is the head room and shoulder space, but more impressive was the fact the backrest was actually comfortable, rather than overly upright as those in many smaller dual-cabs are. There's a flip down centre armrest with cup holders, plus a pair of cup holders on the floor in front of the seats. 
The storage up front is excellent, with big door pockets including bottle holders, and cup holders between the front seats as well as an enormous centre-console bin. There are even handy cable caddies for you to plug in smartphones, and there are dual USB ports (which you can switch between using the media screen, if you want).
The media screen is simple to use, and the digital driver information screen is very easy to operate - there are menus upon menus, meaning you should be able to find whatever info you need there. 
Both are considered to be dual-cab models, though the 'Express Quad Cab' is a bit more like a big extra cab (and more like a conventional, regular sized dual cab, in fact). There are no other cab options - so you can forget the chance of a single-cab model being sold in Australia, for now at least. 
If 1.6 cubic metres of cargo capacity in the tub of the Express or 1.4m3 in the Laramie just isn't enough, you may want to consider a roof rack. There aren't any roof rails built into the top of the Ram 1500, but it's possible to fit racks anyway.
Likewise, if you want a canopy to act as a cover or cap for your belongings, you'll need to see what's available out of the US.
Price and features
Chevrolet SILVERADO
Full disclosure: we have no idea how much the LTZ Premium Edition actually costs. Yep, we attended a local launch and left none the wiser for the first time in recent memory.
HSV says it'll check in "around $110,000 before on-road costs" but won't commit to a firm price just yet, so we too are keen to know how much of your hard-earned you'll have to put down to get behind the wheel of one.
Either way, it's safe to assume competition will come in the form of the $99,950 Ram 1500 Laramie, which is another full-size pick-up with V8 petrol engine under the bonnet, albeit a 291kW/556Nm 5.7-litre unit, but more on the Silverado's bent eight in a moment...
With that all now out in the open, we won't be issuing the LTZ Premium Edition with a score for this section of the review, even though we can share with you how it's specified.
Standard equipment not already mentioned includes a low-range transfer case, a rear differential lock, disc brakes, skid plates, power-folding side mirrors with heating and puddle lights, side steps, a seven-speaker Bose sound system, a 15.0-inch head-up display, keyless entry and start, heated front and rear seats, 10-way power-adjustable front seats with cooling, a heated steering wheel and dual-zone climate control.
While in-built satellite navigation is absent, there is Apple CarPlay and Android Auto support, which is frankly the better real-time traffic option in areas with mobile reception.
Nine paintwork options are on offer. And then there's the long list of dealer-fit accessories, which range from a cold air intake, front Brembo brakes, black alloy wheels, side steps, sports bars and tonneau covers, among others.
---
Ram 1500
7/10
This is a big ute, with a big price tag. So, how much does the Ram 1500 cost? Is it out of your price range? Here's a list of what you'll pay, and what you'll get. 
The range starts at $79,950 drive away for the entry-level Express model (this is the only model with drive-away pricing at the moment). Next up the range is the Ram 1500 Express with RamBoxes, and the list price for this model is $84,450 plus on-road costs.
The Ram 1500 Express model is available with a Black Pack sport edition, consisting of black exterior highlights, smoked headlights, black badging and a sports exhaust. This version lists at $89,450 plus on-road costs, or $93,950 with RamBoxes.
At the top of the range is the Laramie model, which is priced at $99,950 or $104,450 with RamBoxes.
As far as a model comparison, that's a fair spread in terms of price - and the specification gap is broad, too.
Express models comes with a 5.0-inch touch screen media system with AM/FM radio and Bluetooth phone and audio streaming plus USB connectivity, and a sound system with six speakers. No Ram 1500 has a CD player. There's cruise control, but it's not adaptive, and both versions get electric power steering. 
There's cloth trim for the seats, a leather-lined dashboard, colour-coded grille and bumpers, side steps, window tint, halogen headlights and fog lamps, a spray-in bed liner, 20-inch wheels and a heavy-duty tow bar with a seven-pin wiring harness. You'll have to pay extra for a trailer brake control kit. 
As for safety gear? Every model has electronic stability control and hill-start assist, but things like a blind-spot monitor aren't on the list. Read the full breakdown in the safety section below.
There's a standard fit limited slip differential (Ram calls it an anti-spin differential rear axle) - but no model comes with a diff lock at the front or rear.
The Ram 1500 Laramie adds luxury items such as leather seats, deep-pile carpeting, heated and cooled front seats, heated rear seats, climate control, a heated steering wheel, and power adjustable pedals. The air conditioner is a dual-zone climate control system. Laramie models also get a keyless-entry system with push-button start.
In the middle of the dash is an 8.4-inch media screen with a GPS navigation system, Apple CarPlay and Android Auto (none of which are available on the Express model), and it has a 10-speaker sound system with a subwoofer. There's no wifi hotspot or DVD player as part of the infotainment package, however.
Other extras the Laramie adds over the Express include a power sunroof (not a full panoramic sunroof, though) an auto-dimming rear-view mirror, auto rain sensing wipers, rear seat air-vents, and remote engine start. Auto projector headlights are fitted to this spec, but no grade gets HID, xenon or LED lights, nor is there any daytime running lights on the base model. The cup-holder count for all variants is 18. Eighteen!
The 'Trifold' tonneau cover system costs $1795, but if you want a hard lid / hard tonneau, you might need to look for one out of the US. But local buyers (and former fans of HSV or FPV) may be chuffed to learn there's a sport-exhaust option available. 
Colour (or should that be color?) options are reasonably broad, but only Flame Red and Bright White are no-cost options, with Bright Silver (metallic), Max Steel (blueish grey metallic), Granite Crystal (dark grey metallic), Blue Streak (pearlescent), True Blue (pearlescent), Delmonico Red (pearlescent), all costing extra on both grades. Laramie models also have the choice of Brilliant Black (metallic). There's no orange, yellow or green paint option. 
If you want to spend even more on your Ram 1500, you'll need to find aftermarket suppliers for features like a bull bar, winch, sport bar, snorkel, LED light bar, driving lights or new-look halo lamps. 
You won't need to shop the genuine accessories catalogue for floor mats - all trim levels get those as standard - but if you're more worried about the exterior wow factor, some even bigger rims could be in your future. Other options from the accessories list include a bed step (to help you climb into the tray), a cargo divider system, tray rails, cargo ramps and an array of chrome trim highlights to match the factory 20-inch rims.
Engine & trans
Chevrolet SILVERADO
The LTZ Premium Edition is sure to please thanks to its a 6.2-litre EcoTec naturally aspirated V8 petrol engine, which produces up to 313kW of power and 624Nm of torque.
As such, the Silverado 1500 comfortably outmuscles the Ram 1500 with a 22kW/68Nm advantage, ensuring bragging rights at the worksite, caravan park or wherever the two may face off.
The former can up the ante further with HSV's dealer-fit cat-back exhaust system, which boosts its outputs by 9kW/10Nm, to a commanding 322kW/634Nm.
At $5062.20, it's an expensive extra but one we're sure you'll agree is a necessity given the primal noise it generates. Without it, the Silverado 1500 simply sounds too quiet. Awaken the beast, we say.
A 10-speed torque-converter automatic transmission is responsible for swapping gears in the LTZ Premium Edition, which features a part-time four-wheel-drive system that didn't break traction in 4H during torrential rain. 2H, of course, made things more interesting...
---
Ram 1500
9/10
If you're buying a Ram, there's a chance you're shopping the 1500 range because you really want a petrol V8 engine in your ute. Since the demise of the Holden Ute and Ford Falcon Ute, there hasn't been a V8 option outside of the Toyota LandCruiser 70 Series - and it's diesel, not petrol.
So, what's powering the Ram 1500 model range? How does a 5.7-litre Hemi V8 engine sound?And one with 291kW of power (at 5600rpm) and 556Nm of torque on offer (at 3950rpm). That's some serious horsepower, and the torque specs are strong. 
The engine is teamed to an eight-speed automatic transmission, and all Ram 1500 models are four-wheel drive (4x4), as distinct to an AWD system like that in the VW Amarok. There is no front-wheel drive or rear-wheel drive (RWD / 4x2) version. Prefer to take matters into your own hands with the gearbox? Sadly there is no manual transmission. 
A turbo diesel V6 is coming later this year, which promises better fuel consumption and a higher torque rating. It will likely be offered across both model lines, and will attract a small price premium, too. The exact power and torque ratings for that motor are yet to be announced, but the engine size is 3.0-litres, and it will be a VM Motori engine.
The engine range doesn't extend to LPG or plug in hybrid in the current DS generation model. But the new-generation Ram 1500 (DT) has a hybrid, and will be offered in Australia at some point in the next two years.
Fuel-tank capacity varies by the model you choose: the Express version has a 121-litre tank size, while the Laramie versions (either with the 3.21 or 3.92 axle ratio) have a 98L tank.
Sadly there was no chance to do a towing review this time around, but if you're planning on hauling a horse float or pulling a big boat, you'll be happy to learn all models come fitted with a tow bar as standard.
Towing capability tops out at 4.5 tonnes (braked) for both Express and Laramie models when fitted with a 70mm towball. The Laramie can be had with a higher axle ratio (3.21 compared with 3.92) that reduces the towing capacity to 3.5 tonnes (with a 50mm towball), but also positively affects the vehicle's fuel-consumption rating.
The tub load capacity for the Express model is rated at 845 kilograms, while the Laramie's payload is rated at 800kg - not as much as some of the smaller competitors in the ute segment, but more often than not if you're buying a Ram truck you're more focused on towing than carrying big weight. 
The gross vehicle mass (GVM) or gross vehicle weight (GVW) for both models is 3450kg. Gross combination mass (GCM) rating for versions with the 3.92 rear axle is 7237kg, while the 3.21 rear axle model is rated at 6261kg. So make sure you do the maths before you go hooking up a 4.5-tonne trailer - there's not a lot of payload remaining. 
Be sure to look at our Ram 1500 problems page for any concerns around automatic transmission problems/transmission issues, engine, clutch or suspension issues, or diesel problems (hey, they might crop up in the future).
Fuel consumption
Chevrolet SILVERADO
The Silverado 1500's claimed fuel consumption on the combined-cycle test (ADR 81/02) is 12.3 litres per 100 kilometres, which is actually a better than you'd expect given its engine and size.
That said, despite the best efforts of the bent eight's idle-stop and cylinder-deactivation systems, real-world economy is much higher, depending on the task being undertaken.
We returned several figures on our brief test drive, with the Silverado 1500 either unladen, carrying a 325kg payload in its tub or towing a 2500kg caravan. As such, these ranged from the low-teens to low-20s.
---
Ram 1500
7/10
Laramie versions with the 3.21 axle ratio claim fuel consumption of 9.9 litres per 100 kilometres, while the Express and the Laramie model with the 3.92 axle ratio use a claimed 12.2L/100km. 
The Hemi engine features cylinder deactivation so it can run on six cylinders or four cylinders under light loads - you'll know when it's doing that because the eco-mode light comes up on the dash. 
If you're wondering about how that relates to range, you should theoretically be able to get best-case mileage of about 990 kilometres, if you can achieve the claimed consumption figure. If it means anything to you, we saw 12.3L/100km on the dashboard after a three-up driving loop with no load and no towing, but a bit of muddy off-road driving. 
Diesel fuel economy is yet to be confirmed, but expect it to be better than the petrol models.
Driving
Chevrolet SILVERADO
The Silverado 1500 is a big beast, but it's not as intimidating to drive as you may think.
We were expecting to be more mindful of its width on public roads but quickly forgot about it as our anxiety eased. Even body roll and pitch aren't as prevalent as you'd think, although it doesn't help that brake pedal feel is on the numb side.
However, we rightly suspect navigating car parks will be a challenge in it, mainly due to its length, which exceeds that of regular parking spaces.
That said, the Silverado 1500's turning circle is respectable for its size, partly thanks to its surprisingly well-weighted steering, which is of the electric variety. As such, it's not the first word in feel.
When unladen, the Silverado 1500 is relatively composed, even on gravel, although its leaf-sprung rear end can get a little wobbly on uneven roads, which is no surprise. Either way, noise, vibration and harshness (NVH) levels are really impressive for a pick-up.
On this occasion, we had the opportunity to throw a 325kg payload in the tub, and it settled things down considerably, proving it pays to actually do something meaningful with a real 'truck'.
Speaking of which, we also had the chance to tow a 2500kg caravan with the Silverado 1500, which just oozes confidence. Indeed, driver error is the only genuine threat here thanks to its comprehensive trailering package that headlines the multimedia system.
Part of this capability is owed to the stonking V8 engine on hand, which has boatloads of torque. Even the steepest of inclines aren't enough to put the Silverado 1500 off with a large caravan in tow.
That said, due to its 2588kg frame, the Silverado 1500 is no straight-line beast. It certainly has more than enough power to get the job done, but just don't let its outputs fool you into thinking you'll see off sports cars like the Toyota Supra.
The automatic transmission that pieces everything together is a solid unit with plenty of gears to work with, so much so that it keeps the engine ticking just above when at speed.
However, stick the boot in and it springs into life, promptly kicking down a ratio or three to ensure the extra mumbo required is smoothly delivered.
And those who aren't willing to wait can engage the Sport drive mode, which prompts the shift points to become higher. Yep, you can have your cake and eat it too.
---
Ram 1500
8/10
While it has a huge 5.7-litre V8 engine with supercar levels of power, the 0-100 acceleration performance isn't supercar fast. It gathers speed pretty quickly, but you can't fight physics - this is a heavy truck. The eight-speed 'TorqueFlite' automatic gearbox did a great job of using the engine's power and torque to keep us at pace, although it could be a little busy when climbing hills. 
While the four-wheel discs aren't performance brakes, they certainly help pull the big Ram ute up pretty handily - well, at least without a load in the tray or on the towbar. 
Our test drive mainly focused on country B-road driving, with a mix of surfaces, some decent hill climbs and corners thrown in to the mix. And the Ram surprised with a super comfortable ride, responsive electric power assisted steering - particularly on centre, where it pivoted with more agility than you'd expect. The leather steering wheel takes 3.5 turns lock to lock in the Laramie, but at pace it's a but more nippy than that. 
After about 150km of driving, I got out of the Ram 1500 Laramie feeling absolutely fine - I reckon it would chew up highway kays with ease, and even in the back seat it was comfortable, where most dual-cab utes the size below are painful for the long haul.
This is a big, comfortable truck - it felt more enjoyable to drive than, say, a Toyota Land Cruiser 200 Series, if not quite as compliant. The comfort levels, though, are good. It's easy to see why so many people in America buy big trucks like this, especially where fuel costs are low. 
We got to test the Ram 1500's off-road capability to a degree, but the review was hampered by the road tyres. The Ram 1500 rolls on  regular 20-inch chrome alloy wheels with Hankook Dynapro HT rubber, and it was just a few minutes before they were clogged by the muddy hillside as we churned up the topsoil and dug down to the clay below. This made for some hairy moments, but the tyres weren't the only shortfall.
The fact there is no hill-descent control means you'll have to ride the brake pedal down hills, increasing the chance of locking up and sliding. Plus the low-range gearbox isn't terrific - it allowed the Ram to run away, without holding the pace down very convincingly. 
Also, it's not the most adept vehicle for off-roading, given its length. But Ram reckons this isn't supposed to be a proper off-road vehicle. The approach angle for all models is 15.2 degrees, while the departure angle is 23.7deg. Ramp-over angle is 17.1deg. 
According to Ram's local distributor, the difference in the four-wheel-drive hardware between the Express model and the Laramie version (which adds a 4WD auto mode, which allows the car's electronics to apportion torque where it's needed), means there's a difference in the size of the turning circle: Laramie models - 12.1m; Express models - 13.9m. There is no hub locking required for off-roading - the 4WD system works on the fly, and is pretty quick to operate.  
The ground clearance for Ram 1500 models is 235mm at the rear axle, and 249mm at the front. There's an optional two-inch lift kit offered by Ram if that's not enough. There is no rear air suspension on the 1500 - you'll have to choose the 2500 for that. The Ram 1500 has an upper and lower A-arm front suspension setup, with a five-link coil spring rear end. 
Sadly there was no chance to test the performance of the vehicle's boasted towing capacity. We'll work to get one through the garage soon to do a towing review. 
Safety
Chevrolet SILVERADO
ANCAP hasn't issued a safety rating for the Silverado 1500. It has been crash tested by HSV, though, satisfying the appropriate Australian Design Rules (ADR) standards.
The LTZ Premium Edition is fitted with plenty of safety-focused equipment, including six airbags (dual front, side and curtain), electronic stability control with rollover mitigation, and trailer sway control, among other features.
Advanced driver-assist systems extend to low-speed autonomous emergency braking with pedestrian detection, lane departure warning, blind-spot monitoring, rear cross-traffic alert, camera-based adaptive cruise control, high-beam assist, tyre pressure monitoring, hill-descent control, hill-start assist, a reversing camera and front and rear parking sensors.
Despite being fitted, lane-keep assist isn't active yet locally due to ongoing engineering challenges, although if/when they're overcome, HSV intends to enable it for existing owners.
---
Ram 1500
6/10
There is no ANCAP or Euro NCAP crash test safety rating for the Ram 1500, and the safety equipment list is sparse.
All 1500 models have have six air bags fitted (dual front, front side, full-length curtain), but there are no advanced safety features like auto emergency braking (AEB), blind-spot monitoring, lane-keeping assistance or rear cross-traffic alert. Ram 1500 models come with electronic stability control that includes trailer-sway control and electronic brake force distribution. 
Ram 1500 models have three top-tether child seat attachment points, but there are no ISOFIX baby seat tether points. 
Only the Laramie model comes with a reverse camera, plus it has front and rear parking sensors. The early build MY18 Express versions only come with rear parking sensors, which is pretty bad for a vehicle of this size. You need as much in the way of park-assist technology as you can get when you're moving 5.8 metres and 2.6 tonnes of metal.
Ram's Australian arm says it is in talks with US headquarters to try and get some advanced safety added to the mix. Where is the Ram 1500 built? Detroit, Michigan. 
Ownership
Chevrolet SILVERADO
Much like the LTZ Premium Edition's pricing, we don't yet know the Silverado 1500's warranty and servicing details, so we also won't be issuing a score for this section of the review.
If it's anything like HSV's other Chevrolet models, the Silverado 1500 will come with a three-year/100,000km warranty and three years of roadside assistance.
Its service intervals could also be the same, at every nine months or 12,000km, whichever comes first. Their pricing should be determined at a dealer level. If this proves to be the case again, shop around if you're keen to get the best deal.
---
Ram 1500
5/10
The Ram 1500 can't match its more affordable ute rivals for ownership credentials - you'll need to decide if that's something you value or not.  
The warranty offered by Ram is a short three-year/100,000km plan, where brands like Holden, Ford, Mitsubishi and Isuzu all offer five-year warranty plans. The company throws in roadside assistance for that period, but there's no national extended warranty plan - dealers may offer one.
There is no capped-price-servicing plan, either, so we can't say what service costs will look like for potential owners. Service intervals are short, too - 12 months/12,000km (whichever occurs first). Quite a few of the diesel utes out there have 12 month/20,000km intervals.
On the resale-value front, Glass's Guide suggests a Laramie should hold between 59 and 65 per cent of its value after three years/50,000km. Express models are expected to hold between 53 and 61 per cent of their initial purchase value over the same period. When it comes time to sell, make sure you have your owner's manual and logbooks in the vehicle, and that the full-size spare has good tread on it, too. 
Check out our Ram 1500 problems page for any common problems, durability issues, rust questions, problems complaints and more - there might be no better way of getting a reliability rating than hearing about possible problems from other owners.