HSV GTS manual 2008 review
IT'S not the most expensive model in the range but HSV's iconic GTS is certainly the spiritual leader.
With runaway fuel prices, this may well be the last roll of the dice for the big V8-powered sports sedan but somehow we don't think so.
It's hard to imagine a GTS with a hybrid power train or for that matter a diesel or dual fuel LPG model.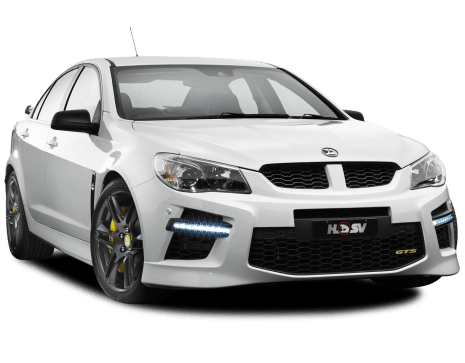 Explore the 2008 HSV GTS range
In April HSV replaced the 6.0-litre engine with a larger, more powerful 6.2-litre 317kW V8 across the range in the never-ending quest for power.
A 7.0-litre model is also in the pipeline.
The 6.2-litre LS3 engine is put together in the US and is, in fact, the same engine that powers the current Corvette.
GTS's two main competitors, the Falcon GT and Chrysler 300C SRT8, run a 5.4-litre 315kW/551Nm and 6.1-litre 317kW/569Nm V8 respectively.
There's not much in it.
Why go for a larger engine that uses even more fuel?
Well, in this market it's all about size and, in manual form at least, the larger engine uses only a tenth of a litre more at 15.3 litres/100km.
That's still a lot fuel in any money and anyone considering the purchase of this vehicle should be aware of this fact.
If and when petrol hits $2 a litre, it means the GTS will cost $30 in fuel for every 100km travelled, or about 30c every time the odometer clicks over another kilometre.
That's before you even think about putting your foot down.
The six-speed auto uses significantly less fuel at 14.5 litres/100km.
Although all the trio cost about the same and deliver a similar level of performance, it is pointless trying to pick a winner.
Suffice to say few Holden fans are going to cross to the dark side and buy a Ford and vice-versa.
The macho-looking SRT8, however, is every bit as good and remains a tantalising option for both camps.
Our test vehicle was a six-speed manual GTS finished in gleaming red with 20-inch wheels and matching red brake callipers.
It's a magnificent looking car, one that commands respect from other motorists who tend to give it a wide berth.
We've driven plenty of high-priced Euros, but none of them seem to stir as much interest as a big V8.
The 6.2 litre engine delivers a massive 317kW of power at 6000rpm and 550Nm of torque at 4600rpm, compared with 307 at 6000rpm and 550 at 5100rpm previously, using top grade 98 premium.
Although rated at 15.3 we were averaging 14.8 litres/100km in mixed driving.
The noise from the V8 is raw and powerful, just the way God intended and we found ourselves frequently dropping down a gear just to hear it.
The manual change was a revelation, a quantum lead forward from the previous HSV we drove.
We'd stop short of calling it smooth, but it is much easier to use with a lighter clutch action.
Having said that, it still doesn't like to be hurried and doesn't deliver sports car precision.
The manual can blast from 0-100km/h in less than five seconds and is fitted with HSV's controversial magnetic ride control which is activated by a switch on the dash.
It offers the choice of performance or track modes but, to be honest, we had trouble telling the difference. We will say that the ride is excellent, nothing like the harsh cars of the past. Cornering and braking are impressive and the electronics don't intrude on the fun.
A full size alloy spare is provided, but being smaller than the rear tyres its use is limited on the back.
It's the best GTS yet but at the end of the day it's more about what this car misses out on that what you get, so check out the equipment list.
Pricing guides
$35,995
Based on 4 cars listed for sale in the last 6 months
Pricing Guide
$35,990
Lowest price, based on 2 car listings in the last 6 months
View cars for sale