Mazda CX-9 FWD 2012 review
An interested group of Australian motoring journalists attended the global debut of the latest Mazda CX-9 SUV at the 2012 Sydney motor show. Now the big wagon is on sale here and we have just enjoyed a great day's driving in near perfect weather on several hundred kilometres on some scenic roads behind Melbourne.
Such has been the success of Mazda downunder that the company's Japanese head office gave Australia the honour of being the first to see the heavily facelifted new model. This is a real honour as there's little doubt that importers and Mazda dealers in many other countries put up their hands to get first glimpse of the big SUV / people mover.
Value
The infotainment system in the big Mazda SUV has been upgraded and now features the latest audio, navigation and speech-recognition systems in what Mazda calls it's HMI (Human Machine Interface).
Technology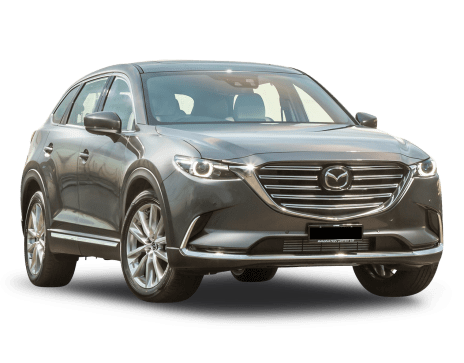 Explore the 2012 Mazda CX-9 range
Mazda CX-9 has been upgraded inside and out and carries minor refinements to the engine and its ancillaries that are said to have reduced its fuel consumption. However, while it's no longer the gas guzzler that it was in its early days the new model is still no fuel sipper. In some relatively modest driving on quiet country road, albeit with plenty of hills to climb, the 3.7-litre V6 was typically was using petrol in the range of 12 to 14 litres per hundred kilometres.
Design
The biggest feature of the latest version of the Mazda CX-9 is the huge grille that gives it a standout appearance in a market segment that is dominated by sensible looking people movers disguised as SUVs. There's room for seven adults without them being overly cramped, though four adults and three children is more realistic.
The centre set of seats can slide back and forward to let you vary the amount of legroom available in this seat and the third row seats. With the centre seat in its rearmost position there's almost limo-like legroom. The third row of seats fold flat very simply to give a useful increase in luggage space. Even with the seats in use there's still space for a couple of fair-sized suitcases.
Safety
Mazda Australia has been very strong on safety for many years, so the CX-9 has had electronic stability control and rollover protection to help prevent crashes since its introduction downunder in 2007. The list of safety features has been greatly expanded, particularly in the crash avoidance field. Forward Obstruction Warning (FOW), Lane Departure Warning (LDW) and High Beam Control (HBC) anticipate danger and help the driver avoid it. Not all safety systems are sold in every grade so it's best to talk about that - as well as the luxury items on offer - with your nearest Mazda dealer.
Driving
Mazda CX-9 can certainly be used in light-duty running on forest trails, perhaps even at the beach, but almost all owners will use it as a spacious people mover. We did quite a few kilometres running on dirt road and found the suspension did an excellent job of cushioning shocks and providing a comfortable, quiet ride.
Suspension and steering haven't been altered in the new model. Though Australian imports have more dynamic settings than the American models, the big Mazda CX-9 is relatively soft. Which is no bad thing as this SUV is aimed at the sensible person who is much more interested in comfortable travel for the family than in storming around bends at breakneck speed.
The big Mazda has a good turning circle for its class and this is a real bonus when it comes to the reality of squeezing it into a tight parking space in an underground parking station.
Verdict
You get a lot of family wagon at a pretty reasonable price in the Mazda CX-9. Add that to the immaculate build quality and the reputation for reliability that Mazda has built in up in almost 50 years in the Australian market and it's hard to go past this bold looking new version.
Pricing Guides
$18,995
Based on 100 cars listed for sale in the last 6 months
Range and Specs
| Vehicle | Specs | Price* | |
| --- | --- | --- | --- |
| Classic (FWD) | 3.7L, ULP, 6 SP AUTO | $14,875 – 21,990 | 2012 Mazda CX-9 2012 Classic (FWD) Pricing and Specs |
| Grand Touring | 3.7L, ULP, 6 SP AUTO | $12,980 – 28,950 | 2012 Mazda CX-9 2012 Grand Touring Pricing and Specs |
| Luxury | 3.7L, ULP, 6 SP AUTO | $14,965 – 25,880 | 2012 Mazda CX-9 2012 Luxury Pricing and Specs |
| Luxury (FWD) | 3.7L, ULP, 6 SP AUTO | $12,995 – 24,888 | 2012 Mazda CX-9 2012 Luxury (FWD) Pricing and Specs |
Pricing Guide
$12,980
Lowest price, based on 36 car listings in the last 6 months
View cars for sale
Similar Cars
Hyundai Santa Fe

Toyota Kluger

Mazda CX-8

Mazda CX-5