Mercedes-Benz ML250 and ML350 BlueTEC 2012 review
Looking for a used Mercedes-Benz?
Buy with confidence; all Mercedes-Benz Certified Pre-Owned vehicles come with a factory backed warranty, 100 point safety check, comprehensive service history and 24hr roadside assistance.
Looking for a used Mercedes-Benz?
Buy with confidence; all Mercedes-Benz Certified Pre-Owned vehicles come with a factory backed warranty, 100 point safety check, comprehensive service history and 24hr roadside assistance.
Good news. It's game on among the German luxury brands, with a fierce contest for hearts, wallets and top global position.
Mercedes-Benz is determined to reverse its slide from global second to third spot in 2011, overtaken by Audi – who have their eyes on the top spot BMW stole from Benz a few years back. That's great for buyers, as the battle plans means prices will be sharpened and models stacked with equipment until the seams start to bulge.
The Mercedes-Benz ML-Class launched this week is a textbook strategy – revised, refitted, re-engined and repriced to undercut the competition in the large SUV class.
Price and models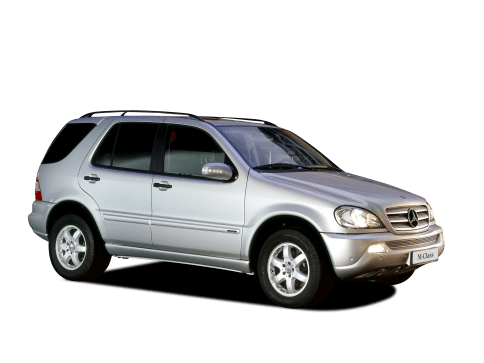 Explore the 2012 Mercedes-Benz M-Class range
The opening salvo is the ML250 BlueTEC at $81,400, with a 150kW/500Nm 2.1-litre four-cylinder turbodiesel mated to the standard seven-speed automatic transmission with paddle-shifters on the steering wheel. The big news is fuel economy improvements across the range, with the ML250's official figure of 6.4L/100km startling for a large SUV. It also has a 3000kg braked tow capacity (the rest are 3265kg).
And the base model is no stripped-out package either. Standard goodies include voice-control for the 17.8cm colour-screen satnav and 40GB hard-drive infotainment system, reversing camera, park guidance, selective suspension damping, 19-in alloy wheels (18-in are optional for those who want to go offroad) and – finally – an electric parking brake instead of the clunky foot one.
The ML350 BlueTEC has a 190kW/620Nm 3.0-litre turbo diesel V6 and returns fuel economy of 7.3L/100km. Priced at $99,900, it scatters extra power, heat and lighting systems around the cabin, but possibly more importantly adds extra safety equipment.
The rivals for the two BlueTECs are the BMW X5 30d and Audi Q7 3.0TDI. The BMW is priced from $92,100 with a 180kW/540Nm 3.0-litre six-cylinder turbodiesel and eight-speed auto, delivering fuel economy of 7.4L/100km. The Audi is $90,500 with a 176kW/550Nm 3.0-litre V6 turbodiesel – again with eight-speed auto and 7.4L/100km.
With the same spec and price as the 350BlueTEC, the ML350 BlueEfficency gets a 225kW/370Nm 3.5-litre direct-injection petrol V6 with stop-start system, and gives you 8.9L/100km. Against that, Audi has a $95,700 tag on its 245kW/440Nm 3.0-litre petrol Q7 and BMW wants $103,900 for the 225kW/400Nm 3.0-litre petrol X5.
The ML500 has a 300kW/600Nm 4.7-litre direct-injected bi-turbo V8 that returns 12.3L/100km. At $119,000 it adds keyless start, powered tailgate and air suspension and adaptive damping. Audi drops out of the game here, but the BMW has the X5 50i at $134,000 with a 300kW/475Nm 4.4-litre eight-cylinder.
The ML63 AMG carries the larger V8, a 386kW/700Nm 5.5-litre direct-injected bi-turbo unit with stop-start that helps it get 11.8L/100km. At $178,500 it gets a complete AMG fit-out, including sports transmission, top-shelf everything and premium audio system. Up against that, BMW offers the X5 M at $178,200 with a 408kW/680Nm 4.4-litre eight-cylinder.
Design
The designers haven't gone all-out, but the restrained changes here and there result in a sleeker overall style, with less boxiness – camouflaging the ML's taller, longer and wider measurements. The size has grown but the weight has dropped, with the help of aluminium front fenders and bonnet. Rear design gets a more cohesive look, with a new wide taillight cluster and metal-look undertray the main changes.
The cabin gives plenty of elbow and legroom with the test vehicles' two seat rows, and a larger colour screen now also sits higher in the dash, making it easier to see. But the cruise control and indicator stalks behind the left side of the steering wheel are still annoying so close together, and the column shift on the right is an unsatisfying way to change gears.
Saddle-stitched 'pleather' and metal accents everywhere add a hint of business-class, while the second row shares some of the pampering with adjustable backrests.
Safety
No prizes for guessing it gets the top rating, with nine airbags, high-tech anti-lock brakes with all the electronic helpers - including one that coordinates with the transmission for driving up and down slopes - active bonnet pedestrian impact protection and a host of the best safety technology around, including a drowsiness alert.
Driving
Weight loss and well-sorted engines are a winning combination. Both the ML250 and ML350 BlueTECs we tested felt lighter than most SUVs could ever hope, and there was never any sense the engines were straining to cope with the load.
We would have noticed, because both the engine and cabin are so quiet you could easily hear approaching traffic, even on the highway. They move well from standstill, and there's more than enough torque for extra acceleration in the 80-110km/h overtaking stints - or to lug a horse float, which is going to be on the cards in view of both the tow rating and the target market.
And those buyers won't be concerned by the steering's light touch and lack of feedback, which will serve them well in city traffic and the inevitable parking battle of school drop-offs and carparks. They'll possibly also enjoy the firm suspension's handling of smooth corners, where the system keeps things on the level.
But the penalty is the lack of composure over rough and undulating surfaces, particularly noticeable on the 20-in wheels of the ML350. Hitting rough patches in corners unsettles it, and even in straight stretches there's still enough movement to mean you'll be banning food - and food-stuffed kids -- from the cabin.   
Verdict
The ride quality aside, this is a fantastic premium package, and the price sews up the deal for shoppers in that segment. 
Pricing guides
$31,913
Based on 85 cars listed for sale in the last 6 months
Range and Specs
| Vehicle | Specs | Price* | |
| --- | --- | --- | --- |
| ML500 (4X4) | 4.7L, PULP, 7 SP AUTO | $31,400 – 41,140 | 2012 Mercedes-Benz M-Class 2012 ML500 (4X4) Pricing and Specs |
| ML63 AMG (4X4) | 5.5L, PULP, 7 SP AUTO | $43,800 – 55,330 | 2012 Mercedes-Benz M-Class 2012 ML63 AMG (4X4) Pricing and Specs |
| ML350 B.E. (4X4) | 3.5L, PULP, 7 SP AUTO | $25,800 – 34,210 | 2012 Mercedes-Benz M-Class 2012 ML350 B.E. (4X4) Pricing and Specs |
| ML300 CDI (4X4) | 3.0L, Diesel, 7 SP AUTO | $21,800 – 29,590 | 2012 Mercedes-Benz M-Class 2012 ML300 CDI (4X4) Pricing and Specs |
Pricing Guide
$21,950
Lowest price, based on 85 car listings in the last 6 months
View cars for sale