Mahindra Pik-Up 2007 review: road test

It's the sort of gamble a pure numbers man would dismiss out of hand, but Michael Tynan is made of more adventurous stuff. "I am glad our financial controller is not here to hear this, but I reckon we have put in about $5 million" Tynan, head of the family-run Tynan Motors and TMI Pacific, said this week at the launch of the Indian-manufactured Mahindra Pik-Up.
The bet is that TMI can convince enough buyers that the one-tonner from the Sub-Continent is a good fit in the Aussie landscape. The pay-off is a footprint in the highly-competitive Australian new car market and a place in industry folklore.
There may even be a dollar or two in it.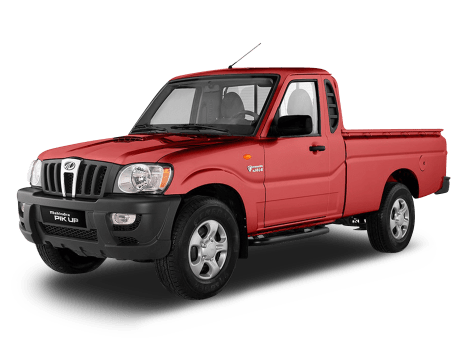 Explore the 2007 Mahindra Pik-Up range
"It's not a spur-of-the-moment thing," Tynan says. "It has been talked about, tested, prodded and poked for a couple of years now.
"Rob (Lowe, a Tynan Group executive) was on a private trip heading for Kenya and I asked him to drop in to Mahindra and take a look at the cars.
"He called and told me I had better get over there as these things were pretty good and there could be an opportunity for us ... and it went from there."
The culmination of the program - and the first test of whether the gamble is likely to pay off — was the launch this week of four Pik-Up derivatives, a single and dual cab in both 2x4 and 4x4. Cab-chassis models with the option of any rear configuration are expected to be available within months.
With a three-year, 100,000km warranty and 12 months' roadside assist - and starting at $23,990 for the single cab 4x2 through to $29,990 for the dual-cab 4x4 - the Pik-Up is certainly priced to grab attention.
But don't call it cheap.
"We knew what we were getting ... we did not want a pretty vehicle, and we wanted it not to be the cheapest," Tynan says.
"That's somewhere you don't want to go" but we wanted it to be the best value and the most reliable."
"We have had Pik-Ups in Australia for some time with farmers and other rural people.
"Essentially we just told them to take the cars away and do with them whatever they would do normally - basically, go away and break them - 12,000km later they came back with a few dog and kangaroo marks but nothing else. Not a hint of a problem and nothing fell off."
It is that ruggedness, the apparent acceptance of the utes by those who use them hardest, and the competitive price, that TMI hopes can overcome a disastrous previous visit by Mahindra to the Australian market. Of that foray, Mahindra automotive sector president Dr Pawan Goenka concedes: "That was a mistake.
"The timing was wrong and we were not well informed about the market.
"This time is very different. We have done our homework and, with our partners TMI, considered carefully the market we are going into. We are well aware that in selling our products outside India the perceptions people may have is about the quality.
"With that in mind we — and most other Indian companies — have concentrated on the quality of our product, both in the engineering and production."
Dr Goenka says although the Pik-Up is rated a one-tonner for Australia the car is actually engineered for an Indian tonne. "They are loaded until the suspension almost touches the ground, at least two tonnes," he says. The Pik-Up shares many of its components with India's most popular SUV, the Scorpio. The commonality ends only at the B-pillar, with some changes to the floor pan to accommodate the load tray and the use of a leaf-spring rear suspension.
The power plant is a 2.5-litre commonrail turbo diesel with a modest 79kW@3800rpm and a narrow peak torque band of 247Nm between 1800-2200rpm.
In the domestic market, the engine is a 2.6-litre unit but the stroke has been shortened to keep it under 2.5-litres for export markets, particularly Europe.
Drive is through a clunky five-speed manual — a six-speed DSI-developed automatic will be available early next year.
Standard across the range is power steering, limited-slip differentials, steel side steps, foglights and, on the 4x4 variants, automatic locking hubs and electric-shift 4x4 activation for the two-speed Borg-Warner transfer case.
It features a 1:1 high-range ratio and a 1:2.48 low-range with sufficient ground clearance to make it a useful off-roader.
The electric shift function is on-the-fly from 2WD to 4WD high, but requires stopping to go to low range and back and then back to 2WD - including the need to reverse a metre or two to disengage the hubs. The Mahindra Pik-Up is not going to win any beauty contests. Its look could best be described as functional industrial - if a little dated.
The high, square-cab design means plenty of headroom front and rear but the cabin is narrow with minimal shoulder room. Interior trim is from the school of inoffensive cloth, mid-range plastics and a carbon-fibre print for the centre console.
Standard features include air-conditioning, power windows, remote central locking, a Kenwood AM/FM/CD/MP3 sound system that has USB and SD card ports, an alarm, immobiliser, tilt-adjustable steering wheel, driver's footrest, front/rear window demisters and front/rear 12-volt outlets.
What is missing, at least until September, are airbags and an ABS system for the disc/drum brakes. However, the seats are firm and a little too flat but not uncomfortable.
Noise, vibration and harshness levels are surprisingly good and the build quality, at least from the two cars we drove, worthy of comment. Broken fire trails, steep inclines and rutted rocky sections produced not a single rattle or squeak in an unladen truck.
The engine drives better than raw figures suggest. The narrow torque spread calls for some concentration if you don't want to slam up and down the gears, but it managed difficult sections without undue fuss.
Throttle actuation isn't precise but that's an advantage in low-range on broken ground. TMI hopes to sell 600 Pik-Ups this year from 15 NSW outlets before going nationwide.
Pricing guides
$5,335
Based on third party pricing data
Pricing Guide
$3,300
Lowest price, based on third party pricing data
View cars for sale
Similar Cars
Ford Ranger

Toyota HiLux

Isuzu D-Max

Holden Colorado