Ferrari 458 Italia 2014 review
The only way to map the outer edges of Planet Ferrari is to go exploring on a racetrack.
The only way to map the outer edges of Planet Ferrari is to go exploring on a racetrack.
It's the one place you can make every gear change at the 9000rpm redline, punish the brilliant brakes on every stop, and drill into the depths of the red cars' extraordinary grip and handling balance.
With no cops and no cameras, it's all about the need for speed and a howling Italian soundtrack. It's by far the safest place to uncork a Ferrari 458 Italia, which I've sampled on the road but never remotely strained. It's always in the back of my mind that it will fire to 100km/h in just 3.4 seconds and has a top speed of 325 km/h, but...
But then Ferrari calls and asks if I'd like to try a 458 during its Ferrari Racing Days at Sydney Motorsport Park to really get to know the car. Not just that, but 'my' 458 Italia will be built to the Challenge regulations for one of the world's most exotic one-make racing championships.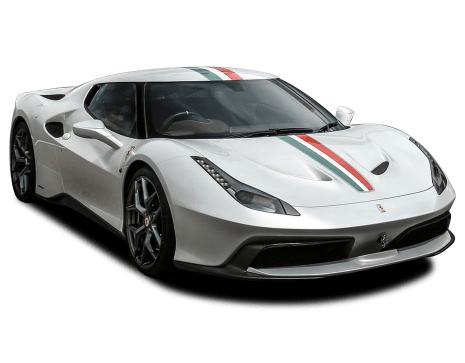 Explore the 2014 Ferrari 458 range
"Just don't crash into the owners," warns Herbert Appleroth, head of Ferrari in Australia.
It's hard to explain the apprehension and sheer delight as I drop into the rarified world of multi-millionaires who race the Ferrari Challenge. There is a Driver Lounge that's like a private club, I have a personal mechanic and engineer, and the car is loaded with go-faster wings and things but stripped down to a basic race cockpit.
Even so, the heart of the car is the same as the road model - a 4.5-litre V8 with 419kW, hooked to a seven-speed dual-clutch gearbox - and it still has airconditioning so the drivers don't overheat.
I'm with Ferrari to race, but there are some very serious players in the 23-car field. Like Max, the mega real estate agent from Monaco, who flies in to Sydney to exercise his 458 Challenge at the front of the field.
It would be great to tell you that the Ferrari is rubbish, all over-priced and underdone at more than $500,000. And to keep The Tick in my back pocket for another car and another day.
Driving
But the reality is that it's even better than I had expected, or even hoped, with incredible speed and driving enjoyment that trumps almost anything I've done in a car. I even manage a triple-rotation spin that starts at 250km/h, but thankfully the car saves me and the only damage is an elbow that's still tender after a giant wrench.
The 458 is a howling beast in some ways, but also a razor-sharp instrument for carving corners at up to 210km/h. The power is always on tap, the brakes are brilliantly effective - with carbon-ceramic discs and race-tweaked ABS - and the gearbox is a millisecond marvel that takes only the lightest touch on the alloy paddles for a shift.
The mid-engined layout means it needs only light touches to do its best work, but it takes me far too long to understand that its strengths means it wants to be pushed and punished. It's always up for more.
The Challenge package turns it into a real racer, but it's not that far removed from a 458 Italia for the road. It has the same shape and packaging, the same lashings of carbon, and an intimate two-seater cabin.
It's much more enjoyable to hustle than a V8 Supercar, and I've tried a few, because it's right from the start and not a compromise car with too much power and not enough grip. The Ferrari is fit for purpose, and super fit.
Verdict
At the end of my race weekend I've managed 10th place, but the result only reminds me of the old saying "Just because you drive a Ferrari does not make you a Ferrari driver".
But it's been great fun, thoroughly instructive, and I now know exactly how good a Ferrari can be in the right conditions without rules and regulations.Oh, you still have to ask? Of course it gets The Tick.
Pricing guides
$264,980
Based on third party pricing data