Subaru Impreza Sedan 2012 review
Subaru's fourth generation Impreza has finally arrived, but it's an evolution rather than revolution. Subaru continues to persist with its flat four boxer engine and symmetrical all-wheel drive combo as the backbone of the car, with a heavy emphasis on safety. 
But we wonder whether punters are looking for something more, given the unexpected success of the pumped up XV off road version of the hatch that was launched recently. 
There hasn't been as much traffic through showrooms since the launch of the original Forester back in 97. Subaru sees the car as an alternative to the front-wheel drive "clones" that comprise the segment.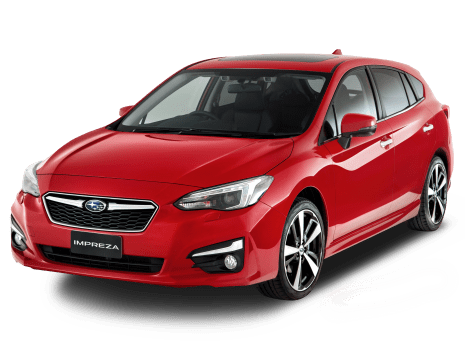 Explore the 2012 Subaru Impreza range
Competitors include the Mazda3, Civic and Corolla. Market research has identified fuel economy as the prime feature for which buyers are looking and the investment in this is apparent, but at what cost?
VALUE
The model designations are different this time around. R, RX and RS have been replaced with 2.0i, 2.0i-L and 2.0i-S. The 2.0i kicks off from $23,990, but the CVT will cost you another $2500.
The 2.0i-L is $26,990 and the 2.0i-S which only comes with the CVT is $31.490 - all prices exclude on-road costs.
DESIGN
Never been a big fan of the Impreza's styling and can't say I'm overly impressed with this one either. But they say styling is a personal thing.
TECHNOLOGY
Third generation FB boxer engine. It's the same basic engine as in Forester, but with the addition of dual valve timing. Produces 110kW of power and 196Nm of torque, exactly the same as before. The design is different with a longer stroke and narrower bore to achieve better economy.
Gets a timing chain this time around which means no more expensive timing belt services. The crusty old five speed manual and four speed automatic have been replaced with a six speed manual and six speed CVT. 
The big news is the arrival of the CVT in this model and the big gains in fuel economy that it brings. It's expected to account for 80 per cent of sales and is certainly a quantum leap forward from the old four-speed slush box, but not everyone cares for them because of their zoom like quality.
CVTs or continuously variable transmissions are designed to find the perfect balance between power and economy in all situations. It also has a six speed manual mode and Subaru has thrown in change paddles to make the most of it.
PERFORMANCE
Leisurely. The CVT is the pick in this department.  0-100km/h for the CVT is 10.5 secs and for the manual 11.1 secs. That's better than the previous auto, but not nearly as quick as the old five-speed manual at 9.6 and, in the broader context - not that quick at all. Although the new engine has the same output as before, maximum torque is produced at 4200 instead of 3200 revs which can't help matters.
FUEL SAVINGS
Takes standard unleaded. Subaru is claiming 6.8 litres/100km for the CVT and 7.1 for the six speed manual. That's a 22 per cent improvement over the previous auto and a 20 per cent improvement for the manual. 
That's on paper anyway because we saw nothing like this during the drive program. The CVT returned 8.2 litres/100km and the manual, 9.0 litres/100km - nothing like what it should be getting. This was however over a rather short drive route and we look forward to taking it for a longer drive.
AUTO START/STOP
All models are also fitted with auto start/stop which shuts the engine down at traffic lights to save fuel and reduce pollution. Subaru says studies have shown that cars may be stopped for 30 per cent of the time, so there are big gains to be had in this area.
If you don't like it, you can simply disable the function. When the engine is stopped, things like the airconditioining, navigation and audio systems run on auxiliary power. But if the system is overloaded it won't shut down.
SAFETY
Scores a full five stars for safety, with not six but seven airbags this time around including a driver's kneebag to protect the lower legs in an accident.
THE PACKAGE
Has the same exterior dimensions as the previous model but sits 10mm lower, has a 20mm wider track and 25mm longer wheelbase.
Body 10kg lighter, but 25 per cent stiffer. Has more room inside too, with more rear legroom, and more elbow and shoulder room.
The seats are more comfortable and the ride quality is very good, apart from the occasional intrusion of tyre noise on coarse bitumen. Surfaces are soft touch. Instruments are conservatively laid out but large and generally easy to use with an updated more extensive trip computer. Sadly no digital speedo in sight and still no one touch blinkers for lane changing.
DRIVING
It's more refined that's for sure, with a lower centre of gravity and hugs the road like a thoroughbred. It's quieter inside too. But and it's a big BUT, you really have to push this car hard to get it moving, especially the manual with it's tall gearing. The result not unexpectedly is poor economy which was reflected in the figures we got. 
Pulling away for the first time in the manual it felt lifeless, the change could be more precise and it doesn't like to be hurried between gears. The car really doesn't start to get mobile until you have 4-5000 revs on the tacho.
The CVT in comparison doesn't have to work as hard and is the pick as far as we're concerned. It also feels more responsive to the throttle. But it's noisy and muffles the sporty note of the boxer engine which  is one of the car's main attractions.
WRX?
That's another story and another car as it turns out. The WRX hasn't been an Impreza for the last two years, but a standalone model that will continue to evolve in an entirely different direction. The word is we won't be seeing a new Rex until at least 2014.
YOU GET 
$2000 worth of all-wheel drive for free as part of the price for a start. The audio system has six speakers, with iPod, Bluetooth and USB connectivity. 
All models get Bluetooth phone connection, with steering wheel phone, audio and cruise controls, climate air, USB input and multi-function display with distance to empty. 2.0i-L adds alloys, reversing camera, premium multi-function display, dual climate, sliding centre console, some leather bits, privacy glass and fog lights.
2.0i-S adds upgraded speedo, upholstery and trim, alloy pedals, chrome fog surrounds, chrome door handle inserts, wing mirror indicators, side skirts and larger alloys.
YOU DON'T GET
No alloys for 2.0i, just 16inch steels with hubcaps, and no full size spare for any of them. No leather unless you buy an option pack, no mention or parking sensors and satnav costs an arm and a leg (packaged with sunroof as $3000 option).
VERDICT
It's quieter, more refined, roomier inside and better equipped than ever before and all for the same price. And Subaru has managed to pull off the impossible by making its boxer, all-wheel drive mainstay the class leader in fuel economy with a Green Guide rating that's almost as good as a Prius. 
Who said it couldn't be done? But it's not enough to be fuel efficient. It needs to be fun to drive too and sadly it falls dangerously short of this mark.
Pricing guides
$12,990
Based on 93 cars listed for sale in the last 6 months
Range and Specs
| Vehicle | Specs | Price* | |
| --- | --- | --- | --- |
| 2.0i (AWD) | 2.0L, ULP, 6 SP MAN | $7,100 – 11,000 | 2012 Subaru Impreza 2012 2.0i (AWD) Pricing and Specs |
| 2.0i-L (AWD) | 2.0L, ULP, CVT AUTO | $8,000 – 12,320 | 2012 Subaru Impreza 2012 2.0i-L (AWD) Pricing and Specs |
| 2.0i-S (AWD) | 2.0L, ULP, CVT AUTO | $7,400 – 11,440 | 2012 Subaru Impreza 2012 2.0i-S (AWD) Pricing and Specs |
| R (awd) | 2.0L, PULP, 4 SP AUTO | $7,000 – 10,890 | 2012 Subaru Impreza 2012 R (awd) Pricing and Specs |
Pricing Guide
$7,991
Lowest price, based on 91 car listings in the last 6 months
View cars for sale
Similar Cars
Subaru XV

Mazda 3

Toyota Corolla

Volkswagen Golf