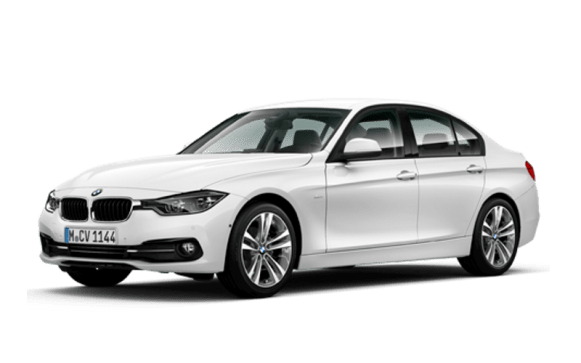 COMPARE
BMW 330i
VS
BMW 530i
BMW 330i
Likes
Almost SUV-sized cargo space
Excellent handling
New-gen media screen and head-up display
Dislikes
Rear legroom is tight
No privacy glass or sun shades
Bending over to strap kids into car seats
---
BMW 530i
Likes
Classy and understated design
Price and spec bang-on petrol equivalent
Seamless transition from EV to petrol
Dislikes
Softer than petrol-powered sibling
Boot smaller due to batteries
Hard to match fuel claims in real world
Summary
BMW 330i
The BMW 330i Touring M Sport is the most BMW of all BMWs. I don't need to convince you of this, because you're here and obviously a believer, too.
But, if anybody dares to doubt this claim, at say a wedding reception or your daughter's graduation, before you spear tackle them, just remain calm and remind them of the following.
Draw their attention to the fact that not only is it a 3 Series - the bestselling BMW model in Germany - it's a wagon and not an SUV, which means it doesn't handle like an elephant who's had its legs replaced by wheels, and so stays true to the whole  BMW 'Ultimate Driving Machine' ethos.
Then hit them with your secret weapon. Not the nunchucks, put those back under your seat. No, tell them about how the 3 Series Touring was invented by a dad working at a BMW plant in Germany who just wanted to take his family away on a holiday.
Max Reisbock is his name. He was an engineer with BMW during the early 1980s and found that with two kids he needed something with a big boot for all the gear that goes with a family on holiday.
So, he took a wrecked 3 Series and worked on it after hours modifying it into a station wagon. He didn't really want BMW to see his finished Franken Beemer but when they did the idea of his family truckster was stolen… I mean… liked so much it was scheduled for production as the 3 Series E30 Touring in 1987 and became the first BMW station wagon.
Now 33 years later I'm reviewing the seventh-generation 3 Series and the sixth iteration of the Touring. 
In this review I'll cover what the 330i Touring M Sport is like to live with as a family car, what features it comes with, and how thirsty the petrol engine is.
I'll also investigate how it compares to an SUV (such BMW's own X3) for practicality and driveability, as well as how it competes on price against rivals such as the Audi A4 Avant and Mercedes-Benz C-Class Estate.
| | |
| --- | --- |
| Safety rating | |
| Engine Type | 2.0L turbo |
| Fuel Type | Premium Unleaded Petrol |
| Fuel Efficiency | 7L/100km |
| Seating | 5 seats |
---
BMW 530i
Eco-friendly vehicles are the leather pants of the new-car world; it takes a lot of money to make them look good (but people who own them think they look fantastic regardless). If you don't have a gazillion dollars to drop on a Tesla,  then it's a one-way ticket to Prius town. And really, who wants that? 
But what if it didn't have to be that way? Behold the BMW 530e iPerformance.
Seemingly tired of waiting for the Australian Government to introduce any sort of meaningful subsidy for green cars, BMW has made the choice simple: you can have a petrol-powered 530i for $108,900, or opt for the plug-in hybrid 530e for... $108,900. This is truly revelatory thinking.
There's no specification penalty, either, and the hybrid will power to 100km/h in an identical 6.2 seconds, so you're not even any slower. But you are sipping less fuel, emitting less C02 and basking in the general smugness, and sweet silence, that comes with feeling like you're saving the world.
So what's the catch?
| | |
| --- | --- |
| Safety rating | |
| Engine Type | 2.0L turbo |
| Fuel Type | Diesel |
| Fuel Efficiency | 4.7L/100km |
| Seating | 5 seats |
Verdict
BMW 330i
7.9/10
The 330i Touring is not as practical as an SUV such as a BMW X3 in that it's not as spacious nor does it have the cargo capacity. Then there's the low ride height which was a pain in the back for me as a tall dad trying to strap kids into their car seats. That said, the 330i is far more practical than the 330i sedan with its tailgate and boot opening, while retaining all the sedan's superb dynamic ability and performance.
While I'm still adamant the 330i Touring is the most BMW of BMWs, if it was today that Max Reisbock was looking to take his family away on holiday, he would have chosen an SUV rather than a station wagon.
---
BMW 530i
7.8/10
Not all superheroes wear capes, and we're proud to report the 530e does its bit for green motoring without feeling the need to shout about it. And with no price or specification penalty, it's easier being green than ever before, and the pricing of this BMW really puts the cat amongst the canaries.
If it's no slower, but much greener, and more economical, why wouldn't you have the e version of the 530 for the same price?
Design
BMW 330i
8/10
The latest generation BMW 3 Series arrived last year and to anybody who's not really into cars it looked just like the previous model had been served up, but it's completely new inside and out.
Like its 3 Series sedan sibling the latest Touring has brought some significant styling changes. There's the wider kidney grille, the more angular headlights and the tail-lights have taken on a hockey stick shape.
For the first time since Max Reisbock's E30 wagon the 3 Series Touring doesn't have a 'Hoffmeister Kink' – the boomerang-shaped forward curve to the C-pillar.
Nope, that rear-side window has had its curve replaced with angle. The change is small but my eye is so used to seeing that stretched rounded corner that this straight-edged new one looks awkward (similar to the same window on a mid-'90s 5 Series Touring).
That each 3 Series is bigger than the last is now just one of those things we accept and expect. In the past the growth has seemed subtle, but this time, to my eyes, the Touring looks huge.
The dimensions show it to be 4709mm end-to-end, 1827mm wide and 1440mm high, making this seventh-gen 3 Series Touring 76 mm longer, 16mm wider and 8mm taller than the previous model.
Our test car was a 330i Touring M Sport, which meant it came with a few aggressive styling touches such as an aero kit and 19-inch M light alloy wheels. The 'Davit Grey metallic' paint provided the perfect urban camouflage.
Inside the 330i Touring shows off BMW's new-generation cockpit, complete with a virtual (digital) instrument cluster, large integrated media display and leather upholstery with aluminium trim.
It's a modern and super stylish cabin but for BMW fans it will still be familiar with that traditional centre console treatment.
The Touring is more elegant than Mercedes-Benz's C-Class Estate, but to my eyes Audi's A4 Avant pulls off the tough, little wagon look better,. Then, outshining all the luxo wagons in the style stakes is the Volvo V60.
---
BMW 530i
8/10
Crucially, there's nothing weird about the way the 530e looks. While some green cars look like they've been designed by one of the kids from 3rd Rock from the Sun, the 530e looks much the same as the rest of the range, save a few tiny but telltale giveaways - like the e-drive badging outside, and what looks like a bonus fuel flap tucked in behind a front wheel that houses the whole plug-in bit.
And we really, really like it. It's elegant and statesman-like from every angle, and looked especially important in the deep-blue colour of our test vehicle. It's not over-designed, with body creases used sparingly, and the occasional glint of polished silver that rings the windows and the grille adds a final sense of shininess to an understated design. 
Inside, there's more going on than you might normally find in a BMW. The hugely complicated digital display screen now includes everything from battery charge, power usage to the usual assortment of speedometers and petrol readouts. 
The dash is busy, too, with a wide screen emerging from a centre stack that also houses a CD player and a digital aircon setup, which in turn sits above a complex centre console from which you can alter driving settings, control the multimedia or cycle through electric modes. It doesn't feel overdone or crazily festooned, but there's more at play here than in your usual BMW.
Elsewhere inside, the seats are beautifully designed, with a quilted leather highlight through the middle, while the gloss-black strip that lines the dash hides a dual strip of ambient interior lights that also runs across all four doors.
Practicality
BMW 330i
8/10
The father of the 3 Series Touring, Max Reisbock, would have swapped his home-made BMW wagon in a split second for this new version, and being larger than the previous model, cabin space has also increased.
That said, rear legroom behind my driving position isn't too generous for me at 191cm tall, and I had only a finger's width of room between my knees and the seat back.
Cabin storage is good with enormous door pockets in the front, decent sized rear ones, plus four cupholders, but the centre console bin is on the small side.
Power outlets are in good supply with a wireless charger, plus two USB ports and a 12-volt outlet in the tray in front of the shifter, while for those in the second row there are two USB-C ports and a 12-volt outlet.
The 330i Touring doesn't come with sunshades or privacy glass in the rear, and I wasn't happy about putting my young son back there on long trips during this blistering summer Australia's just had. We were thankful, though, for the climate control and directional air vents in the back row.
The cargo capacity of the boot is 500 litres, which is 50 litres less than a BMW X3. Is the 3 Series Touring as practical as an X3 SUV? Nope, and it's not just about the boot size, but also from an entry and exit perspective.
See, while the 3 Series' large rear doors open wide, nothing beats an SUV's ease of access, for putting kids into their car seats and even for the less mobile adults climbing in and out.
Just as a reference: the 3 Series sedan's boot is 480 litres, but is nowhere as accommodating as the wagon's cargo area with its large tailgate opening and a removable parcel shelf which opens up the entire rear of car when the seats are folded flat.
Scooters, BMXs, doonas, holiday gear, shopping, boogie boards were all swallowed up by the Touring's boot – Max would have been proud.     
---
BMW 530i
7/10
As the world's motoring tastes shrink faster than a lap-banded Clive Palmer, it's easy to forget the joys of the full-size sedan, but the space for passengers and luggage in the 5 Series will have you questioning your downsizing ways.
Upfront, there's plenty of room between front-seat riders, who will also share two smallish cup holders, along with room in each front door for bottles. There's also a dedicated wireless charge pad (which, because of its tight design, is crazy difficult to actually remove your phone from), but you'll also get two USB points and a power outlet that's hidden in the sizeable centre storage bin as standard fit.
Backseat riders get heaps of space, both in width and in leg room behind the front seats. And there's twin air-con temp controls and twin power outlets, too. But middle-seat passengers will be forced to sit with their legs on either side of the raised tunnel, which will definitely impact on comfort.
Best to ditch the fifth passenger, then, and deploy the pull-down seat divider, which also houses two cup holders. Finally, there are three ISOFIX attachment points, one for each seat in the back.
The boot's still sizeable, despite shrinking slightly to house the battery/fuel tank setup (the tank has been moved further back to accomodate the batteries), and can be adjusted to be a flat load area if you'd like, offering up to 410 litres with the rear seats in place.
Price and features
BMW 330i
9/10
The 3 Series 330i Touring M Sport lists for $70,900 and for that you get leather upholstery, three-zone climate control, an auto tailgate, a head-up display, proximity key, power front seats, auto parking, plus a 12.3-inch virtual instrument cluster and a 10.25-inch media display with sat nav.
Then there's the M Sport gear such as 19-inch alloy wheels, the body kit, the M Sport leather steering wheel and adaptive M suspension.
Is it good value? Yes, but there are a few items which you may have expected to be standard, such as heated seats, which were optioned on our test car ($700) along with a heated steering wheel ($400), a 16-speaker Harman/Kardon stereo and the ($5589) 'Visibility Package' which adds the metallic paint, sunroof, laser headlights and ambient lighting.
Audi's A4 Avant 45 TFSI Sport and Mercedes-Benz C200 Estate cost about the same, but the BMW feels the most modern and pips the others on value.
---
BMW 530i
8/10
The 530e commands a 530i-equalling $108,900 price tag, which is genuinely impressive when you consider all the extra bits and pieces that go into make a plug-in hybrid. That money buys you a well-equipped car, and only those allergic to money need reach for the options list.
As standard, you'll find leather-wrapped - and heated in the front - sports seats, 19-inch alloy wheels and a 10.25-inch touchscreen that pairs with a really very good 16-speaker Haman Kardon stereo. Wireless Apple CarPlay is available, but it'll cost you an extra $500. To be honest, though, we didn't miss it.
You'll also find adaptive LED headlights, a huge head-up display (so big, in fact, that it impedes vision when climbing steep hills), dynamic dampers, an auto opening/closing boot and a self-parking system, along with BMW's suite of self-driving tech - but we'll come back to that under the Safety sub-heading.
Engine & trans
BMW 330i
8/10
The 330i has a four-cylinder turbo-petrol engine making 190kW/400Nm, and drive goes to the rear wheels via an eight-speed automatic transmission.
Personally speaking, BMW's straight six turbo is the stuff of dreams, but this four can throw the 330i from stationary to 100km/h in 5.9s, which is brisk enough for most. 
---
BMW 530i
8/10
Drift around in pure EV mode and you'll be relying on the 530e's 83kW and 250Nm electric motor, which will provide what BMW refers to as "between 28 and 32 real-world kilometres".
Run out of range, or simply use too much throttle, and the 2.0-litre petrol engine comes into play, adding 135kW and 320Nm to the mix. All up, that's 185kW and 420Nm - respectable numbers by any measure, and enough to match the petrol-powered 530i's zero to 100km/h sprint of 6.2 seconds.
That power is fed through an eight-speed automatic transmission before being sent exclusively to the rear wheels, where it belongs.
Fuel consumption
BMW 330i
7/10
BMW says the 330i Touring should use 7.0L/100km over a combination of open and urban roads. After 190.3km of my testing on motorways and suburban school runs the trip computer was reporting 12.6L/100km.
---
BMW 530i
8/10
Like a Facebook relationship status, it's complicated. The 530e will sip a claimed combined 2.3 litres per hundred kilometres on the claimed/combined cycle, which is amazing for a car this size. Better still, it seems genuinely achievable - at the vehicle's launch, our own Richard Berry recorded a stunning 2.0 litres per hundred kilometres on a short test route.
But that's with a full load of battery charge on board. For our week with the 530e we were unable to actually plug it in (living in Sydney, I can't afford a garage), so once the initial battery charge had been used we were back to mostly petrol power. Unlike some other plug-in hybrids we've driven, we found it very difficult to recharge the battery to any meaningful level using regenerative braking, so once we were flat we stayed flat. If we had plugged it in, it would have been a two-hour recharge using a specialised wall unit, or about four hours using a normal plug.
As a result, though, our fuel use was closer to 7.0 litres per hundred kilometres after some considerable real-world testing.
Driving
BMW 330i
8/10
SUVs are so popular and fill up so much of my testing timetable that piloting the 330i Touring felt like I was literally sitting on the road, both in terms of visibility and dynamics.
Okay, so you aren't going to have the high-up commanding position as you would in an SUV (although if everybody has an SUV doesn't it defeat the towering-above purpose?), but the handling you get in exchange is grin-inducing.
Yep, there's no wobbly, no top-heavy sensation and no slow-geared vagueness in steering that tends to go with SUVs. Instead, the 330i Touring feels un-tippable with sharp and quick steering.
This family alternative to an SUV is low, fast and different to the rest of the over-fed herd.
That turbo-four isn't the in-line six I prefer, but it's still responsive, smooth and powerful, while the eight-speed shifts seamlessly.
---
BMW 530i
7/10
There's so much to like about the way the 530e sets about saving the world, and that's mostly because it doesn't shout about it, either to the driver or the outside world.
It's very much an underpants inside its pants superhero, which makes us like it even more. Set off in EV mode, and the 530e will drift silently away from the curb, burning battery power over fuel for as many as 30(ish) kilometres. But equally important, the shift from green to gas is largely imperceptible, with the petrol engine joining in willingly when you ask it to - usual via a prod of your right foot.
It is so effortlessly smooth that you need to really pay attention to notice the eight-speed 'box changing gears at city speeds, and it's commendably quiet, whichever drive mode you're in.
Downsides? Well, it doesn't feel quite as sharp as it's conventional-engined siblings. The batteries add around 230kg in weight, which never helps, and it all feels a little softer and a little less dynamic, even with Sport mode engaged. BMW assures us the adaptive suspension setup and tune is identical, but the 530e feels noticeably softer when you tackle a twisting back road. And that encourages you to use your right foot a little more, which in turn negates the whole electric thing in the first place.
One of the great joys of BMWs has always been their ability to transform from cosseting comfort to rear-drive rocket when you want them to, and you can't help but notice the 530e isn't quite up to that challenge. But if your intentions are mostly city- and freeway-based, then this plug-in BMW is almost indiscernible from its petrol-powered sibling.
Safety
BMW 330i
9/10
The 3 Series Touring was given the maximum five-star ANCAP rating when it was tested in 2019, scoring high marks for adult occupant protection.
An impressive array of advanced safety technology on the 330i includes AEB, lane departure warning and lane keeping assistance, rear and front cross traffic alert, 'Evasion Aid', 'Crossroads Warning' with braking, rear collision prevention, auto parking, surround view camera and adaptive cruise control.   
There are eight airbags on board, two ISOFIX mounts and three top tether points. No spare wheel though – just a puncture repair kit, which is disappointing. Nothing beats a full-sized spare wheel when it comes to getting a flat.
---
BMW 530i
9/10
You'll want for little here, with front, front-side and full curtain airbags joining parking sensors, a surround-view camera and a self-parking system.
You can also expect active cruise control, lane control assist with lane keep assist (so it will stay between the lane markings for you), AEB and cross-traffic warning. And all of that means that, technically, the 530e can drive for you. That is, of course, if you don't mind driving like a dick - in full-autonomous mode it will swerve from lane marking to lane marking like it's playing bumper bowling.
Ownership
BMW 330i
6/10
The 330i Touring is covered by BMW's three-year/unlimited kilometre warranty, which is the same duration as Benz's and Audi's coverage, but falling short of the five-year warranties offered by mainstream brands.
Servicing is condition-based, meaning the car will tell you when it needs to be serviced through a message which will appear on the instrument cluster.
While there is no capped price servicing, BMW does offer the Basic plan for $1650 for five years/80,000km.
---