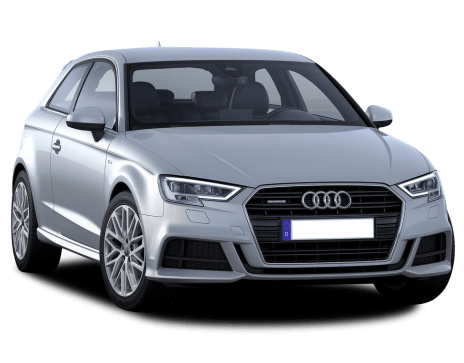 COMPARE
Audi A3
VS
Abarth 124
Audi A3
Likes
Sedan styling looks superb
Quattro all-wheel drive on highest grade
AEB on all grades
Dislikes
Plain standard interior
Limited rear legroom
Low on standard features
---
Abarth 124
Likes
Distinct look and feel
Challenging but rewarding
Glorious Monza exhaust
Dislikes
Annoying turbo-lag
Tight cabin
Pricey
Summary
Audi A3
Audi's A3 is one of the most affordable ways into this prestige German brand. But like some amusement park mirror maze you'll find with so many A3 variations there are numerous, seemingly identical ways into the model. 
Which one do you choose? There's a sedan, a hatch, and a convertible with four different engines, not to mention front- or all-wheel drive.
 
That's why this range review is here – to guide you through the A3 hall of mirrors, and identify the right model for you.
| | |
| --- | --- |
| Safety rating | |
| Engine Type | 2.0L turbo |
| Fuel Type | Premium Unleaded Petrol |
| Fuel Efficiency | 5.8L/100km |
| Seating | 5 seats |
---
Abarth 124
When you take on a classic you'd better get it right.
Which is why, back in 2016, when Fiat released a new 124, many an eyebrow was arched.
The original was an icon from the late 1960s, the golden age of roadsters. Styled by Pininfarina, it also oozed Italian swagger and, to top it off, its double overhead cam engine (modern at the time) helped introduce a swathe of innovations to the Italian automotive scene.
Even 50 years later, those old boots were looking awfully hard to fill, and the complexity and demands of today's economy had Fiat working with Mazda to use its MX-5 chassis and Hiroshima manufacturing facilities to get it right.
A travesty? To some, maybe. But the MX-5 once aimed to emulate cars from the original 124's golden era, and was a runaway success since, arguably making few missteps.
Thus, the apprentice has become the master. So, does today's 124, which we only get in angry Abarth spec in Australia, bring something different to the ultra-refined roadster formula in 2019? Is it more than just a badge-engineered MX-5?
I took an Abarth 124 – the latest Monza limited edition – for a week to find out.
| | |
| --- | --- |
| Safety rating | — |
| Engine Type | 1.4L turbo |
| Fuel Type | Premium Unleaded Petrol |
| Fuel Efficiency | 6.7L/100km |
| Seating | 2 seats |
Verdict
Audi A3
7.5/10
The Audi A3 is now five years into this current generation and it's beginning to show its age in terms of tech and styling in the cabin, despite updates adding new equipment. It's expensive compared to most small cars but is spot-on for a prestige vehicle. 
The Sedan is, in my view, the best looking small sedan on the planet and offers the biggest boot space in the A3 range. The Sportback, however, is arguably more practical, with better legroom, headroom and cargo carrying ability (with the rear seats down). The Cabriolet has the same perfect proportions as the sedan, but like all good convertibles doesn't make practicality a priority. 
The sweet spot of the range would have to be the Sportback 2.0 TFSI quattro S Line with its $50,000 list price making it the most affordable but most 'specced up' A3 in the entire range.
You have $50,000. Do you buy an entry-grade Audi A3 Cabriolet, a 2.0 TFSI Sport Sedan or a Volkswagen Golf R? Tell us what you think in the comments below.
---
Abarth 124
7/10
The Abarth 124 Spider is a flawed but dramatic little car that should put a smile and a big, fat Italian moustache on any weekend warrior's face.
As long as you don't expect it to do much more than that in terms of its daily driving ability, it hits the nail on the head as a spicy alternative to the well-rounded MX-5 formula.
Whether it hails from Hiroshima or not is irrelevant. Its ancestors would be proud.
Now, if only all of them had this Monza Edition's glorious exhaust…
Would you ever pick the Abarth 124 over an MX-5, 86, or BRZ? Tell us why or why not in the comments below.
Design
Audi A3
8/10
The A3 comes in three body styles: a five-door hatch, which Audi calls the Sportback; the four-door Sedan, and a two-door convertible which it refers to as the Cabriolet. It may not surprise you to learn they're all different sizes, too.
The Sportback doesn't look like the shortest of the three but at 4313mm end-to-end it's 145mm shy of the Sedan and 110mm shorter than the Cabriolet. But those exterior dimensions don't tell the whole story on interior space. So, which one is more practical? We'll get to that.
But first, the looks. The Sportback has a wagon-like appearance with its large (for a hatch) rear quarter windows. If you think it looks longer than a regular hatchback, you're right: a Volkswagen Golf is 50mm shorter even though it shares the same platform as the A3.
However, unlike the Golf, there's something about the Sportback's proportions which doesn't seem balanced.
Then there's the A3 sedan. Now this is a perfectly proportioned car. Looking like a miniature version of the A8 limo, the A3 is one of the only tiny sedans on the planet that looks fantastic.
The Cabriolet is based on the Sedan, and it too looks beautifully proportioned. Soft tops, when they're up, never do much for a car's profile. Be it a Bentley or an A3, they always look better down. When the roof is down the A3 appears lower, sleeker, and tougher.
While all A3's have the same grille and headlight design the rear treatment of the Sedan and Cabriolet is more refined with their blade-like tail-lights and boot lid lip, than the Sportback, even if it does have a roof-top spoiler.
Interiors are identical across each A3 grade, the cabin benefiting from excellent fit and finish and the use of high-quality materials. But if you like bling-tastic cockpits, maybe you should be looking at a Benz A-Class because even the fanciest A3 money can buy, the RS3, comes with a small display screen and a rather low-key interior design. 
As for rivals, the new A-Class (which I've just reviewed) is a glitzy competitor in hatch form, with a soon-to-arrive sedan going head-to-head with the little Audi as well.
Or there's BMW's 1 Series hatch and 2 Series Coupe. The 1 Series hatch is seriously ugly, the 2 Series is stunning and looks fast standing still.
---
Abarth 124
8/10
I love the way the 124 looks. The more you pore over its small frame, the more you discover how different it is to its MX-5 counterpart.
It's angrier. It's more beautiful, and it's definitely more Italian.
References to the original have been tastefully applied without transforming it into bloated caricature. These include the dual indents on the hood, the rounded-out light clusters, and the squared-off rear.
From there it goes beyond the original 124 and seems to take influence from contemporary Italian designs. I would argue there's more than a little modern Maserati in this car's tough wheelarches, scoopy mouth, rear light fittings and alloy wheel design.
The quad-exhaust pipes (actually just two tailpipes with four apertures) is arguably overkill, but adds a bit of extra aggression to this car's rear. I'm not a fan of the oversized Abarth badgework on this car's nose and rear. It removes a bit of subtelty from the equation, and the one on the bootlid is entirely unnecessary.
I'd also argue our test Monza Edition car looks best with its white paint and red highlights throughout. It's also available in red and black.
The inside breaks the illusion a little. I'd argue not enough has been done to differentiate the 124 from its MX-5 roots here. It's all Mazda switchgear.
There's nothing wrong with that switchgear, of course. It's well built and ergonomic, but I'd love to have something different to mix it up here. A Fiat 500 steering wheel… some switches that look cool but barely function properly… Just a little more of the Italian personality that's so well expressed on the outside…
The seats are unique to the Abarth and are lovely, and the red highlights carry through them onto the dash and wheel stitching. The Monza edition has the official logo of the famed Italian circuit between the seats, with the build-number etched on it.
Practicality
Audi A3
7/10
The Sportback and Sedan have five seats, while the Cabriolet has four. Leg and headroom in the back row for all body styles is limited. The Sportback will give you the most rear legroom, while the sedan has a few millimetres more space for your knees than the Cabriolet. 
At 191cm tall I can sit behind my driving position in the Sportback with a pinkie finger's space, while my knees brush the seatback in the Sedan, and the Cabriolet won't accommodate my long legs back there at all.
  
Rear headroom in the Sportback isn't bad with enough room for my big head to clear the ceiling thanks to that tall(-ish) flat roofline while the sedan is a tighter fit but I just make it under. The Cabriolet's low fabric roof means only small adults or kids will be able to sit up straight back there – unless the top is down and then you have literally unlimited headroom.
Boot space varies obviously depending on the body style. The Sedan has biggest cargo capacity with 425 litres, the Sportback offers up 340 litres, but fold those rear seats down and you have 1180 litres at your disposal, plus a bigger aperture to fit stuff in. The Cabriolet's folding roof eats into the boot space, but you're still left with 320 litres even when it's down.
The folding roof is automatic and can be raised or lowered at up to 50km/h, but it's slow - I've timed it and it takes about 20 seconds to open or shut.
Storage throughout the cabin is limited, too. There are two cupholders up front in all cars, while the Cabriolet is the only A3 to have two cupholders in the back (they're between the rear seats). If you want cupholders in the rear of the Sedan and Sportback you'll have to option the $450 fold-down armrest which houses them.
All grades above the 1.0 TFSI come with storage nets in the seatback and front passenger footwell, 12-volt sockets in the rear centre console and boot, plus cargo nets back there, too. There's a USB jack in the centre console of all A3s.
---
Abarth 124
6/10
When it comes down to a practicality score, it's only fair to compare a car like this to its direct competitors. A sports car like this is never going to take on a hatch or SUV in the practicality stakes.
Even so, and just like the MX-5, the Abarth 124 is tight on the inside. I fit inside it perfectly, but there are problems.
Legroom is super tight for me at 182cm tall. I had to adjust to having my clutch foot at an angle, otherwise I'd smack my knee on the bottom of the steering wheel, a problem that also makes this car tough to clamber into. The handbrake takes up a massive amount of room in the limited centre-console space, and as to storage in the cabin? You may as well forget it.
There's a tiny flip-up binnacle in the centre, shallow enough maybe for a phone and nothing else, a slot under the air-conditioning controls seemingly designed expressly for phones, and two floating cupholders between the seats.
There's no storage in the doors, nor is there a glovebox. You do get a rather large storage area behind the cupholders, accessible through a hatch opening, but it's a little awkward to use.
Once you're in, though, this car fits like a glove in terms of ergonomics. The wheel is nice and low, the seats are surprisingly supportive and your elbow rests nicely on the centre, leading your hand to the excellent short-action shifter. Headroom is tight no matter which way you cut it, but it's such a small car you hardly expect more.
How about the boot? It's better than you might hope, but with just 130 litres on offer it's still no more than a weekender. It's also less than the Toyota 86/BRZ (223L) which also have back seats, always handy no matter how small they are.
There's no spare to be found. The 124 has a repair kit only.
Price and features
Audi A3
7/10
The A3 isn't great value for a small car, generally speaking, because while you are getting a high-quality prestige vehicle, it doesn't come with a mountain of equipment that you might find on a more affordable little hatch or sedan.
 
Look at it this way: take $40 into a fish and chip shop and you'll walk out with your arms full of food, take the same amount into a Michelin-starred restaurant and you'll be lucky to get an entrée. Same with buying a prestige car – and the A3 really is a starter on the Audi menu.
 
Coming standard on the entry-grade $36,200 1.0 TFSI Sportback are xenon headlights with LED running lights, cloth upholstery, dual-zone climate control, a 7.0-inch touchscreen with sat nav, reversing camera, multimedia system with voice control, eight-speaker stereo, Bluetooth connectivity, CD player, front and rear parking sensors, rear view camera and 16-inch alloy wheels.
Only the Sportback comes in this 1.0 TFSI grade. The rest of the body styles start with the 1.4 TFSI ($40,300 for the Sportback; $41,900 for Sedan; $49,400 for Cabriolet) which comes with the 1.0 TFSI's equipment but swaps the cloth seats for leather upholstery and adds paddles shifters, aluminium-look interior elements and 17-inch alloy wheels.
Stepping up to the 2.0 TFSI Sport ($46,400 for Sportback; $48,000 for Sedan; $55,500 for the Cabriolet) adds leather sports front seats, aluminium door sills, Apple CarPlay and Android Auto, and 17-inch alloys with a different design.
The 2.0 TFSI quattro S line ($50,000 for the Sportback; $51,600 for Sedan and $59,100 for the Cabriolet) brings in lowered sports suspension, 18-inch alloys and LED headlights.
Each grade also attains more safety equipment, which we'll cover further on.
I've also reviewed Mercedes-Benz's new A200, which is a good model comparison for the A3. At a list price of $48,200 the 1.3-litre four-cylinder A200 is pricier than the 1.4 TFSI, but offers better value than the A3 2.0TFSI with more equipment, including two 10.25-inch display screens.
As for paint colours, only 'Brilliant Black' and 'Ibis White' won't cost you a cent more. Optional colours include 'Cosmos Blue', 'Tango Red' and 'Monsoon Grey'.
---
Abarth 124
7/10
I should make this clear at the beginning, this Monza edition is an ultra-limited trim, with just 30 cars available in Australia. Ours was number 26, a manual, wearing a drive-away price of $46,950.
That's expensive, but not outrageously so. An equivalent high-spec manual MX-5, for example (GT 2.0 Roadster), comes in at a before-on-roads cost of $42,820. Looking outside Hiroshima, you can also be hopping into either a Toyota 86 GTS Performance manual ($39,590), or a Subaru BRZ tS manual ($40,434) for less.
So, the Abarth is the most expensive of a limited pool of choices. Thankfully it does offer a little more than just Italian spunk and some oversized scorpion badges.
Standard on every car are 17-inch gunmetal alloy wheels, a 7.0-inch touchscreen with Mazda's rather good MZD software (but no Apple CarPlay or Android Auto support), a Bose premium sound system, heated front seats, and keyless entry with push-button start.
Performance-wise, every car gets four-piston Brembo front brakes, Bilstein suspension and a mechanical limited-slip differential.
The Monza edition adds the normally optional ($1490) contrast-stitched 'Abarth' red and black full leather seats, and the 'Visibility Pack' ($2590) consisting of full LED steering-responsive front lighting, rear parking sensors and camera, as well as washers for the headlamps. The pack also adds items to this car's rather limited safety suite, which we'll talk about later.
Most notably, this edition finally grants the 124 the exhaust system it deserves, the neatly named "Record Monza" system, which uses a mechanically actuated valve to have the 1.4-litre turbo barking and spitting away in a stupidly smile-inducing way.
Every 124 should have this system, it adds much needed drama to the engine note, but isn't as obnoxiously loud as something like the outgoing AMG A45.
The Abarth isn't as crazily specified as some of today's run-of-the-mill SUVs, sure. But that's not what this car is about, and for what it's worth, it has just about everything you'll really need and certainly more than the 86 or BRZ, helping to justify its extra cash ask.
Engine & trans
Audi A3
7/10
Now on to the engines. Yes, I'm doing this in what may seem a strange order, but trust me, it's to guide you safely through the A3 range without anybody getting lost. We don't leave anybody behind here, not on my watch.
The grades indicate the engines in the A3 line-up – the higher the grade, the more powerful the engine. So, the range starts with the 1.0 TFSI which has a 85kW/200Nm 1.0-litre three-cylinder engine, and steps up to the 1.4 TFSI which has a 110kW/250Nm 1.4-litre four-cylinder with cylinder on demand (COD) letting it run on two cylinders when not under load). Both are front-wheel drive (FWD) cars.
Next rung up is the 2.0 TFSI Sport and that has a 2.0-litre four making 140kW/320Nm with drive going to the front wheels. The top of the range is the 2.0 TFSI quattro S line which has the same engine but is all-wheel drive (AWD).
Those are all turbo-petrol engines – yes, no diesels and no manual gearbox option either. All have a seven-speed dual-clutch automatics shifting the gears. 
If you're after something more hardcore in the same package, there are two halo 'models' that sit above the A3 range: the S3 with a 213kW/380Nm 2.0-litre turbo-petrol four and the RS3 with its 2.5-litre five-cylinder turbo-petrol making 294kW/480Nm. 
Given they are almost stand-alone models, the S3 and RS3 aren't included in this review, but you can read about them separately by clicking those links.
---
Abarth 124
7/10
Unlike the MX-5 and 86/BRZ combo, which offer a choice of naturally aspirated engines, the 124 carves its own path by dropping Fiat's 1.4-litre 'MultiAir' turbo four-cylinder under the hood.
The word 'turbo' should rightly prick your ears in a car this size, but this this is hardly a high-performance unit when compared to its non-turbo counterparts.
Outputs are set at 125kW/250Nm. That power figure might seem a little low when compared to the new 2.0-litre MX-5 (135kW/205Nm) and 86 (152kW/212Nm), but the extra torque is welcome. It comes at a cost,  which we'll explore in the driving section of this review.
Fuel consumption
Audi A3
8/10
Fuel usage depends on the engine and body style, with weights varying across the range. The most fuel-efficient engine is the 1.0-litre which is only offered on the Sportback, and Audi says over a combination of urban and open roads you should see it use 4.8L/100km.
 
The 1.4 TFSI Sportback uses 5.0L/100km, while the Sedan uses 4.9L/100km, but the heavier Cabriolet drinks more at 5.1L/100km.
My most recent A3 test car was a 1.4 TFSI Sportback and the trip computer reported 7.6L/100km over a mix of city and country kays - not bad.
The 2.0 TFSI Sport Sportback uses 5.9L/100km, the Sedan needs 5.8L/100km, the Cabriolet a bit more at 6.0L/100km.
The 2.0 TFSI quattro S Line Sportback uses 6.2L/100km, while the Sedan will go through 6.1L/100km and the Cabriolet again is highest with 6.4L/100km.
That raises the question of how much more does the Cabriolet weigh? About 170kg more than the Sedan and  Sportback thanks to the extra reinforcement needed to strengthen the body to compensate for the rigidity it loses by not having a fixed metal roof.
---
Abarth 124
7/10
The 124 has a bold-souning official combined fuel consumption figure of 6.4L/100km, which I overshot by quite a margin. At the end of my week, (involving truly mixed freeway/city driving) I landed on 8.5L/100km, which was exactly on this car's 'urban' estimate, so take that as a realistic figure.
It's also less than I'd expect to consume in an 86 and perhaps also the MX-5, so all-in-all it's not too bad.
The turbo Fiat engine requires a minimum of mid-grade 95 RON unleaded to fill a 45-litre tank.
Driving
Audi A3
8/10
I've driven all A3 variants from the 1.0 TFSI to the 2.0 TFSI quattro S Line, plus the S3 and RS3, but most recently I tested the 1.4 TFSI Sportback, which I'll focus on here.
Our car was fitted with two optional packages – the 'Style Package' which adds LED headlights, 18-inch alloys and sports suspension, and the 'Technik Package' which brings a virtual instrument cluster, an 8.3-inch display and sports steering wheel.
Those larger 18-inch alloys wearing low profile 225/40 Hankook Ventus S1 Evo2 tyres look great, but like thin-soled shoes you'll feel every imperfection on the road giving a harsher texture to the ride, plus they can be noisy on course-chip bitumen. 
I'd stick to the standard 16-inch wheels. Sure, they don't look as racy, but the ride from those, on 55 profile tyres, is a lot more cushioned.
Despite that grittier feel from the tyres the sports suspension is excellent and manages to soften bigger bumps well. Handling is good too, thanks to that suspension keeping the body well controlled.
Good visibility, steering that's light but offers decent feel, and a comfortable seating position make the A4 pleasant to pilot,  but not hugely engaging. If you're after more of a driver's car, the S3 and RS3 will deliver – trust me.
Acceleration isn't bad from the 1.4-litre, with 0-100km/h claimed to be 8.2 seconds. That dual-clutch transmission is a quick shifter and smooth even in bumper-to-bumper traffic, but only if you turn off the stop-start engine system (jerky and hard to tolerate). 
I'm also not a fan of the way the stop-start system switches the engine off as you coast to a stop at traffic lights and intersections. For me, that borders on a safety issue, particularly when needing to turn on an amber only to find you momentarily lack steering or power.
As mentioned in the engine/transmission section, the 1.4 TFSI Sportback is a FWD car. Put it on a steep hill, as I did on our test incline, and even in dry conditions it'll lose traction under hard acceleration. Traction control reins the slippage in, but AWD 'quattro' cars won't struggle for traction in the same circumstances. 
---
Abarth 124
9/10
I drove the 124 up NSW's Old Pacific Highway from Hornsby to Gosford at dusk on a Saturday. Talk about the right car in the right place at the  right time.
It was absolutely in its element, darting around tight hairpins, then blasting up straights, giving the short shifter a thorough workout. That new exhaust added 150 per cent to the theatre of it as each aggressive down-shift was accompanied by crackling, spitting and barking.
It's an absolute joy, a proper nod to how cars used to be in the good old days of a 'Sunday drive', and thus a proper nod to the 124's history.
And, of course, it has flaws. Many of them fall into the subjective category on a car like this, however.
Take the engine, for example. I've heard endless criticisms of it as laggy and annoying. And it is. Catch the wrong gear and get the revs too low and no matter how hard you stomp that go pedal, you will be stuck fighting a mountain of lag. Seriously. Several seconds of it.
Even trying to ascend my steep driveway had me concerned it was simply going to stall out in first gear.
It's a bit strange, but then when you're on the open road it's worth relishing the challenge that it offers. Grab the wrong gear and this car will let you know how foolish you are. And yet, when you get it right it offers a surge of excitement in the straights that's arguably far more dramatic than either the MX-5 or 86 can muster.
Another annoyance is the speedometer. It's tiny and counts 30km/h increments all the way up to 270km/h. How fast was I going, officer? No idea. I have about two inches to tell whether I'm going between 30 and 90, so it's anyone's guess.
An obvious benefit of the MX-5 chassis is its go-kart handling, and it seems as though the excellent, fast and direct steering hasn't been messed with, either. Sure, the suspension is a little crashy, and the convertible chassis a tad rattly, but it's all part of being that much closer to the road. It would be tough to ask to find a better transmission with its fast, short action and sensible ratios.
Ultimately, the 124 is just plain (literally) old-fashioned weekend fun, offering a challenging but rewarding drive.
Safety
Audi A3
8/10
The A3 has a maximum five-star ANCAP rating from its 2013 crash test, which applies to the Sportback, Sedan and Cabriolet.
While the Sedan and Sportback have seven airbags, the Cabriolet has just five, missing out on the head-level curtain bags.
The amount of advanced safety equipment increases as you step up through the grades, but AEB is standard across the range. Lane keeping assistance, blind spot warning and rear cross traffic alert becomes standard from the 2.0 TFSI Sport upwards, while the lower grades can attain these with the optional $1500 'Assistance Package'.
For child seats there are two ISOFIX mounts and two top tether anchor points across the back seats in the Sedan, Sportback and Cabriolet.
---
Abarth 124
6/10
No Abarth model carries a current ANCAP safety rating, although the MX-5 this car shares most of its underpinnings with carries a maximum five-star rating, as of 2016.
Feature-wise, you get dual front and side airbags, "active head restraints", seatbelt pre-tensioners and something called "active pedestrian protection". The regular suite of stability controls are also present, alongside a reversing camera and sensors.
There's no auto emergency braking (AEB - which has now become an ANCAP requirement), active cruise or any lane-assist technologies, but the 'Visibility Pack' standard on the Monza edition adds Rear Cross Traffic Alert (RCTA) and Blind Spot Monitoring (BSM).
Four airbags and rudimentary active safety is a let-down, but probably not one that this car's target audience will particularly care about.
Ownership
---
Abarth 124
6/10
It's a shame that the 124 is only offered from Abarth with a three-year 150,000km warranty. Its counterpart MX-5 is now offered with a five-year unlimited promise, and Fiat could really do with a bit of positive warranty coverage right now.
You'll need to service the 124 once a year or every 15,000km. Capped price servicing? Ha. No such thing over at Abarth, apparently. You're on your own.