Towing: Top 5 tips for easy hitching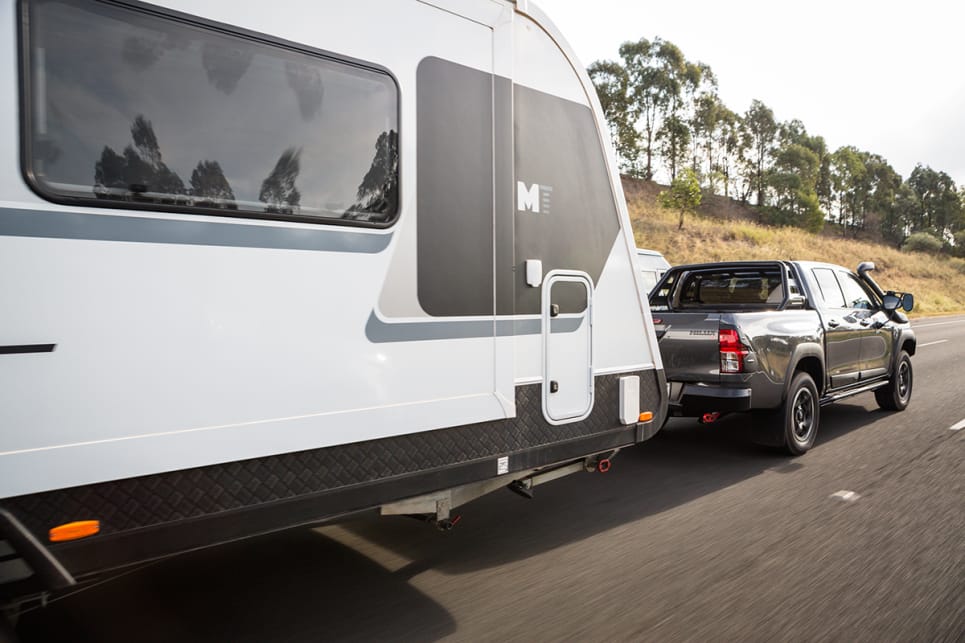 Good and safe towing largely boils down to knowledge, skills and experience. Get some training under your belt, use a lot of patience and clock up plenty of hours towing in the real world. But there are tips and tricks to starting out well and maintaining sound habits – and it all begins with safe hitching. Here's our guide for easy hitching of your caravan.

If you try to hitch a caravan on a slope, the coupling pin may not engage or disengage.
Always hitch and unhitch on level ground
Make the whole process easier – and safer – for yourself by doing it all, start to finish, on even level ground.
Trying to hitch a caravan with a 50mm coupling on a slope with too much of a gradient, means there's too much of an angle at the towball and coupling, and the coupling pin won't engage or disengage.

A reversing camera will make the process of hitching a whole lot easier and safer.
If your tow vehicle doesn't have a reversing camera, get one
You might think you're the most vigilant, skilled and experienced reverser of caravans known to mankind but, no matter, you will still benefit greatly from the added vision a reversing camera will afford. Either make sure you tick that option with your next new vehicle, or grab one of the many high-quality aftermarket reversing cameras available if your existing tow vehicle doesn't have a camera.
If you can see just behind the tow vehicle with the towball in frame and also see the coupling, you will be able to better steer accurately towards it for easier hitching. Bonus: most newer versions of reversing cameras have guidelines – in the form of colour lines – on the screen which will help you to line up, with pinpoint accuracy, the tow ball and caravan.

Use cable-ties to keep all loose cables tucked up and out of the away.
Keep all of your cables tidy
This is a crucial point as you really don't want any electrical cables (trailer plug cable or Anderson plug cable) dangling about while your tow vehicle and caravan are on the move. If cables are hanging they might hit or drag on the ground and if they're damaged that may cause a short or a break in the circuits and of course those are things you don't want.
Use cable-ties (aka zip-ties) to secure any loose cables along the length of the cable to the caravan's A frame, so they're tucked up and out of the way. Make sure you allow enough slack in the cable(s) for when the rig is turning.

Check your towball download yourself to ensure you're safely loaded and on the right side of the law.
Check towball download with scales
Common sense perhaps but doing this will ensure that you're towing within the limits of the law and, more importantly, that you're towing safely. Towball download, along with all towing-related measures (GCM etc), is something you should never guesstimate.
You never take off on a holiday with a caravan at tare weight, so check towball download (aka towball download mass) yourself, either by using portable ball-weight scales (there are nifty electronic versions available) or visit a weigh bridge and pay for the privilege.
Also, remember that people are easily dazzled by a vehicle manufacturer's claimed maximum towing capacity figures, but it's absolutely crucial for a driver to always keep in mind a vehicle's real-world capabilities, including its GVM (Gross Vehicle Mass; the maximum your vehicle can legally weigh, fully laden) and GCM (Gross Combined Mass; the maximum your vehicle and trailer combination can legally weigh). If you tow the max 3500kg you won't be able to load much more of anything in your vehicle before you're well and truly illegal. Remember to factor into your equation that your vehicle will be fully loaded with driver, passengers, camping gear and more.
Tip: use your local weigh bridge before heading off anywhere with a caravan, boat or trailer load.
For more, read Mark Oastler's yarn here

Remove the safety chains only after you've removed everything else – that way you have have a last line of protection if the caravan moves or rolls.
When unhitching, do the safety chains last
Get in the habit of always removing the safety chains only when the coupling has been raised off the towball and the caravan handbrake is fully engaged. Undoing the safety chains last, thus keeping it connected to the tow vehicle, will prevent the caravan from rolling away if the caravan handbrake disengages or otherwise fails when you're in the process of unhitching.
Note: This and other towing-related yarns in Adventure have been completed with the expert help of an Australian towing legend, who wishes to remain anonymous, but who we will call "Old Mate" for now. Thanks, bloke – you know who you are.