The ultimate guide to ABS plastic and fibreglass ute canopies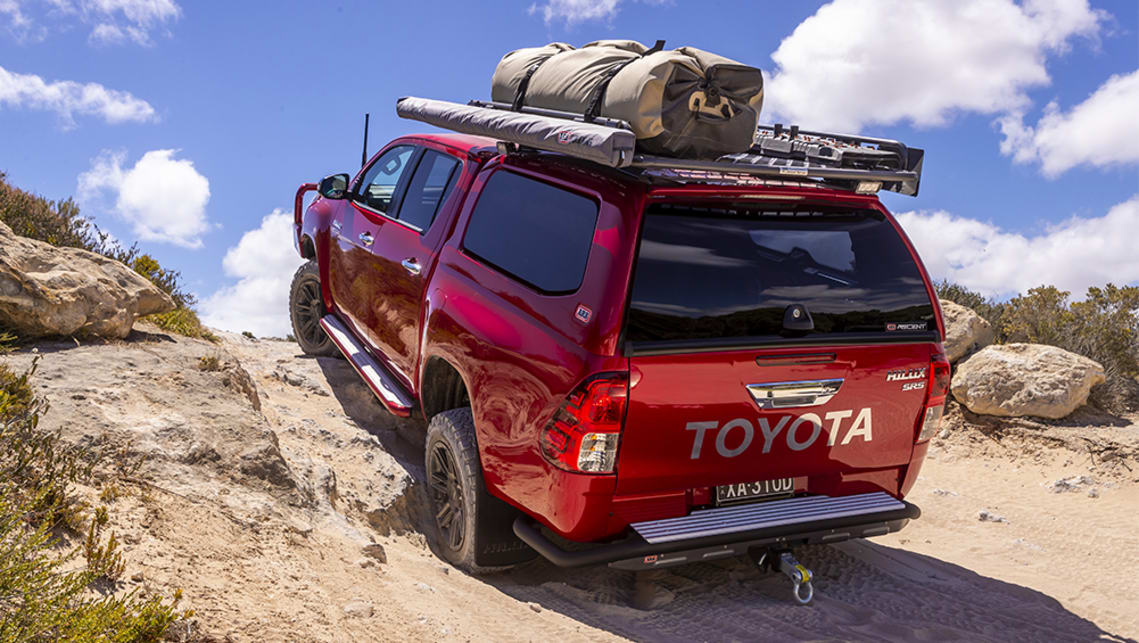 A ute is pretty close to a do-anything vehicle. Want a vehicle to haul your work tools around in, and be able to use it to drive into – and out of – a job site that has only a chopped-up muddy track as its access point? Too easy – a ute's the answer.
Feel like throwing a few mountain-bikes and surfboards in your vehicle and heading off on a weekend adventure? No worries, a ute's your solution. Need to ferry your kids to and from school/sport/their mate's place? Yep, that's right, a ute is a great mode of transport.
The only thing is, if your ute has an open tub or tray then whatever you carry in the back is exposed to the elements, and is vulnerable to damage or theft.
A lockable canopy made of a durable material, such as fibreglass, adds a much-needed layer of security and protection to your ute and the equipment or tools you carry in the tub or tray. 
What is a ute canopy?

Ute canopies come in all shapes, sizes and colours. (image credit: Brendan Batty)
Basically, a ute canopy is any chassis- or tub/tray-mounted structure – with roof, walls and access points (door, windows) – that is used, with its overall cover material or metal in place, to store and transport camping gear, tools or other equipment in the tub/tray.
Canopies have been around for donkey's years and structures and materials that have been used range from cheap, rough-and-ready home-made jobs (canvas on a basic steel frame) that you still see around – as well as much better, properly manufactured versions of those types – and then progressing to vinylester fibreglass canopies, UV-stable ABS (Acrylonitrile butadiene styrene, a thermoplastic polymer), and aluminium versions.
Fibreglass ute canopies and ABS ute canopies have become very popular in recent years, for work and/or leisure purposes, due to their light weight, lock-ability, versatility and all-round toughness. 
Keep in mind though that when you close off the tray or tub space with any canopy, you do sacrifice some of the load-carrying versatility you have with an open-air tray or tub – you can't throw in tall or bulky things, such as furniture – but a canopy's positives tend to outweigh any negatives. They are not perfect – read on to find out why – but no canopy is.
Different types of fibreglass ute canopies

There are ABS ute canopies and fibreglass versions to suit all kinds of utes. (image credit: ARB)
The great thing about today's aftermarket is that you can find a fibreglass ute canopy or an ABS ute canopy to suit your lifestyle, vehicle and budget. There are variations – including fibreglass ute canopies, of different sizes and configurations – to suit any kind of ute, tub, or fibreglass canopies for tray back utes, and there are some ute canopies with interior configurations set up to incorporate tool boxes, or are purpose-built, with roll-out drawers and more, for camping.
The shape – a model-specific moulding – and colour of a ute canopy can be selected so it 'fits' with your vehicle, whether it's a Toyota Hilux, Ford Ranger or Mitsubishi Triton.
The basic structure of ute canopies may not change a whole lot between examples – each one has a roof, walls, and likely a flip/lift door at the rear, a fixed-shut window at the front, and sliding or flip/lift windows on the sides – but each canopy's capacity to be flexible, in terms of accessibility and storage, may vary widely.
Options for your ute canopy include extra tie-down points, central locking, climate control, in-built lighting, soft-close windows, built-in storage systems (such as roll-out drawers) and even a slide-out kitchen.

Canopy accessories, including fridge slides, are numerous. (image credit: ARB)
Nowadays any keen ute canopy buyer will find a stack of options to suit their needs – custom-made, off-the-shelf or even DIY – but, as always, keep in mind that the cheaper something is, chances are the more sacrifices you are making in terms of the quality of workmanship and the materials used as well as how safe and secure the final product is.
Some canopies are bolted onto a tray and can be removed without too much fuss.
Will a fibreglass ute canopy keep dust and water out?

A well-designed and -engineered ute canopy will stop most dust, dirt and water getting in. (image credit: Ironman 4x4)
Not entirely, but if you've found yourself a top-quality ute canopy, then it'll keep a lot of dust and water out and thus keep your camping gear or tools unsoiled and dry. 
Reputable companies, such as ARB*, use thermoplastic seals and special adhesive that is aimed at stopping dust, dirt, sand and water from getting into a canopy-protected tub. (*Note: ARB makes ABS canopies; it does not make fibreglass canopies.)
Fitting a roof vent into your ute canopy will further help prevent dust and dirt from getting in: don't ask me how – it's some kind of black magic – but it works.
Some negatives of fibreglass ute canopies

Avoid loading too much on top of your canopy unless it has an approved roof-rack. (image credit: Brendan Batty)
As mentioned dust-proofing and water-resistance can be issues, but they can cause strife on all types of canopies, ABS plastic, fibreglass, steel or aluminium.
Be mindful of the fact that installing a canopy impacts your ute's GVM (gross vehicle mass) and may affect its steering, handling and towing ability. Even though an ABS ute canopy or even a fibreglass version are some of the lighter canopy options available – a canopy still means extra weight on your vehicle, so take that into account when choosing a canopy and also think about how it will affect how much you'll be able to pack into your ute – including people, pets, tools and equipment.
It's not advisable to throw too much – if anything – on top of a ute canopy unless the canopy has been specifically reinforced to cop the extra weight. Roof-racks, boat-loaders and roof-top tents will require a reinforced ute canopy roof. Some canopies are rated to carry 100kg up top but that's only with an approved roof-rack/bar system.
Also note that anecdotal evidence indicates that some fibreglass ute canopies can become brittle due to prolonged exposure to the elements, may sustain paint-discolouration and and may require re-coating.
What price can you expect to pay for a fibreglass ute canopy?

Be ready to outlay upwards of $2000. (image credit: ARB)
Leading aftermarket supplier and manufacturers of ABS, or fibreglass ute canopies, such as Ironman 4x4, ARB and others, offer a massive variety of ute canopies for sale. 
Prices of ute canopies start from around the mid-$2000s mark (including fitment). If you're looking for a Toyota Hilux canopy, prices range from about $2300 (fitted), for a classic-style canopy.
If you're in the market for a Ford Ranger canopy, then expect to pay from about $2500 (fitted) for a classic-style canopy.
Warranties for a ute canopy can range from one year to three years.
The key to buying a ute canopy is not to penny-pinch with this purchase as you'll simply end up with more frequent or heftier repair bills or or even replacement costs down the track. Buying cheap is false economy. Spend as much as you can, buy to suit your lifestyle and ultimately you'll be much better off than if you initially save a few bucks.
Find the perfect fibreglass ute canopy for your ute

Check out a reputable company, small or big, for top-quality canopies. (image credit: ARB)
There are plenty of ute canopy manufacturers and stockists around the country but the capital cities, such as Sydney, Melbourne, Brisbane, Perth and Adelaide, have some of the best small independent companies, as well as big-name brands, such as ARB, Ironman 4x4 and more.
Visit the ARB webiste to find the nearest ARB store.
Visit the Ironman 4x4 website to find the nearest Ironman 4x4 store.
Visit the Wolf 4x4 website to find the nearest Wolf 4x4 store.
Visit the Opposite Lock website to find the nearest Opposite Lock store.
Visit the TJM website to find the nearest TJM store.
What type of canopy is fitted to your ute? Let us know in the comments.