Best Canopies for a Dual-Cab Ute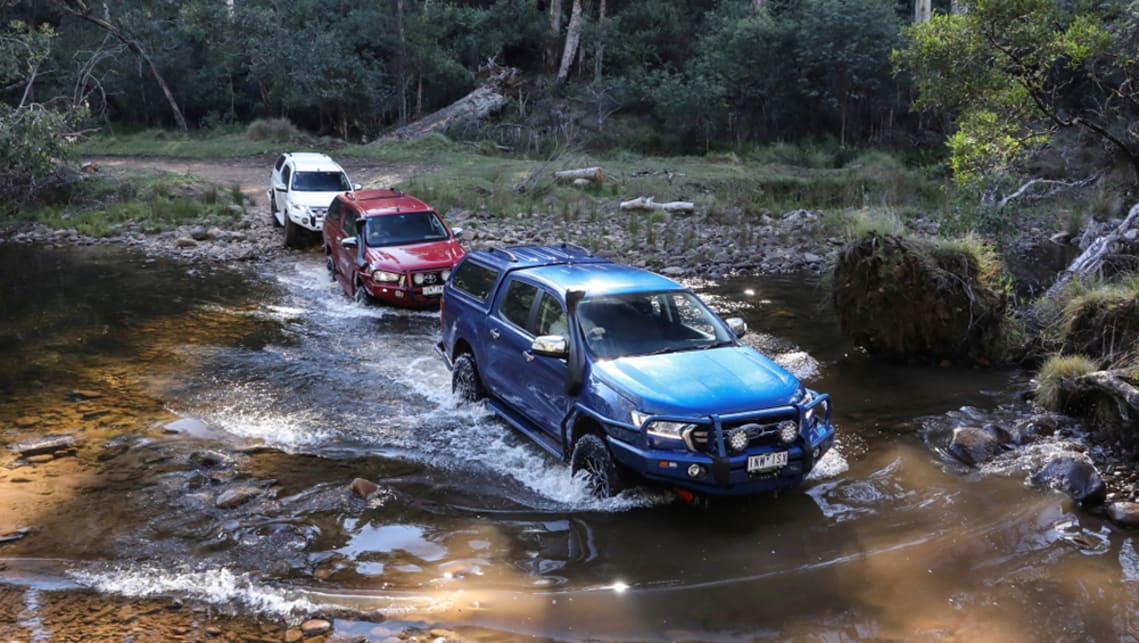 Dual cab utes are very popular in Australia and, as a natural progression of that, the dual cab ute canopy has experienced a massive surge in popularity in recent years – and that continues apace.
Which means that for those of us searching for a canopy to suit our ute, the variety of canopy styles, materials and accessories available has grown immensely.
The dual cab canopy you need depends on your lifestyle – and largely hinges on whether it will be mostly used to safely and securely store tools in separate compartments, or to house all of your camping gear, or to do a little bit of both, as well as cope with kids' toys, bikes, kayaks and … life.
Here are our tips on how to find the best dual-cab ute canopy for you.
The different types of dual cab ute canopies 

Buy a top-quality canopy that suits your lifestyle. (image credit: ARB)
There are plenty of dual-cab canopy designs, sizes and styles available, including dual cab tray canopy and dual cab camper canopy. Materials also vary so you can opt for a dual cab canvas canopy, dual cab aluminium canopy (alloy), a steel canopy, or even a fibreglass or UV-stable ABS (Acrylonitrile butadiene styrene, a thermoplastic polymer) canopy.
As well, there are make-and-model-specific versions to suit the dimensions of most specific utes and body types, which is why a Hilux dual cab canopy, Mazda BT-50 dual cab canopy, Nissan Navara dual cab canopy, and even a Holden Rodeo dual cab canopy are purpose-built, made to suit and readily available.
It's a sure thing that there'll be a dual cab canopy for sale to fit in with your intended use.
As with most other purchases, your budget will dictate how much you spend on your canopy. Of course, basic and budget-friendly canopies are available, however, a good quality canopy – such as one from ARB, Ironman 4x4, Norweld, Carryboy, Flexiglass, Opposite Lock, TJM etc – will always benefit from a few of these crucial elements: lockable side windows and rear-access window, canopy vent (to reduce dust ingress by positively pressurising the canopy's interior), tinted safety glass (5mm tinted and tempered), central locking, push-button side opening windows, and more. Other gear – such as keyless entry, high-spec adhesive, LED interior lights, stylish interior and an anti-entrapment dial (so people can get out of the canopy if caught inside) – are all great bonus features and all included in renowned Australian aftermarket supplier ARB's Ascent canopy.
What are your dual cab canopy options?

Australian companies make some of the world's best ute canopies – and a great variety of them. (image credit: Brendan Batty)
The variety of dual-cab ute canopies available almost verges on the ridiculous, from DIY jobs, off-the-shelf specials, to custom-made and feature-packed canopies. Be aware that if a canopy is dirt-cheap and seems too good to be true, chances are numerous trade-offs have been made in terms of the quality of workmanship, the materials used and how safe and secure the final product actually is. Also, think about it: if short-cuts were taken during the design, testing, engineering processes, then how ready is the canopy for the real world?
Australian companies make some of the world's best ute canopies – and a great variety of them – because the Aussie off-roading public demands much of our canopies.
In today's aftermarket there's a ute canopy to suit every lifestyle, vehicle and budget. There are variations – of different sizes and configurations – to suit any kind of ute and tub or tray, and some ute canopies have interior configurations designed to incorporate tool boxes, or are purpose-built for camping, with roll-out drawers and more.
The shape – a model-specific moulding – and colour of a ute canopy can be selected so it 'fits' with your dual-cab ute.
The basic structure of ute canopies may not change a lot between examples – each one has a roof, walls, and likely a flip/lift door at the rear, a fixed-shut window at the front, and sliding or flip/lift windows on the sides – but each canopy's capacity to be flexible, in terms of accessibility and storage, may vary widely.
Options for a ute canopy include extra tie-down points, central locking, climate control, in-built lighting, soft-close windows, built-in storage systems (such as roll-out drawers) and even a slide-out kitchen.
Some canopies are bolted onto a tray – like a dual-cab cab chassis tray – and can be removed without too much fuss.
What price can you expect to pay?

Spend as much as you can on a canopy and buy a reputable brand. (image credit: Ironman 4x4)
A canopy can range anywhere from a couple of hundred dollars for a DIY canvas-and-steel-frame job, to $1500 for a fit-it-yourself aluminium ute half canopy, to more than $5000 (fitted) for off-the-shelf canopies or even custom, build-your-own versions.
Prices of fibreglass or ABS plastic ute canopies start from around the mid-$2000s mark (including fitment). If you're in the market for a fibreglass canopy (say for a Ford Ranger), then expect to pay from about $2500 (fitted) for a classic-style canopy.
Warranties for a ute canopy can range from one year, three years or a lifetime, depending on the materials used and the brand/manufacturer involved.
Who are the leading canopy brands and manufacturers? Best places to buy?

A canopy adds to your vehicle's versatility. (image credit: Brendan Batty)
There are numerous ute canopy manufacturers and stockists in Australia. Leading brands and manufacturers include Ironman 4x4, ARB, NorWeld, Carryboy Australia, Flexiglass, Opposite Lock, and TJM.
Visit the ARB website to find the nearest ARB store
Visit the Ironman 4x4 website to find the nearest Ironman 4x4 store
Visit the Norweld website to find the nearest stockiest of Norweld's ute canopies
Visit the Carryboy website to find the nearest Carryboy stockist
Visit the Flexglass webiste (and go to 'Locate a Distributor') to find the nearest Flexglass store
Visit the Wolf 4x4 website to find the nearest Wolf 4x4 store
Visit the Opposite Lock website to find the nearest Opposite Lock store
Visit the TJM website to find the nearest TJM store
What canopy are you running on your ute? Let us know in the comments.