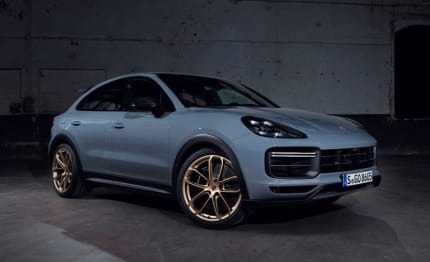 Porsche Cayenne 2021
The 2021 Porsche Cayenne range of configurations is currently priced from $258,888.
Our most recent review of the 2021 Porsche Cayenne resulted in a score of 7.6 out of 10 for that particular example.
Carsguide Deputy Editor James Cleary had this to say at the time: The Cayenne GTS feels like a proper Porsche, with snippets of 911 regularly filtering into this SUV experience. It's beautifully engineered, fast, and dynamically outstanding, yet practical and super-comfortable when you need it to be. Despite one or two safety and equipment gaps for a car in this part of the market it's a great option for people who want to have their family cake and eat it with a sports car spoon.
You can read the full review here.
This is what James Cleary liked most about this particular version of the Porsche Cayenne: Dynamic performance, Practicality, Comfort
The 2021 Porsche Cayenne carries a braked towing capacity of up to 3500 Kg, but check to ensure this applies to the configuration you're considering.
What's on this page
Porsche Cayenne 2021 Price and Specs
The Porsche Cayenne 2021 is currently available from $258,888 for the Cayenne GTS up to $259,888 for the Cayenne GTS.
Pricing guides
$249,900
Based on 9 cars listed for sale in the last 6 months
Porsche Cayenne Model
Body Type
Specs
Price from
Price to
(base)
SUV
3.0L PULP 8 SP
$97,400
$123,090
E-Hybrid
SUV
3.0L Hyb/PULP 8 SP
$125,100
$158,180
GTS
SUV
4.0L PULP 8 SP
$163,900
$207,240
S
SUV
2.9L PULP 8 SP
$142,900
$180,730
See All Porsche Cayenne 2021 Pricing and Specs
Porsche Cayenne 2021 Q&As
Check out real-world situations relating to the Porsche Cayenne here, particularly what our experts have to say about them.
Porsche Cayenne: replacement key cost

Aurion to replace my Maxima?

Thanks for the email. Hopefully I can keep this simple. 

I would strongly recommend a Toyota Aurion V6 $30,990 drive away or the Toyota Camry $28,990 drive away (pricing current September 2015). 

Unless you want the acceleration of the V6 I would opt for the four cylinder Camry, which is spritely enough and will also deliver good open road fuel economy. 

For the type of driving you're doing you do not need the hybrid Camry. 

Also, the base model Camry on the smaller wheels and Michelin tyres will be much more comfortable and a touch quieter than the dearer Camry models that come with sports tyres. 

In both the Aurion and Camry you will be protected by seven airbags and a five star safety rating. A rear camera is standard on both models too. 

The servicing costs are among the cheapest in the business. 

Furthermore the intervals are longer than other Toyotas (15,000km rather than 10,000km) and the capped pricing lasts four years or 75,000, whichever comes first (other Toyotas are three years, 60,000km). 

This was done to help Aurion and Camry appeal to fleets. 

However, your warranty is the same as other Toyotas at three years/100,000km. 

Dealership extended warranties are generally not worth the paper they are printed on, so save your money if you're offered an extension. 

Please check you're comfortable when driving the Aurion and Camry. They have ample room inside and a lot of travel in the front seat rails. 

Meanwhile, you're right in your assumption that Toyotas are regarded as a premium over Holden and Ford. The price is cheap because Toyota is trying to keep the factory running until 2017. It is in effect making a loss with each Camry it sells. 

Toyota also has a vast rural dealer network so hopefully you're never far away from help should you need it. 

Lastly, the Camry was at $26,990 drive away for much of last year and the price may limbo to that level again in the lead up to the end of the year or early next, to clear 2015 stock. This is not an inside tip, merely an educated guess on my part.

Good luck and let me know if I can help any further. I hope I'm still driving big distances in my 80s. 
See All Porsche Cayenne Q&As
Porsche Cayenne 2021 Towing capacity
The Porsche Cayenne's towing capacity ranges from 3000kg to 3500kg. Some models also offer heavy-duty or towing option packs which can increase towing capacity, as well as options which can hamper towing capacity. Towing capacities can vary wildly on a large number of factors. These include engine, transmission, model, and options chosen. Always check with the manufacturer or in your vehicles handbook before attempting to tow anything.
Porsche Cayenne Model
Body Type
Specs
Braked Capacity
base
SUV
3.0L,PULP,8 SP
3500kg
base
SUV
3.0L,PULP,8 SP
3000kg
E-Hybrid
SUV
3.0L,Hyb/PULP,8 SP
3500kg
S
SUV
2.9L,PULP,8 SP
3500kg
See All Porsche Cayenne 2021 Towing Capacity
Porsche Cayenne 2021 Dimensions
Dimensions for the 2021 Porsche Cayenne are dependent on which body type is chosen. The maximum width and height is 1995mm x 1696mm and can vary on the basis of model.

Porsche Cayenne Model
Body Type
Height x Width x Length
Ground Clearance
base
SUV
1696x1983x4918 mm
190 mm
base
SUV
1676x1983x4931 mm
190 mm
E-Hybrid
SUV
1696x1983x4918 mm
190 mm
S
SUV
1673x1983x4918 mm
190 mm
See All Porsche Cayenne 2021 Dimensions
Porsche Cayenne 2021 Wheel size
Wheel size for the 2021 Porsche Cayenne will vary depending on model chosen, although keep in mind that many manufacturers offer alternate wheel sizes as options on many models.The wheel size available will alter the range of tyres available to be fitted.
Porsche Cayenne Model
Body Type
Front Tyre Size
Front Rim
Rear Tyre Size
Rear Rim
base
SUV
255x55 ZR19
—
275x50 ZR19
—
base
SUV
275x45 ZR20
—
275x45 ZR20
—
E-Hybrid
SUV
255x55 ZR19
—
275x50 ZR19
—
E-Hybrid
SUV
275x40 ZR20
—
315x35 ZR20
—
See All Porsche Cayenne 2021 Wheel Sizes
Porsche Cayenne 2021 Fuel consumption
Fuel consumption for the 2021 Porsche Cayenne is dependent on the type of engine, transmission, or model chosen. The Porsche Cayenne is available with the following fuel types: Hyb/PULP and PULP.
Porsche Cayenne Model
Body Type
Specs
Fuel Consumption
E-Hybrid
SUV
3.0L,Hyb/PULP,8 SP
3.5L/100km
Turbo S E-Hybrid
SUV
4.0L,Hyb/PULP,8 SP
4.4L/100km
base
SUV
3.0L,PULP,8 SP
9.2L/100km
base
SUV
3.0L,PULP,8 SP
9.9L/100km
See All Porsche Cayenne 2021 Pricing and Specs