19 July 2019
The mid-engined Corvette's roots date back 60 years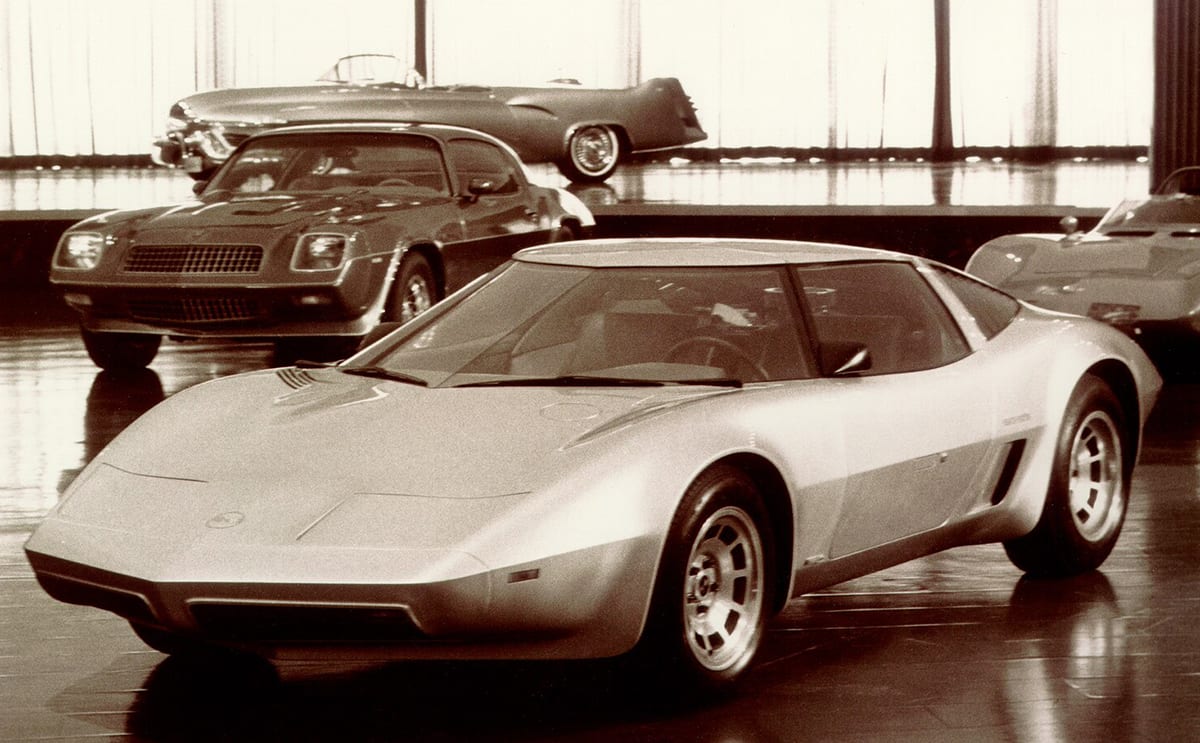 Today the Internet burns as Chevrolet unveils the new, eighth-generation Corvette. The mid-engined C8 is a departure from the classic FR-layout sports car Chevy debuted back in 1953, but fans of America's Sports Car are well aware of the history the automaker has with mid-engined V8 concept cars.
Way back in 1959 the famed General Motors engineer Zora Arkus-Duntov showed off the radical mid-engined, open-wheel CERV 1 concept. Looking even more advanced than Formula One cars of the era the CERV (or Chevrolet Engineering Research Vehicle) led many advancements that found their way onto production cars through the 1960s and onwards. Duntov believed in the potential of a mid-engined Corvette and pushed hard for it through his 23 year-career with GM, with his ideas being used in a variety of concept vehicles through the years.

In 1959 GM engineer Zora Arkus-Duntov showed off the CERV 1 concept.
 
The 1964 CERV-II used many styling elements from the famed Mako Shark and SS Corvette concepts, along with the 1967 Astro I concept that showed off a wild mid-engined clamshell sports car. It was the 1968 Astro II concept (code named XP-880), however, that really started to ram home the idea of a mid-engined Corvette to take on Ford's GT40 and Ferrari's Dino. In 1969 Duntov debuted the XP-882, a radical styling exercise that showed hints of the 1978 Corvette redesign while a thundering 454ci (7.6-litre) V8 sat midships to drive through an Oldsmobile Toronado front-wheel-drive transaxle.

It was the 1968 Astro II concept that really started to ram home the idea of a mid-engined Corvette.
As the 1970s rolled on interest began in Wankel rotary powerplants, giving rise to the 1973 XP-897 concept. Wearing a svelte Pininfarina body the twin-rotor-powered coupe might not have been an official Corvette concept, but it laid the groundwork at GM for them to look seriously at pushing the 'Vette into a lightweight, triangle-powered, mid-engined future with the Corvette 4-Rotor concept (XP-895) of the same year.
Based off the 1969 XP-882 chassis but with an aerodynamically-slicked body and a 390ci four-rotor Wankel built by fixing two twin-rotor engines together, the 420hp 1100kg supercar was killed off before it began due to emissions and reliability issues. It was modified into the more conventional, and beautiful, Aerovette concept in 1976, being fitted with a 400ci (6.6-litre) V8. This version actually received production approval for the 1980 model year, though with a smaller 350ci (5.7-litre) small-block V8, but was binned after market research showed poor sales for other mid-engined cars in the USA at the time.
 

This corvette was powered by a quad-rotary.
It was 10 years later, in 1986, when the idea of a mid-engined Corvette was brought back up with the Indy Concept, used to promote Chevrolet's Indy car engine program. It was evolved into the 1990 CERV-III with a quad-cam 32-valve LT5 small-bock V8 from the Corvette ZR-1, fitted with twin-turbochargers to produce a claimed 650hp.

In 1986 another mid-engined Corvette was revealed with the Indy Concept.
Are you excited to see the new Corvette in Australia?