12 July 2017
Spoiler alert: the top five worst DIY rear wings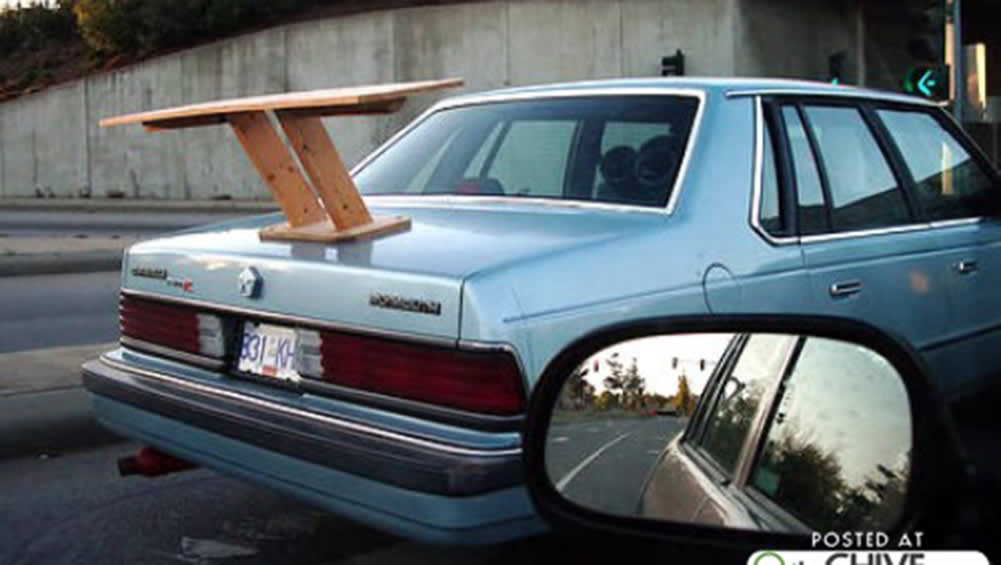 Bigger isn't always better but someone forgot to tell these guys that.
A rear spoiler can be a cool addition to any car, if it isn't godawful.
Certain manufacturers have produced classic examples of this but nothing as bad as what these motorists have attached to their cars. 
5. Two-by-four wood spoiler 

Yeah mate, I'll make you a spoiler for a six pack. (image credit: 100 stupid spoilers)
A spoiler can be an expensive addition for a car but when people really want that extra downforce they will go to any lengths to get it.
Appeared to be slapped together by someone's tradie mate after a quick trip to Bunnings, this wood spoiler would probably begin to rot after a passing shower.
4. Five-tier spoiler

Yo dawg I heard you like spoilers... (image cerdit: reddit)
Remember the character from the first Cars movie, called Wingo? 
The name might not ring a bell but once you see his massive spoiler you'll know who I'm talking about and apparently the car exists in real life.
3. Whale tail spoiler 

Giving a new meaning to whale tail. (image credit: Fullredneck.com)
Everyone knows the iconic 'whale tail' spoiler fitted from the Porsche 911 and the Cosworth Fords.
The owner of this Volkswagen Beetle thought that it wasn't truely representative of the name and went about creating this eyesore.
2. Lego spoiler

Provides up to 100kg of downforce (image credit: Pinterest)
The spoiler designed and built by kids!
Children love doing things for their parents and obviously thought that their dad's boring Toyota Corolla could use an exciting rear wing made out Lego.  
The toy which can be made into literally anything.
1. Ironing board spoiler

The perfect car for a recently divorced man who is also suffering a midlife crisis. (image credit: Motorist.sg)
Say it's Sunday and you want to go for a drive but you also need to finish some ironing before working week starts, well this Corvette has it covered.
Sporty and practical, what more could you ask for?
What's the worst spoiler you've seen? Let us know in the comments below.