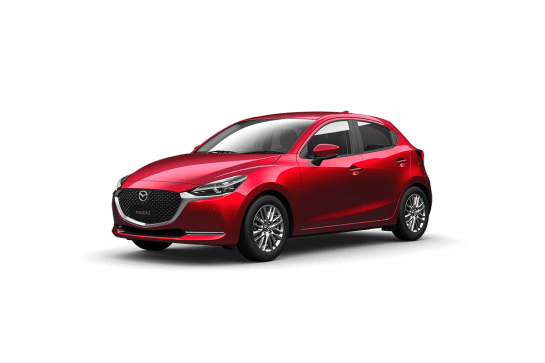 COMPARE
Mazda 2
VS
Citroen C3
Mazda 2
Likes
Big boot
Good safety spec
Smarter looks
Dislikes
Not very comfy
Engine not terrific
Annoying mirrors
---
Citroen C3
Likes
Unique styling
Giant door pockets
Sofa-like seats
Dislikes
Slow and seemingly indecisive auto transmission
Low on advanced safety tech
No front parking sensors
Summary
Mazda 2
The Mazda2 range has recently seen some big changes, with the facelifted model aiming to offer customers a different sort of car to what it was before.
It's more expensive - prices are up by as much as 25 per cent! - but there's a lot more standard equipment, some new trim levels, and all of them also get the G15 alphanumeric label… but it's a carryover engine for this facelift, the first major update since 2015.
It's an intriguing move from Mazda Australia to increase the entry price point by such a big amount because it's essentially still the same old Mazda2 sedan underneath it all. And it's not like this part of the market is flush with competitor offerings - there's no more Hyundai Accent, the Kia Rio sedan is dead, there's no Ford Fiesta sedan, Honda isn't going to sell the new City model, you can't get an MG 3 sedan, or a Kia Picanto sedan… in fact, there's no other light sedan on the market anymore.
But there are some slightly larger sedans that are close on size, and in some grades even undercut the updated Mazda2 sedan when it comes to price. 
So, does the most urban-friendly sedan on the Australian new car market still make sense?
| | |
| --- | --- |
| Safety rating | |
| Engine Type | 1.5L |
| Fuel Type | Regular Unleaded Petrol |
| Fuel Efficiency | 5.5L/100km |
| Seating | 5 seats |
---
Citroen C3
The Citroen C3 is a little hatchback like the Kia Rio, Mazda 2 or the Suzuki Swift but it's different to them, which is why you're here, I think.
The C3 is different, not in a technological or engineering sense, but in the style stakes. It's a premium and quirky French take on the tiny-car-thing in a similar way to the Audi A1, Peugeot 208 and Mini Hatch.
Yep, it's cool, tiny, and little bit fancy. Sounds perfect for the 21st century Australian urban dweller, right?
Well, one came to stay at our urban home in Sydney for a week and here's what I thought.
| | |
| --- | --- |
| Safety rating | |
| Engine Type | 1.2L turbo |
| Fuel Type | Regular Unleaded Petrol |
| Fuel Efficiency | 4.9L/100km |
| Seating | 5 seats |
Verdict
Mazda 2
7/10
If you need a brand-new city-sized light sedan, your only choice is the Mazda2. 
But if you can deal with a slightly larger car, you'll get a more comfortable, enjoyable and spacious experience by choosing a Kia Cerato or Hyundai Elantra, both of which you'll probably get for less money than this base model Mazda2 G15 Pure. 
---
Citroen C3
6/10
The C3 is not a bad choice of car for the urban dweller with its tiny size making it easy to park, big windows for good visibility, the air bump armour protecting its doors, and tech like Apple CarPlay and Android Auto for keeping your hands off the phone. The little Citroen is unique in its looks among many 'samey' hatches out there. If only the C3 drove as well as it looked. The driving experience could be smoother, but if you can get used to this side of its character there's plenty to like – like those seats. So, for the daily driver score the C3 Shine gets 6/10 but a 7/10 for its urban score.
Design
Mazda 2
The Mazda2 sedan has always been one of those cars that packs more in than you'd think - especially the boot. We'll get to that in the next section.
But let's cover off what has changed from the pre-facelift model to this one, because you may have noticed it looks a little different.
That's because it has revised front and rear bumpers, which are cleaner and simpler than before, and the grille now has a mesh finish rather than the plastic beam section of its predecessor. 
The rear does, too, with the new back bumper design and tail-light finish making it appear a little more contemporary. 
It carries off its size pretty well. The Mazda2 sedan is 4340mm long (on a 2570mm wheelbase), 1695mm wide and 1495mm tall.
The cabin of the Pure model has seen some cosmetic adjustments, but the overall design remains the same. Check out the interior pictures to see what we're talking about. 
---
Citroen C3
When it comes to the Citroen C3 I think 98 per cent of the appeal is the styling, and the remining two per cent is that you can also drive it places. Okay, that's probably a bit much, but a big part of the C3's charm is the way it looks.
There's nothing wrong with that because the C3's design is pleasing. If you were having trouble putting your finger on what it is about the C3's the styling that's so interesting and cute, then let me point out the rounded-off shapes.
Yep, they're everywhere – the headlights, the tail-lights, and those 'air bumps' down the doors which stop them from getting dings in carparks. Even the C3 badge on the back of the car is stylised to make a rounded-off rectangle shape.
I've heard the word 'squircle' used in relation to them and they're everywhere, even on your phone, just look at the shape of the apps. Never noticed it did you? And they were literally right under your nose.
Anyway, the same rounded rectangles are seen in the air vent design, the door handles, the shape is even pressed into the door trim. I'm not sure if I'm going bonkers, but does the steering wheel have a square with round edges look, too?
While we're inside check out the suitcase strap style door handles and those seats. Oh man, if the car business doesn't work out for this French brand the manufacturer could always go into making furniture because Citroen's seats are supremely comfortable, supportive and stylish. In my opinion when it comes to comfort no other carmaker can beat Citroen's seats.
Enough about the seats. This isn't seatsguide.com.au, so let me give you the dimensions. The C3 is 3996mm long, 2007mm wide (with the mirrors out) and 1474mm tall.
There are six colours to choose from including 'Almond Green' and 'Cobalt Blue', which are both optional and so is the 'Aluminium Grey' our car wore with the 'Polar White' roof.
I nickname it Pigeon Grey because as you can see in the images the colour camouflages the C3 into the road and if it wasn't for the white roof the car would be almost invisible in an urban landscape.
Maybe you want that but if it was me, I'd go for the standard Polar White and red roof which is also standard. The red and white combination suits this little car perfectly and it'll stand out like it should.
Now, don't get the C3 confused with the C3 Aircross which is the SUV version of the little hatch, while the C5 Aircross is even bigger. I've reviewed them all so you can read about those later. Let's move on to the price.
Practicality
Mazda 2
If you're choosing the Mazda2 sedan over the hatch, you're effectively stating that your prioritise boot space in your life. And good for you, because the Mazda2 sedan has 440 litres (VDA) of cargo capacity. The luggage capacity can be expanded by way of 60:40 split-fold rear seats, too.
It's easily large enough for the CarsGuide pram, and also managed to fit all three of our suitcases (124-litre, 95-litre and 36-litre) in though any more than that and the gooseneck hinges for the boot-lid could make for some issues actually closing the boot. The aperture is a very good size, and it's not hard to load things in because it's a nice low opening, too. 
The seat trim of the Pure model is brown cloth, which will either tickle your fancy… or not. The trim is fine, and so is the perceived quality of the fit and finish. There are simple ergonomic instruments like manual dials. 
There's a nice leather steering wheel, but there is no digital speedometer, no head-up display, and no centre console bin or armrest. There is a pair of cupholders, a small centre bin in front of the shifter, and a small cubby at the back of the console which could be used as a cup holder for rear seat passengers. 
The 7.0-inch media screen is looking small by today's standards, and while I applaud the addition of Apple CarPlay and Android Auto, I had issues with it every time I drove the car. It wouldn't connect first time, requiring me to: a) wait the 10-20 seconds for the screen to load; b) plug the USB in; c) wait for it to say "Apple CarPlay failed"; d) unplug and reinsert the USB. Then it was fine. But sheesh I'd get sick of that quick. 
The interface - using the rotary dial - is annoying. Touchscreens should be touch-capacitive when using smartphone mirroring. The reversing camera is also a bit low-res in its display.
The back seat isn't overly spacious. With the driver's seat set in my position (I'm 182cm tall), my knees were hard up against the seat in front, and my head was brushing the ceiling. That's despite good toe room and decent cabin width. 
Rear occupants don't get bottle holders, there's only one map pocket, and there's no centre armrest. Unlike up front, where the door arm-rest pads are soft, they're hard in the back. There's no rear seat air-vents, and the transmission tunnel eats into space more than it probably should in a car of this size.
---
Citroen C3
Let me rephrase that. How are you going to be using your car? Are you going to try and get away with it as a family car? If so, I'd say it's going to be too small because the boot has a cargo capacity of only 300 litres and it won't fit a large pram.
Will there be people sitting in the back seats regularly? If so, again I think the C3 could be too small to frequently seat five, as legroom in the rear seats is tight, and at 191cm (6'3") tall I can't sit behind my driving position.
But if most of the time only one or two adults are going to be in the C3 then it will suit them well, with enough boot space for a suitcase (see the images) or shopping. Plus, if you do need to carry more people you can, and it's unlikely, they'll be as tall as I am.
Cabin storage would be disastrous if it wasn't for the enormous door pockets in the front and rear door. Apart from that, there's no centre console armrest bin, two tiny cupholders near the gear shifter, a small glove box and a little shelf in the dashboard for a wallet or purse, but too small for my phone.
As for charging and connection for devices, the C3 could be better. There's just one USB port (the old Type-A) and one 12V (who uses these?).
One of my practicality gripes about the C3 is that to adjust the climate control it needs to be done through the touchscreen, when a dial would be perfectly fine and quicker. Thankfully, there's an actual volume control knob.
Price and features
Mazda 2
As referenced above, the Mazda2 entry price point is up considerably compared to the pre-update version, thanks to the ditching of the entry-level Neo model.
How much has the price gone up? $5500. That's a huge price hike for a vehicle in the most coin-conscious segment of the market. 
The result is a base model G15 Pure version of the Mazda2 - in both sedan and hatch body-styles - for $20,990 plus on-road costs (also known as RRP / MRSP). And that means it'd be about $24,000 drive-away. It's essentially the equivalent of the old mid-spec Maxx model, but more expensive.
Oh, and that's for the six-speed manual, which only a few per cent of people buy. The six-speed automatic - as tested here - is $22,990 plus on-road costs. Or about $26,000 drive-away. For the base model. Eep. However, if you're in the market, check Autotrader and you'll probably find decent deals.
If you want the top-spec G15 GT sedan, it's $25,990 plus on-roads (pushing $30k on-the-road).
There are some pretty impressive inclusions to justify the increases. There are new 15-inch alloy wheels, a system called G-Vectoring Plus (a torque vectoring system designed to improve cornering behaviour), plus there's LED headlights, hill start assist, a reversing camera and rear parking sensors.
The Pure model misses out on a few things compared to the GT sedan, which has traffic sign recognition, a surround view camera, front parking sensors and adaptive cruise control.
Instead, the Pure has regular cruise control, and a lot of the new additions are safety-focused: it has auto emergency braking (AEB) with pedestrian detection, lane departure warning and lane keep assist, blind spot monitoring and rear cross-traffic alert. 
It also debuts the aforementioned smartphone streaming tech of Apple CarPlay and Android Auto, which the Mazda2 hasn't had up until now. The media screen - which is touch capacitive at a standstill and has a rotary controller to use at speed - also has six speakers, Bluetooth phone and audio streaming, digital radio and optional sat nav.
Just to add a little bit of context to the value equation here, if you can deal with a slightly larger car, you could get into a Kia Cerato or Hyundai Elantra for similar or less money. And that's what I'd suggest you do.
---
Citroen C3
There's one grade in the C3 line-up, it's called the Shine and the list price is $28,990.
Coming standard is, proximity unlocking with push button start (so convenient if you're getting in and out a lot on short trips), parking sensors (but only at the back not the front which is a bummer in the city), a touchscreen with Apple CarPlay and Android Auto, a reversing camera and sat nav, digital radio, Bluetooth connectivity, climate control, cruise control, 16-inch alloys wheels and LED running lights, but halogen headlights.
I'd expect more features for this price and there are rivals packing more into small cars than this for the same money. The Volkswagen Polo is $3K less and gets impressive features and if the VeeDub isn't kooky enough then there's Skoda's Fabia for $22K.
I get it, those cars aren't as cool, so I'd seriously check out the $26,990 Peugeot 208 GT-Line which (because they're part of the same company) shares the same engine and transmission and many other mechanical and tech bits.
As for the Audi A1, the most affordable lists for $32,350, but it is a premium and cool little car worth taking a look at.
The Mini Hatch is more expensive again, but undoubtedly cool and different.
None of the rivals have the C3's 'air bumps' treatment. It's a Citroen creation which first made an appearance on the Cactus SUV about five years ago. They're little plastic bubbles that are basically armour for your car to protect it against runaway shopping trolleys and people opening their doors into yours. They're not just a gimmick, they work.
You won't find seats like the C3's in any of the competitor's cabins, either. The ones you can see in the images come standard and they're so good I'm thinking seriously about asking Citroen to make me a couch.
Engine & trans
Mazda 2
Under the bonnet of the Mazda2 - no matter which model you choose - there's the brand's newly monikered G15 SkyActiv engine. It's a 1.5-litre gasoline (hence the G15) four-cylinder unit, with 82kW of power (at 6000rpm) and 144Nm of torque (at 4000rpm). Those outputs are up 1kW/3Nm over the pre-facelift car.
It is available with the choice of a six-speed manual or six-speed automatic. Our car had an auto transmission. 
There's no hybrid, plug-in hybrid, electric, turbo-petrol or LPG version of the Mazda2 sold in Australia… or anywhere else, for that matter. You can get it as a diesel in some markets, but not Australia.
---
Citroen C3
The C3 has a 1.2-litre, three-cylinder, turbo-petrol engine making 81kW/205Nm, while a six-speed automatic transmission shift gears.
If a three-cylinder engine sounds tiny to you, then you're right, it is, but these small powerhouses are really common for little cars these days. Plus, the power and torque outputs are more than enough for a car that weights only 1090kg.
The transmission was the let down here, the shifts slow and uncertain at times
Fuel consumption
Mazda 2
The claimed fuel consumption for the Mazda2 G15 auto sedan we drove is 5.3 litres per 100 kilometres. 
On our test, which included a range of driving with plenty of traffic snarls, some arterial road cruising, and a short stint of 110km/h freeway motoring, we saw an indicated 7.0L/100km on the car's trip computer, while our at-the-pump calculation was higher than that, at 7.4L/100km. 
The fuel tank capacity for the Mazda 2 sedan is 44 litres.
---
Citroen C3
Citroen says that after a combination of open and city roads the C3 should use 4.9L/100km, while its urban mileage is 6.8L/100km.
My fuel test covered 174.1km of mainly urban roads and I needed 11.76L to fill the 45 litre tank to full again. That comes to bang on the serving suggestion of 6.8L/100km.
Not bad, but not fantastic fuel economy for a small car.
The C3 comes with fuel saving idle stop tech, too, which cuts the engine as the vehicle slows to a stop.
Driving
Mazda 2
With compact dimensions, the Mazda2 sedan is one to consider if you really need a sedan. I don't know why you'd really need a sedan, and if you're an urban-dweller you're likely going to be more naturally drawn to hatchbacks because they're generally shorter and therefore easier to park.
But if you're a sedan fancier, then the Mazda2 is just about your only compact choice.
It needs to be said, though, that there are more comfortable cars than the Mazda 2, especially around town.
The suspension of this little car is seemingly designed to offer a sporty experience, which is at odds with the intent of the car. It's very firm, lacks composure over repetitive lumpy bumps and the suspension is very noisy in that situation too. 
It isn't crashy, but it can lack body control and composure, and at times I felt it was skittering over pockmarks, and it didn't instil much confidence.
It's better at higher speeds, and if the road is smooth. And if that's your user case - or if you simply don't care much about ride comfort - this could be just fine for you.
There's no doubt that stiff suspension does help the Mazda2 feel a bit more sporty than it actually is, because it handles direction changes quite well, and as we've come to expect of Mazdas today, the steering is direct and sporty feeling. It doesn't suffer mismatched weighting, either, meaning it feels like when it should and gains heft when you'd expect.
The engine is eager enough, but the throttle requires a bit more management than seems necessary - and that's actually more to do with the transmission's logic than anything else. At times when you think you're pressing hard enough, you might find the engine is labouring, so you press harder on the accelerator and it kicks down and pushes you away with vigour. It's just not as easy to make smooth progress in normal driving as I'd like.
There is a 'sport' mode for the transmission that ultimately solves that problem because it stops the auto gearbox from shifting up to a higher gear (to save fuel), but do you really wanna be in 'sport' mode all the time? I know I don't. 
One of my biggest urban driving gripes is Mazda's insistence to only fit the passenger-side mirror with a convex lens. The driver's side mirror isn't convex - and that means other road users can be hard to discern, and to be honest the car's blind-spot monitoring system saved us from side-swipes a couple of times this week.
---
Citroen C3
The C3's length is its biggest urban strength, and in the time I had it there was almost never a spot I couldn't squeeze into.
Visibility is also good in all directions, through those giant windows, although I did feel low down with even small SUVs seeming to tower over me.
I've reviewed the SUV version of the C3, the C3 Aircross, and the slightly taller ride height made for even better visibility.
A comfortable ride and a fun sporty feel to the handling makes buzzing around town enjoyable, but if I could change anything it'd be the engine and transmission.
This may be a highly acclaimed three-cylinder engine and the transmission is a six-speed auto (torque converter, not a dual clutch), but their interaction with each other doesn't provide the smoothest driving.
The shifts sometimes arrive too early, or at peculiar times, sometimes hesitating mid-shift, and moving to higher gears results in slumps of turbo lag.
I also found the fuel saving idle stop tech way too intrusive, to the point where the engine was cutting out midway through intersections as I was waiting to turn. Thankfully, you can turn this off.
Safety
Mazda 2
The Mazda2 has been around for quite a while. It scored the maximum five-star ANCAP crash test rating back in 2015, but the criteria has evolved somewhat since then.
However, it must be stated that Mazda has been proactive in updating its safety spec levels across its entire range, and the Mazda2 is no exception.
Standard safety equipment includes auto emergency braking (AEB) with pedestrian detection (but not cyclist detection), plus all models get a lane departure warning system, lane keeping assistance, blind spot monitoring, rear cross-traffic alert, rear parking sensors, a reversing camera, and even low-speed rear AEB.
The Mazda 2 - be it sedan or hatch - has six airbags (dual front, front side, full-length curtain), and it has dual ISOFIX child seat anchor points and but only two top tether points (outboard).
---
Citroen C3
ANCAP scored the Citroen C3 four stars out of a maximum of five in 2017, but that was before AEB was added in 2018. Also, standard is lane departure warning, and blind spot detection. As mentioned above there's also rear parking sensors and a reversing camera.
The AEB system works at slower city speeds which is a plus for urban driving, but it doesn't have pedestrian and cyclist detection, which is a minus.
And there's no rear cross traffic alert either, which in other cars has saved my skin more than once while reversing into busy little streets.
For child seats you'll find three top tether anchor points and two ISOFIX mounts across the second row.
Ownership
Mazda 2
The Mazda range is backed by a five-year/unlimited kilometre warranty plan, which is on par with all the mainstream brands out there, but is behind the likes of Kia.
Mazda Australia has a five-year capped price servicing campaign for all of its models, too, but the service intervals are shorter than competitor brands, too - yes, the company's cars require servicing every 12 months, but the distance interval is 10,000km - meaning if you do a lot of distance, you might find yourself heading back to the dealer well before the 12-month period is up. 
Servicing costs are reasonable, with the average cost per visit working out at $312 over five years/50,000km, not including consumables.
Mazda backs its cars with five years' roadside assistance.
Worried about Mazda2 problems, reliability, faults, engine issues, transmission problems and other common complaints? Check out our Mazda2 problems page.
---