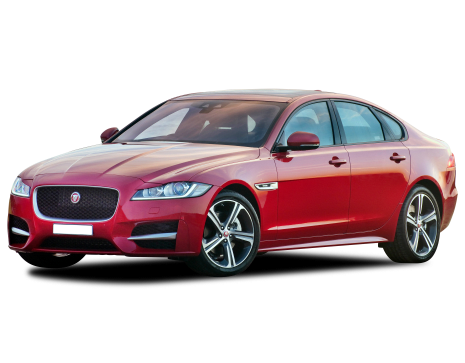 COMPARE
Jaguar XF
VS
Alfa Romeo Giulia
Jaguar XF
Likes
Beautiful to look at
Fantastic drivetrain
Properly luxurious
Dislikes
The cost
No Apple CarPlay/Android Auto
Not really a five seater for long trips
---
Alfa Romeo Giulia
Likes
Great tough looks
Fantastic engine
Excellent handling
Dislikes
Road noise filters in cabin
A and B pillars obstruct view
Softer suspension does mean bouncy ride at times.
Summary
Jaguar XF
If a Jaguar owner fell through a wormhole from 2003, the company they bought their car from would be   almost unrecognisable. Back then, it was a bewildering mess making an odd assortment of cars, yet to emerge into the light after Ford's confused and debilitating period of ownership. 
Why 2003? Fifteen years is a nice round number and pre-dates the arrival of the brand-saving XF.
Today, Jaguar has three SUVs, and the gorgeous F-Type, the XE, its second-generation XF and the big XJ. It has three SUVs (the F-Pace, E-Pace and I-Pace) because without them Jaguar would be a niche manufacturer before long, because big sedans, formerly the brand's trademark, are continuing their gentle decline. Oddly enough, one of the market segments contracting even faster than sedans is wagons. 
So what better time to launch into a draining pool from the three-metre board than now? Jaguar has bravely taken that risk and brought us the puzzlingly named XF Sportbrake.
| | |
| --- | --- |
| Safety rating | |
| Engine Type | 3.0L turbo |
| Fuel Type | Diesel |
| Fuel Efficiency | 5.9L/100km |
| Seating | 5 seats |
---
Alfa Romeo Giulia
You know how in the movie Rocky III Rocky Balboa has become all rich and successful, but unfit and he can't really box to save himself.
Then the young maniac boxer James 'Clubber' Lang (awesomely played by Mr T) challenges him to a fight and his trainer tells him he'll lose, but he fights him anyway, and gets knocked out.
But then he asks for a rematch, and Rocky trains hard and makes a comeback to beat Lang. Well that never happens. If it was the real world Rocky would have been beaten again.
Alfa Romeo is a bit like Rocky. The Italian carmaker used to be unbeatable in speed and looks – it won the first ever Formula One Grand Prix in 1950.
Alfas were drop dead gorgeous too, but then - like Rocky - things started to go downhill. It got successful, unfit and old. Yes, occasionally there were flashes of the genius we once knew, but if a car maker takes enough hits there's every chance it will never get up again. Alfa Romeo had become a joke. It hurts to write that.
But there's a big difference between Rocky and Alfa because a car maker can start afresh, build a fighter with a new body, more powerful fuel-pumping heart, stronger bones and given the right trainer it could become formidable.
Well that's what Alfa hopes. The fighter's name is Giulia. The trainer is Roberto Fedeli. The story goes that the head of Fiat Chrysler Sergio Marchionne could see Alfa was circling the plughole and called in the only person he felt that might just have a chance of being able to reach in and save it before it went down.
That was Ferrari's chief engineer Fedeli. Told to fix it or look for a new job, Fedeli reckoned it was possible, but he needed some money…five billion Euros in fact. Oh, and he'd need a team… of 800 designers and engineers. He wasn't mucking around.
When the Giulia made its world entrance in 2016 the star of the range – the hardcore Giulia Quadrifoglio (or QV for short) stepped into the ring dripping in carbon fibre with an engine that had Ferrari's finger prints all over it and mouthing off about having just set the new lap record at the Nurburgring.
It's mission is to lead Alfa Romeo's comeback… and slay BMW's M3 on the way there.
Now, we recently had the chance to drive the new Giulia Quadrifoglio on a track and it made us so happy you could tell we were grinning even though our helmet. But what is it like to drive on the road? We found out at its Australian launch. How did it handle the real world? Does it have what it takes to beat the M3 and Mercedes-Benz's C63 S? More importantly is it enough to save Alfa Romeo?
| | |
| --- | --- |
| Safety rating | |
| Engine Type | 2.0L turbo |
| Fuel Type | Premium Unleaded Petrol |
| Fuel Efficiency | 6L/100km |
| Seating | 5 seats |
Verdict
Jaguar XF
7.4/10
With that iron fist wrapped in a velvet glove wrapped in bubble wrap engine, excellent ride and gorgeous looks, the XF Sportbrake ticks all the boxes. Apart from the entry price and options prices, there are few objective reasons not to buy the car. It's just as good as any of its German competition and arguably the prettiest of the lot.
Should Jaguar have taken the dive? Given the XF Sportbrake is a luxury wagon done right, yes.
So you've decided you want a prestige wagon? Is it the Jaguar for you, or do you need a German machine to lug your load?
---
Alfa Romeo Giulia
8.6/10
Absolutely stunning – both to drive and in looks. This is a monster, but one you can live with safely and practically. Proper rear seats, a proper boot and proper performance. A quality feeling package that feels more than a bit Ferrari but entirely Alfa Romeo. It does everything the M3 can. This looks very much to be a prize fighter that will lead Alfa Romeo's comeback.
Comment call to action: Do you reckon the Giulia Quadrifoglio will make Alfa the next big thing? Let us know what you think in the comments below.
Design
Jaguar XF
8/10
The second-generation XF is a very pretty car. A few carmakers have a had a crack at that four-door coupe idea, but Jaguar's Ian Callum got it right first go. You might expect the wagon to be a bit dumpy but it's far from it. That's not to say wagons can't be good looking - many are better-looking than the car they're based on (the weirdly proportioned Golf wagon being the exception to the rule). The XF sedan just looks right.
Anyway, the Sportbrake is basically the same until behind the B-pillar, with the roof continuing on to steeply raked tailgate glass. Obviously the lights are different back there but it's a nicely integrated job, it doesn't look like a dodgy extension. Rolling on the optional 20-inch wheels it looks amazing - low, long and well-proportioned. Unfortunately, it's more than vaguely hearse-like in black (the only First Edition colour).
Inside is standard XF, with the obvious exception of the rear seats and the big open load area. With this First Edition's glass roof the cabin seems infinite. Either way it's big and comfortable, although fit and finish could be a bit tighter.
---
Alfa Romeo Giulia
9/10
With its long, nostrilled bonnet, high roofline, short tail and almost no overhangs to mention there's more than a sniff of BMW 3 Series going on. That's no bad thing – its intentions are clear.
It's actually smaller than the M3. The dimensions reveal that at 4639mm the Giulia Quadrifoglio is 32mm shorter end to end than the Beemer, but only 4mm narrower at 1873mm in width and just 2mm taller at 1426mm.
The Giulia is light at 1585kg thanks to the driveshaft, roof, bonnet, front splitter, plus the rear spoiler and side skirts being made of carbon fibre. Meanwhile the engine, suspension, brakes doors and wheel arches are all aluminium.
Inside, the cabin swallows you up in stitched leather, there's a dash that that swoops and curves in front you and holds the impressive display screen. Many Alfa cabin traits are there such as the driver-orientated controls which tend to make the front passenger feel like, well just a front passenger.
Under all of this is an entirely new platform called Giorgio – it's scalable like Volkswagen's MQB. This means the Giulia is just one of the cars to be based on it – the Stelvio SUV also uses it and Alfa says there are more to come.
Practicality
Jaguar XF
8/10
Front and rear passengers enjoy plenty of space. Storage includes a not-quite-big-enough-for-a-phone tray ahead of the rotary dial gear selector and a pair of cupholders. Those in the rear have plenty of space, except for the middle seat occupant who must straddle a stout transmission tunnel. The rear armrest holds a pair of cupholders and the doors have slim pockets.
The boot holds 565 litres with the seats in place and "up to" 1700 litres with the seats down - that latter figure does not feel like a VDA number.
---
Alfa Romeo Giulia
9/10
I don't normally fit Alfa Romeos because I have Viking ancestry and don't come from a land where the people have short legs and long arms. So as much as I've liked driving Alfas, when I do my legs are cramped and yet I feel too far from the wheel.
Not so in the Giulia, everything feels the right distance away. And the pedals, which in other Alfas are far too close and cause me to constantly hit the brake and accelerator at the same time just because my feet aren't like a ballerina's are a proper distance apart. Not once did I embarrass myself with my 'brakcellator' trick.
Room in the back is excellent – it's a four seater and even at 191cm I can sit behind my own driving position with a good three fingers space between my knees and the seatback.
Boot space is also excellent and matches the M3's 480 litres.
Storage inside is good in some places – such as wide the centre console storage bin, but not so great in others – the door pockets are only enough for small bottle and there only two cupholders – they're in the front.
Price and features
Jaguar XF
7/10
Over the years the XF has edged its way upmarket and is now playing with the Germans in the big luxury segment. And as is now customary for Jaguar, the Sportbrake is available in First Edition guise. First Editions are available for a model's first year of production and are usually based on the top-spec (in the Sportbrake's case, that's the 30d S) with a few extra bits and pieces to make things interesting.
While the 30d S retails for $123,450, the FE weighs in at $137,300. For that you'll waft out of the showroom with 19-inch alloys, dual-zone climate control, a huge panoramic glass roof with gesture-activated roof blind, around-view camera, front and rear parking sensors, 11-speaker Meridian-branded stereo with DAB, sat nav, head-up display, electric gesture-activated tailgate, keyless entry and start, rear air suspension, auto LED headlights, auto wipers, leather trim and a space-saver spare.
Jaguar Land Rover's 'InControl' media system is presented on a whopping 12.3-inch screen and, as ever, is steadily improving but goes without Apple CarPlay and Android Auto. The sound is, as you might expect, pretty good.
Our car had a few options fitted. 'Active Safety Pack' (see below), carbon-fibre trim ($3470), driver and passenger memory pack ($3210, including perforated leather trim), 20-inch wheels upgrade ($2790), cold-climate pack ($2540), illuminated metal treadplates ($2110), privacy glass ($950), 'InControl Protect' ($630), configurable interior lighting ($540), nets and rails ($390 and $320 respectively), extra power socket ($240) and 'InControl Apps' ($100). Most of it is cosmetic and/or unnecessary and took us to $158,950.
And there is still a plethora of boxes to tick.
---
Alfa Romeo Giulia
9/10
The Quadrifoglio is the king of the Giulia range and lists at a right royal $143,900. Sounds like a fair bit of coin, but it undercuts the M3 Competition's $144,615 and C63 S's $155,510.
Standard features are excellent – there's the 8.8-inch display, 14-speaker Harman Kardon 900w sound system, the carbon fibre bonnet, roof, side skirts and rear spoiler and carbon fibre interior trim, leather and Alcantara upholstery, the steering wheel with starter button, quad exhaust tips, aero curtain on the front bumper, active aero splitter, rear diffuser, B-Xenon adaptive headlights with auto-high beam, aluminium pedals and advanced safety equipment which we'll tell you about, too.
Engine & trans
---
Alfa Romeo Giulia
10/10
When it comes to six cylinder engines it's hard to beat an inline six – the balance is near perfect, they scream and BMW's delivers its power beautifully.
The Giulia has a V6. It's a 2.9-litre twin turbo that makes more power than the M3's 331kW at 375kW and also more torque at 600Nm.
It is a potent power plant and Alfa won't say it too loudly, but with the same bore and stroke as the V8 in Ferrari California T it's pretty much the same thing only with two cylinders chopped off.
Sending all that grunt to the rear wheels is an eight-speed ZF automatic transmission – I have pictures of this transmission on my fridge – it's in a lot of cars and I am yet to find another road car transmission I like more.
A claimed 0-100km/h time of 3.9 seconds beats the M3 by 0.2 seconds.
Fuel consumption
---
Alfa Romeo Giulia
7/10
Alfa Romeo says the Giulia Quadrifoglio should drink Premium Unleaded at a combined rate of 8.2L/100km. It should, but it won't if you drive it like we did. Let's just say after 400km and starting with a full tank the fuel light came on.
Driving
Jaguar XF
7/10
There's no getting away from the size and heft of the Sportbrake. Where a four-cylinder sedan comes in under 1600kg - not bad for an almost five-metre-long car - up here at the top it's well over 1800kg. With big wheels and a long wheelbase it's not going to win any wards for manoeuvrability, with a big turning circle and a length that's challenging to shopping centre car parks.
The 3.0 V6 twin-turbo is a fantastic unit. It can be a bit noisy when cold but it's super smooth and with all that torque it crushes overtaking with little need for advanced planning. The Sportbrake wafts along, lazily turning over in traffic and keeping the vibe calm.
Despite those big wheels, the ride is excellent. Even when in Sport mode, it's a rare bump or surface that will cause drama. It's very comfortable and very quiet, almost to the level of the XJ limo.
If you do fancy a bit of amusement, the V6 and well-sorted chassis are ready to play. In reality, Sport mode is where both myself and my wife left the car the whole time we had it. Both of us found the steering a little too light and preferred the more lively throttle response. The XF features torque vectoring using the brakes and coupled with a well-judged stability and traction control system, it delivers a good impression of a sporty sedan.
But the XF is best when you keep it relaxed. Both in town and in the cruise, it's a lovely, quiet place to be and a relaxing, undemanding drive. 
Only a couple of things were annoying - the light steering we've already covered. The heated windscreen was more reflection-prone so the head-up display could be hard to see in some lighting conditions. And sometimes it beeped for no apparent reason, which I eventually traced to the blind-spot warning.
---
Alfa Romeo Giulia
9/10
Starting in the Giulia with the optional carbon-ceramic brakes ($13,000) and the equally optional carbon fibre sports buckets ($7150) we joined Port Macquarie's peak-hour traffic. Those anchors felt 'doughy' first thing in that cool morning and it wouldn't be until they had some serious heat in them that they'd start to come to life. That wouldn't be long because we were heading for the hills where great roads waited. But it gave us a good chance to drive this car in 'normal' conditions.
Straight away that ride felt so comfortable, so soft even that I was worried it affect handling later. I'd just got out of testing a BMW M3 which feel rock hard even on a 'soft' suspension setting. Steering was one-finger light. The dash is high, the window sills are high, the Recaros felt tight.
As we trundled down the main street that V6 gurgled deeply in third gear – that didn't sound like any V6 I'd driven lately. Coming out of a roundabout and a gear change back to second and the V6 stirred louded but kept its throaty roar – this was special. Dabbing the accelerator the nose lifted up. This thing wanted to go. It felt light, 'pointable'. Everything felt light – from the accelerator pedal to the steering and body weight. It was happy to stay on the leash.  Well behaved, patient.
As we left the city behind I clicked the drive mode from 'Natural' into Dynamic and with heat now in the brakes decided to see what $5 billion euros and 800 engineers and designers felt like.
With acceleration so hard each shift upwards felt like a punch in the back. Those turbos are wound up with 35psi of boost it's not until second gear that it rushed it then it's time to for third and fourth. Using those giant paddles it's hard to shift fast enough to keep up.
The only thing more impressive than the acceleration are those ceramic brakes – we're talking 100km/h- 0 in 38.5 metres.
Swapping into a Giulia Quadrifoglio with standard brakes and seats I found stopping power was still impressive – those seats actually more comfortable for me.
As we scrambled through the tightest corners through the bush heading higher and higher it became clear that this was different from the M3. The BMW feels harder, firmer, more planted. But the Quadrifoglio was just as adept but did it in a softer more flowing fashion. It's was agile, changing direction as easily as you could think it.
Also changing direction in the front splitter – it's active meaning it moves up or down depending on when you need the extra down force.
It's more powerful than the M3 and you can feel it – it's wilder, less serious and slightly crazy, but smoother and softer in its suspension – there were times we scuffed the front splitter in dips.
There's road noise – lots of it on the course chip. That is probably the only complaint. That and visibility front and side is hampered by the thickness and placement of the A and B pillars. The indicators are confusing and hard to stop indicating… but these are small things.
At full roar the Quadrifoglio bellows likes it has so much more to give, the M3 screams into battle.
Both are so so good, and do the same job, but differently.
Safety
Jaguar XF
8/10
The XF comes with six airbags, ABS, stability and traction controls, forward AEB, reversing camera, lane-departure warning, and tyre-pressure monitoring.
For child seats you've a choice of three top-tether anchors or two ISOFIX points.
Our car had the $4360 Active Safety Pack, which adds blind-spot monitoring, reverse cross traffic alert, lane-keep assist, adaptive cruise and driver-attention detection. If you were to ask me, this little lot should be standard at this level.
Despite that, the XF scored a maximum five ANCAP stars following assessment in 2015.
---
Alfa Romeo Giulia
9/10
The left-hand drive version of the Giulia Quadrifoglio has scored the maximum five-star Euro NCAP rating, which is yet to be recognised by ANCAP. There's so much more than a reversing camera too, with active cruise control, AEB, lane keeping and rear cross traffic warning and auto high beam. 
There's two top tethers and two ISOFIX points in the back seat.
Ownership
Jaguar XF
7/10
Jaguars are offered with a three-year/100,000km warranty with a matching roadside-assist package. You can purchase a five-year/130,000km service plan for an oddly reasonable $2200. Even more reasonable are the service intervals - 12 months or 26,000km (!).
---
Alfa Romeo Giulia
7/10
A three-year/150,000km warranty covers the Giulia Quadrifoglio. Servicing is recommended at 12 month/15,000km intervals and Alfa Romeo has a pre-paid plan available for owners.