Toyota Corolla Ascent vs Holden Cruze Equipe 1.8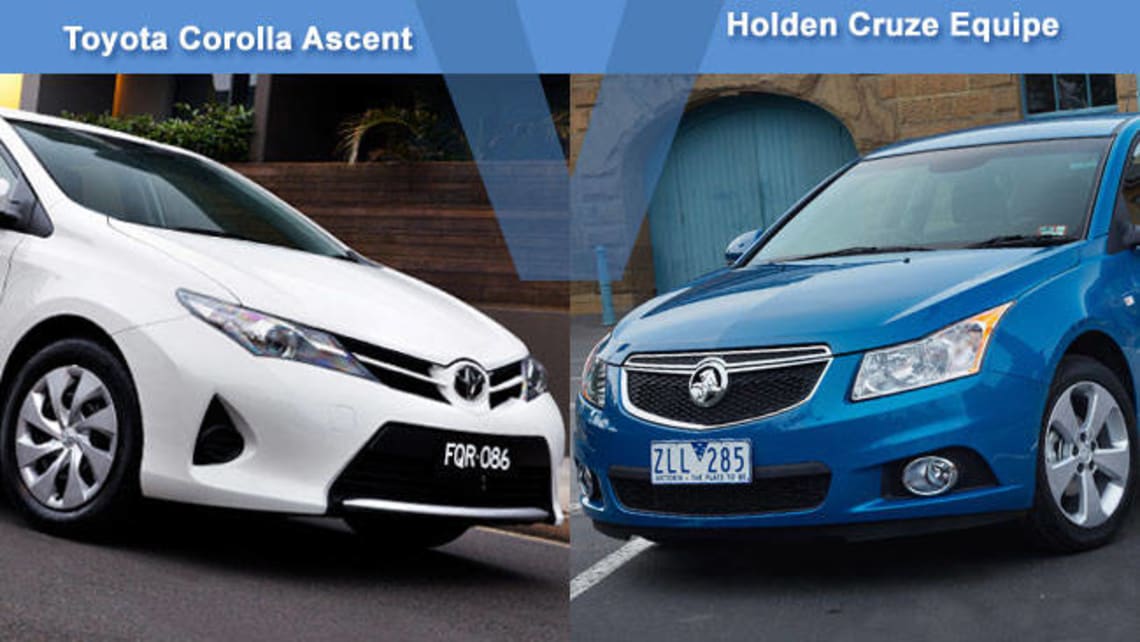 Toyota Corolla Ascent and Holden Cruze Equipe 1.8 go head-to-head in this comparative review.
Toyota Corolla Ascent
from $21,990
This looked good last year, but now... $2K over the $19,990 entry manual gets a continuously variable auto but not a lot of booty besides Bluetooth. You get cruise but have to make do with 16-inch steel wheels. The $1K dearer Ascent Sport gets alloys and reversing camera. Capped servicing but it's twice yearly.
Holden Cruze Equipe 1.8
from $21,690
On sale this week, the entry 1.8 Equipe will set a record low $19,490 in manual. The auto is worth the large extra ask. Standard are 17-inch alloys and MyLink multimedia system with Pandora dual keyed via 7-inch touchscreen. Servicing capped at $185 for the first three years or 60,000km.
The cardigan car cautiously embraces style with accents from the 86 sports coupe that it otherwise in no way resembles. "Wedgy and a bit edgy," Gover calls it. Inside it beats the Cruze for touch and feel but is so far behind in terms of kit it hurts. Big, comfortable seats front and back.  
Sedan and hatch are priced alike so it's down to personal preference. The four-door is something of a wallflower next to the newly unboring Corolla but its clean lines are appealing. Inside, the groovy screen can't disguise the dominance of hard plastics yet it's practical and roomy.
The carryover but updated 1.8-litre four makes 103kW/173Nm with top torque arriving lower, where it's sorely needed. The CVT helps it to 6.6L/100km, better than the six-speed manual no one would buy. It's one of the better such transmissions, a vast improvement on the old four-speed auto.  
As with the rest of the renewed Cruze range, Holden has reworked and revived this dull and unworthy entry variant. The new six-speed auto helps the carryover engine achieve 7.4L/100km. The rubber is new, too: right-hand-drive specific Bridgestone. Underpinnings are basic but effective.
Life-saving technology such as stability control was not even optional until too recently but now the car sets the standard. Seven airbags -- one more than most -- and the driver's knee protection should be emulated by all. The crash rating is, of course, five stars.
A five-star crasher, the Cruze's safety rating is underwritten by a solid road stance calculated to appeal to those downsizing from bigger cars. Outright grip on the new rubber is outstanding. You'd want to be trying awfully hard to activate the electronic safety measures.
No one expects dynamic fulfilment of the visual promise, so it's churlish to carp. Toyota's latest car makes steps, not strides, in this direction, another area in which the small car game has passed it. Yet it's unfussed and undemanding, as is its likely buyer.
The least sophisticated of the new range is, in its way, the most impressive. Ride and refinement are taken to the next level. The auto revitalises the 104kW/175Nm engine, imbuing motive force previously lacking. It's worth finding the cash for a turbo model but this one suffices.  
The new Corolla isn't a sufficient progression over the oldie. Now it gets done for value and driveability by a rival that six months ago looked least likely to deliver it.